We Slammed Bob Bowlsby and Praised Mike Aresco and Maybe We Were Wrong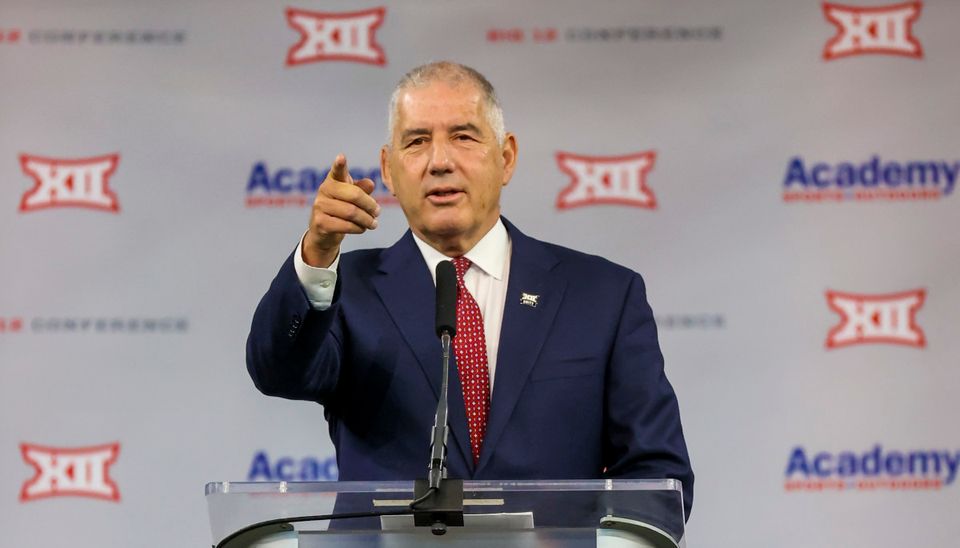 Way back when we launched this bad boy the realignment rumor mill was on fire, and it hasn't stopped since.
OU and Texas said they wanted out of the Big 12 in favor of the SEC. Everybody wondered what would happen to the remaining 8 schools.
Mike Aresco (bless his heart) said the AAC would be aggressive. The Big 12 issues a cease and desist to ESPN who had reportedly been talking to the AAC about grabbing some of the Big 12 schools.
We wrote this piece comparing the two commissioners and the vision they had for their league and how they had executed on that vision. We even said that the way forward witht he Big 12 was if Mike Aresco came with it.
Well buckle up, because a lot has happened since August 2nd and none of it was great for Brother Aresco.
---
GEHB is now offering discounts to our VIP subscribers - you can see what is available here.
Our first discount is from Modern Missionary - a chain of stores that sells missionary packages and other men's dresswear.
Modern Missionary is offering 15% off online or in-store to all of our VIP subscribers. If you are purchasing clothing for a missionary, the savings alone is enough for a GEHB subscription the entire time your missionary is gone.
Upgrade now to find out how to get subscriber special.
---
Since August 2nd, the following has happened:
Articles saying BYU was the #1 target for Big 12 Expansion
A week later, articles saying BYU, Cinci, Houston and UCF were expected to receive invites
The following Friday, the official invites came, with the 4 programs joining in 2023
The American, needing to backfill 3 of it's 4 best programs, says it will be agressive and tries to poach the Mountain West.
National writers say Colorado State and Air Force are close to accepting an invite.
Backlash from CSU and AFA fans dampen the mood on the rumors
Boise State and San Diego State give their public commitment to the Mountain West
CSU and AFA decide to stay put and the American has to regroup
UTSA and UNT reach out to the MW to gauge interest in the league getting back into the Texas market. the MW says they will stay pat at 12 members.
The American, who has long eyed UAB as a good add, looks at finding other schools. Nobody knows if they will get back to 12, or expand further.
Earlier this week, a final list was leaked and on Thursday it was announced that UAB would be joining the league along with UTSA, Charlotte, FAU, UNT and....Rice.
The Big 12 Regrouped and Reloaded
After years of dragging feet, the Big 12 cranked through invites in a couple weeks. The P12 said no thanks on expansion and the 8 schools looked around the room and said "we are more alike than different and we fit better together. Maybe life will be easier without OU and Texas." They got the 4 biggest brands available (well, Houston is debatable. They're about sixes with SMU and Memphis, but they did just have a Final Four trip).
The expanded league will be the best basketball conference in all the land, and the football will be in lockstep with the P12 and ACC, but in a better, growing footprint that the P12 can't match. Things ended up much better than it looked like for Bowlsby and Co in the middle of August.
Our apologies and gratitude to him, the Cougars are in the best athletic position we've ever seen.
How did we get here?
Conference USA is not what it once was when it was close to the TCU era MW and league that had considered an outright merger. After it got raided by the Big East, it backfilled with Sun Belt schools and a couple WAC programs and completely fell apart.
A massive footprint going from Miami to El Paso to Norfolk, no insitutional identity, and a TV dealing paying $400k a year. No wonder the teams want out. It was the easy route for the American and they ended up there after everything else failed.
Had they lured CSU and AFA and then grabbed UAB and UTSA they could've both grabbed 2 of the bigger brands from their main competition, as well as added the Mountain West's best expansion target. After getting Big 12 teams, that was the big baller move by Aresco.
But now, it feels like he got played by Craig Thompson. Not only is the MW not changing, it sure feels like the additions of UNT and Rice were reactionary as a defensive move against their western competitor.
On the CUSA side, things are even tougher - they've got 8 schools left. USM reportedly has an invite to the Sun Belt. Marshall and Old Dominion are also interested as well as James Madision moving up from the FCS ranks to join them. That would leave 5 schools - with Western Kentucky and Middle Tennesse supposedly in talks with the MAC. All of those moves would be good institutional fits and reduce travel.
There's a timeline where UTEP, Louisiana Tech and FIU are the only 3 schools left with no expansion targets. If that's the case, LT better get over their pride quick and beg the SBC to take them instead of JMU. The Dukes are also being approached by CUSA to be added along with Liberty - and if that happened, Marshall and ODU may stay to form a solid block of schools in a similar footprint.
What a world we live in where the next conference moves will be decided by an FCS school.
Does this make the MW the cream of the G5 crop?
For right now, yes. In the future? Who knows.
In the CFP era, the American has separated itself as the cream of the crop among G5. Their P6 branding helped and they've competed nationally. Their coaches get picked off regularly, they seem to rebuild and they're located in talented areas where football support is much higher than in the Mountain West footprint.
But the 6 teams they're adding have an average SP+ score since 2014 of -10.5. They pull the American down, to be about par with the MW - a 1 point dog on average: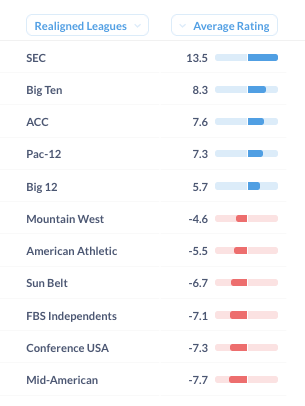 Now compare to the current alignment: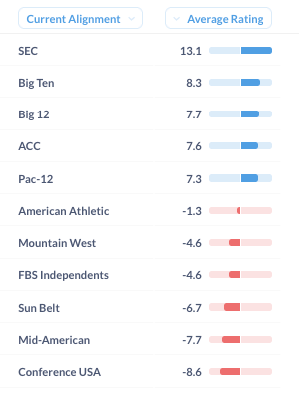 Conference USA is actually improving on the field without these teams in the mix.
But at the same time, the American may be proactively going to 14 should SMU, Memphis or USF ever get a P5 invite. 3 of the 6 schools are a decade or younger, and FAU is 20 years old. Rice and UNT are the head scratchers, but they are in DFW and Houston.
I think UTSA is ready to explode - they're in a rapidly growing city that loves football, no pro teams in town besides the Spurs, and the Alamodome is a great venue next to the Riverwalk. UAB and FAU have won the last 5 CUSA crowns and UAB just got all new facilities and an on campus stadium. Charlotte is in year 6 of FBS play and has an aggressive AD that is fundraising like mad to pay their coaches AAC level money already. These could be teams that all grow into what UCF, Houston and Cinci were: large public unviersities in major metros that like football and have growing enrollments which should lead to a strong alumni base.
IF that happens, the a decade from now, Aresco will look like a genius and it all paid off. If it doesn't, then this will be a more expensive version of the current iteration of CUSA when it added schools like UNT, FIU and FAU. The hallmark difference between the two leagues appears to be commitment, and money talks.
The only surefire thing we do know about the fruits of Aresco's labors the last few months is that he lost his biggest brands and his solution ended up being option C on the pecking order.