Mike Aresco vs. Bob Bowlsby is the Conference Commissioner Death Match™ that could determine BYU's future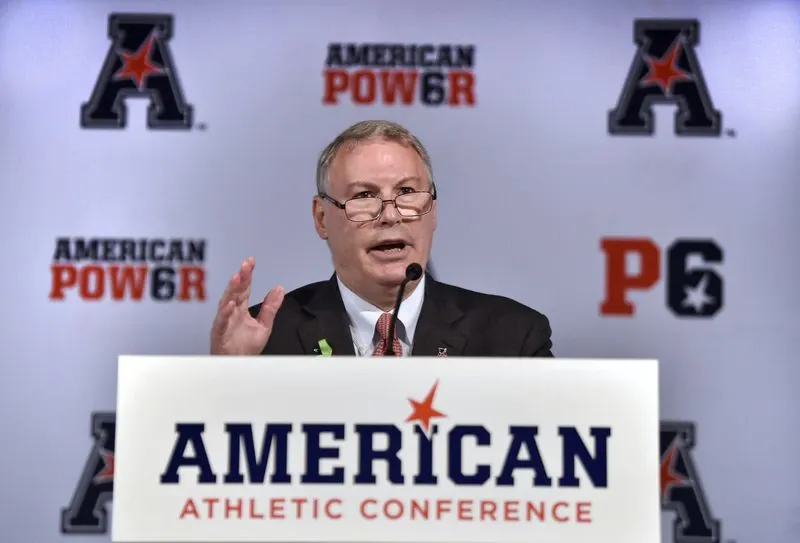 Before Colonel Sanders was the face of Kentucky Fried Chicken, he was a man in Kentucky who made fried chicken at a convenience store. A new highway was built that diverted all of the traffic away from his store - his business began failing. He was 65 years old when he hit the road and started selling his recipe and licensing idea.
It took off. Sanders was a raving success.
Oprah Winfrey was once a news anchor in her early career. But, after about seven months, she was fired from WJZ in Baltimore. Obviously, she ended up starting her own career and became one of the most successful TV personalities in the history of TV. Her glow up after being fired was inspirational.
Walt Disney couldn't find a job.
Steve Jobs was fired… from Apple, the very company that he founded.
Michael Jordan was cut in high school.
The Leaning Tower of Pisa was supposed to be straight up in the air.
These are great stories of triumphant return from failure. These are wonderful examples of people working hard when their backs were against the wall and overcoming the odds. Truly remarkable stuff, really.
These are the kinds of stories that Bob Bowlsby is probably telling himself and telling the rest of the remaining Big 12 schools right now. "Hey guys, times are bleak right now, but it was bleak for Oprah too! We can do this!"
But here is the element of those stories that people often overlook. Colonel Sanders wasn't successful in his convenience store. He changed his model and then had success.
Oprah didn't go onto be a successful news anchor in Baltimore. She changed her career trajectory and then had immense success.
The Leaning Tower of Pisa IS STILL LEANING!
These aren't examples of people just muscling their way through failure, they are examples of people adapting because of failure, and succeeding in round two.
As long as Bob Bowlsby is in charge, the Big 12 isn't adapting to anything. And their failures are just that - failures.
The Big 12 is not going to survive by trying to be the Big 12. In fact, without Texas and Oklahoma, the Big 12 looks a lot like the American Athletic Conference. And if we can all agree on that, then it seems prudent to compare the leaders of the two conferences to see who is more fit to drive the ship.
Bob Bowlsby
Bob is old. Like really old. Very much in the "used to be great but the game has passed him by" old. He was the AD at Northern Iowa in the 80s, then the AD at Iowa for 15 years, then the AD at Stanford for 6 before becoming the Big 12 commissioner in 2012.
He grew up in Waterloo, IA, which I can only assume was the inspiration for the hit ABBA album.
If you look through his bio - it is very bureaucratic. Olympic committees, NCAA councils, reform this, review that. He is the embodiment of a rank and file P5 AD who is well respected and gets invited to a lot of stuff. He's been married for 43 years, has a bunch of kids and grandkids, yada yada - he's a genuinely good dude but things are just inherently different in today's realignment world. There is nothing of note that makes you think "man, if I'm trying to save a sinking ship or start from scratch, he's the guy I want"
Since 2013 (the year the AAC was established and  functional, thus the starting point for all comparisons), Bowlsby's Big 12 has had 12 appearances in New Year's Six bowl games. They are 5-7 in those games. Take away Texas and Oklahoma? The Big 12 is 2-3.
The Big 12's TV deal that runs through 2024-2025 nets each Big 12 team an average annual payout of $20M over the course of the contract. Without Texas and Oklahoma, early estimates of the remaining Big 12 team's value is is about $9M each year.
Mike Aresco
After graduating law school at UCONN, Aresco did some private practice before becoming council at ESPN. Over the years he worked his way up until he was in charge of college programming. He was so good at his job, CBS picked him off - he was the VP of College Programming there. As part of that he lead the CBS negotiation with March Madness to get tourney rights  and redid the CBS/SEC deal to cover men's BB and FB for 15 years.
When he took over at the Big East before it became the American, he stabilized the league, let his alma mater walk, got a media deal more than double the next highest G5 deal, had the balls to start the "Power 6" campaign for the league, came out and publicly said they were going to be aggressive in adding Big 12 schools to their brand, and in 2016 the league was a Sports Business Journal finalist for league of the year - the only college league on the list. There's also a scheduling agreement for men's basketball with the SEC sprinkled in there to give some non conference games.
He is the new age commissioner - he understands the media aspect. He has all the ESPN and CBS relationships. He gets marketing, and PR and operates from an idea of "build the brand first" compared to Bowlsby rigid administrator mentality, which while great up until about 10 years, just isn't the same anymore or what is needed.
Aresco's AAC teams have had five appearances in New Year's Six games. Their record in those appearances is 2-3. For those of you who are reading this newsletter in chunks, that is the exact same record as the UT/OU-less Big 12 in such appearances.
The AAC's current TV contract runs through 2029 and pays each member school approximately $7M annually over the life of the contract. Aresco's leadership netted each team a considerable raise during their TV contract negotiations in 2019. Prior to the new deal, each member school made just $2M annually. $7M isn't P5 money, but a 250% pay raise is nothing to scoff at.
Summary
Ultimately, it seems unlikely that any of the remaining 8 will get invites to other power leagues (MAAAYYYBBEEE West Virginia to the ACC if Notre Dame decides to join - but that ain't happening) - so the move by the AAC to become THE 5th best conference is actually going to happen? Who knows - but I would bet on Mike Aresco getting as creative as possible and leveraging ever relationship he has to do it.
While Bowlsby has all of the relationships with ADs and university presidents - Aresco is in bed with the ultimate decision maker in college sports - ESPN.
When it comes down to it, if there is only spot for one conference, the choice seems pretty clear. Aresco is a man leading his conference to new horizons in creative and innovative ways. Bowlsby is treading water somewhere in the Gulf of Mexico hoping that the ghost of T. Boone Pickens is willing to swoop in and save the Big 12 with a monster check.
So, if you're BYU, the choice seems clear. You're not joining the Big 12 or the AAC unless Mike Aresco is part of the deal.
If you enjoyed what we have going here at GEHB - consider signing up to get it straight to your inbox, and coming to join our community on Discord.