The 2021 BYU Gameday Menu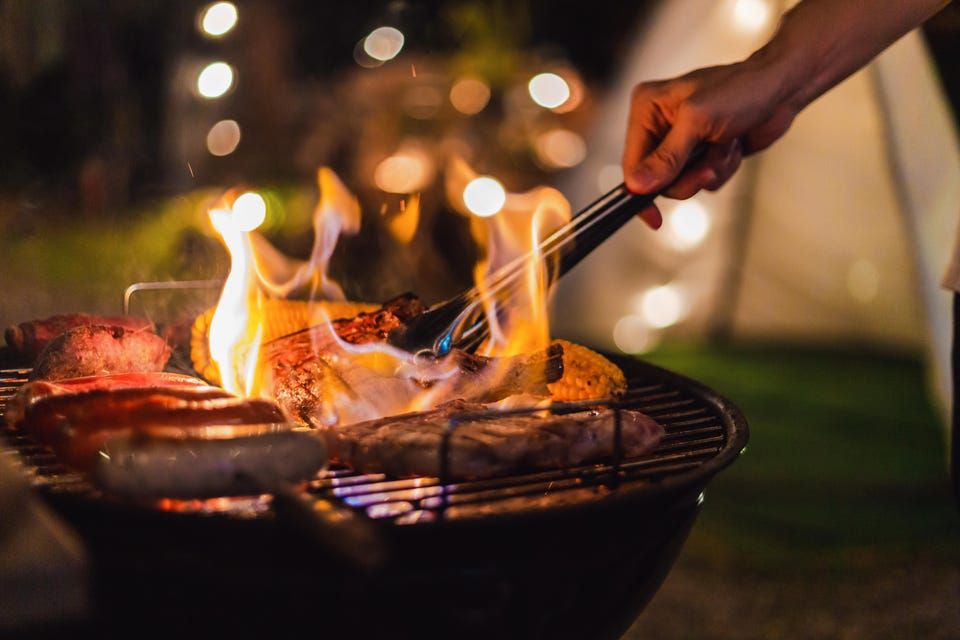 GEHB is a freemium newsletter for off-brand BYU coverage - if you would like to subscribe or upgrade to a paid subscription, click here:
Football season is right around the corner and that means that the return of tailgate food is almost here. If you have paid any attention to Cougar Sports Insider or to Give 'Em Hell, Brigham over the last few years, you know how important food is to the ultimate fan experience.
Football is about more than just football. It's about fun. It's about family. It's about spending way too much money to have a fun time with your family. And food is the sweetener in the midst of all of it that makes the experience that much better.
As I do every season, I like to tailor my gameday each week and let the opponent inspire my meal. In the past, we've done things like Potato Volcanoes for Boise State week, Cuban pork loins for USF, and Nashville Hot Chicken Nachos for Tennessee week.
Why do I do this? A couple reasons:
Your BBQ pit of choice is capable of doing far more than just ribs and brisket. The tried and true recipes are great, but doing something like this will force you out of your comfort zone and into Guy Fieri's favorite place, Flavor Town.
It's fun to think about this food all week and then work on preparing it all day Saturday. Whether you do it in a tailgate lot or in your backyard, it's a subtle way to spend the entire day thinking about the BYU game.
The menu for this year has been finalized. A couple of weeks before each game, I will release the details of how I cook each gameday food. If you choose to come on this food journey with us at GEHB, the couple of weeks lead-time should give you ample notice to source whatever food you need to find. It will also give you a chance to tailor my recipe to meet what you like the most. After all, you're cooking for you, not me. So cook what you like.
For today, here is the official reveal of the 12 dishes that will be featured on BYU game days throughout the year this year.
Week 1 - Steak Fingers
Editors note: Jeff is severely amiss here by going with steak fingers instead of Sonoran Hot Dogs.
What are steak fingers? It's a Tuscon thing!
Think of what it would be like if a chicken fried steak and a chicken tender hooked up and had a baby. Those are steak fingers. We'll throw in a honey mustard based BBQ sauce and some ranch seasoned potatoes and this will feel like you're longing for the days of Rich Rodriguez in the Arizona heat with the rest of the Wildcat faithful.
Week 2 - Loaded Funeral Potatoes
It honestly surprises me that this isn't more common among BBQ circles in Utah. Everyone and their mother seems to own a Traeger, and everyone and their mother has their own twist on funeral potatoes. Why haven't people married those two things together?
Well, we will. Funeral potatoes will meet BBQ for a smoky meal that will leave you happy whether BYU loses to Utah for a 10th straight time or not.
Week 3 - Chile Verde Fry Bread Tacos (a.k.a Navajo Tacos)
We're busting out the tomatillos and we're bringing out the fryer and making an Arizona classic, fry bread. It's basically a Utah scone, but we're not putting a ton of honey butter on this thing and eating for breakfast. Instead, we are forming it into a taco shell and putting a ton of beautiful chile verde inside. It's a little Arizonan and a little Southwestern all rolled into one.
Week 4 - Empanadas
Nothing fancy here, we're making the Cuban favorite of empanadas. The fillings of the empanadas are TBD, but it will be inspired by every Republican's favorite state. There will be spice and there will be a ton of empanadas.
Week 5 - French Toast Sandwiches
I was born in Logan, UT and I frequent Cache Valley today. I am qualified today that the food scene surrounding Utah State is….bad...as in recruits get taken out to eat at Texas Roadhouse because it's the only option bad. The ice cream is great and there are a few hidden spots around town, but Logan doesn't have a food identity at all. In fact, the closest thing to a food identity is whatever the newest chain restaurant in the Valley is.
But, Logan knows breakfast. They really, really know breakfast. So, we're making breakfast. French Toast Sandwiches.
Week 6 - Beefy Baked Potatoes
A giant potato and a bunch of beef. It's really simple. But, we're not going to make it really simple. We're going to make it really great. It's inspired by pot roast and it's wonderful. I know, I know… potatoes for Idaho. It isn't original, but that doesn't make it any less delicious.
Week 7 - Beef Cheek Sandwiches
What is Texas food? BBQ. What is central and eastern Texas food? BBQ'd beef. When you think of Texas BBQ, you think of brisket with nothing but salt, pepper, garlic for rub and a whole bunch of time in a smoker with some hickory wood. That is Texas BBQ.
Well, I don't want to make brisket. It's great, but I have five people in my family and three of them still eat Happy Meals. So, we're not doing brisket. But we're going to make some beef cheek that will make you think of brisket. After we rub this, cook this, and chop it up, you'll hardly tell the difference. And it's cheaper than $4 a pound. You may think beef cheeks sound strange - but it's loaded with marbling and comes out like like a pulled pork loaded with bovine flavor.
Week 8 - A Big Effing Burger
I'll be honest, I have exactly zero idea what the food identity of Pullman, WA really is. Eastern, WA that is mostly Idaho and not really Washington? It isn't really seafood like Seattle would. It's not really Idaho so I can't just fall back on potatoes.
I have no idea what the food identity is. So, when it doubt? Make a big burger. And you're not going to find a better burger than this one.
Week 9 - Pimento Mac and Cheese
Everyone has their favorite mac and cheese that they like to cook on the smoker. It's delicious. It's easy. And it's really, really great.
Allow me the chance to elevate your mac and cheese with some pimento cheese. Virginia loves themselves pimento cheese (so does most of the Southern United State, for what it's worth) and you will love it too.
Week 10 - Idahoan Meatloaf Sandwiches
Idaho is about more than potatoes. They are also about meatloaf. (Seriously! Google it if you don't believe!) And the best way to consume the Idaho meatloaf? In a sandwich. This is kind of like a patty melt, but it's better. And you'll love it.
Week 11 - Peach BBQ Sauce and Fried Chicken Thigh
I once lived in Georgia. I remember driving in the downtown area of Atlanta with my parents and we had just turned off of Peach Street and onto Peach Avenue. The cross street ahead of us was Peachtree Street. There were peaches everywhere. The Peach State really embraces the peaches.
So we're making a peach BBQ sauce to go with our fried chicken.
And for dessert - grill yourself some peaches and throw them in a bowl with vanilla ice cream - you won't regret it.
Week 12 - Hot Dogs
There is so much food in Los Angeles to choose from. Tacos would have been great. Something really elevated and fancy would have been great. I thought about beef wellington a la Gordon Ramsay as well.
But I settled on hot dogs inspired by the iconic Pink's Hot Dogs on Melrose Ave. All the stars have been there. Jimmy Fallon, Kevin Hart, Oprah, Stevie Wonder, Barry Bonds, Bobby Flay - EVERYONE! The bacon burrito dog, the hot dug burger, the philly dog - everything.
So we're making some bomb hot dogs to wrap up the regular season.
This is the menu. Follow along if you'd like. It will be a wonderful food journey that will take us through what is a wonderful BYU football season.