A BYU Related Brain Dump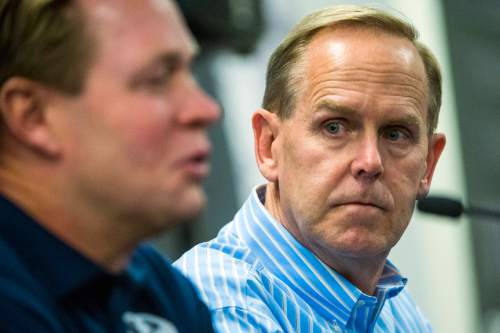 The Atlanta Braves are going to the World Series for the first time since 1999. In case you have no idea who I am, this is a very, very big deal in the Hansen house. I remember living in Atlanta in the mid-90s. When the Braves were in the World Series in 1996, my elementary school had a day long assembly where the entire school pushed pause and watched afternoon games. My dad worked for TBS and we frequented Fulton County Stadium.
The Braves are part of my blood. And this week is the biggest week for Braves fans in more than 20 years.
With that in mind, I have to clear up space in my head for all the Braves content that I can conceivably consume. That means it's time to empty the noggin and spew out all the BYU things that are taking up space. As they say, LFG!
Chaz Ah You is being criminally mismanaged
Ah You is the most talented player on the BYU defense. Hard stop.
He is one of the best athletes. He has the best football instincts. He is versatile. He is reliable. Even when he doesn't make the play, he is in the right spot.
And the defensive coaching staff is absolutely slaughtering Ah You's ability to progress and showcase his skills this year.
The former four-star recruit has played three different positions this year. He started the season out as a strong safety and he played incredibly well there. After Keenan Pili was hurt, the staff decided to move Ah You up in the defense in the name of 'getting the best 11 on the field' and slotted him in as a mike linebacker. This past week, Ah You was moved to outside linebacker. He's new to the position, is limited in what plays he does and doesn't know, and was relegated to the second team defense. He played less than 20 plays against Washington State.
LET THE MAN PLAY STRONG SAFETY FOR CRYING OUT LOUD!
If moving your players around to get the best 11 on the field means that you have to take one of those players off the field because you don't believe he has a full understanding on the playbook yet, then you're not playing the best 11. Ah You is absolutely, without question one of the best 11 players on the field. The man needs to be playing safety again - the position he spent the entire offseason practicing - and it will immediately help the back end of the BYU defense.
We have no idea who is responsible for Ah You's position changes. But, we do know one thing. Ed Lamb was coaching linebackers when Ah You was pushed to safety at the tail end of last season. Now, Lamb is coaching safeties when Ah You was pushed back up in the defense to play linebacker.
I'm not saying anything, I'm just saying.
Regardless of who it is, Ah You is just the latest highly touted player that BYU can't figure out what the hell to do with. Whether it's Harvey Langi playing DE or the 11-foot tall Bronson Kaufusi playing linebacker, this kind of dreadful talent management is something we've seen before. Ah You is the latest victim. And the coaching staff needs to get it straight before it's too late.
A Conversation With A Friend Much Smarter Than Me
One of the fun things about working in the recruiting industry as long as I have is that you make a ton of connections. Those connections start with high school coaches and they span all the way through to players, coaches, parents, siblings, and a whole host of other people who are connected to college football. As time goes on, those people get into their careers and it's interesting to see where they go.
I had a conversation with a longtime friend who is now employed in the football program at one of BYU's future Big 12 conference-mates over the weekend. We were just talking about life stuff when the conversation shifted to BYU joining the Big 12. I asked what he thought about the Cougars joining the conference and what he believed would happen to BYU recruiting.
"The opportunity to get better is absolutely there. But, it's still BYU."
The Honor Code will still exist, even in the Big 12. Provo, Utah is, in fact, a weird place to those who aren't familiar with Provo, Utah. There still isn't a ton of diversity on BYU's campus. (Spare me the argument that because people served missions all over the world that BYU's campus actually is diverse. You all know what I mean and it's indisputable.) There are still plenty of reasons why BYU's recruiting won't suddenly catapult into the top 10 in the country.
But, my friend explained, this opportunity will be as fruitful as BYU's coaching staff allows it to be.
I thought about what this meant for a while, and it's absolutely true. If the BYU coaching staff wants to stay home in the state of Utah, continue to go all-in on a couple of top-ranked players each year and fill out their class with athletic players who are hardly on the recruiting map at all, they absolutely can do that. They have had some success with that methodology without the Big 12 moniker, so it's conceivable to believe it gets better that way. The 'better' won't be huge, but it will still be better.
But, believe it or not (that's sarcasm, folks, because obviously this is true) there are people who want an environment like BYU's who aren't members of The Church of Jesus Christ of Latter-day Saints. BYU football will have tons of chances to play in the state of Texas. There are a ton of athletes who are God-fearing athletes who can simply BALL. BYU will have to go find them and they will have to cultivate relationships with high school coaches in Texas, but they are there. And if BYU starts taking flyers on those kids instead of kids from nowhere Utah or kids from the basketball court, it could prove to be hugely beneficial.
The idea that BYU will suddenly be able to knock on the door of any random five-star player and expect to compete against Alabama for those guys is farfetched. But, that doesn't mean that BYU can't improve. They just have to want to improve. Time will tell what that looks like.
Bronco Is Coming Back And I Have Mixed Feelings
I love Bronco Mendenhall. He is a BYU legend. He helped the Cougars get back to respectability and he did it quickly after he took over the program. He was quirky, sure, but he was consistent and he was effective. He deserves a warm welcome when he is announced at LaVell Edwards Stadium on Saturday night.
But after the welcome, the warmness should probably turn cold really quickly.
First and foremost, on Saturday, he's the enemy. He isn't a prodigal son. He isn't a cousin that you haven't seen in a while that you love. He's the enemy. No, he's THE enemy. He is enemy #1. He is most important on the list. He is the focal point of all of BYU's tactical planning and preparation this week. He is the enemy and BYU must succeed in their mission. The fans will need to support that initiative too.
He also left BYU - and he left them in a difficult position.
Kalani Sitake took the brunt of the heat for the abysmal 2017 season and he deserved it. Had Mendenhall still coached in Provo in 2017, the Cougars would have finished better than 4-9, without question.
But based on the talent on that roster, 7-6 was probably the absolute ceiling in 2017, and 5-8 was entirely possible. That team just didn't have any juice.
I know, I know, by 2017, Kalani had been in place for a year. But you're a GEHB subscriber. You're smarter than that. You know that BYU can't overhaul their roster in a year. You know that missions are WEIRD and that it takes a couple of years for football rosters to change. So blame Kalani all day for the decisions on the field - that's what you should do. But the talent he had to work with? That's 90% on the former coaching staff.
So, Bronco left BYU in a weird spot. And 2017 was the result.
And he left BYU. Say what you will about being forced out and fans bugging him and whatever else, but he left BYU. He wasn't fired. He wasn't asked to leave. He left. He chose to leave for Virginia. He tried to leave for Oregon State the year before. He did not want BYU anymore - for whatever reason.
Think of someone dating your daughter that ultimately breaks up with them after a long relationship. Maybe your daughter created some unnecessary stress on the relationship at the end. Maybe it was the right decision for both this guy and your daughter for the relationship to end. But, that doesn't change that your daughter got dumped. And as a parent, your job is to be pissed off about that and make sure that the guy knows your daughter is in a better spot now than they were with him.
You don't have to hate the guy. You don't have to be a jerk to the guy either, but you better make sure he knows that he missed out when he dumped your daughter. When you see him at Target buying toothpaste, you can give him a warm hug and exchange pleasantries, but you definitely will bring up how happy your daughter is and how amazing her new husband is and how great her life turned out. Because that is your daughter's ex-boyfriend. And that's what you should do.
Bronco dumped BYU. Right or wrong, he dumped BYU. And it's our job to make sure that he knows that BYU is happier now than they were with him. They are in a better spot now. They are moving forward. Life was rocky post-dump, but life is infinitely better now. Whether you actually believe that or not doesn't matter, represent our daughter - not our enemy.
Bronco Mendenhall is our enemy now.