Who Is Ranked Today That Won't Be In December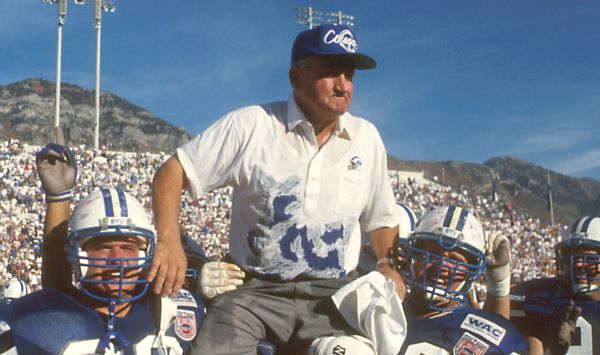 The AP Poll is out in all of its glory. BYU was not ranked in the top 25. That is probably reasonable given how much production BYU loses this year. You can't expect every AP voter to feel comfortable with an unknown Jacob Conover or a Jaren Hall who has yet to complete a game in which he starts. So, BYU's unranked status is perfectly reasonable.
This is not about BYU's ranking, however. This is about the accuracy of the preseason. I went ahead and compared the preseason poll and the final poll for every season all the way back to 2000. On average, there are 11 teams who are unranked in the initial poll that finish the season ranked inside the top 25. Obviously, the opposite must be true too. 11 teams who start the season ranked finish the season unranked each year.
The question that each of you obviously have in your minds right now is this: WHICH 11 TEAMS THAT ARE RANKED RIGHT NOW WILL NOT BE RANKED BY THE TIME CHRISTMAS ROLLS AROUND?!
Fortunately, I have the answer.
Here are the rankings:
Alabama
Oklahoma
Clemson
Ohio State
Georgia
Texas A&M
Iowa State
Cincinnati
Notre Dame
North Carolina
Oregon
Wisconsin
Florida
Miami
USC
LSU
Indiana
Iowa
Penn State
Washington
Texas
Coastal
Louisiana
Utah
Arizona State
Let's break this into a few categories. Keep in mind, the entire purpose of what we are doing is identifying the teams who won't finish the season ranked. This is not about order and this is not about who will make the playoff or anything wild and crazy like that. This is about what teams in the current top 25 won't be there when all is said and done.
The Won't Drop Out Unless Something Catastrophic Happens
Alabama
Clemson
Oklahoma
Ohio State
Georgia
Texas A&M
Notre Dame
Why Won't They Move: I'm not saying that these are the top seven teams in the country, but I am saying there isn't a snowball's chance in hell that these seven teams finish the season unranked. Will Texas A&M drop a couple of games this season? Almost certainly. But they could lose four or five games and still finish inside the top 25. Same goes for Georgia and Oklahoma.
We don't need to talk much about these teams. Where they fall inside the top 25 will be a weekly mystery, but you can count on them being there every week.
The Pretty Safe But Weird Things Could Happens
Oregon
Wisconsin
Florida
Washington
Cincinnati
Utah
Why they're pretty safe: Let's break these down a little more. The PAC-12 sucks this year, folks. It's better than the American and it's absolutely a P5 conference, but top to bottom, the conference just isn't going to be very good. Oregon and Washington will duke it out in the north, Stanford and Cal will maybe pull off an upset or two along the way, and Oregon State (though improved!) and Wazzu will finish at the bottom. That's four wins for both Oregon and Washington.
The south is similar. Utah is Utah. They are loaded on defense and might have a quarterback. They aren't a playoff team, but they will be ranked throughout the year. The South is bad. We'll talk more about USC and Arizona State later on, but Arizona and Colorado are booty flakes awful. UCLA has been on the rise for like three decades so not really much to believe in there.
The three PAC-12 teams in this group probably aren't playoff teams, but it's hard to seem them falling completely out of the top 25.
Cincinnati has two big September games against Indiana (they will win) and Notre Dame (they will not win). After that, they get UCF at home and then a pretty light AAC schedule. Even with three losses, an American champion with a 10-3 record will be safe.
Wisconsin and Florida play very different football in very different conferences, but their results will be the same. Couple losses, a couple of big wins and they will linger in the teens all year long.
The One Who Is Always Just There No Matter What So I Guess They Will Stay
Iowa
Why Iowa: You tell me why I'm wrong here. I'll wait.
That's right, you can't.
The Five Who Are Perennially Overvalued
Miami
Texas
USC
LSU
Penn State
Why do we do this to ourselves each and every year: Seriously, have there been more disappointing teams than these five? Take away LSU's magical 2020 season, and the Tigers are constantly a team who is 'gOinG To ChALLeNgE AlaBaMa' and they never do. Last year was an unmitigated disaster for Coach O and the Tigers. This year, four of their final six games are against Ole Miss, Alabama, Texas A&M and Florida.
Sorry Coach O, we don't believe.
Penn State is another like LSU. They could finish ranked, but they always seem to finish just short. And this year we think they will finish just shorter.
As for Miami, Texas and USC, do you really need me to explain myself?
The Six Who Don't Belong Here No Matter What Snake Oil Experts Try To Sell
Iowa State
North Carolina
Indiana
Coastal Carolina
Louisiana
Arizona State
Why they are all snake oil: I refuse to live in a world where Iowa State and North Carolina are both top 10 college football teams. I really don't believe in Brock Purdy being a consistent threat after his woeful last year, and Sam Howell feels like this year's Khalil Tate who has all the hype and just doesn't live up to it. I'm just not buying the 'Clones or Heels this year. (And I have already bought the under on UNC at 10 wins and Iowa State at 9.5.)
I watched enough of Indiana last year to know that Michael Penix Jr. is going to be a little bit of a one-year wonder. He's a good player, don't get me wrong, but he isn't quite the player that he was last year. Give him a regular schedule and a non-COVID season and Penix comes back down to earth with the rest of the Hoosiers. Even Vegas agrees with me when they set Indiana's win total at 7.5.
Coastal and Louisana are both quality football teams. They also took advantage of the COVID year last year and made some noise. The only P5 game that Coastal plays this year is lowly Kansas. The rest of the schedule is 'meh' at best. If they lose one game, they are fighting to stay ranked - Buffalo, App State, and ULM could all knock off the Chants. Louisiana is a similar story. They do play Texas to start the season (and they are +9.5?!?!?!) and that could buy them a few weeks in the top 25, but if they drop one or two games to App State, Liberty or anyone else, they are probably done with the rankings.
The Sun Belt still belongs to App.
Finally, Arizona State. Three of their coaches are suspended indefinitely. The investigation into their recruiting violations is still ongoing. Herm Edwards didn't know that the Arizona State mascot was the Sun Devils until after his introductory press conference.
Yeah, I'm selling ASU and I don't care who knows it.
Some Additional Wednesday Thoughts
ESPN ranked the top 100 college football coaches of the last 50 years this week and a pair of former BYU head coaches made the cut.
Bronco Mendenhall checked in at #100. On the surface the ranking makes a lot of sense. Bronco did a great job of pulling BYU out of a dark time and he has helped Virginia do the same. He is truly one of the best rebuilders that coached in the college football ranks in the last 50 years.
But once the program is rebuilt, Bronco seems to have a ceiling that he hasn't been able to break at either BYU nor Virginia. He's a great head coach and it's hard to find too many guys who are better than him, but I was a little surprised to see him at #100. For reference, Kyle Whittingham was #83. You really think the resumes of Bronco and Whitt are THAT close? Me neither.
LaVell Edwards made the top 10 of ESPN's list. Here is what they had to say about the Godfather of BYU football:
"One of the most influential and prolific offensive coaches in history, Edwards was also one of its best. BYU hadn't spent even a week ranked before he led the Cougars to the most unlikely of national titles, three top-10 finishes and shares of 19 conference titles."
LaVell is everything that BYU football is supposed to be. I won't argue whether he should be higher or lower than #10. (He should be higher than Bill Snyder at #8 - I will argue that.) The fact that people still appreciate and recognize LaVell's legacy is amazing. The stadium is named after him and BYU honors him in everything they do, but somehow, it still doesn't feel like enough.
--
Miles Davis is playing exceptionally well. We have heard that he is making a strong push for RB3. Sione Finau is back on the roster. Those are good signs.

But I'm watching Hinckley Ropati. The Hulk-ish running back is too talented to not be on the field. He's strong, he's fast, and he's massive. He needs to be on the field somewhere. But if he's RB4 or even RB5, playing time is going to be hard to find.
It seems like a wild thought, but I'm wondering if a position change could be in Ropati's future.
Give 'Em Hell, Brigham is a freemium newsletter. To enjoy all the benefits of what GEHB has to offer, please consider subscribing here.