Here's 5 Teams to Follow this Year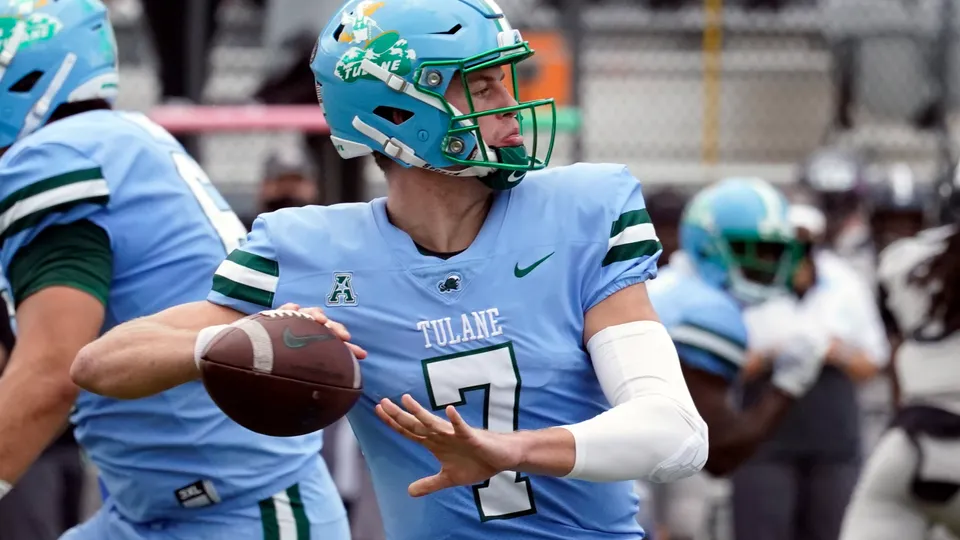 If you are reading this, you're a 1%er. We all want to be in the 1% of something (except jerks/tools/losers etc I guess), but you are in the 1%, upper echelon of college football fanatics. You "sacrifice" 15 weekends a year to stay glued to the TV watching people half your age play a sport and yelling at them as if they can hear you and you are making a difference. We are legion.
Often times when we find those games to watch, we look for the big marquee game - Notre Dame vs USC, Ohio St vs Penn St, Florida St vs Miami. But today, we want to focus on a handful of teams that will be fun as hell to watch and we think are going to surprise some people. These are programs, sorry, progrums* that are off that beaten path and you might have to hunt for the channel to find them on, but it will be worth it.
GEHB is a freemium newsletter for off-brand BYU coverage - if you would like to subscribe or upgrade to a paid subscription, click here:
Tulane
The Green Wave are great for a lot of different reasons - they have more SEC titles than Kentucky or Mississippi State, they finally have an on campus stadium instead of playing in an empty Super Dome and they have magnificent uniforms, I mean look at these:
They have had a mostly bad last 15 or so years, but have been on the uptick since Willie Fritz came from Georgia Southern and have gone to 3 straight bowl games. Last year they went 6-6 on the arm of true freshman QB Michael Pratt. He is similar in build and playing style to Zach Wilson - last year he threw for 1800 yards, 20 TDs added another 230 yards and 8 scores on the ground and only threw 8 picks. I am intrigued at seeing him turn the corner this year. Here's a sample game from last year - you can see the makings of a great signal caller:
Last year they had 2 backs go over 750 yards on the ground and one of them, Cameron Carroll, is returning and will carry the load alongside Utah transfer Devin Brumfield. Deuce Watts is #1 both on the WR depth chart and name chart.
San Jose State
I talked a bit about this on the show last week - the Spartans went 7-0 in the regular season last year and coach Brent Brennan turned down suitors to try to run it back. Their offense actually took a step back last year, but the defense majorly improved. Former A&M QB Nick Starkel is back, as well as well as RB Tyler Nevens who averaged 7.8 YPC.
Defensively they return both DEs - Cade Hall and Villiami Fehoko who combined for 16 sacks and 24.5 TFLs last year. If they can generate pressure at the same rate, they should be in decent shape.
Vegas has their season win total at 8.5 - and it feels like a tough number. 2020 was just their 3rd winning season since 2000, and things could fall off. But they could also have a good squad and knock off Nevada and/or Fresno to win the MW West again and try to repeat as conference champs.
Liberty
It's year 3 of the Hugh Freeze era and the Fightin' Falwells Flames have a superstar QB on their roster in Malik Willis. Last year he exploded onto the scene with 2,400 yards and 20 TDs in the air and 944 yards and 14 TD on the ground.
While they have a pretty ho-hum schedule, games against Freeze's former employer, Ole Miss, the Louisiana Ragin' Cajuns and UAB Blazers will give them tests to prove what they're worth. After going 10-1 last year, losing by just a point to NC State and finish #17 in the polls, they have a chance to make an exclamation point and prove it wasn't a fluke.
I think after this year, the question will be if a P5 program is willing to take a chance on Freeze again. And for your enjoyment and maybe you missed it, here's the end of their thriller vs Va Tech:
UAB
I don't think there's a more heart warming story in CFB's recent past than UAB getting shut down because boosters wanted more money funneled to big brother Bama just 45 minutes away in Tuscaloosa and then coming back from the dead 2 years later. Coach Bill Clark had one year under his belt when the program went away, then stuck out the interim and has built the juggernut of CUSA in short order.
Now, as a semi-active Charlotte 49ers follower, I will be the first to tell you the CUSA media deal is downright  awful. And the league is so bad that they actually took a haircut from their previous media deal to their current one. Games are spread out across Stadium, ESPN+, Facebook, and other places you've never heard of. But UAB is the gem that will usually get the ESPNNews or ESPN+ slot so finding them shouldn't be hard.
They have won 2 out of the last 3 CUSA championships and made a CCG appearance in the 3rd. Clark has stuck around through no shortage of suitors (maybe getting paid not to coach for 2 years gave him some feeling of guilt?) They missed a bowl last year because of COVID, but they would've gone to a bowl otherwise meaning 4 of their 5 all-time bowl games have come in the last 5 years. They move away from delapidated Legion Field to a nice new stadium, have 9 starters returning on defense, and will be a good ball club who will again make noise.
South Alabama
This one is a bit of a reach - I debated putting the UTSA Roadrunners here because BYU fans should be familiar with what Jeff Traylor is building and Sincere McCormick is one of the best runningbacks in the country. But I'm hoping for big changes in Mobile. I'm also skipping over the cliche picks in the Sun Belt of App State and Louisiana (but I took the cliche CUSA team...so maybe I'm not so original?)
After starting 3-2 last year, they fell apart and they finished 4-7 and fired their coach. First time head coach Kane Wommack returns after a successful stint as the Indiana DC, prior to which he was the DC at South Alabama. The familiar territory brought a new offensive scheme to pair with the talented lockerroom: OC Major Applewhite.
After getting fired from Houston, Applewhite was an analyst at Alabama (which usually ends up well) and is ready to roll in Mobile. So we've got a proven DC with experience in this program returning as a head coach, and a good OC who is fresh off the Saban tree.
And you've got Jalen Tolbert.
Tolbert is my dude - him paired iwth Applewhite is 100% why I am putting the Jaguars on this list. I watched him a few times last year and the guy will play in the league. He averaged 17 yards a catch last year, eclipsed the 1k yard mark and is back for more. Quarterback Desmond Trotter returns for his second year as a starter and the pair shouldn't miss a bit.
The Jaguars don't play anybody of real note other than a late Tennessee game and their conference matchups with App, Louisiana and Coastal Carolina, but they have some guys who can ball all the same and are worth a watch.
Honorable Mention
ECU: QB Holton Aylers should take a next step in year 3 of the Mike Houston era
Charlotte: QB Chris Reynolds is a fun dual threat and coach Will Healy does everything right - this is a program you will want to have succeed because of who their staff is off the field
UTSA: Mentioned above, Sincere McCormick was 2nd in the country last year in rushing and returns with a solid OL and Jeff Traylor is getting something good going in the Alamodome.
Nevada: Carson Strong is likely the best QB in the MW and maybe the whole west coast - Jay Norvell was close to a CCG appearance last year, and they return most of their squad.
Wake Forest: Sam Hartman returns a lot of talent and is growing into his own after playing for Will Grier's dad in HS and making an appearance on "QB1 Beyond the Lights" on Netflix.
Arizona State: The Cougar will play them - so you'll see them once, but what on Earth is that team who was supposed to contend for the P12 South going to look like with the mess of an ongoing NCAA investigation?