Where does BYU's schedule give the Cougars any favors?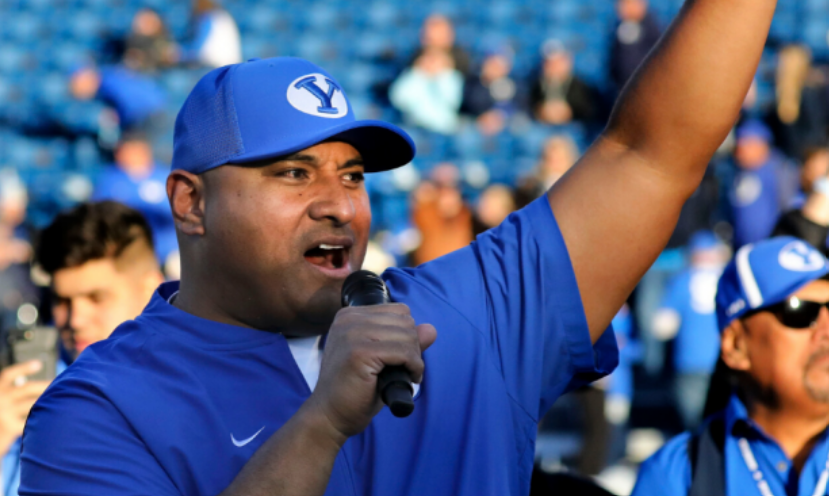 College football is all about scheduling. Great teams look like bad teams at the end of the year because the schedule just kicked the crap out of them. Earlier this week, I listened to my guy Josh Pate talk about Arkansas. The Las Vegas win total for the Razorbacks is currently set at 7.0 games this year. He talked to an oddsmaker friend of his and asked where that win total would be at if the Hogs played in the ACC instead of the SEC West.
The answer? 9.5 games.
Take everything about Arkansas and keep it the exact same. Lighten their schedule just a little bit by going from THE P5 league to another P5 league, and it's a 2.5 win difference in Vegas.
Scheduling is everything in college football (well, except injuries... scheduling is everything in college football except injuries).
Today, we're going to take a deeper look at BYU's schedule. We're not just looking at the names on the calendar. We're not just look at bye weeks. We're looking at everything. It's time for the nitty gritty details of BYU's schedule.
AT USF - September 3
On one hand, if you have to travel from Provo to Florida, doing it on the season opener seems like the ideal time to do it. On the other hand, if you want to set up a team with a chance to punch you in the mouth, give them a chance for a marquee win at home when you're travelling two time zones.
There really isn't much that anyone can do about a season opener. Travelling to Florida will be tough for BYU. The Bulls will be a better team in 2022 than they were a year ago, particularly with Gerry Bohannon at quarterback. BYU has to be ready or this special season could be over as quickly as it begins.
VS. BAYLOR - September 10
Baylor will take on an absolute juggernaut in their season opener. And by juggernaut, I mean Albany University.
The only favor that the schedule really gives BYU in this game is that it's a late night kick in Provo. September 10 isn't exactly winter in Utah, but theoretically, it could be colder in a night game at LaVell Edwards Stadium than it generally gets in Waco.
Beyond that, there are no favors for the Cougs from the schedule on this one.
AT OREGON - September 17
This is the first game where we can really argue that the schedule actually helps BYU. Oregon is going to be a tough team. Sure, they're breaking in a new coach and a new quarterback, but they are an elite-level team from a talent standpoint and Autzen Stadium is not an easy place to play.
But, the Ducks open the season by travelling to Georgia to take on the defending national champs. It's technically a neutral site game, but Atlanta is basically Athens. And Compared to Eugene, OR, this game might as well be directly between the hedges. In addition to the tough test against the country's best team, it is a bit of a homecoming came for new Oregon head coach (and former Georgia defensive coordinator) Dan Lanning.
The Ducks then travel home to play FCS Eastern Washington. The Eagles are generally one of the better FCS programs in the country. The Ducks will be heavy favorites and should win the game handily, but they won't be able to overlook EWU.
Then comes in BYU. Aside from Georgia and potentially Utah, the Cougars will be the best team that Oregon faces this season. Playing a team with as much experience as BYU in a game that some Oregon fans will view as a must win is not going to be an easy task.
The schedule won't win this game for BYU, but given that Oregon has to go to Georgia and could then find themselves in a closer-than-it-should-be game against EWU, BYU might catch the Ducks at a good time.
VS. WYOMING - September 24
Wyoming plays Air Force the week before they travel to Provo. They will have an extra day of prep, their game against the Falcons is a Friday night game, but playing that triple option team is never an easy task.
BYU should be heavy favorites against the Pokes no matter who Wyoming plays the week before, by going from a triple option team to BYU's prolific offense is not easy for any defense to prepare for - especially when they have a tough in-conference game against San Jose State the next week.
The schedule lines up nicely for BYU in this one.
VS. UTAH STATE - September 29
The Battle for the Old Wagon Wheel will be played one more time before it is on hiatus for the foreseeable future. The Aggies are a good team and this game will be tough. It is on a short week for both teams, but it is a day shorter for Utah State as they will travel to Provo the night before the game. Beyond that, the schedule really doesn't do either team any favors here.
VS. NOTRE DAME - October 8
BYU will go into the game against Notre Dame on a long week of preparation. That's good news.
The bad news is that Notre Dame will be coming off a bye week and will be as fresh as they have been since the season opener. The Irish could be riding high in this game as well.
They will open the year up against Ohio State - a tough test in every sense of the word. But, after that they, they play against Marshall, Cal and North Carolina. None of those teams are expected to be very good this year and the Irish should roll. After BYU, the Irish play a rebuilding Stanford team and then UNLV.
Suffice to say, the Irish will have all of their attention focused squarely on BYU. They should be on a three-game wining streak (at worst) and there is no reason to look ahead if you're a Notre Dame fan.
The only benefit that the schedule gives BYU is that it's a lot easier to travel from Provo to Las Vegas than South Bend to Las Vegas.
VS. ARKANSAS - October 15
BYU will be coming off a tough game against Notre Dame, but Arkansas will be coming off an absolutely brutal stretch on their schedule. Three weeks before the Hogs will travel to Provo, they have a neutral site game in Arlington against Texas A&M. Two weeks before BYU? A home game against Alabama. The week before BYU? A road game in Starkville against Mike Leach's Mississippi State offense. Then the Hogs travel west to Utah for a mid-October non-conference game.
That is not going to be easy, folks. BYU will be coming off of a tough test against Notre Dame, but the Razorbacks could be absolutely reeling coming into this game. They play a BRUTAL stretch of three games before travelling to LaVell Edwards Stadium.
AT LIBERTY - October 22
Travelling to Virginia is never easy for BYU. Even when they're playing bad teams, that kind if mid-season travel is tough on a team. And given that BYU will play two physical games against Notre Dame and Arkansas the weeks before their tilt against Liberty, this game gets all the more difficult.
Liberty, on the other hand, will play a three game stretch against Old Dominion, UMass and Gardner-Webb before they match up with BYU. This game will, undoubtedly, be circled as a chance to make a statement against what could be a ranked team. The schedule doesn't set up well for BYU in this one.
VS. EAST CAROLNA - October 28
Look, East Carolina is not a very good football team. And their schedule kills them this year. The Pirates will play all four new additions to the Big 12 in consecutive weeks this season.
First, they play UCF on October 22. Then they will travel to BYU on a short week to play the Cougars. After that, they have a bye week and games against Cincinnati and Houston. That's about as brutal of an AAC schedule as you are ever going to see.
This game comes at a good time for BYU.
AT BOISE STATE - November 5
This will be the 10th game in 10 weeks for BYU. That in and of itself is a tough thing for the Cougars to overcome. Add in the fact that this game is on the gaudy blue turf at Albertson's Stadium and that Boise fans are miffed that BYU is going to the Big 12 but they aren't, and this game will damn near be a must-win for Andy Avalos and his squad.
Boise plays Colorado State at home the week before BYU and then a rebuilding Nevada team the week after BYU. All eyes will be on the Cougars in this one.
VS. UTAH TECH - November 19
What a stupid name, Utah Tech.
AT STANFORD - November 26
Stanford plays USC, Washington, Oregon, Notre Dame and Utah this season. Those five games seem like surefire losses at this point, right? The rest of the six games before the Cardinal welcomes BYU to Palo Alto will determine, in my opinion, how much motivation Stanford really has in this one.
If David Shaw's squad falls against Oregon State, Wazzu, UCLA or ASU, then it's very possible that they are out of bowl contention and simply unmotivated during their regular season finale against BYU. They will also be coming off a rivalry game against Cal the week before.
Or, it's also possible that they are 5-6 coming into this game and a win over BYU is what would make them bowl eligible.
The former scenario seems more likely than the latter at this point, and if that's the case, then BYU could be looking at another game like they played against USC last year.