Happy Memorial Day, Cougar Fans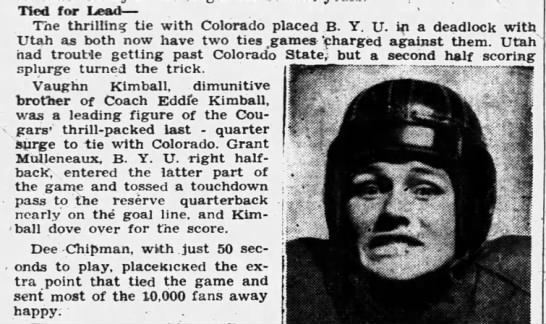 Have the OGs who have been with us at GEHB already heard this story? Yes, they have.
Have most BYU fans heard at least part of this story so I'm not exactly breaking any news? Yes, they have.
But do you need to hear this story again on Memorial Day because it's so badass that it never isn't cool? Yes, you absolutely do.
Without further adu, let's remember our namesake: It's time for Vaughn Kimball.
--
'BRIGHAM YOUNG UNIVERSITY FOOTBALL TEAM
-FLOYD MILLETT BRIGHAM YOUNG UNIV PROVO UTAH
"SATRUDAY THERE IS ONE THING MORE IMPORTANT THAN THE WAY AND THAT (IS) TO BEAT UTAH. THIS ACCOMPLISHMENT WOULD AID THE MORAL(E) OF TWENTY FIVE THOUSAND ALUMNI AND AID THE WAR EFFORT SO GIVE EM HELL, BRIGHAM. GIVE EM HELL."
- Vaughn Kimball'
Those are the words of a true BYU badass. Vaughn Kimball, the man who was set to lead BYU at the quarterback position in 1941 but elected to forgo his college career and join the United States Navy, sent that telegram to BYU before they played Utah in 1942. The Cougars had never beaten the Utes. (By the way, Utah based newspapers commonly referred to the Utes as "Utah's Redskins" back in the day. Which seems like the kind of news that typically gets people canceled these days.) Kimball sent a telegram to the team - his former team, mind you - and BYU beat Utah for the first time ever. Then, the Cougars went 16 more years without beating Utah.
Was it the telegram that led BYU to the victory? You can't prove that it wasn't. And like ESPN taught us, it's only crazy if it doesn't work.
In addition to being a BYU badass, Kimball was an American badass.
He joined the Navy and soon thereafter found himself on board the USS Bunker Hill. Eventually, he would give his life to his country aboard the Bunker Hill, but not before being part of some pretty incredible stuff.
The Bunker Hill was one of the many American forces that fought in the Battle of Iwo Jima. The five-week battle cost 26,000 soldiers their lives before the Japanese surrendered the island to American forces. On April 7, 1945, the aircraft that were aboard the USS Bunker Hill took part in a special ops mission to find a Japanese fleet of ships. They discovered the largest battleship in the world, Japan's Yamato.
Prior to the discovery by Bunker Hill aircraft, the Yamato had gone undetected by American intelligence for over a year. Once it was spotted on April 7, the special ops unit launched an attack and sunk the large battleship and four other destroyers with it.
That is the stuff of true American legends. All of the soldiers on the Bunker Hill are among those legends.
Just over a month later, on May 11, the Bunker Hill was attacked by a pair of Japanese kamikaze planes. The first of the two attacks dropped a 550-pound bomb that penetrated through the deck of the Bunker Hill and through the entirety of the ship before it exploded in the ocean. The plane then hit the deck and destroyed several of the aircraft aboard the Bunker Hill.
Just 30 seconds later, the second Kamikaze dove towards the deck of the ship. This one did not miss. The plane evaded the defense of the Bunker Hill and dropped its bomb onto the carrier's 'island' where it exploded on the ship. Fires and explosions ensued.
The Bunker Hill lost a total of 393 sailors and airmen that day. 41 of those 393 were never found. Kimball was among the 41 who went missing and were later presumed dead.
The Bunker Hill made it back to shore where it was repaired. The war ended while it was in the shipyard. It was decommissioned into reserves in 1947 and reclassified a few times after that. The ship was mostly used for testing through the 50s and 60s until it was sold for scrap in 1973.
Kimball was lost in 1945. The Bunker Hill turned to scrap in 1973. And yet, here we are in 2021, still talking about them. A true testament to their remarkable legacies.
Kimball is a BYU legend through and through, and yet, you won't find nary a trace of him (boy I've been reading a lot of 1942 journalism when the word 'nary' comes to mind) anywhere inside LaVell Edwards Stadium.
THIS IS THE MAN WHO INSPIRED BYU'S FIRST WIN OVER UTAH!
THIS IS THE MAN WHO GAVE HIS LIFE WHILE SERVING HIS COUNTRY WHEN HE SHOULD HAVE BEEN QUARTERBACKING THE COUGARS!
How is this not the most popular man on BYU's campus? How is there not something paying tribute to the former BYU football player?
The name of our podcast and the name of list newsletter was inspired by Kimball, but it's time for BYU (or a collection of BYU fans, I suppose) to do something for Kimball. It's been nearly 80 years since his death, but he deserves to be an icon of BYU football.
An Officially Big Deal Official Visit
BYU doesn't typically do summer official visits. In fact, up until three days from now, BYU has really tried not to even do in-season official visits. The Cougars have held this belief that recruits see what they can see during unofficial visits, they know what BYU is all about when they leave, and then they can save the official visit and use it more like a celebration before National Signing Day.
Honestly, it's a great thought. And over the last few years, the philosophy has worked. Players like Ice Moa, Cody Hagen, Raider Damuni, Logan Fano and a host of others have committed to BYU and employed some variant of that strategy.
But it is a weird strategy. Or rather, it's a unique strategy that nobody else in the country uses, thereby making BYU unnecessarily different and presenting opportunities for players to feel miffed by the Cougars because they aren't being recruited like everyone else.
This week that changes. BYU will host Jackson Bowers (four-star stud), Walker Lyons (four-star stud), Hunter Clegg (four-star stud) and Ethan Thomason (probably should be a four-star stud but is a high three-star right now instead). All four players have strong connections to BYU. All four players have been to BYU multiple times already. All four players hold double-digit offers from the PAC-12 to the ACC and everywhere in between.
All four of these players are big, big deals.
BYU is in a strong position for each of them, but it is just as likely that they go 0-for-4 as it is that they go 4-for-4. Stanford is a huge threat for Clegg, Lyons and Thomason. The SEC has always been a dream destination for Bowers. Utah is in the mix for all three of them as well, and as much as we hate it in Provo, they are defending PAC-12 champs which brings a ton of momentum. The Cougars have to really put their best foot forward.
This will be the first official visit for all four of these young men. Being first has pros and cons. BYU gets a chance to set the bar and they get to establish what 'normal' looks like on an official visit. That's a good thing. But, they are always the furthest away from decision day and it's possible that the memory of this visit fades away as they go to other schools.
It's been said that when you're interviewing for a job, you either want to be first or you want to be last. Nothing is perfect.
I look at BYU's chances like I do an oddsboard at a Vegas sportsbook on a college football Saturday. I like BYU's chances in all four of these games, but I don't think I like them enough that I would put the four of them into a parlay and bet that BYU hits on all four. I think BYU gets two for sure. Landing three wouldn't be overly surprising. Landing four would be a dream scenario.
What two? Your guess is as good as mine. If I HAD to guess, I think BYU is in the best position for Bowers and Thomason. Lyons and Clegg have both played their cards close to the vest and tell everyone what they want to hear, so anyone who speaks definitively about their futures is guessing. There is reason for optimism, but it's still up in the air.