TV, The Big 12 and The Big East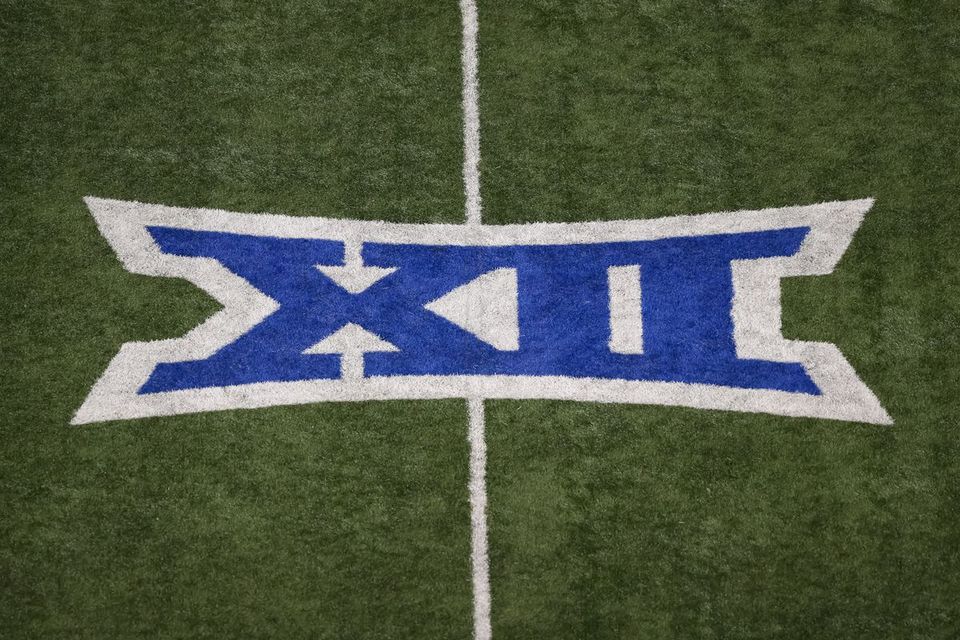 Unless you were living under a rock on Friday, BYU was the talk of the realignment world. National writers from multiple outlets floated stories about both BYU being the best candidate for expansion (something we have known for years) and that the league was already in discussions with the Cougars.
The Athletic reported this - the first time that any major and serious outlet has pushed the BYU to Big 12 narrative. They highlighted some key figures we will discuss below.
Berry Tramel, the main sports columnist for the Oklahoman, also put out a report on Thursday.
Chip Brown, the site manager of Horns 247 reported that Texas and OU were the roadblocks to BYU joining in 2016 and confirmed what has been widely rumored in BYU circles: BYU was always #11, but there was not enough movement on #12 to make it happen.
While still early in the process, this time it feels different. In 2016 the dog and pony show constantly begged the question "who moves the needle" - but times are different - and the Cougars are in the driver seat.
The Big 12 Needs to Act Quickly
My gut tells me that the league will move quickly to add at least 2 teams - they need to be ready in the event Texas & Oklahoma leave before 2025 (which everybody expects to happen). The AAC requires 27 months notice and a $10 million buyout. A few of the P5 game contracts BYU has had that have been FOIA'd have shown the clause for being released from that contract in the event of a P5 invitation for the Cougars and 18 months notice. We can presume that the G5 games have more favorable terms for BYU. And these games can all be moved which likely lessens any buyout.
Now, one random WVU account (WHY IS IT ALL WVU PEOPLE THAT TALK ABOUT THIS!?), hit send on this Sunday:
Now this guy is probably talking out of his butt or drank too much moonshine or might also be semi-illiterate (West Virginia is known for all 3) - but it brings up an interesting scenario:
Almost every FBS team has their schedule set already for 2022. If OU and Texas lawyer up bigly and buy their way into play in the SEC next yaer, the Big 12 with their round robin schedule and 8 members will need to find 16 games, with none on the table. This means either trying to find FCS games late in the process, or buying out FCS games from G5 teams to get the G5 bodybag game. If they already have an FCS game on the schedule, they can't count a second one towards bowl eligibility and for the bottom half of the league that might get sticky.
Enter BYU - who plays 12 non-conference games a year. The invitation can be scheduled to start in 2025 OR whatever season OU/Texas officially leave, whichever is sooner. In terms of scheduling, inviting BYU, the far and away best option is akin to inviting 2 teams - you get BYU for a conference slate, and everybody the Cougars were scheduled to play is now on the table as non-conference inventory to fill the second slot in the other teams schedules. It's not a complete clean fit (BYU only has 11 games set in 2022, with the ND game at a neutral site rumored, they play Baylor as well which would be a league game for both schools) next year, but 2023 (which is the most likely first year in the SEC in my opinion - seems like there is too much to move on both sides for 2022 to happen, but money talks) it would be a slam dunk.
A quick BYU invite contingent on the final exit date of OU and Texas solves a lot of the Big 12's problems:
Increases TV deal
Fills the scheduling void by 2 schools leaving on short notice
Gets the best available brand into your league
Most importantly: buys yourself time to avoid doing something stupid (like the Big East inviting Tulane in 2012)
Push come to shove, the Big 12 may say "hey for a few years, let's do an 8 league round robin with 9 teams until we sort out the rest. Then we can get to 12 buy carefully selecting the 3 we want and keeping an 8 game schedule with 9 teams". 9 game conference slates are stupid and only cause you  to miss out on a bowl bid or two and weaken the perception of your league - cut the extra infighting game out and get more OOC inventory that your fans will enjoy traveling to.
TV Numbers
The last expansion debacle 5 years ago what in a different stratosphere of cash - the Big 12 teams have been getting 35-40 million dollars a year in TV money, of course BYU doesn't bring that much value to the table - but neither do the remaining 8 schools. Current projections have them around $15-20 Million per team a year. But one current Big 12 AD recently said that we were the only school consultants said added value overall. Here is an interesting segment from the report:
Between 2015 and '19, the meidan audience Big 12 teams (minus games involving Texas and Oklahoma) drew for 36 games broadcast on ABC, Fox or ESPN was 1.786 million viewers. BYU's numbers were comparable; the Cougars' median audience in 16 games broadcast on those channels was 1.64 million. For 104 games broadcast on ESPN2, ESPNU, Fox Sports 1 or Fox Sports 2, the remaining Big 12 schools drew a median audience of 482,000. BYU drew an median audience of 682,000 from 20 broadcasts on those networks.
More impressive? BYU drew better numbers on those traditionally less-watched channels despite 15 of those broadcasts kicking off at 10 p.m. ET or later. None of the broadcasts involving Big 12 teams kicked off later than 8:30 p.m. ET. In other words, adding BYU would allow the Big 12 to open a new TV window, a possibility that provides greater value...
Sources have told GEHB that the renewed BYU TV deal with ESPN is in the range of 12-15m annually, depending on a lot of kickers in the contract (viewership thresholds, if ESPN brokers a season opener or one off neutral site game, etc). Being in the Big 12 would only raise the Cougars viewership for a variety of reasons:
Improved schedules - we will get a taste this year of what type of bump in viewership we can expect with 7 P5 programs + Boise State on the docket. Our current TV numbers are weighed by games against Toledo, Utah State, and UNLV, etc.
Conference games - one benefit of a conference is the underpinning of viewership from conference foes. As an Independent program, the only games that matter to BYU are BYU's - if you're jockeying for a slot in a conference championship game, there is incentive to watch other games that could affect your standing.
National impact - Independence has been a great decision for BYU - we just haven't capitalized on that as much as we would have hoped with some 'meh' teams. Being in what (for now at least) is considered a Power league draws more national eyeballs, you get more non-game media coverage, and overall it elevates the program.
We are right there without all of those things, and those are pretty big things!
If you want to look at this further, check out the graphics put together on the BYUtoBig12 site that show how much the Cougars have done with way fewer resources relative to the 8 schools and targers.
The Big 12 Targets and Future
Reading other Big 12 team's message boards the last month, it felt like reading BYU or Cincinnati's in 2016 - no  real national buzz, but everybody has that guy that says it's a done deal, a lot of prognistication. And it turns out it was exactly the same: the P12 is not pursuing expansion, the ACC hasn't invited WVU, and Kansas and Iowa State are not part of the the Big 10. The 8 schools are stuck. They need to do two things - fortify their brand and win.
Yes, it is a weaker Big 12. And the American lost it's autobid status, but took care of business on the field and separated themselves greatly from the MWC and doubled their TV money after 7 years. College football will be around for a long time - and now is the time to have a long term vision. Don't worry about what the ACC and PAC-12 are doing. The Big 10 and SEC run this ship. Get a solid conference in place and take care of business on the field and the money will grow.
If I were the Big 12 today, I would add BYU, Cincinnati, and UCF ASAP and one of Memphis or Houston. Unfortunately for the other Cougars, politics and not wanting competition in a major Texas market might hurt their chances and Memphis may get that nod. Here's where that league would stand in terms of average SP+ rating in football: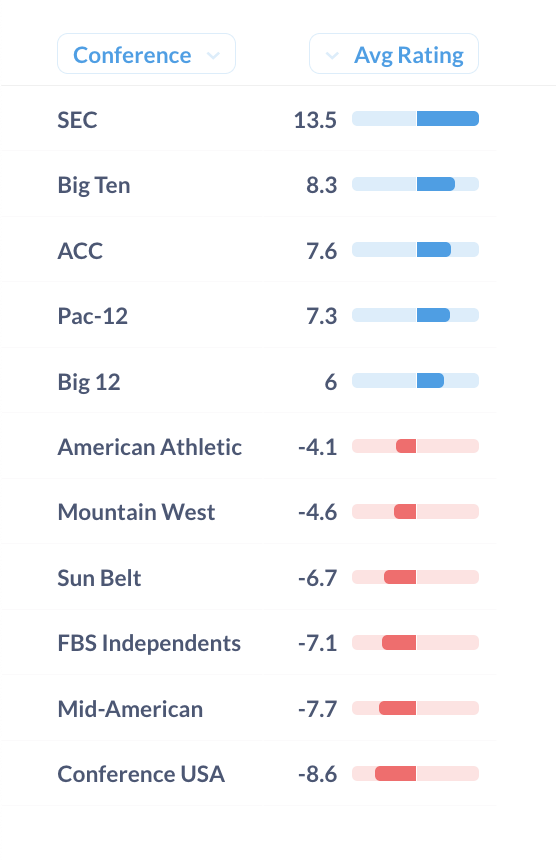 And here's basketball (well, only the conferences that matter) according to KenPom: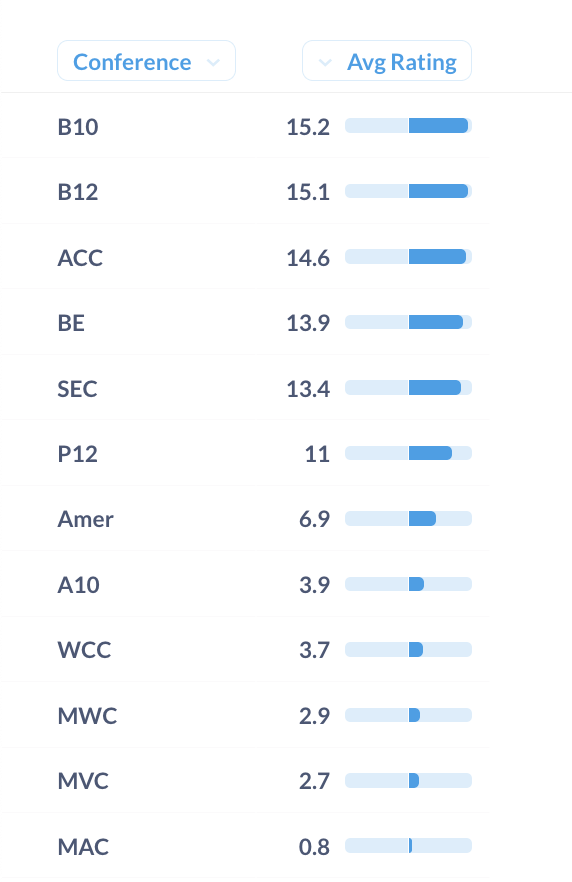 That is not a bad place to be. That is a place that will compete and can build itself up - it isn't starting from nothing. UCF and Memphis have built themselves into national brands in recent years with much less ont he payroll than current B12 teams. These are all in non-remote areas that provide the B12 better fan access. BYU and Cinci should've been in from the beginning - definitely Cinci - they went to back to back BCS games as members of the Big East then got left on the outside looking in. Really, the Big 12 screwed up by taking WVU and TCU - they should've grabbed Cinci and Louisville. The ACC never wanted WVU and TCU was on an island - both would always still be options, but that's the past. Time to fix it.
But the Big East!
A lot of people compare the current Big 12 to the Big East and worry that it will fall apart the same way. It may still fall apart, but it will be for different reasons. Here's a few:
Actual league history: People forget that the Big East was formed because 8 independent programs wanted to get a TV and got together. The Big 12 schools ahve been together in various segments for over a hundred years.
Geography: They're on an island. The Big East is in more densely populated areas where travel to other areas is convenient for sports. Sorry Manhattan and Ames.
Half the league didn't play football: Cramming a bunch of public football schools into a basketball league with mostly private, non-football, Catholic institutions is a bad fit.
In its final days, the Big East only had 4 of its original 8 members remaining - Miami, VA Tech, and Boston College had already gone to the ACC and they straight up kicked Temple out to make room for USF. There was no cohesian despite a good on the field product. The schools added included FCS UConn and startup USF which had just 5 seasons under its belt. The history, infrastrucutre and relationships just were not there.
The 8 Big 12 tams don't have that identity issue. Yes, there will be a rough patch, but it isn't inconceivable they overcome this if they take care of business.
Should BYU Say Yes?
The Athletic article and many BYU fans have suggested that we should just turn it down to avoid getting on the sinking ship. I think there is room for the debate, but ultimately if the call comes with reasonable terms, the Cougars will take it.
This is the last chance. The next time realignment happens, in my opinion, it will be a complete breakaway - it is much better to be on the inside of the club, if even people think you're the smallest group there, you're still there.
The money will still be an improvement, and there will be a recruiting bump as well - a good league is an easier sell (just like Indy is an easier sell than a podunk MWC).
This basketball league would be fun as hell (especially if we brought Gonzaga and the 3 AAC schools brought Wichita State with them). Sorry WCC gyms.
We would get to laugh at Boise State fans.
Somehow Utah State fans will feel spurned like they should be involved somehow.
Imagine the Aztec Tears from all 7 fans in San Diego.
The only other alternative for a league is joining the AAC and building that into a bigger brand. The B12 already has clout and the bottom end of the league has a higher floor than the bottom of the AAC. People mocked the Big East and called them a weak league after their 2005 invites - but they still had the best record in BCS games and when the other leagues in their area needed teams, that's where they went.
Push come to shove - if we ride it out for 10 years and then a CFB Super League happens we have some relationships and somebody pulling for us (somebody meaningful at least....New Mexico and Wyoming didn't bring anything to the table), we may end up full circle back as an independent team. Just as there is value in being nimble and controlling you own destiny, there is some value in having people in your corner with common interests.
There are potential pit falls - it may only last  a couple years and now we've burned some bridges with ESPN. It may quickly become a watered down league if it gets raided and only low value teams are available to add to backfill, but the conference has a large buyout so going back to being independence in that scenario would be expensive. But the remaining 8 schools will likely want to alter buyout terms of some sort to keep it glued together but still create a backdoor (eg: if 4 or more teams leave, the contract terms change).  Money talks and if we break our deal with ESPN to get buddy buddy with Fox and Fox becomes the B12's main producer - our relationship with Fox could grow to replace it. Or if it's a decade from now and our TV numbers are still among the best in the west, well, money talks and the Mouse loves to make money.
GEHB is a freemium newsletter for off-brand BYU coverage - if you would like to subscribe or upgrade to a paid subscription, click here: