Jaren Hall, Jaren Hall, and some more Jaren Hall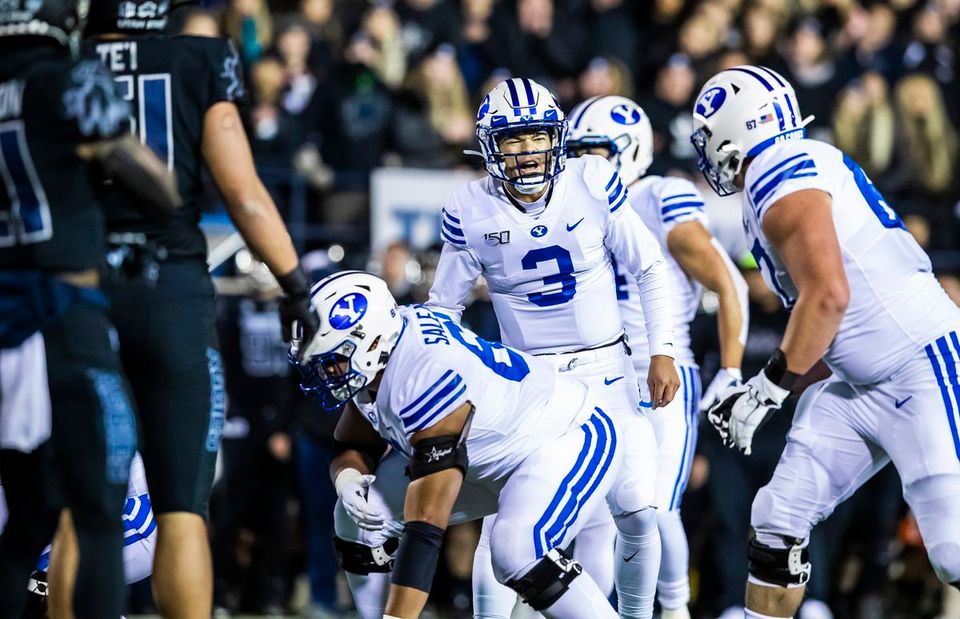 Give 'Em Hell Brigham is a 'freemium' newsletter. Starting September 1, half of our content and perks will be exclusive to GEHB subscribers. You can always enjoy our free content, but if you want to enjoy every benefit of a GEHB membership, please consider subscribing HERE.
Jaren Hall is the starting quarterback at BYU. He has a history of injuries. Aaron Roderick believes that those were 'freak things' and says that he does not consider him injury prone. But, the history is there and it will be something to monitor until he proves that he can stay healthy.
Okay, we've talked about that. From today forward, we are assuming a full bill of health for Hall.
Now we get damn right irresponsible with what comes next.
Quarterback A - 6'1", 220 pounds: Career 68.5% completion percentage and 9.8 yards per passing attempt. He also added 2.7 yards per carry.
Quarterback B - 6'1", 205 pounds: Career 67.4% completion percentage and 9.1 yards per attempt. He also added 4.3 yards per carry.
Quarterback C - 5'10", 197 pounds: Career 67.4 completion percentage and 10.4 yards per attempt. He also added 7.1 yards per carry.
Quarterback D - 5'11", 205 pounds: Career 60.9% completion percentage and 7.9 yards per attempt. He also added 3.2 yards per carry.
Two of those quarterbacks won the Heisman Trophy. One of those quarterbacks has a Super Bowl ring. One of those quarterbacks is Jaren Hall.
The sample size between Quarterback A (Baker Mayfield), Quarterback B (our beloved Hall), Quarterback C (Kyler Murray) and Quarterback D (Russell Wilson) is significant. Hall has thrown 46 career passes and made two career starts. Those other three quarterbacks were multi-year starters. But I said it was time to get irresponsible and I meant it. That's what is happening.
The similarities between Hall and these three spectacular quarterbacks are striking. Hall played college baseball. So did Wilson and Murray. Hall sat behind an NFL quarterback and had to wait before he took over the starting position. Mayfield was behind Patrick Mahomes and transferred to find playing time before going onto his own NFL career.
All four quarterbacks can move with their legs. All four quarterbacks have great arm strength. All four quarterbacks have had their ability to withstand a college football season questioned - whether because of injury or size.
Three of those quarterbacks are starting for NFL teams after breakout college careers. One of them, Hall, is hoping to follow suit.
THESE COMPARISONS ARE NOT AS CRAZY AS YOU'D THINK! Let's go to the film!
Watch Mayfield in this clip. He's in shotgun, he takes the snap and things collapse pretty quickly. But, he's Baker Mayfield and he wakes up feeling dangerous so he does this.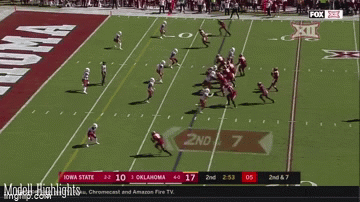 That doesn't look too different from something like this from Russell Wilson, does it?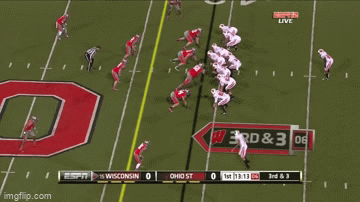 Well, Jaren "I Wear A Gold Chain" Hall can do this too.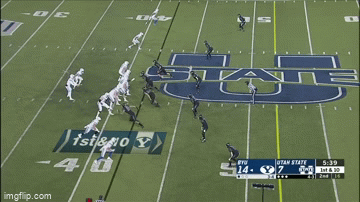 Okay, but what about throwing ability? Quarterbacks are paid to throw the ball, not run the ball. Jeff, don't be a stupid moron. There is no way that Hall is throwing the ball like any of these three quarterbacks.
Well throw....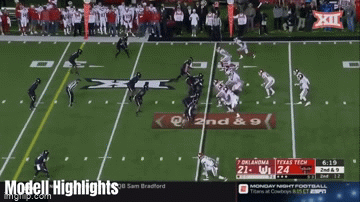 ...looks kinda like this throw.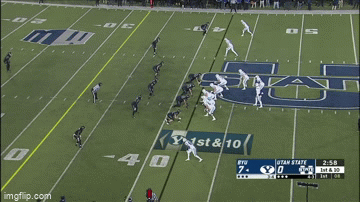 And this throw...
...looks a lot like this throw.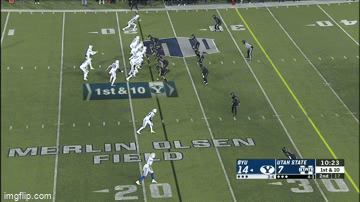 This touchdown pass...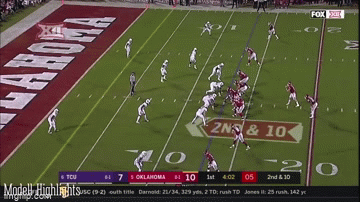 ...is eerily similar to this (should have been a) touchdown pass.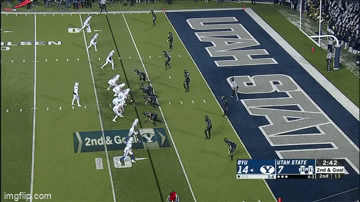 This deep ball here...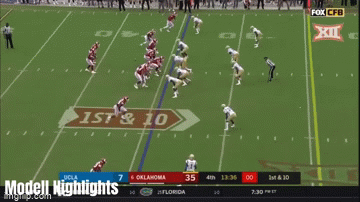 has some elements of this deep ball here.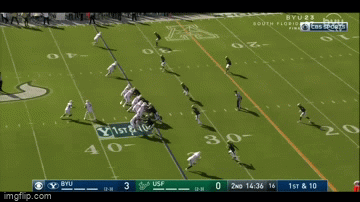 I think you're getting the point, right?
These aren't just flukey plays by Hall, either. This is who is he showed he was as long as he was on the field. He could do this...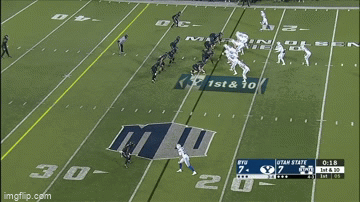 and this...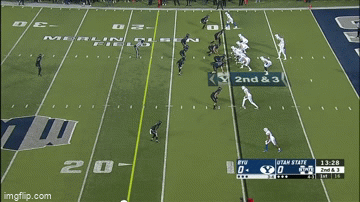 and this...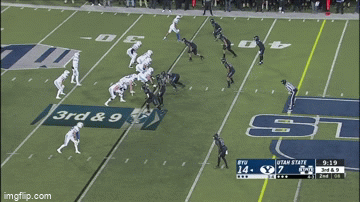 and this!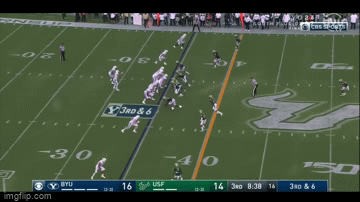 When under pressure, Mayfield completed 51.1% of his passes during his senior season. Murray completed 56.1% of passes under pressure during his senior season. Wilson completed 49.4% of passes under pressure during his senior season.
In 2019, Hall completed 55.6% of passes under pressure.
Jaren Hall is really good. And the comparisons between him and these three other quarterbacks aren't as farfetched as your Ute friend on Twitter is going to tell you they are. This kid can play. Zach Wilson might be a Jet, but BYU is very much still in the quarterback business. Hall has the ability and the potential to be absolutely special this season.
The sample size isn't there for Hall. We can't make any definitive statements about what exactly he is going to be this year. But, damn, at some point you have to look at these similarities and get on board with the idea that BYU might have another NFL prospect on their hands.
And why would that be crazy? BYU has done it before.
Jimmy Mac replaced Marc Wilson. Steve Young replaced Mac. Bosco replaced Young (and won a National Championship!). That's back to back to back  to back NFL quarterbacks.
We haven't seen much of Jaren Hall, but we've seen enough. GEHB is leading the Jaren Hall train, folks.
Who are Gunner Cruz and Will Plummer? And why does it matter?
Jedd Fisch is Arizona's new head coach and by all accounts, he seems like a great guy. He's personable. He seems nice. He isn't anti-media or anti-fan like so many other coaches around college football are these days. I want to be a fan of Jedd Fisch. I am truly pulling for him.
When he was announced as the replacement for Kevin Sumlin as the head coach of the Wildcats, it was met with boos and crappy reviews. Athlon rated it the worst new hire of a coach. CBSSports ranked it the second worst hire. People aren't Fisch fans!
But dammit if I don't want him to be great. He's just so likeable. He's also making it really hard to be even a little optimistic about his future in Tucson. His first big decision as the head coach? He calls for a two-quarterback system.
Woof.
Gunner Cruz and Will Plummer will split time against BYU. What that split looks like remains to be seen. Series by series? Quarter by quarter? Halves? Who knows. But in any scenario, two-quarterback systems don't work.
I know, I know. Chris Leak and Tim Tebow worked for Florida. But that wasn't really a two-quarterback system. That was Leak's team and oft-used wildcat quarterback in Tebow.
But I digress. The two-quarterback thing is happening in Arizona and I guess we have to talk about it.
We'll start with Cruz. He's a former three-star quarterback who signed with Mike Leach and Washington State as part of the 2019 class. He's a big dude at 6-5 and 225 pounds. He was beaten out by a freshman at Wazzu and beaten out by a former  Utah County dude in Cam Cooper for the backup spot. He transferred from Pullman to Tuscon (outside of the heat, is there a difference?) and brings with him a grand total of seven career passes. He's completed five of those for 34 yards, a whopping 4.9 yards per attempt.
Plummer is also a former three-star recruit. He's not as big as Cruz, but is similar in his style of play. He has a decent arm and is mobileish but definitely a guy who is going to throw the ball more than he runs it. He is more experienced than Cruz, but that is only kind of good news. Plummer threw the ball 80 times for Arizona last year. He threw no touchdowns, three interceptions, and gained just 388 yards.
Those are the two quarterbacks BYU will face next week. They will not face Arizona's other transfer - former USF quarterback Jordan McCloud and frankly, that's a little surprising.
McCloud is 244/418 for his career for 2770 yards, 21 touchdowns and 10 picks. He's also added 357 yards on the ground. He started against BYU when the Cougars went to Tampa and played USF in 2019. He wasn't great, but he was good enough to beat BYU that day. He completed just 7/14 for 72 yards with a touchdown and a pick. (This has to be how Wisconsin fans feel when they look at the 2018 game against BYU and see Tanner Mangum's line.) He also ran for 23 yards.
Fisch is going with the two less experienced and less mobile quarterbacks for his two-quarterback system. On one hand, maybe they were just better than McCloud. On the other hand, if they were that much better than McCloud but couldn't separate from each other, is McCloud just horrible awful?
All in all, it sounds like a mess. Our friends at Wildcat Authority talked about the quarterback situation in Arizona and summed it up this way in their depth chart prediction before the two-QB nightmare was announced.
"None of the quarterbacks really stood out in practice. but we're guessing the coaching staff will go with the one who made the least amount of mistakes. That's where Gunner Cruz comes in as he did not throw an interception in any team period we saw. Will Plummer and Jordan McCloud really struggled with turnovers and although both had their moments, there is nothing wrong with going with the safe pick."
That, ladies and gentlemen, is one hell of an endorsement - the safe pick.
A different writer, in a VIP article, had a different take.
"Fans upset that there was not a permanent starter announced should be able to decipher what is going on really quickly and when no quarterback has made a big impression over the other why wouldn't Jedd Fisch go with both?
For as unimpressive as both Plummer and Cruz have looked at times, they both still have positive attributes. Plummer has all the physical tools and Cruz has moments where he looks like he can move a team up and down the field."
Holy balls... THESE ARE THE REVIEWS ABOUT THE STARTING QUARTERBACK(S)!
Back to some more Jaren Hall talk
This man rocks a gold chain and a scruffy mustache. That is swag, ladies and gentlemen. Zach Wilson had swag. He wore rubber wrist bands and dope head bands. But he wasn't quite gold chain level. That's a different level of swaggy.
But, back-to-back swaggy quarterbacks is something worth celebrating! Let's just take a look at some of the swagless quarterbacks in recent history.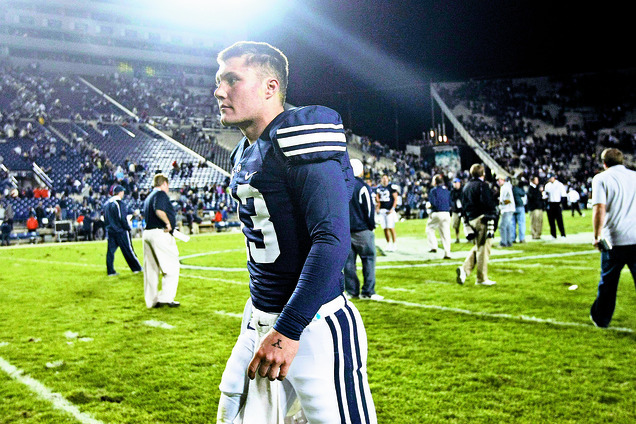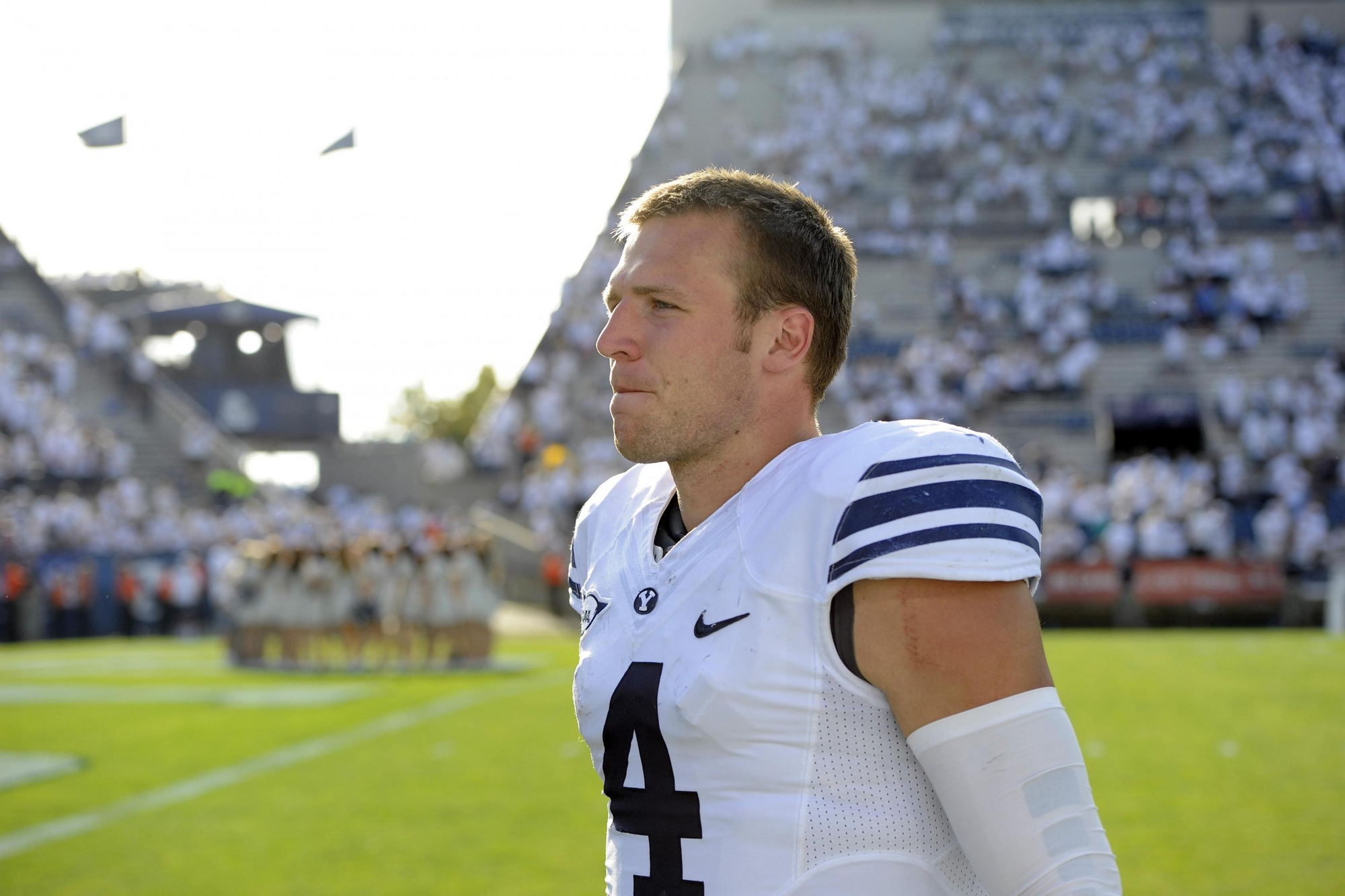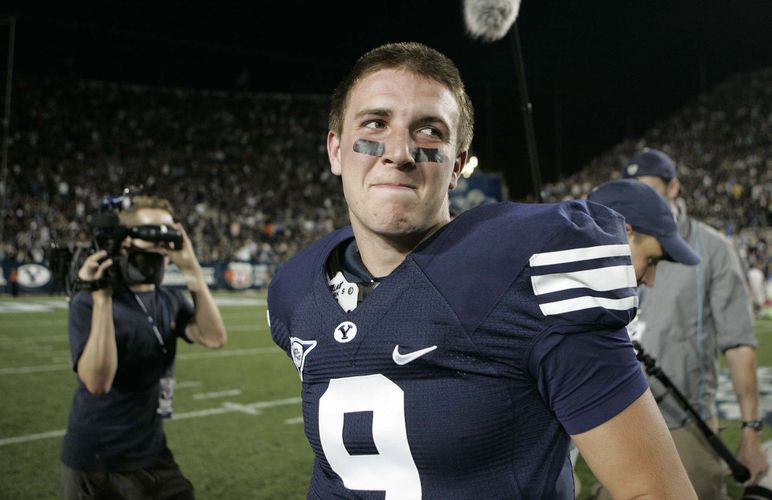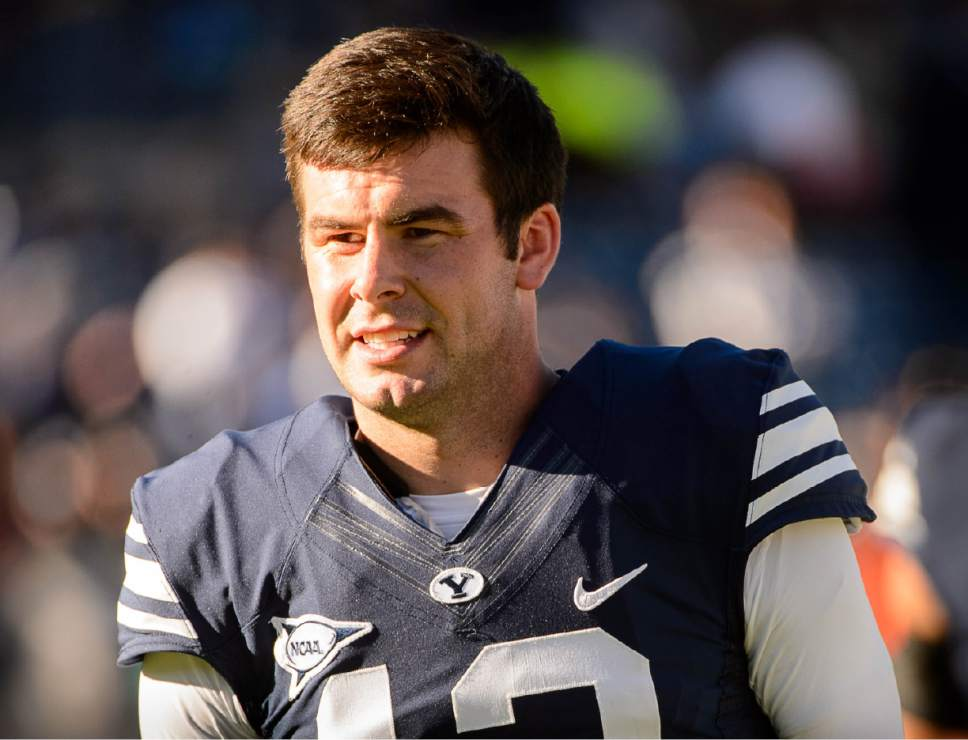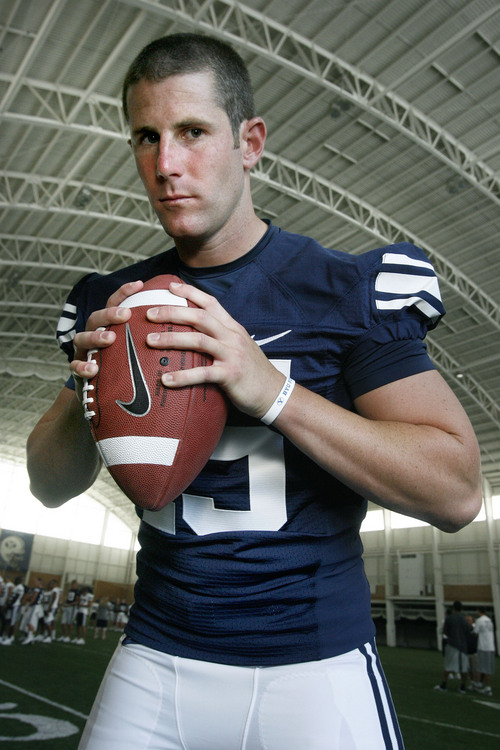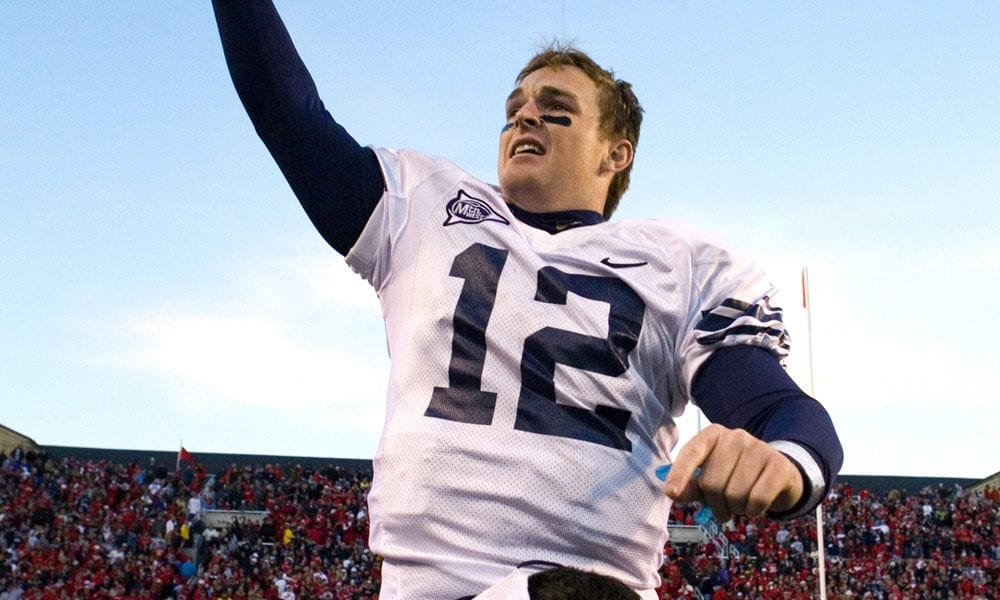 Honestly, if you told me all of those guys grew up on the same street and were all second cousins, I would probably believe you. But look at how far we have come, my friends!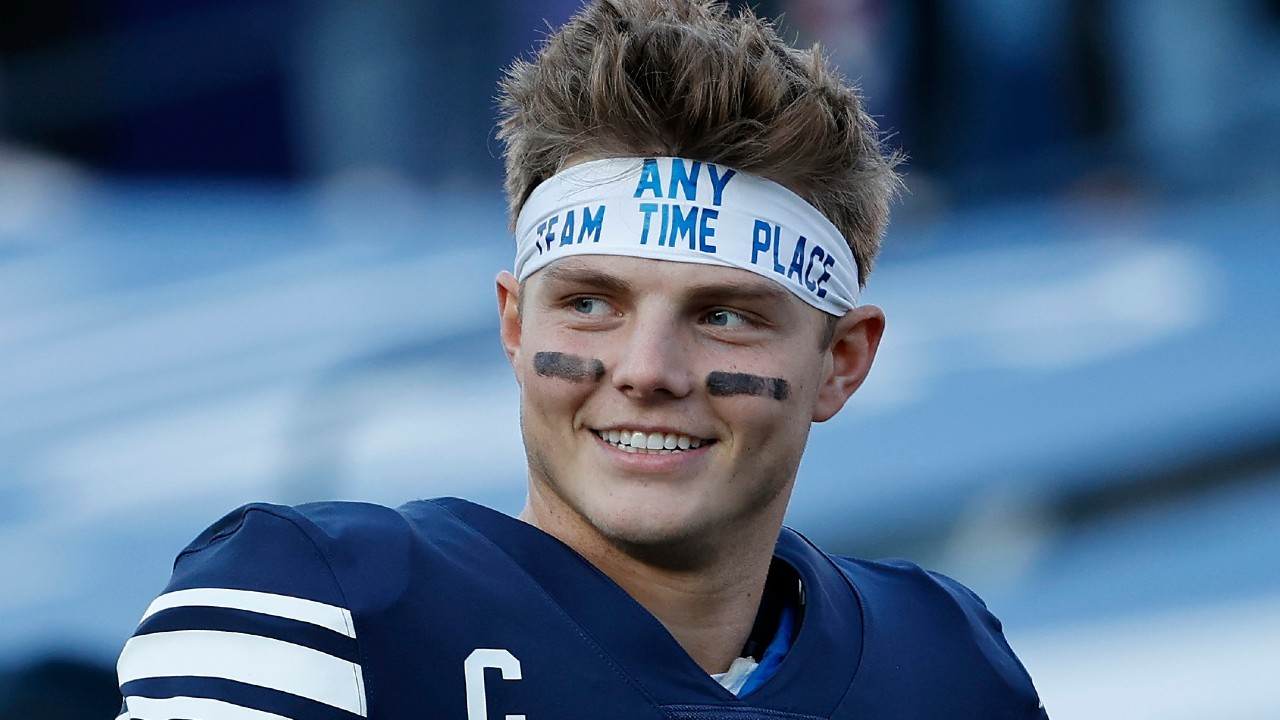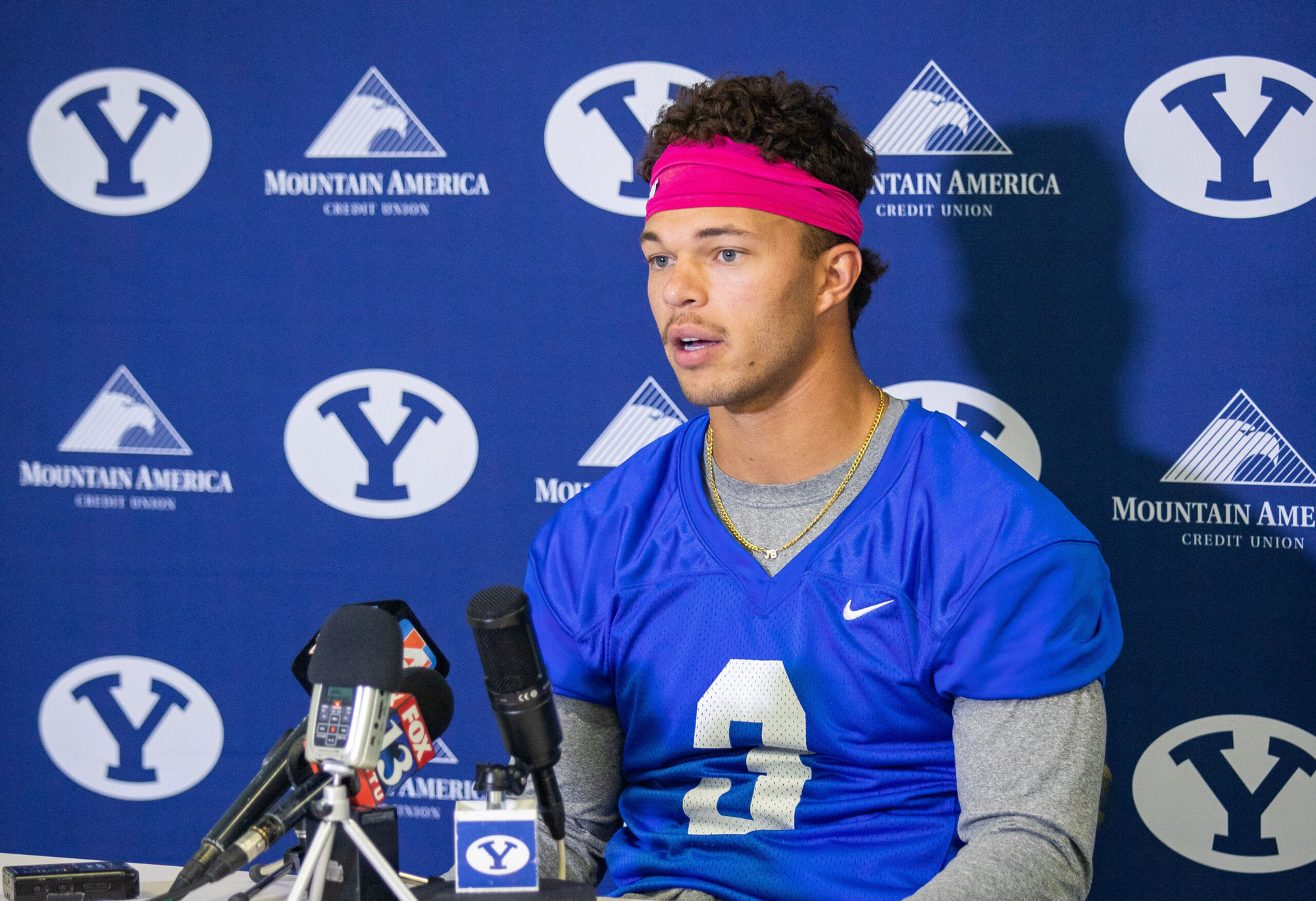 The swag is here! And while swag doesn't have a direct correlation on wins and on-field performance, it also doesn't not have that correlation.
So, while Arizona is talking about how unimpressive their two quarterbacks are, let's be grateful for what we have in Provo, friends.