Three PAC-12 presidents have spoken in a week... but have they actually said anything?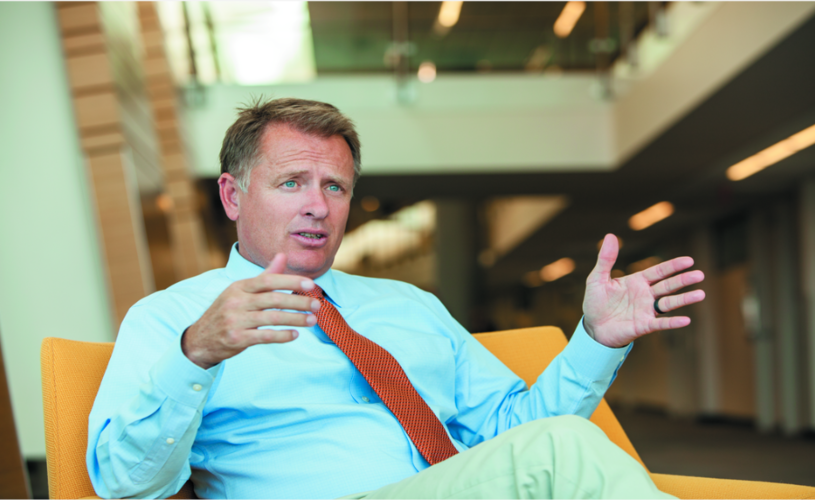 Three PAC-12 presidents took to the media to talk about the future of their conference and their universities. But, like any good decision-maker, they didn't say anything directly that would be super newsworthy.
However, is there something that we can glean from three otherwise-not-newsworthy interviews? Let's take a look.
Michael Crow
Last week, Arizona State president Michael Crow talked with The State Press about potentially leaving the PAC-12. We won't add any commentary to his comments, but rather, will post them directly and compare them with additional comments from some of his PAC-12 colleagues in the last week.
On PAC-12 media rights negotiations:
"We're close to knowing where we're going to be, and I think we're close to a deal," Crow said. "I think that the Pac-12 media rights became more complicated with the departure of USC and UCLA. The media rights became more complicated also, as things always do because markets go like this. They're up and down, up and down. But, we have fabulous sports teams and the remaining teams, we're going to get a good offer. We're in the final stages of that process."
On discussions about Arizona State leaving for the Big 12:
"There have been no discussions with the Big 12 conference on moving," Crow said. "I mean, there's been discussions between everyone everywhere on all things related to where our conference is going and where stuff's going to end up and what's happening. We are committed to the Pac-12."
There was more commentary in the interview, but it was primarily focused on topical things for ASU and the Tempe area, not specific to athletics or conference expansion in anyway.
Let's compare those statements with what Arizona president Robert Robbins had to say to the San Jose Mercury News.
Robert Robinson
On the notion that PAC-12 schools could bolt for the Big 12:
"It's heavily dependent on (commissioner George Kliavkoff) and his team negotiating a good media deal for us to stay competitive," he said. "I don't think anybody wants to leave. Why would you move for a couple million dollars a year more?"
He then compared the situation to competing for "a bronze medal."
On where he would like Arizona and the PAC-12 to be:
"I would love to be closer to the Big Ten or SEC, but being closer to the Big 12 is more realistic," Robbins said. "(Kliavkoff) has done a great job working on the media deal, and I think he'll bring us something that's good enough."
Twice during a 10-minute conversation, Robbins made a reference to the Pac-12 as the "Conference of Champions."
But he painted a nuanced picture for Arizona, citing the school's proximity to the Big 12 footprint and that league's powerhouse basketball brand as the basis for "some affinities."
Taylor Randall
Taylor Randall joined ESPN700 and Bill Riley today to discuss the progress of things from his point of view as the President of the University of Utah. Without commentary added, here is the conversation as it relates to expansion and TV deals between Riley and Randall (Riley's questions are italicized).
"Several of your colleagues, recently, have spoken out publicly about the ever-wanting about the PAC-12 media rights deal. Can you tell curious Utah fans today where we stand with this and what your expectations are?"
"First things first, we feel like there is still tremendous value of the 10 teams remaining in the PAC.... 12. I guess that's PAC-10. We have a strong, strong set of brands. You know, the way I think about the value of a league is that you've gotta have... and what comes out of the value of these contracts is really three things. First you've gotta have strong brands, which we have. Second, you've gotta make an argument that these brands are actually going to win and create great match ups. And if you look at our league next year - I don't know what your predictions are for the Top 25 - but leaving SC and UCLA out, you've got four teams that are probably ranked in the Top 25. Anytime you have Top 25 teams playing, that creates viewership, so our value goes up there. Then the final big component is do you have the right distribution for your games, are you talking to the right media partners? We're in the middle of negotiations - I can't reveal much about those - but I'm confident we have the right people at the table, I think they're seeing the value in our league the same way that we are seeing it. You'd always like to have an agreement sooner rather than later, but as I probably would remind you, but for the events of last summer, we wouldn't be starting our media negotiations until right now. And so, I think we're in a good spot. I like what I'm hearing coming out of our commissioner's office and where the negotiations are. We've still got a ways to go. But  I think you've got some solidarity with the remaining schools and within the president's room in particular."
"We had heard October, November, Dece- it's been pushed back a bunch. What's keeping the deal from being done sooner than expected? Or when you thought before - is it holdups or have there been more people involved? What's keeping this from being finalized?"
"I don't think we've had any serious expectations that it should have been done by now. We've all felt all along that we were going to be patient and make sure that we have the deal that works for us and preserves the long-term value of our conference. So I'm not - you know - I guess I would just say that we feel like we're in a good spot right now and it's progressing well."
"Your colleague - Dr. Robbins, from Arizona - was very vocal last week on television and in print in saying that he expected the deal - from what he's seen - to be as good, if not better than what the Big 12 got. Do you feel the same way?"
"I think we gotta get Bobby in those negotiating rooms. I love that. I love the optimism. I think we're all optimistic like Bobby is. We've got a lot of value in our conference."
"What have you made of the - some of the national media's apocalyptic predictions for the end of the PAC-12 Conference? When you guys get together as a CEO group, has that been any point of discussion? Have you guys seen that? Read it? What do you make of it?"
"You know, all of us that are sports fans have certainly heard or read those predictions. I would say that it runs somewhat contrary to the discussions that I have had with our presidents. It's a great group of individuals. We discuss openly what we think our strengths are. Again, I think we love the set of schools and the set of values that we bring and where we're trying to go with our athletic programs. We have always enjoyed the competition against one another. So, I don't think we see a dire scenario."
"There has been a lot of reporting, Taylor, about the four-corner schools - of which you are one - Arizona, Arizona State, Colorado, Utah -  about being in talks and negotiations with the Big 12 Conference. Now, I'm not sure what the sourcing is on any of these stories, but is there any truth to those?"
"Well, let me just say again that we are in solidarity with our PAC-12 presidents and peers. We are working to get a deal that is beneficial to all of us as a conference. That said, we certainly think that the Big 12 has put together a great conference and they are a great set of schools as well. But right now, we think staying in solidarity with our PAC-12 schools is the right place to be."
"Is expansion something that you guys have discussed? I know that you've given George Kliavkoff, as a CEO group, the power to explore it. Should we expect expansion to be part of this media rights deal? Or is that something that is separate in and of itself?"
"Yeah... you know, I think the way we're thinking about it is that it could happen together or it could happen separately. You need to know that conferences are always talking about expansion. Certainly you talk about it more when you're in the middle of media rights deals. But we've got a ways to go before we make public announcements or think really serious about it. We're certainly gathering information and we're going to be smart about that decision."
"When you guys as a CEO group get together - if you guys were to expand, what are the qualities, what are the things you are discussing in regards to growing the conference?"
"You know, it's an interesting discussion because all of us have unique characteristics that our schools are looking at. I can speak a little bit to Utah. We certainly look at our alumni footprint, and we look at where we would like to be, and we look at where we think we will be able to grow as a university. We look at the academic affiliations we could have with other schools. Without a doubt, our belonging to the PAC-12 has not only helped us recruit great faculty, but has increased our collaborations with great faculty all over the conference. Those are a couple of the things we look at. And then we do actually talk a lot about athletic considerations - Where do our coaches want to be in terms of a footprint? What's the travel burden on students? Right now, I think a lot of us - as you think about league composition - we're keeping an eye on evolution within the NCAA and the CFP. We all want to be national champions, right? There are tradeoffs when you're in different leagues and how you compose a league in terms of whether you are going to have a shot at a national championship that are also valuable to an institution."
"Does a market, as well as the university, factor into that as well? Because your university is certainly part of it but does the market that the university lies within has gotta be important or is that not so much?"
"Oh, yeah, of course. And I guess that's part of when I talk about the footprint and about where the university wants to be that's probably where I include that. But, there's some great brands out there that transcend markets. To an extent, the University of Utah is in a growing market, but we've also gotta create one of those brands that transcends markets."
There were a couple more questions reflecting back at Utah's ascension into the PAC-12 13 years ago and commentary from Dr. Randall on what that means. There was also a question about the impact of the success of the football program in recent years which led to a discussion about enrollment and about deposits at the university. But, as it relates to expansion and media deals, this was everything Taylor Randall had to say about the matter. You can listen to the interview in its entirety HERE.
Rakoto's Take
My message would be simple if I could hire skywriters and hang banners from the mountain tops of the Wasatch Front: Sports Journalists Don't Have TV Sources Because They Are Not TV Reporters. TV Reporters Have TV Sources. As A Result, Nothing In Sports Media Is From Actual TV Sources Or Should Be Considered True.
I don't expect Dennis Dodd of CBS Sports to be tuned into the inner workings of ESPN's contract negotiation office or whoever it is that is brokering new business for Apple TV. I don't expect Jon Wilner, a regional sports writer based in San Jose, to be dialed into the rumor mill inside Amazon Prime studios. I don't think that Jason Scheer, Steve Bartle, Jeff Hansen, or any other 247Sports reporter will have the inside scoop on any kind of media information. Brett McMurphy and Stewart Mandell have each covered some TV scoops in the past - primarily bowl game destinations and TV slots for college football Saturdays - but nothing as grandiose as a TV deal. John Canzano? My spider senses tell me he's the least connected of the lot.
Why don't any of these folks have the scoop? Because none of these folks should have the scoop. They're sports reporters. And when it comes to their relative assignments and markets, they've all proven to be damn good at what they do.
But none of them do media and TV deals. Period.
So who do you trust? Well, nobody, really. But the most trustworthy people are the actual media reporters - guys like Andrew Marchand and John Ourand. Neither of them will pretend to have the nitty gritty of every detail, but their nuggets from the tried and true TV sources. Sports media is what they do every day.
But even those two aren't speaking gospel truth, and they will be the first to tell you that. So, comparing the words of school presidents and gleaning what you can is probably the best bet that anyone has of getting a beat on what's happening.
So, let's compare these three presidents.  What do I see?
I see three presidents who are uncertain of their future, unwavering in their belief for the paths they have chosen, and unwilling to give away much of anything that actually matters.
But, words and phrases like "we've gotta ways to go" and "there's been discussions with everyone everywhere" and "it's heavily dependent on George Kliavkoff and his team" are the kinds of words and phrases that tell me there a growing sense of urgency for those who are involved.
My perspective - which, again, is based on information that any of you have available to you as well - is that these teams don't want to do anything they don't have to do, but with each passing day, have to draws closer.
And with that, we wait. Still.