Okay, fine. I'm committing to being a better basketball fan.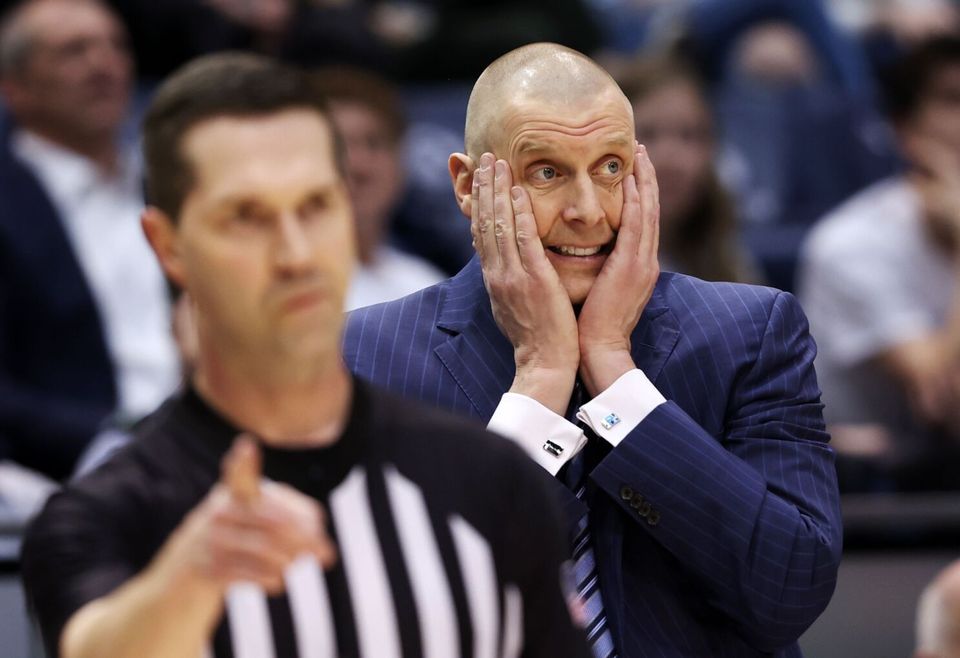 I used to be a big time basketball fan. I remember watching Notre Dame and BYU play at the Marriott Center during an NIT game. At the time, we lived in Cache Valley and drove down for the meaningless basketball game in the JV postseason tournament. I was a committed hoops fan.
I played basketball in high school, believe it or not, and thoroughly enjoyed myself.
I went on my mission and played basketball against professional teams in Madagascar. It was fun.
I came home from my mission during the peak of the Jimmer days and loved every second of it. He was my king. Deron Williams of the Utah Jazz was my prince. Basketball was good to me, and for the most part, I was pretty good to basketball too.
In fact, my first writing gig on the internet was as the featured BYU basketball writer on Bleacher Report. I loved it. Basketball was wonderful.
And then all of a sudden it wasn't.
I don't know if it was Jerry Sloan retiring, or Jimmer flopping in the NBA, or the fact that I got busy with life and quickly grew out of shape and stopping playing basketball. But at some point over the last decade or so, basketball became downright unwatchable for me.
Maybe it was the refs. I have a grown a deep, profound, and passionate hatred for college basketball refs. Spare me the bit about their job being difficult, too. The refs are trash and it makes basketball not fun.
Maybe it was the West Coast Conference. We can sit here and nitpick KenPom rankings and pretend like the WCC axxshually better than the Mountain West Conference, but those are lies. Looking at metrics to say that the WCC was 0.008 points better never held any weight for me. If I was going to watch crappy refs and crappy basketball teams play against BYU, I at least wanted to watch crappy refs and crappy basketball teams that I knew.
Seriously, though, folks - think about this. Sure, playing Wyoming sucked the big one. The Cowboys had their moments, but they were rarely a good team. Playing San Francisco might have been a better basketball team, but playing Wyoming at least kinda sorta meant something. You never wanted to lose to New Mexico because you'd have to hear about it during a football game or something. You didn't want to lose to San Diego State because, well, they can EAD.
Sure, playing Gonzaga is fun and St. Mary's turned into a decent rivalry too, but that was it.  The WCC gave four games that caused any sort of feel each year. Playing a four-game stretch of Pepperdine, Portland, Pacific and Loyola Marymount just never moved the needle for me.
Whatever the reason became, I grew to resent basketball. I hated it. It wasn't fun anymore and I've been an avid anti-hoopsite.
But I'm ready to change my tune and repent, ladies and gentlemen. I'm ready to become a big time basketball fan again.
Let's Start With The Competition
The Big XII is the premier hoops conference in America right now. Every game, whether it's an elite team like Kansas or a rebuilding team like Texas Tech, every game will have more juice to it than a game against San Diego. Every time. No matter what KenPom rankings try to tell you.
There will be rivalries established as BYU plays these teams in football, too. Their fans will be... well their fans exist. It doesn't matter what their fans will be so long as they exist. Because, try as you will, none of us have ever seen a Santa Clara fan out in the wild. You would sooner find Edward Snowden touring the Pentagon than you would find a die hard fan of the Portland Pilots. So yeah, rival fans will be fun.
It will become a lot easier to be a BYU basketball fan in the future, and that is something that each one of us will be able to appreciate.
For those of you who grew to understand the roster intricacies of Pacific or LMU, kudos to you. You win the best BYU basketball fan award. Your prize is a decade of mostly lackluster hoops in front of dozens of people.
Let's End With The Future
As the college football world realigns itself once again, becoming a BYU basketball fan is going to be critical for every BYU football fan. As things progress into the future, it could very well be the hoops program that helps the football program maintain relevancy. Hear me out...
The Big XII, try as they will, is not going to be on the same tier as the Big Ten or the SEC. The Big XII could completely merge with the PAC-12 and the ACC and have 35-team superleague and it would still not provide the football cachet that the Big Ten or SEC will. Thems just the facts.
The Big XII will fight for third place in the football hierarchy and they have as good of chance as anyone else. But, where they have a clear advantage over everyone else is in the basketball world.
And like that one dumb little fish and sharks, there might be some kind of symbiotic relationship here.
If the Big XII can maintain its status as the elite hoops conference in the country, it will assure itself that it will remain a talking point. Whether that's on SportsCenter or whether that's on Twitch, when you talk about college hoops, the phrase 'Big Twelve Conference' will have to be mentioned. As the wise people say, there is no such thing as bad press.
Basketball won't directly influence the football field, obviously. Basketball will influence the brand of the Big XII Conference, though, and that is something that Brett Yormark seems to understand better than anyone else.
The XII wants to add Gonzaga. That will give them another basketball-arrow in their elite basketball quiver. Houston is a one-seed in the NCAA tourney this year and they will be joining the conference. Cincinnati has been elite. BYU has been elite. UCF has been alive.
Basketball could become the lifeblood of the Big XII and as long as that blood is coursing through our conference veins, the Big XII will be relevant. That's a big time deal. A very big time deal. A bigly very bigly time deal.
It's not everything, to be sure. The Big East has been a great hoops conference but fart noise.
The Big XII feels different, though. They have good football. It might not be elite football, but it's good football  - and damn near great football. If they can pair great football with elite basketball, the Big XII has a future as bright as anyone else's.
And I guess that's what I have to cheer for now. So let's go Cougar Cagers.