Things That I Know & Why BYU Matters to Me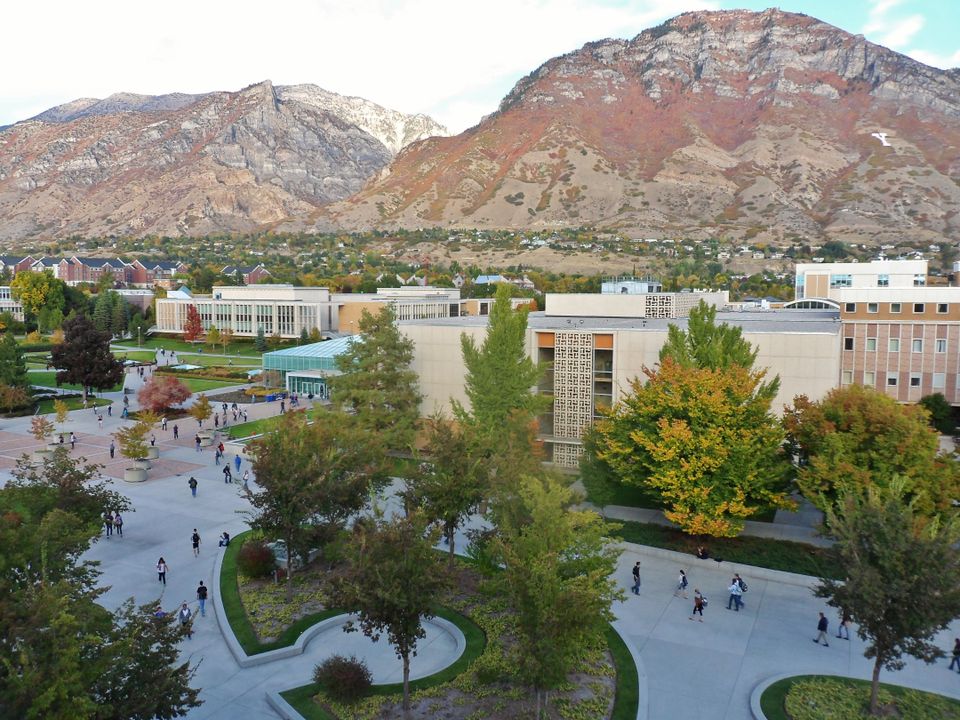 This edition of GEHB will veer off our typical path, but we're embracing it. We are all well aware of the unique mission of Brigham Young University. That mission as the flagship university of the Church of Jesus Christ of Latter-day Saints matters to the majority of our fans (and we especially love the fans not of our faith that join us through thick and thin, in sickness and in health) and is that connection is one that extends well beyond the football field, basketball court, baseball diamond or fieldhouse.
On Sunday night, my wife's uncle passed away after a 6 week battle with COVID. He leaves behind a wife and nine kids, six of whom are still at home. It is a heartbreaking moment for the family. While death is never fun, it often serves as a reminder of how many people are around us waiting to help if we just ask them.
This is the first death in my family since my sister Jennifer passed way the night of the Alabama/Georgia National Championship Game in January 2018. The following is the words I shared at her funeral, and I will add why BYU is so important to me. If you feel inspired to do so, feel free to share this article using the link on our homepage and tell your story of why BYU matters to you with the world.
Things That I know
Having just turned 27, I've reached the point in life where I have moved on from the "I have life figured out" stage back into the "I have no idea what I'm doing" phase. However in my 27 years of realizing I know next to nothing, there are a few things that I know for certain.
For example, I know that there is no way Nick Saban has gotten 7 straight #1 recruiting classes at Alabama without a host of NCAA violations. I also know that Jennifer perfected the chocolate chip cookie. And i know my fiancee said this isn't the setting for that Bama joke, but it's the kind of jab Jennifer would expect me to make. The few precious truths that I want to share with you today are things that I know are much more material than these (well, maybe not the cookie. That's pretty important).
I am of the opinion that Fyoder Dostoevsky is the greatest of the Russian authors. As a missionary in Ukraine and a student at BYU, I fell in love with the depth of his writings and the gospel insights he seemed to pen. My favorite of his quotes is found in his final notebook:
Не как мальчик же я верую во Христа и Его исповедую, а через большое горнило сомнений моя осанна прошла

It is not as a child that I believe and confess Jesus Christ. My hosanna is born of a furnace of doubt.
For me it is the same. I understand many that say you cannot know what you cannot see, but the things I want to share with you today have been pressed upon by soul by the Holy Spirit as I have studied and strived to live the Gospel of Jesus Christ. I pray that same Spirit will guide my words today and you may feel the same impressions that I have in my experiences.
1. Jesus is the Christ
Before we were born to this fallen world, every person chose to follow and believe in Jesus Christ. Every last person on earth — the best and worst people to ever set foot on this planet — at some point believed that Christ would be our Savior and Redeemer and showed faith in Him and the plan set forth by our Heavenly Father.
Because Christ lived a perfect life, He was able to pay the price of sin and stand as our advocate in the last day that we may be forgiven of our shortcomings and wrongdoings. In addition to that, as the prophet Alma states in the Book of Mormon:
11 And he shall go forth, suffering pains and afflictions and temptations of every kind; and this that the word might be fulfilled which saith he will take upon him the pains and the sicknesses of his people.

12 And he will take upon him death, that he may loose the bands of death which bind his people; and he will take upon him their infirmities, that his bowels may be filled with mercy, according to the flesh, that he may know according to the flesh how to succor his people according to their infirmities. (Alma 7:11–12)
In these two verses there is so much to take in, but it is important for us all to understand that as the Savior of mankind, Jesus Christ atoned not just for our sins and transgressions, but for every feeling, sickness, emotion, and pain that we have felt or will feel. He descended below all things that we may be succored in our darkest hours.
2. Eternal families are created in the temple.
Two weeks from today my fiancee and I will be married. I think Jennifer was more excited to plan and go to the wedding then we are. Obviously that day will be both monumental and memorable for me and Ali, but it will also be much more than that.
Before Ali and I are sealed to each other that morning, her parents will be sealed, and she will be sealed to them. We are links in the chain of our eternal family, and will one day raise our own children and prepare them to enter into the temple and make those covenants with Heavenly Father and someone they love.
The temple is the place on Earth where we can become closest to God. We leave behind our worldly possessions and are all equals — we see each other as God sees us. It is the House of the Lord and a place to worship and draw closer unto Him. As we learn about where we came from, and our divine potential as sons and daughters of Heavenly Parents, we find understanding amidst the chaos in the outside world.
3. God has a plan for each of us.
We often hear people say that God has a plan for us, and that everything happens for a reason. I believe that, but not as most would think.
The plan for each of us was set forth before the world was created and laid out before us. We are living in the second act of a 3 act play consisting of our pre-mortal life, our mortal test on Earth, and our heavenly resurrection. The test in this life is to prove faithful to the commandments that the Lord has set forth — commandments, which rather than rules, are insights into the character of God and behaviors that we are expected to emulate as we grow closer to Him. Knowing that we would not live a perfect life, He sent his Only Begotten to be our Savior that we may repent and be made clean of our sins. Neither justice nor mercy can be robbed. With Jesus Christ as our redeemer, all debts are paid and mercy is given.
As the prophet Lehi stated:
13 And if ye shall say there is no law, ye shall also say there is no sin. If ye shall say there is no sin, ye shall also say there is no righteousness. And if there be no righteousness there be no happiness. And if there be no righteousness nor happiness there be no punishment nor misery. And if these things are not there is no God. And if there is no God we are not, neither the earth; for there could have been no creation of things, neither to act nor to be acted upon; wherefore, all things must have vanished away. (2 Nephi 2:13)
As part of our mortal test, we live in a world full of opposition wherein we may prove our faithfulness. Because of this, we live in a world where everybody has their agency -
27 Wherefore, men are free according to the flesh; and all things are given them which are expedient unto man. And they are free to choose liberty and eternal life, through the great Mediator of all men, or to choose captivity and death, according to the captivity and power of the devil; for he seeketh that all men might be miserable like unto himself. (2 Nephi 2:27)
The decisions we make affect those around us as well as ourselves. We also live in a world full of sickness and famine. We see loved ones succumb to these illnesses for no reason other than they were unlucky. So what is that plan for each of us and everything happening for a reason?
The plan is to prove our faithfulness and make and keep covenants with the Lord. And everything that happens is for the reason of that faithfulness. The bad things that happen in our lives are not punishments from the Lord — but circumstances and situations that arise be it from the decisions of others — or the results of a disease filled world. How we react to these obstacles is where the heart of our mortal test lies. In rare cases, the Lord may intervene, but it is in His wisdom and timing that those miracles occur.
4. We can do hard things, because we are not alone.
In the past week, I have seen the number of great people in my life and realized how few of them I really appreciated. There have been countless messages, phone calls, tweets, and offers for help. People who have never met Jennifer or Jeremy, asking what they could do simply because of the situation at hand and knowing they were close to me. The outpouring of offers to help has proven to me that most people are goodhearted and will help where they can, if they only have the opportunity to serve.
President Deiter F. Uchtdorf stated:
The number of prayers we say may contribute to our happiness, but the number of prayers we answer me be of even greater importance.
As we become the person those around us can depend on, we can see how many people we have to lean on in our times of need. When we ourselves stand in need, we can find support in our friends, families, neighbors, co-workers and the Savior Himself.
As we serve those around us, we are serving Heavenly Father and the Savior by doing what they would do if they were here to do so. These acts of service do not need to be grandiose or ornate — some of the most tender and needed things to me in the past week have been a text from a long time friend, or a phone call to say hello. And as we share our knowledge of the gospel with others, we can help them to understand their role in God's plan and realize their divine potential.
Jeremy — You are far from alone. Every person in this room is waiting in the wings to help you with whatever you need.
5. Everything good in my life comes from God answering the prayer of a 14 year old farmboy in Upstate New York.
When Joseph Smith was young he struggled to decide which church was the most correct. They all read from the same Bible, but taught and professed drastically different doctrines. He read in the book of James, chapter 1, verse 5:
If any of you lack wisdom, let him ask of God, that giveth to all men liberally and upbraideth not, and it shall be given him.
Joseph surely did not expect to receive the answer in the way it occurred, but that single event has changed the history of the world. Joseph, in his own words stated:
"I saw a pillar of light exactly over my head, above the brightness of the sun, which descended gradually until it fell upon me. … I saw two Personages, whose brightness and glory defy all description, standing above me in the air. One of them spake unto me, calling me by name and said, pointing to the other — This is My Beloved Son. Hear Him!"
Everything good in my life can be traced to this prayer seeking for truth. My interview at my current job consisted of discussing both of our missions in Ukraine, I met my fiancee because we both attended a church University, and countless other blessings that I see every day in my own life and the lives of those around me. While I have not had an angelic appearance — I have asked this question and have received the same answer.
Conclusion
Brothers and Sisters, I believe with all of my soul that this is the restored Gospel of Jesus Christ and the same organization that the Lord established during His earthly ministry. Through Joseph Smith every priesthood key and power was restored to give the us the saving ordinances necessary to return to live with our Heavenly Parents. The crowning key of these ordinances was the sealing power — which is what creates eternal families in the Lord's temples. By the power of God he translated the Book of Mormon to serve as another witness of the divine mission of Jesus Christ as our Savior.
Everybody has their path and will be judged by the Lord for their earnest efforts to seek and follow the truth. Some may find it in this life, others may not see it until the next, but all will have the chance to accept the gospel and live by its principles.
Jennifer made and kept every covenant needed to return to our Heavenly Father and live with Him. James and Ella listen to me and understand:
Because of your mother's faith and Jesus Christ, you will see her again and she will always be your mom.
I bear witness of the truthfulness of the things I have shared with you today. Jesus is the Christ. The atonement is real. The church is true.
Why BYU Matters to Me
Phew. That was a lot. Re-reading that all this time later, the confidence in what I shared has only grown.
I've been really lucky to cover BYU for Rivals, 247 and now indepdenntly with GEHB. I was lucky enough to intern in the athletic department as a student. I've been able to see the inner workings more than the average fan - which is about like winning the lottery.
BYU matters to me, because like I said in #5 above, everything good in my life comes from BYU. My parents were married and my sister Jennifer was about 2 years old when my dad started school in Provo. They were not members of the church.
Through a series of what seemed to be random events, but looking back can only be described as Providence, after an initial rejection, my dad sat across from then university president Dallin H. Oaks who asked why he wanted to attend BYU.
My parents had stopped to visit my dad's step brother, who was recruited by LaVell and had joined the church and was playing in Provo. When they got out of the car, they looked at the Y on the mountain and having a strange feeling they'd never experienced before knew that it was where he needed to go to school.
Hearing this and other details of what was going on with the family at the time, President Oaks admitted my dad as a student. At the end of his first semester, my parents were baptized.
Being a BYU fan goes beyond a diploma, or a memory of a game, or the great times I had as a student. Without that meeting, and that feeling the first time my parents set foot on campus, everything about my life would have been different.
My parents probably wouldn't have had as many kids and me being the youngest would've ended up somewhere else.
I wouldn't have met my wife.
I wouldn't have had the light of the restored Gospel in my life.
I would not have the job that I love today.
Just like everybody's journey in the church starts with Joseph Smith asking a question, my journey to BYU fandom starts with LaVell Edwards, a scout team Tight End, and everything good in my life is a result of that.