Grab an empanada and let's reflect on how special BYU's 2021 has been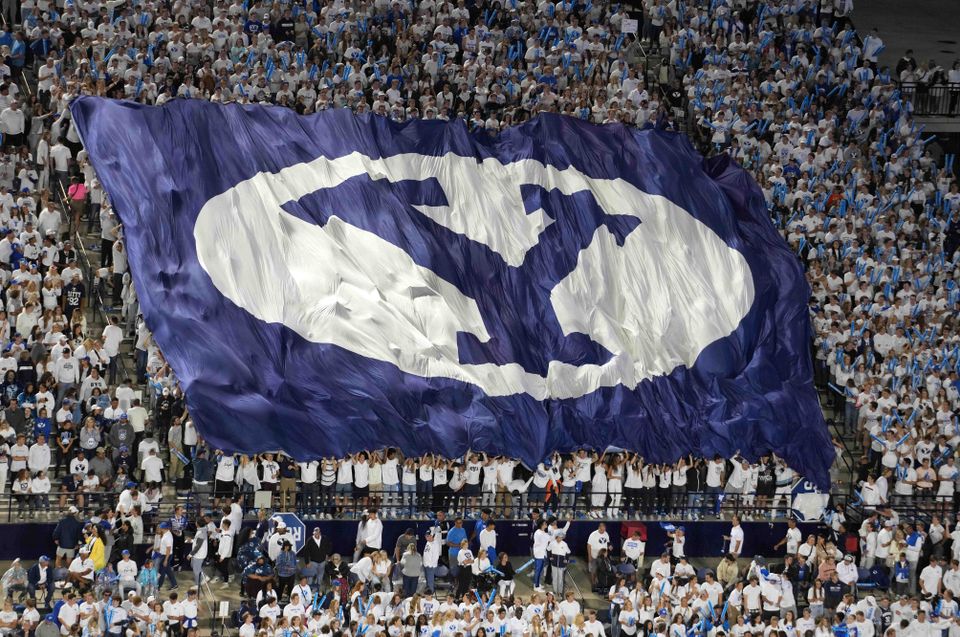 By popular demand, I'm here to tell you what I'm making this weekend. This is not an original recipe and it is not something that is crazy complex. I will be doing it on my Recteq smoker but you can do this anywhere that you have a hot surface. BYU is playing South Florida, so I'm making empanadas.
For the instructional how-to video, watch this video (coincidentally enough, it's from Recteq) that I first saw a couple of years ago. I have made these once before and they were spectacular, and that's what I will be making again on Saturday.
I don't have any extra brisket laying around this week, but I do have some pulled pork that I froze from a little while ago and a few extra pieces of tri-tip lying around, so I will be using those. Aside from that change in protein I'm following this recipe almost exactly. I like a little less cheese and a little more spice, but beyond that, it's the same.
If you thought your smoker was just for ribs and pulled pork, you're wrong. Make some empanadas to celebrate BYU's game against USF!
Now let's talk football...
Grab Your Hot Tub Time Machine
Do you remember how you felt on September 24, 2017? Our beloved Cougars were reeling on September 24, 2017 and you probably felt pretty crappy about it. In the last three weeks, BYU had played LSU in a game that they didn't cross the 50-yard line, they had played Utah in a game that featured a 10-minute Utah scoring drive, and they had played Wisconsin in a game that was a 40-6 blowout on national TV. During those three games, the Cougars could only muster 19 total points.
BYU was 1-3 and it didn't appear that any hope of improvement was on the horizon.
BYU would go onto lose to Utah State the next week. And then to Boise State. And then Mississippi State. And then East Carolina. And later to Fresno State. And then to UMass.
Times were bleak.
It was one of the worst years to be a BYU football fan. The offense ended up historically bad and Kalani Sitake had to make the difficult decision to fire arguably the most revered player in the history of BYU football. 2017 sucked the big one.
Fast forward to today and BYU is in the midst of something that has happened just nine times in the last 50 years of Cougar football - a 3-0 start to the season. For the first time in BYU history, BYU is 3-0 to start the season against Power 5/AQ/Bowl Alliance teams.
These truly are historic times for the Cougars and it is crucial that we don't lose sight of that. BYU is in the middle of historic success! That should be celebrated!
I read an article from On3 Sports and former ESPN writer Ivan Maisel this morning talking about the Big 12. It talked about how the Big 12 is going to struggle to stay relevant because of the market size of the teams in the conference. And it insinuated that a lack of relevance would lead to a lack of recruiting results, and thus, a middling conference.
Do you know what keeps teams relevant? Beating the hell out of PAC-12 teams and racking up the wins.
Do you know what keeps teams relevant? Starting 3-0 for two straight years and forcing people to pay attention to you.
Maisel's take annoyed me. It was lazy, shortsighted, and just plain wrong. Market size is going to impact recruiting? Oklahoma State is the second biggest school in Oklahoma and, therefore, the Big 12 will suck?
Get real.
Nobody gives two shakes of a rat's ass about market size. It's 2021. Winning matters, and BYU is winning in ways that they haven't seen since the 80s. (Seriously, you have to go that far back to find back-to-back 3-0 starts to a season.) BYU was in the WAC in still in Utah in the 80s. They found a way to be plenty relevant then.
Maybe Maisel will prove to be right. Maybe in a few years, the Big 12 will be irrelevant and so will be BYU. But right now? That looks like an asinine take. The Cougars are as relevant in the national landscape of college football right now as they have ever been.
What I'm Expecting Against USF...
BYU is banged up - there is no way around it. The Cougars are dealing with some injuries. Those who aren't injured are playing hurt. It's the middle of the football season and BYU is coming off three straight games that featured a heavy dose of physicality. So, they are hurting.
Expect to see some new faces in the game and some familiar faces on the sideline in street clothes. Most of the names who will be on the sidelines will most likely be back on the field when they travel to Utah State next week, but this week could look a little different.
If Jaren Hall isn't able to start (something that appears to be increasingly closer to the reality), Baylor Romney will fill in. That isn't a bad thing. Romney doesn't have the legs that Hall has, but there is an argument to be made that he's a stronger passer. If Romney gets the go, expect more action to the extremely talented BYU tight ends, and expect to see Gunner Romney, Neil Pau'u and Puka Nacua much more involved.
No matter who starts at quarterback, expect to see a heavy dose of the BYU run game. USF is an absolutely dreadful rush defense. They are giving up more than 5.5 yards per carry. This is the kind of game that gets the BYU offensive line going and helps Tyler Allgeier find a rhythm.
I'm expecting the BYU defense to spy USF true freshman quarterback Timmy McClain. He is making his first career start in what should be a rowdy environment at LES. It's the kind of situation where Ilaisa Tuiaki's 'drop-eight' defense could drive the quarterback nuts.
I don't think BYU will drop eight, but I do think BYU will lean towards more coverage and less pressure. A linebacker could spy McClain and take away his running abilities, and seven defenders playing zone coverage could make it really, really difficult for a young quarterback to find open receivers. If BYU can create any pressure with their three down-linemen, the sacks will come.
The fact that Keenan Pili is out for the year and that Naisa Mahe and Tyler Batty could be out for this game only further convinces me that BYU plays a heavy dose of 3-4 and a heavy dose of coverage this weekend.
I'm also expecting an ugly game. BYU is favored by 23-points in Las Vegas. I don't see this game being that big of a blowout.
I look at USF's game against Florida as a reasonable script for what I'm expecting on Saturday night. The Bulls lost to the Gators 42-20 - a surprisingly close score, right?
Florida was up 35-3 at halftime when they took their foot off the gas and let the bottom of the depth chart play the second half. That's a great script for BYU to follow on Saturday.
All in all, the Cougars should win this game and then it's onto the next match up against Utah State next week.