Jeff Grimes and Eric Mateos are gone but BYU's offensive line dominance is not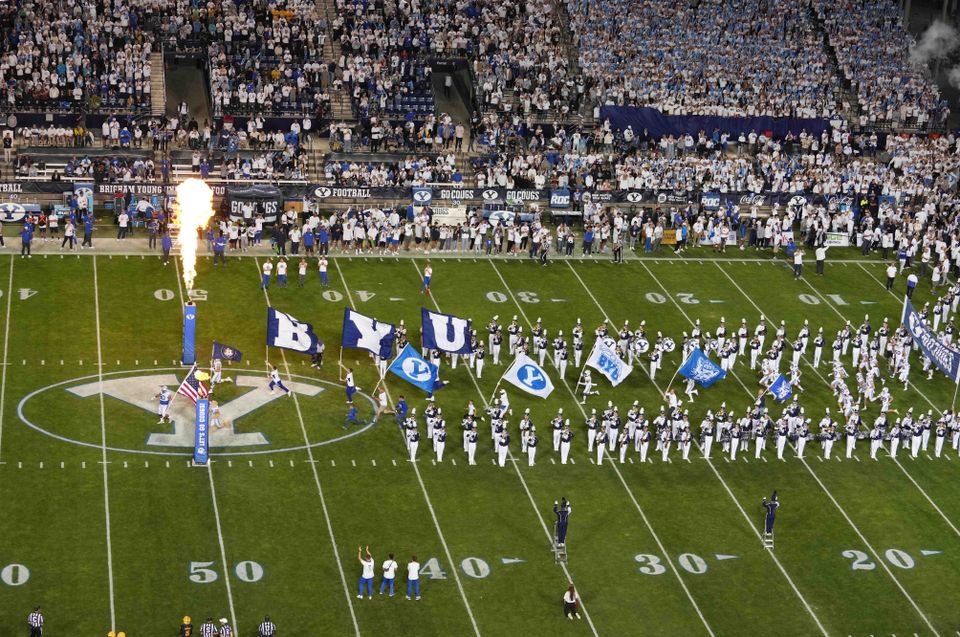 As soon as Jeff Grimes arrived in Provo, people started singing his praises. He brought a mentality to the BYU offensive line that had been missing since his first stop in Provo all the way back during the Gary Crowton days.
He brought phrases like 'tip of the spear' with him and all of us fans immediately started to slurp it up. Initially, he brought his protoge Ryan Pugh with him. They had a no-nonsense attitude about them and they whipped the offensive line unit into shape quickly.
After just one year, Pugh left to take the offensive coordinator position at Troy. Eric Mateos replaced him. His mantra? "Talk less, work harder."
Together, Grimes and Mateos put together a fabulous offensive line for the Cougars. In 2020, the group received praise from everywhere in the country. Brady Christensen was an All-American who was drafted in the third round of last year's draft - the first BYU offensive lineman to be drafted in nearly two decades.
The expectations of BYU's offensive line had changed. The trio of Pugh, Mateos and Grimes had brought BYU's offensive line back to the point that they were a weapon for the offense.
That's why it was so painful when they left. Immediately after Grimes and Mateos were announced in Provo, people started asking what was in store for the future of the BYU offensive line. When Kalani Sitake and Aaron Roderick announced that they were hiring Darrell Funk, people were unsure what to make of the hire. Questions ensued immediately after, but ultimately, people just let Funk do what Funk does.
Ladies and gentlemen, let me be the one to tell you that we are underselling Funk and his accomplishments. This offensive line group is damn good.
Allow me to enter exhibit A as evidence.
BYU has allowed three total sacks in three games. Three!
The number three is impressive, but it goes beyond that. They allowed three total sacks against a defensive coordinator who sends more blitzes than anyone in the country in Don Brown, against a defense that has lived in the BYU backfield for the last decade in Utah, and against one of the stingiest defenses of the last couple of years in Arizona State.
Funk and the offensive line have given up just three total sacks against three Power 5 teams. They're not simply padding stats against inferior FCS teams. They are putting up great numbers against ranked teams. They are putting up great numbers against teams that people projected would dominate BYU.
And they are putting up great numbers with minimal fanfare.
Time for exhibit B: Pass blocking grades by PFF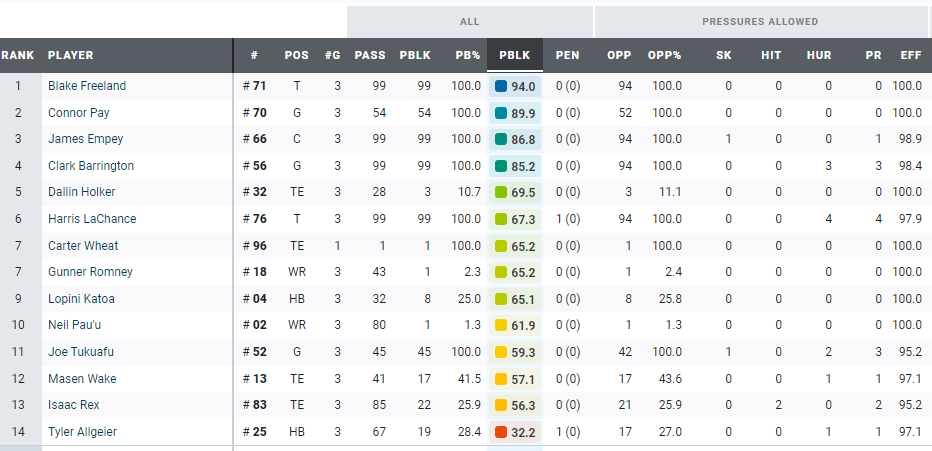 Pass blocking is about more than just the offensive line, so there are a bunch of players who have received grades this season. But to see all five of your starting offensive linemen in the top six of player grades? That's impressive. And to see grades north of 85 for each of the top four offensive linemen? That's downright elite.
Blake Freeland has filled in incredibly well for now-Carolina Panther Brady Christensen. His pass blocking ability is elite.
The interior of the offensive line - especially with Connor Pay involved - has been sensational. (Side note: Pay played all but one snap at right guard against Arizona State. It appears that he has won the job over Joe Tukuafu.)
This group is really, really good, folks.
Run blocking has been more of a struggle. It hasn't been poor. BYU is still averaging 4.5 yards per carry, a mark that is good for 55th in the country up to this point in the season.
BYU's next three games are against teams that the offensive line should dominate. This could be a stretch where BYU's stats will keep getting better. As they do, it's time that we give D-Funky his dues. This guy has the group playing exceptionally well. He deserves to be celebrated.
You're going to be tempted but don't do it. DON'T YOU DARE DO IT!
The undefeated talk has already started. There have already been blogs about BYU's path to a New Year's Six bowl game. Stop it. Stop all of this. The toughest part of BYU's schedule is yet to come.
Utah State looks like an entirely different team than what we all thought they would be. No, they don't look like a contender for a national championship or even a contender in the Mountain West Conference, but they look like an offense that is going to put up a mess of points. BYU has not proven that they can put up a mess of points in a game yet. (Pack Maverick Stadium full of royal blue, folks. Our boys are going to need it.)
Boise State appears to be on the decline from the Boise State that we've all grown to hate. But, until they bottom-out, they are still Boise State. That is going to be a tough game in Provo. (Jake Sears is better than Hank Bachmeier and if Sears has taken over the job by then, it could be a new Boise State team.)
Baylor represents the first REAL road game that BYU will have played, and Grimes and Mateos are putting up a mess of points in Waco. (Good for them. They're still BYU guys at heart.)
Washington State looks like trash, but travelling to Pullman after travelling to Waco isn't going to be easy. (Pullman sucks.)
Virginia is putting up a mess of points and Brennan Armstrong looks like an entirely new quarterback this year. (But the defense is a mess so in true Bronco fashion they can't get both things going at the same time.)
USC under Jaxson Dart looked like USC again. (What could have been!)
All of that is to say that BYU has plenty of tough tests in front of them - arguably the toughest tests of the season. So, stop with the undefeated talk. It's fun to think about, but it's September for crying out loud. Even Alabama fans aren't talking about undefeated right now.
This was cool to see but don't feel like you have to like him now
Draymond Green was watching the BYU game, which is kind of dope to think about. He was a big fan of Tyler Allgeier's Thor play. This tweet is cool and it will make you kinda think about liking Green, but don't feel obligated to do anything. He's still the worst.