The Transfer Portal: How has BYU fared?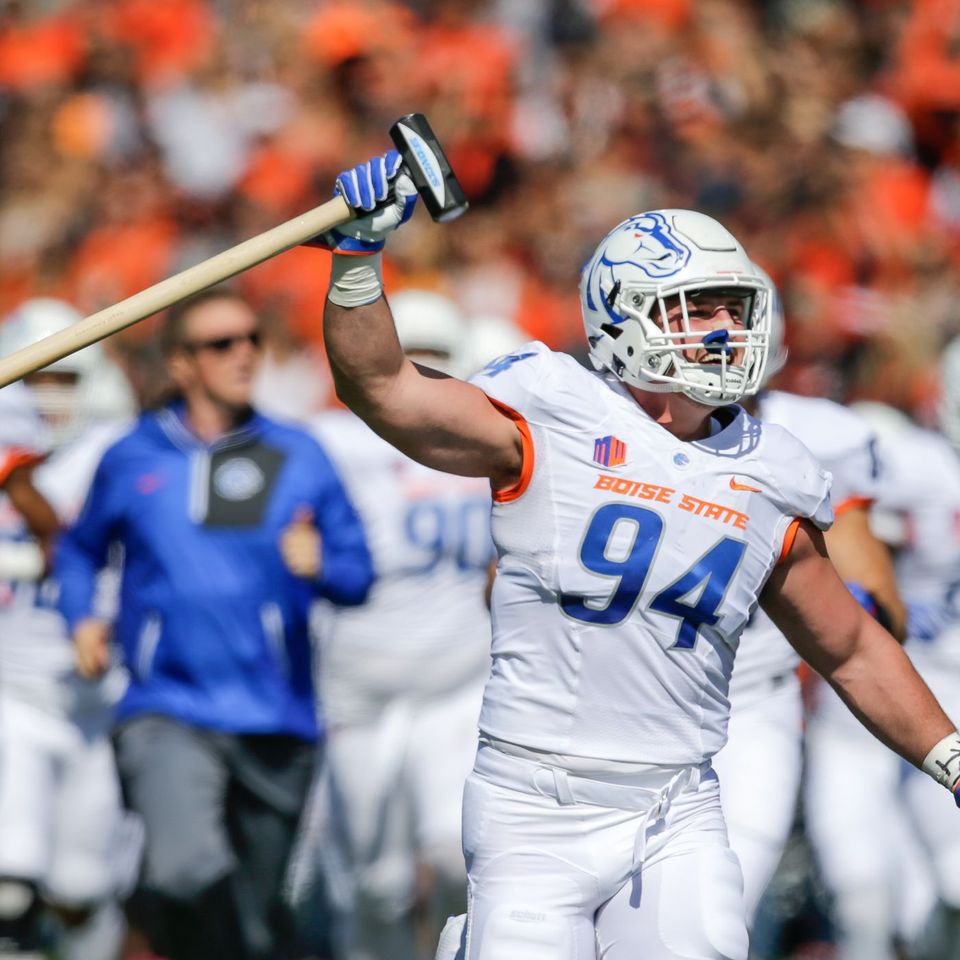 The first transfer portal window of the recruiting cylce has officially closed. What does that mean? For players who are already in the portal, it means nothing. Those players can still work with schools and try to find their next home. They can commit at any time. They can enroll as soon as their new school allows them to enroll. For players in the portal, the window closing means nothing.
For players who aren't in the portal, though, it means they are basically locked in with their current teams until the next window opens up in May. No new names will be entered into the transfer portal until May 1 when a second window opens up for a couple of weeks. Players can, theoretically, still announce their intentions to transfer at any time, but their names won't go into the portal until May and schools can't reach out to them until they are officially in the portal.
Now that the first window is in the rear-view mirror, how has BYU fared? Well, let's take a look and try to be as objective as possible.
A Quick Roster Management Discussion
When Danny Ainge adds a player like Patrick Beverly to the Utah Jazz roster, he adds an asset to his arsenal. Beverly, while under team control, can benefit the team in a number of ways, including on the court. However, just because he had multiple years on his contract, that doesn't mean that Ainge had to count on him  being on the roster for multiple years. In fact, Beverly never suited up for the Jazz at all. Ainge flipped him for another roster asset almost immediately after acquiring him.
Why would he do that? Because the Jazz roster is a living organism. You sign and prepare for the future, but you react to the present. When the Jazz drafted Donovan Mitchell, they undoubtedly had aspirations of him growing into a Hall of Famer who would stay with the organization for 20 years. But, when the day-to-day dynamics changed, they moved on from that plan and traded Mitchell away.
College football rosters can't trade players and, despite hyperbolic comparisons on the internet, free agency still doesn't exist. But, due to the emergence of the transfer portal and players having immediate eligibility when they transfer, there are elements of that NBA-style of roster management that are seeping into college football.
BYU could sign a five-star quarterback tomorrow and have aspirations of him being in the program for four years and winning a Heisman Trophy. But, the reality is that he could leave the program the next year and BYU would have to adjust their future plans on the fly.
College football rosters have become much more year-to-year than they were before. The notion of finding a raw, undeveloped true freshman and developing him for three years before he makes an impact as a redshirt junior and senior is a fleeting notion. We're not here to argue whether it's good or bad for the sport, but that IS what the sport is becoming. As such, rosters are more of an annual exercise than they have ever been.
Kalani Sitake needs to put together the best 2023 roster that he possibly can. 2024 and beyond still matter, obviously, but as long as the portal exists like it does right now, BYU doesn't have to address 2024 right now. They can do that in 2024.
As we look at BYU's portal success this year, keep that in mind. 2023 is the goal, and preparation for the future is a nice-to-have.
The Losses
We can't objectively grade BYU's transfer portal performance without looking at the losses to the portal. Fans are always tempted to either minimize or to sensationalize the impact to a team when a player hits the portal. The reality, in most cases, is somewhere in the middle.
Dallin Holker --> Colorado State
Terence Fall --> Northern Arizona
Jacob Conover --> Arizona State
Campbell Barrington --> Baylor
Tate Romney --> Arizona State
Logan Fano --> Utah
Keenan Pili --> Tennessee
Nathaniel Gillis --> Northern Colorado
Talin Togiai --> Uncommitted
Clark Barrington --> Baylor
Korbyn Green --> Junior College
Gabe Jeudy-Lally - Tennessee
Isaiah Perez --> Uncommitted
A couple of things immediately stand out when you look at this list. 13 players feels like a lot. The national average of players lost to the transfer portal by team is just under 11. So, BYU's 13 is slightly above average, but it's nowhere near the numbers that schools like Oklahoma State and Texas A&M have seen. All things considered, from a sheer numbers standpoint, BYU fared really well with their portal losses.
The second thing that jumps out is the number of players who ended up at Power 5 programs. 13 players left, seven of them landed at P5 programs. For a team that has constantly viewed "P5-talent" as their benchmark, that's a tough pill to swallow. But let's dig a little deeper to figure out how tough the pill is.
Ladies and gentlemen, BYU is a Power 5 school now. They have every bit the claim to "Power 5 talent" as anyone else. When Holker committed to Colorado State, fans in Fort Collins were excited about adding a P5 transfer with production at the P5 level to their roster.
Times have changed for BYU.
Now, is BYU as a program in a better position currently than Tennessee or Utah? No. Certainly not. Both of those programs are recruiting inside the top 25 and played in New Year's Six games. Seeing a player go from BYU to Tennessee or Utah stings, no doubt about that.
Is BYU as a program in a better position currently than Arizona State or Baylor? Well, there is certainly an argument to be made that they are. Losing players to Arizona State should not sting the way it did a few years ago. BYU and Baylor and Arizona State are all peers now. In the Mountain West days, would you have been said that a BYU player left to UNLV or San Diego State? Not necessarily.
Now let's get into the individual players - and keep in mind that 2023 is the goal.
Holker: 765 career snaps (94 in 2022)
Fall: 28 career snaps (19 in 2022)
Conover: 66 career snaps (27 in 2022)
Campbell Barrington: 607 career snaps (123 in 2022)
Romney: 5 career snaps (5 in 2022)
Clark Barrington: 2,648 career snaps (856 in 2022)
Fano: 0 career snaps
Pili: 1,486 career snaps (586 in 2022)
Gillis: 2 career snaps (2 in 2022)
Togiai: 0 career snaps
Green: 0 career snaps
Jeudy-Lally: 1,428 career snaps (658 in 2022)
Perez: 0 career snaps
When you look at actual experience that was lost in the portal this year, BYU's kind of scary 13 number drops all the way down to five. Only five of the players who left BYU via the portal have actually made a material impact for BYU on the field. In the scope of what these losses mean for 2023, only five players have proven that they would have had a significant role on the team next season. (And one of those players - Campbell Barrington - saw his playing time decrease by about 75% from 2021 to 2022.)
BYU lost a fair number of players, and they lost a few players with very bright college football futures, but in terms of actual production, they really didn't lose that much.
Losing players like Romney and Fano stings, even if they don't have the production yet. Both are players who figured to be big parts of the future. To not have them in the fold stings, there is no question about it. But what would their impact have actually been in 2023? It's impossible to say for sure. One is coming off a major injury and the other is coming off a mission and a year of non-impact while he shook off mission rust. They could be great (and I truthfully hope they are because they are both incredible people), but BYU didn't lose greatness - they lost potential greatness. It's a lot easier to replace potential greatness than it is to replace proven greatness.
The Additions
Ian Fitzgerald, Missiouri State
Eddie Heckard, Weber State
Kedon Slovis, Pittsburgh
Isaiah Bagnah, Boise State
Aidan Robbins, UNLV
Will Ferrin, Boise State
Wyatt Dawe, Southern Utah
Jackson Cravens, Boise State
Weylin Lapuaho, Utah State
Paul Maile, Utah
Okay, knee-jerk reactions. 10 additions to 13 losses is a decent enough ratio on January 20. BYU could (and probably will) still add a few more bodies, but they have addressed losses and that's good.
Not a whole lot of "P5 talent" that is coming in. Slovis and Maile are the only two players to come directly from a P5 school. (To prove how silly the 'P5 talent' monicker is, though, if any of these players were to transfer from BYU in the May window, all of a sudden they would be in the portal as 'P5 talent.')
Let's use the same logic we used above to try and figure out exactly what BYU added to the roster.
Fitzgerald - No snap count is readily available, but he has started in 29 games and played in 33 for Missouri State.
Heckard - No snap count is readily available, but he has played in 48 total games at Weber State.
Slovis - 2,443 career snaps (725 in 2022)
Bagnah - 808 career snaps (142 in 2022)
Robbins - 606 career snaps (587 in 2022)
Ferrin - 45 career snaps (38 in 2022 - worth reminding everyone he's a kicker/punter and snap count clearly means something different)
Dawe - No snap count is readily available, but he played in 10 total games at SUU.
Cravens - 929 career snaps (313 in 2022)
Lapuaho - 640 career snaps (640 in 2022)
Maile - 1,166 career snaps (811 in 2022)
BYU lost 2,370 snaps in 2022 to the transfer portal. BYU gained 3,256 2022 snaps and that doesn't count any of the players who are coming from FCS schools where snap counts weren't available.
BYU is adding experience to their roster. While these players are coming from the highest levels of P5 success all the way down to middling FCS programs, BYU is adding players who have played a lot of college football. That means something, and it's something that can easily be overlooked. In the context of building the 2023 roster and recognizing that 2024 is no sure thing for anyone on the roster, BYU added more experience and, at least on paper, players who are more ready to produce at a high level. That's a win.
The Cougars have also done a stellar job of addressing needs. BYU needed interior linemen coming out of 2022. They added someone who played 811 reps for the PAC-12 Champs last year, and they added a true freshman who played every offensive rep (garbage time not included) that his offense played in last year.
BYU lost Clark Barrington to Baylor. That's a tough one. He's an All-American-caliber player. He was also expected to go to the NFL and hasn't been in BYU's 2023 plans for months. He changed course a little and went to Baylor instead of the NFL, but BYU hasn't been planning on him playing in 2023 anyways. Had Clark gone to the NFL, he's not viewed as a loss, but rather, lauded as a BYU success story. Paradigms are a funny thing.
Campbell Barrington left BYU early, and that loss stung. He's a talented player with a bright future. He was replaced by a guy who played more reps as a true freshman than Campbell has played in his entire career, and by another guy who has started in back-to-back Rose Bowls. Paradigms are a funny thing.
BYU lost Christopher Brooks to graduation. They replaced him with a running back coming off of a 1000-yard season.
BYU lost Logan Fano to Utah, a loss that will hurt more as the calendar rolls along. They replaced him with a proven pass rusher from Boise State who has played 808 more career snaps at the college level. Fano may very well go onto having a brighter overall career than Bagnah, there is no denying that possibility. Fano has the ability to be an absolute star. In 2023, though? There is an argument to be made that Bagnah will be able to provide more production next season than Fano.
BYU needed help along the interior defense line. They added a player with multiple years of experience in Jackson Cravens.
BYU needed help at the cornerback to replace the production of Gabe Jeudy-Lally. They landed an FCS All-American with more NFL potential than any BYU cornerback in the last two decades.
BYU's transfer portal additions have to prove that they can be difference makers at BYU and in the Big 12 Conference, but they have proven that they are capable of being difference makers at their previous stops.
That's a win for the Cougars.
Coming out of the first portal window, BYU looks to be in a better position today than they were prior to the window opening in December. It might not  be the sexiest class of portal additions, but when you open things up and really look at what BYU has added so far, it's hard to not be impressed.
And their work is still not done.