Let me get ahead of the narrative you'll hear during Championship Weekend in the NFL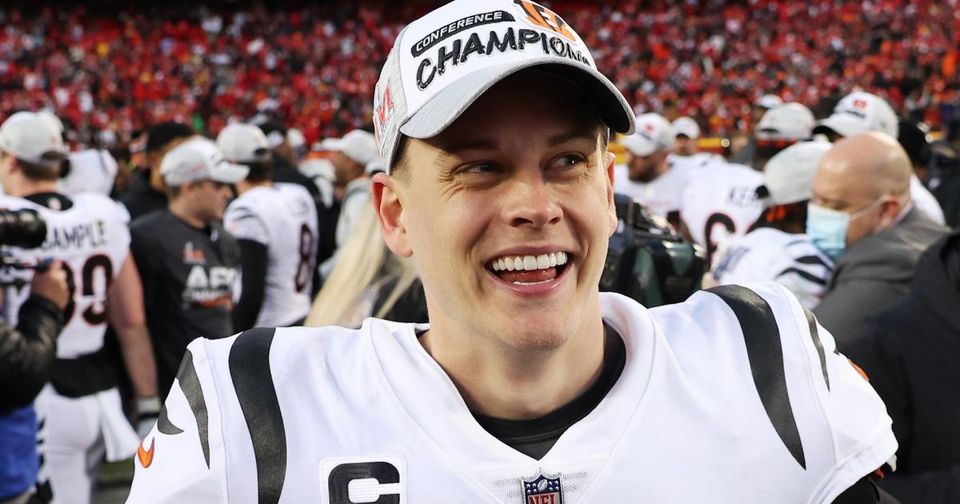 Brock Purdy was Mr. Irrelevant. A cast-off. A non-prospect. A player who the NFL decided wasn't good enough who had to fight to overcome the odds to become the starting quarterback of the San Fracisco 49ers.
Jalen Hurts was benched and had to transfer in order to find success. He dealt with the adversity of leaving a team and being told he wasn't good enough.
Joe Burrow transferred from his childhood team too after being recruited over. He saw the writing on the wall that Ohio State wasn't going to give him the chance to be the great quarterback that he knew he was inside, and he had to leave to find that opportunity.
Patrick Mahomes ended up at lowly Texas Tech, overlooked by the big schools in his home state, and he had to scratch and claw to gain national recognition.
And now, those four quarterbacks are the last four standing in the NFL this year. What a remarable story of resilience, of perseverance, and of determination. If you work hard, kids, you can become anything that you want to become. These four prove that.
I don't know who and I don't know when, but I can promise you, that someone has a blog post or a tweet or a segment for a pregame show locked and loaded, ready to tell you that these four quarterbacks are the epitome of clawing to find success at the highest levels.
Today, I'd like to get ahead of that story and tell you that it is complete and utter bullshit.
A Preface: These dudes do work hard, let's take away nothing from them. Their individual stories and the adversity that each of them felt during their rise to the top of the NFL is real. They all had to fight hard to get to the top. They all have reasons to have a chip on their shoulders. I don't want to take away anything from them. They fought.
However, even after a bajillion years in the NFL, being widely regarded as the greatest QB of all time, and a mess of Super Bowl rings, Tom Brady is still trying to find ways to play with a chip on his shoulder. Michael Jordan 'took that personally' when people counted him out. Great players always find ways to motivate themselves.
But let's not pretend that those kinds of stories are all akin to Rudy Ruettiger.
Patrick Mahomes wanted to go to Texas Tech. He wanted to play for Kliff Kingsbury and in that offense. Tech, while not a school with the national prestige of Texas or Texas A&M, was known for producing great quarterbacks. Mahomes was offered by the Red Raiders on April 20, 2013. He committed on April 21, 2013, before he finished up with his junior year of high school. Kingsbury had just coached Johnny Manziel and Texas Tech had a long history of productive players, and Mahomes wanted to throw the football.
Sure, he wasn't regarded as the top prospect in the country or anything like that, but he was a high three-star who committed to a Big 12 school 24 hours after receiving an offer from them. He shut things down after that and the rest is history.
Brock Purdy was also a three-star quarterback out of high school and ended up playing at Iowa State. You know who else offered Purdy? Alabama, who also hosted him on a January official visit. Texas A&M, who hosted him on a February official visit. Purdy wasn't some unknown star who came out of the cornfields of Iowa and learned how to play football on Ray Kinsella's property. He was a highly recruited and highly regarded prospect whose rating was lower than it probably should have been.
He was the last pick in the draft and the NFL did nearly write him off entirely. He should use that as motivation every day of his NFL life, there is no doubt about it. However, it's important to recognize that he wasn't exactly Steve Young at BYU, filling out the QB8 spot on the scout team. He was a dude and an immediate starter who took his Big 12 team to all-time program highs.
Jalen Hurts did transfer because he had lost his job. The person who took his job is now the quarterback of the Miami Dolphis and the person who was third on that depth chart is now the quarterback of the New England Patriots. So, it's not like Hurts lost out to some scrub.
He was a four-star prospect who went to the premier football program in the country. He was second in the Heisman voting. When he left Alabama, he become the immeidate starter at Oklahoma where the previous two quarterbacks had actually won the Heisman.
Yes, that's adversity and, yes, that should motivate him.
But it's kind of like me talking about the hard-knocks of growing a business if someone gave me a $10mm donation to start the company. Yes, I grew the business, but I wasn't exactly working out of my garage, ya know?
Burrow did transfer from Ohio State. He transferred to LSU. He exchanged national powerhouse for national powerhouse. He played on one of the most talented teams in college football history and won the Heisman during his National Championship run.
Burrow has fought adversity, but the former four-star prospect wasn't exactly an unknown when he burst onto the scene. He was a dog from the second recruiting people saw him - that's how he ended up at Ohio State.
Hard work matters. These guys have found the right chips for their shoulders. They have earned every accolade that has and will come their way.
They are also extremely talented players and that's been clear from their high school days. Talent matters, folks. No matter what you hear about these guys this weekend, they have always been elite talents.