The shortest, but most important newsletter we've ever published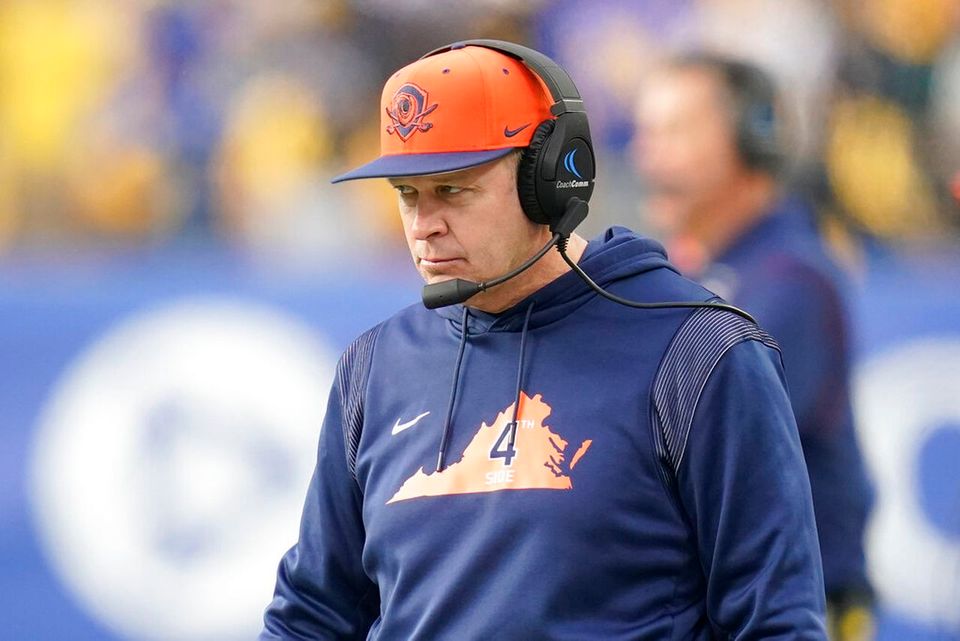 Bronco Mendenhall resigned from his head coaching position at Virginia. Some say he's going to be a mission president. Others say he was asked to make changes on his coaching staff and decided that he wouldn't do that so he stepped down. Bronco says that he needs a life recalibration and simply decided to step away on his own accord.
Whatever the answer is, he's no longer the Mayor of Hooville.
He's a great man. The most incredible thing about Bronco is how principled he is. If he believes something, he will do it, without question or hesitation. That is something that we could all learn in our lives.
Bronco's departure means that there are a bunch of assistant coaches at Virginia who, in all likelihood, are now unemployed. This also sends a seismic shift in the plans of many recruits who happened to be members of The Church of Jesus Christ of Latter-day Saints. Those assistants and those recruits went to Virginia because of Bronco. And if Bronco isn't there, then they probably won't be there anyways.
It took seconds - literally seconds - after the Bronco news broke for the first message to hit my inbox yesterday.
"Do you think Kalani would look at Kelly Poppinga now?"
Minutes later.
"So what does this mean for Joe Brown and Andrew Gentry?"
And then they all started coming in.
"Would you rather have Funk or Tujague?"
"Do you think Beck would come back?"
"THE MCKENZIE TWINS RIGHT?!"
This is the important part of this newsletter that every BYU fan needs to read multiple times and digest.
BYU IS A BETTER FOOTBALL PROGRAM TODAY THAN VIRGINIA IS.
Hard stop.
There is no debate.
BYU is a better football program right now than Virginia is.
Why does that matter? Because BYU, even without all of the Virginia recruits and coaches and whatever else, wins more than Virginia does. BYU produces more NFL talent than Virginia does. BYU has a brighter future than Virginia does.
BYU DOES NOT HAVE TO GROVEL AT THE FEET OF ANYONE WHO HAS A HALF-TIE TO PROVO, UTAH JUST BECAUSE THEY HAVE A HALF-TIE TO PROVO, UTAH!
WOULD KALANI HIRE POPPINGA?!
Maybe! But Kevin Clune managed to beat USC with a bunch of walk ons at linebacker after a bevy of injuries this year. If Clune left then Poppinga is probably on the short list. But nothing that Virginia has done in the last two years makes me feel like BYU should dismiss Clune and drop everything to get Poppinga. So, why ask?
WILL BYU GO AFTER JOE BROWN?!
Maybe! But, BYU picked up Vae Soifua, Peter Falaniko, Trevin Ostler, Talin Togiai and Kingsley Suamataia at offensive line in this recruiting class. They will also welcome Isaiah Tupou home from a mission. With all due respect to Brown, who is a very good player, I don't think BYU is in need of someone just because he is available.
CAN BYU BRING IN JASON BECK PLEASE?!
Beck is great. He is going to find a spot. He is too talented to not have a spot.
Do you know who else is great? Aaron MF Roderick. All he has done is find and develop Zach Wilson into an NFL starting quarterback, turn Jaren Hall into one of the most prolific passers AND runners in college football this year, AND find ways to win on the fly with Baylor Romney and Jacob Conover.
All due respect to Beck, but BYU is in pretty damn good hands without him.
The point to all of this is that BYU is in a great spot right now. There can be successful coaches and players with BYU ties and it isn't some dismal loss for BYU that they aren't in Provo. The Cougars are doing really, really well.
So, before you let your dad or the weird friend from high school that you still on Facebook post another question about when BYU is going to bring in all of these other guys from Virginia, remind them that the Cougars are currently #12 in the country after finishing #11 in the country last year.
JEFF NOTE: Drop everything, BYU, and go get Karsen Gay. This is your chance to land Dennis Pitta 2.0. This isn't because he's a Virginia cast off with a BYU tie, you need him because he's an absolute boss and a difference maker at ANY program.