BYU is 10-2. Let's rank their performances.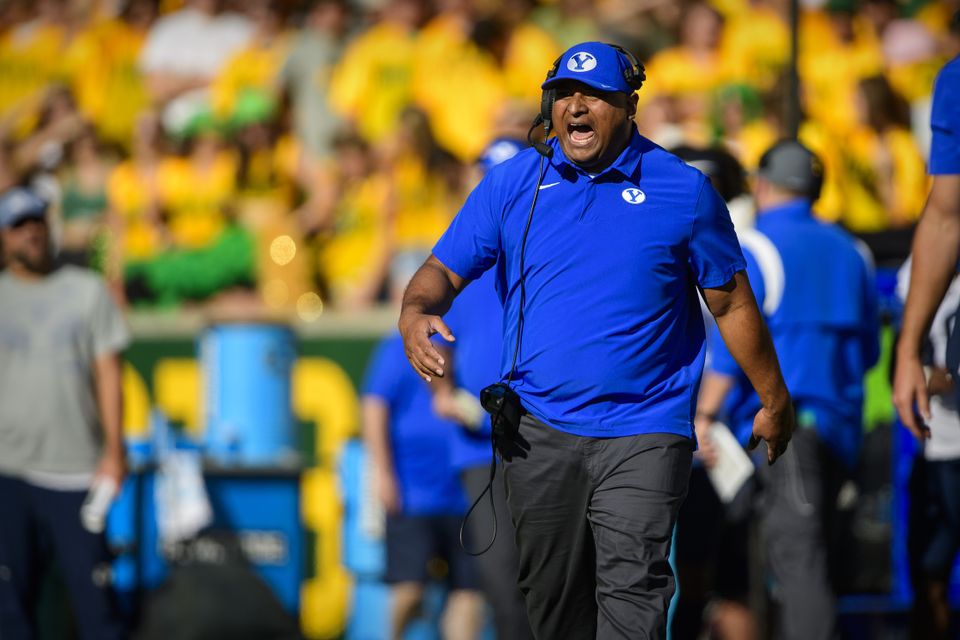 10-2. #12 in the polls. A (slim) chance at an at-large bid for a New Year's Six game.
Take a damn bow, Kalani Sitake and Co. You guys deserve it. Standing ovation from all of us here at Give 'Em Hell, Brigham. That is a spectacular season.
Now, we are just a bowl game away from entering the drudge that is the college football offseason. Football season is God's season. The non-football season is, well, you get it.
So let's reflect back on the good times and re-live BYU's 2021 regular season. It's time to rank BYU's 12 games. We will rank these games based off of these three factors:
How well the team played
How much impact (as defined by me) the game result had
Pure watchability factor
Worst to first, here we go!
12. Boise State - Loss - 17-26
This game sucked. Boise State was not a very good team and BYU should have ran away with this game, but they played their worst game of the season and did everything they could to snatch defeat out of the jaws of victory.
Tyler Allgeier fumbled and set Boise State up for an easy touchdown. Lopini Katoa fumbled and set Boise State up for an easier touchdown. Jaren Hall was playing at about 75% and look wildly ineffective.
The Broncos didn't play particularly well either, but they played better than BYU. The rainy, crappy weather of the game was a perfect backdrop for the sheer awfulness that this game was for BYU.
Without question, this was the worst BYU game of the year.
11. Georgia Southern - Win - 34-17
Ah, yes. The annual "a win is a win but please fire everyone" game. BYU travelled to Georgia to take on the Sun Belt's Georgia Southern. Let's say that one more time.
BYU TRAVELLED to Georgia to take on the Sun Belt's GEORGIA SOUTHERN.
WTF?
Even in the midst of the COVID riddled 2020 season BYU wasn't travelling to the Sun Belt to play. (Okay, Coastal, but that was different and you all know it.)
The game also sucked. BYU struggled in the first half and crawled to halftime with a three-point lead. The offense scored quickly in the second half and the defense shut down the Eagles.
The most exciting thing about this game was reports that the Georgia Southern student section decided to throw burritos at Kalani Sitake. Aside from that, the trip to God's Country was a pretty terrible trip.
10. Idaho State - Win - 59-14
BYU played FCS Idaho State in football. The game took place on Saturday, November 6, in the year of our Lord 2021. The teams met at LaVell Edwards Stadium in Provo, UT (zip code 84602). It was Senior Day for BYU. The honored seniors received blankets.
No additional comment about games against FCS schools will be offered at this time.
9. South Florida - Win - 35-27
USF was bad, bad this year. But against BYU, they looked pretty okay like maybe they had figured something out and could make a run. They handed the reigns of their offense to true freshman Timmy McClain and BYU promptly made him look like Vince Young.
Seriously, he played really, really well for the Bulls.
BYU went into halftime with a 28-10 lead. The offense scored midway through the 3rd quarter to get to 35 points and then just went into coast mode.
BYU was never really in danger of a loss, but they also didn't do much to inspire happy feelings in the second half. Two USF touchdowns and a field goal later, the game ended and BYU escaped with a one-score game.
Look, this was a clunker for the Cougars. Winning your clunkers is better than losing them though, right? RIGHT?!
8. Baylor - Loss - 24-38
First, the bright spots.
Waco is pretty dope and BYU will get to play there on a regular basis going forward. That's cool!
Puka Nacua was the best player on the field in this game and he continually showed off why throughout the game. That is good for the future!
Jaren Hall had that one really long touchdown run on a 4th down call when he kept the read option. It was a cool play and Sitake's reaction on the sideline will live in BYU GIF history. That was really fun!
Aside from that? This game was ALL Baylor.
Losing sucks, but  losing the way BYU lost really sucked. Jeff Grimes and Eric Mateos made the BYU defensive line look like a couple of innocent Provo kids talking shit to BYU football players at a Beto's. They were just outmatched and outplayed for 60 straight minutes.
The Baylor defensive line held Tyler Allgeier to a season low in rushing yards and nobody other than Puka could do anything on offense. It was a bleak game.
But Chip and Jo were there, so that's kinda cool.
7. Washington State - Win - 21-19
At the end of the season, Washington State had a slim chance of winning the PAC-12 North. Things didn't fall their way and the north crown went to Oregon, but Wazzu was right there. This win ended up looking better than it felt like it would at the beginning of the season.
But, this was a pretty ho-hum performance from BYU.
The Cougars (the blue ones) benefitted from a bobbled snap on a PAT attempt by the Cougars (the red ones). That led to a missed PAT with forced Wazzu to go for two with four minutes left in the game. BYU made the stop and kept their lead at 21-19.
The defense played well and bottled up Max Borghi. BYU rode Tyler Allgeier to two scores and nearly 200 rushing yards in this game and did just enough to win.
Oh, and we forgot to mention, this was the first game that Wazzu played without their head coach Nick Rolovich. Rolo and most of the offensive staff was fired the week before for refusal to get the COVID-19 vaccine. So BYU eeked out a two-point win to a team that had been coachless for much of the week leading up to the game.
Those are just silly details, though.
6. Arizona - Win - 24-16
This game gets forgotten because it was so early in the season. But, it was a pretty lackluster performance by the Cougars.
In fairness, they had no idea what to prepare for when it came to putting together a game plan for Arizona. New Wildcat coach Jedd Fisch was breaking in a new offense, and defensive coordinator Dom Brown was implementing and wildly new defensive scheme in Tucson. That made preparation difficult for BYU.
It was a slow start to the season for Hall, Allgeier and the BYU offense, but they did enough to get a win. The defense played well enough with the revolving door at Arizona quarterback and kept U of A out of the end zone.
The real winner? All the BYU fans who made the trip to Las Vegas. What a glorious environment for a football game Allegiant Stadium is. You'll be in our hearts until we show up next year for the Notre Dame game, Las Vegas.
5. Arizona State - Win - 27-17
Thor is the God of Thunder and the defender of Asgard. He fights enemies off with his hammer, reigning down bolts of lightning with his Godly powers. He is a physical specimen who has the powers to stop most anything in his track.
And in this game, Tyler Allgeier proved that he is, well, better than Thor.
Thor's hammer protects Asgard, but Allgeier's fist protects BYU's end zone. Maybe he is more like the Iron Fist.
Iron Fist (Danny) was a superhero who was on a hike with his parents when they fell off a cliff. He survived. His parents did not. While searching for a home, the young child stumbled upon the gang of Lei Kung who take him to their leader. Kung trains the child and he becomes his star pupil. Danny goes onto defeat the dragon Shan-Lou and earns the power of the iron fist. After burning a scar of a dragon into his chest, Danny becomes Iron Fist.
THAT is Tyler Allgeier. And THAT is how he punched the ball free from Merlin Robertson after a Hall interception.
The rest of the game was all BYU. The Cougars beat Jayden Daniels. LES was INSANE. This game was a ton of fun.
4. USC - Win - 35-31
Beating USC is usually the highlight of a season. But, 2021 USC kiiiind of sucked.
The Cougars went into the game as 7.5-point favorites on the road. Former Corner Canyon star Jaxson Dart nearly led the Trojans to an upset win over BYU, but the Cougars did just enough to hold off the Trojans late in the game.
Tyler Allgeier had a pair of touchdowns and Jackson McChesney saw his first extended playing time and scored the go-ahead touchdown late in the fourth quarter.
Kaleb Hayes put the defense on his back for USC's final drive. He had a key pass break up and then made the game saving tackle, preventing USC from converting on a 4th down attempt.
The game was a hell of a lot of fun to watch.
3. Utah State - Win - 34-20
Tyler Allgeier. Tyler Allgeier. Tyler MFn Allgeier.
But this game was about more than Allgeier. Isaac Rex had a touchdown. Jakob Robinson had a pick against his former team. Jacob Conover had to fill in for Baylor Romney who was filling in for Jaren Hall, but BYU still ran away with a two-score lead.
The best part of this game was watching the ineptitude of Utah State fans as they tried to comprehend losing to BYU. The appropriately named student section, THE HURD, got their utters tied up in knots after the game and got into a heated exchange of water, empty bottles and words. It was the most exciting thing to happen on campus at Utah State since The Great Cow Tipping of 1997 and the second Maverick opening up on Main Street.
In all seriousness, this game was fun. Utah State went onto have a great season under new head coach Blake Anderson. The Aggies are still playing as they will take on San Diego State for a shot at a Mountain West Conference title this season. This was fun game and an important win for the Cougars.
2. Virginia - Win - 66-49
The man who felt he had outgrown independent BYU and wanted to take his abilities to the greener pastures of a Power 5 program made his return to Provo on Halloween. Going into the game, BYU fans were (inexplicably) torn about this one. The love and adoration for Bronco Mendenhall seemingly trumped the love and adoration for BYU.
After a warm reception for Mendenhall, the Cougars welcomed him back to BYU with a quick 21-0 deficit. Virginia came back and this one turned into an absolute shootout. In the end, BYU came away with a 66-49 win.
This game felt more about beating Bronco than about anything else. This was the game that should end any narratives about Bronco being better for BYU than Kalani, or that Kalani was somehow a downgrade. This is the game that should have forced Jeff Benedict to eat all the crow after saying, "Winter is coming" when Bronco left BYU.
This game was the official end of the Bronco Mendenhall chapter - a chapter that ended by giving up a staggering 66 points. Somehow, the perceived wizard of defense that had been the apple of BYU fan's eyes since he left gave up 66 points.
And it just felt good.
Utah - Win - 26-17
Was there any doubt? The streak ended. BYU won.
The Utes, to their credit, went onto be a pretty good team this year. They are still playing, with a chance to win the PAC-12 and earn a spot in the Rose Bowl. For years, Utah fans had claimed that they would rather lose to BYU and have a chance at the Rose Bowl than beat BYU and struggle in the PAC-12.
Now, that hypothetical scenario is their reality. And that has helped BYU's win look even better throughout the season.
BYU and Utah won't play for the next couple of years, so BYU will retain bragging rights until at least 2024. This was an important win for the Cougars, and it was important for Kalani Sitake to beat his mentor before he retired.
Winning is more fun than losing.
BYU did a lot of winning this year. What a ride it has been.