The Streak Wasn't The Only Thing That Died On Saturday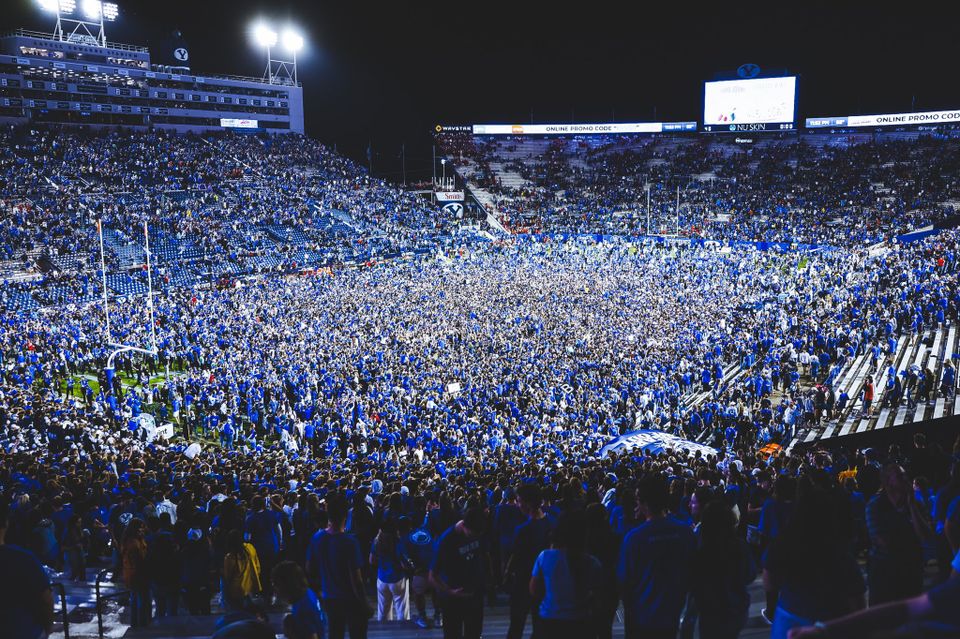 BYU finally beat Utah, ending the seemingly endless streak that Utah fans held over BYU fans for the last 12 years. BYU took down the Utes by a final score of 26-17. There isn't a BYU fan who felt comfortable with that lead and there wasn't a BYU fan who was ready to celebrate a win until the clocks hit 00:00. We've just seen too many creative ways to lose in the streak. But, the game wasn't even as close as 26-17.
BYU dominated. The Utah offensive line looked like Skyline High School's offensive line. Not only were the physically overmatched for 60 minutes, they were an absolute mess in their scheme and assignments. BYU's defensive scheme exposed Utah's offensive line. The pre-snap formations had Utah's players lost in space. It was a masterful performance by BYU's defense.
The other side of the ball was the same story. BYU's offensive line took the Utah defensive line completely out of the game. No sacks were allowed. BYU rushed for 230+ yards. It was a dominating performance in every sense of the word.
And Utah fans should be embarrassed. The streak died, but not by some fluke. The streak died because the better team flexed their muscles and beat the hell out of the opponent.
And Utah fans should probably be a little worried.
It has been a long time since BYU bested the Utes and a lot has happened since 2009. Utah joined a Power 5 league. Utah started cashing FAT checks from the PAC-12. The college football playoff was established and the P5/G5 marketing campaign started. When BYU beat Utah in 2009, none of that existed.
In addition to the streak, Utah had every conceivable advantage over BYU. They had more money, more resources, more access, and the strength of an industry-supported moniker that literally had the word 'POWER' in it. There is no reason that Utah shouldn't have gone on a long winning streak. Frankly, it would be kind of embarrassing if they didn't.
And in the span of about 48 hours, all of those advantages went away.
BYU joined the Big 12 on Friday. The P5 vs. G5 argument that is so regularly used against BYU on the recruiting trail is officially dead. BYU has big TV money coming (according to some estimates, the Big 12 could still end up making more money than the PAC-12 in TV money with their next deal, but time will tell). The industry supported "POWER" campaign? BYU is part of that now. The biggest advantage that Utah could hold over BYU is officially a thing of the past.
And then BYU won. They won in the trenches. They won with quarterback play. They won with better receivers and more physical linebackers. Their coaching staff won. The electric atmosphere at LaVell Edwards Stadium won. BYU won everything they could have possibly won against Utah on Saturday night.
And for nearly three full years, BYU can talk about without Utah saying a word.
The Utes called another hiatus in the rivalry game. Call it pride or call it smart scheduling by Utah athletics director Mark Harlan, but the Utes elected to schedule a home-and-home with Florida in 2022 and 2023. Because of that series, the rivalry will take another hiatus.
When that series was announced in September 2019, nobody in Salt Lake City thought Utah's dominance over BYU would end. They had all the advantages, so why would it end? The Utes could talk about a 10 game winning streak until 2024.
But now they can't. BYU has the limelight now. They stole the limelight in 2020 with the performance of Zach Wilson and an 11-1 season. Beating Utah this year, without Wilson, only further convinces people that BYU would have also won last year had the rivalry game been played.
In the eyes of outsiders, the tone of the rivalry has switched back in BYU's favor and that has to be absolutely terrifying for Utah.
Think about the rise of Utah football for a minute. There was a huge increase in interest and attendance once Utah joined the PAC-12. As the Utes continued to dominate the rivalry and continued to get better in the PAC-12, interest continued to grow and grow.
Before that, however, interest was pretty.... meh.
This is the first time that many Utah fans have not had the overwhelming advantage over their rival BYU. This is the first time that Utah fans will have to go to the office and see royal blue polos scattered about. This is the first time that Utah fans will hear the local media dominated by talk about BYU's national ranking and BYU's future and BYU's new conference. This is the first time that BYU has been an equal for them.
It's easy to be a fan of your team when you can mock everyone else around you.
What will interest in Utah football be like the rest of the year? If the Utes lose to San Diego State this weekend, how empty will Rice-Eccles be when a lackluster Washington State rolls into town? If the Utes struggle against USC, and Arizona State, and a surging UCLA program, and a dominant Oregon team, and a surprisingly potent Stanford team under the quarterback leadership of Tanner McKee, what happens to fan interest at that point?
It will be easy for Utah fans to say that everything will be fine. But, this is a reality that they haven't had to deal with for more than a decade.
BYU ended the streak on Saturday night, but BYU ended so much more than the streak. They ended an era. And the future is wildly unknown from here on out.
The Biggest Test Is Still To Come
Arizona State is a better team than Utah. BYU fans desperately wanted to end the streak over the Utes so the environment of LES was electric.
But don't get it twisted - this week is a bigger test for the Cougars. The environment that existed against Utah need to happen again on Saturday night. The ROC was an advantage. BYU fans were an advantage. There was a bona fide homefield advantage on Saturday night and BYU is going to need every bit of that energy to stay ranked and stay undefeated.
We'll have a lot more on ASU throughout the course of the week, but suffice to say for now that BYU needs every one of us on Saturday night.