The Arizona State Preview You Needed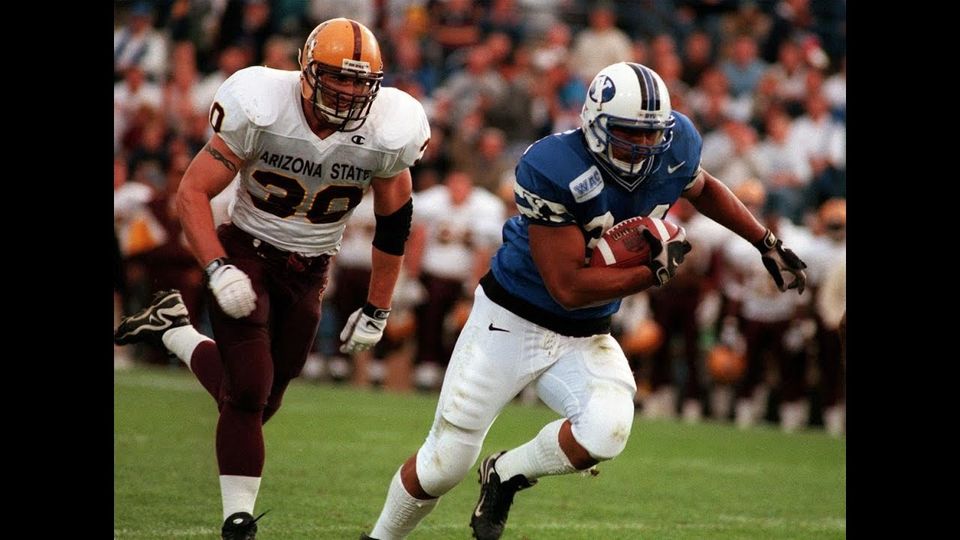 It's been a long time since the Cougars squared off against the Sun Devils - and that last one was a bit of an oddity. ASU rolled into LaVell Edwards stadium ranked number 14 only to be wiped off the field 26-6 from a staggering performance out of Kevin Feterik:
6-20, 166 yards, a 74 yard TD throw and 2 sacks.
That might be the worst stat line of any BYU win in the modern era, but the ground game got the job done - Ronnie Jenkins ran for 178 and Reno Mahe chipped in 73 more and Feterik had 37 of his own. Needless to say, we're all expecting more out of Jaren Hall's arm Saturday, but if we win 26-6, we definitely won't complain.
Jayden Daniels
Long time rumored to be a silent Utah commit (doubt), Jayden Daniels has been the shining jewel of Herm Edwards's recruiting efforts. He started game 1 as a true freshman and finished the year with 2900 yards, 17 TDs and just 2 interceptions - but his numbers didn't improve much in their 5 game season last year and he has been ho hum this year.
You would expect a 3rd (two and a half?) year starter to be firing on all cylinders given all the Sun Devils return, but through 2 games (against SUU and UNLV mind you), his yards per attempt is the lowest of his career - he's throwing lots of check downs.
He can hurt you with his feet - he ran for 355 yards as a freshman - even after accounting for a whopping 32 sacks. His game tends to be one, or the other, but not both his arms and his legs. It will be interesting to see what approach the defensive staff takes to shake this one up a bit.
The Trenches
For the first time in what seems like (and probably is) forever - the Cougars dominated the trenches against Utah on Saturday. And the defensive line is primed for another big game this week. Through 2 games, PFF grades for the ASU starting five OL:
Kellen Deisch - T - 91.1
Ben Scott - T - 67.2
Dohnovan West - C - 63.3
LaDarius Henderson - G - 62.3
Henry Hattis - G - 52.0
That is quite the drop off, and a huge weak spot up the middle. They will push to the edges and try to get around you, so a big game from guys like Ben Bywater and Chaz Ah You playing outside will be needed.
On the other side of the ball, our OL has gotten a good push at times, but struggled picking up blitzes, stunts, etc - but it's been okay. Part of that is the two DC's the Cougs have faced, and part is jelling together, but ASU has a good defense that will try to clamp down.
Regression to the Mean
No matter what coaches try to tell you, you can't force turnovers. When the ball is fumbled - how it bounces is completely random and you can't predict it. When an interception is thrown, you just happen to be in the right place where the QB made a bad throw - again, not predictive nature of you somehow forcing it. It's a QB stat, not a defensive stat. They are the definiton of "luck" in the game.
Yet somehow, in just 4 games last year, these blasted devils from the desert managed to have 14 turnovers in just FOUR games. 7 of them came in the Territorial Cup, but 7 across 3 other games is nothing to scoff at either.
They are riding a 70-7 rivalry win, and a lot of young talent that Herm Edwards has brought in to an early ranking, but through 2 weeks haven't really show that they've put it together. This game will depend on who shows up -
Could BYU have an emotional let down after last week? Definitely. But I think they're mature enough not too based on not being distracted by the Big 12 invite.
Could the Sun Devils be a load of crap and be the next preseason darling this year (13 top 25 losses already, most ever in 2 weeks) to fail to meet expectations that were based off of just four games? Of course.
Will this game play out similar to the first two and the Cougars can get a comfortable win if they can control the line of scrimmage? This is my guess - we will see something similar to what we've seen (with more Puka and Samson Nacua involved) through 2 weeks and the staff has shown that if the line is struggling, we trust the receivers to get open and have no problem going with a 7-man pass pro.
Recruiting Updates
Talin Togiai, cousin of former Buckeye and current Cleveland Brown Tommy Togiai committed to the Cougars Tuesday. He reports offers from BYU, Utah and Nebraska and checks in at 6'6" 290lb. He's a textbook lineman of what this staff wants.
QB target Treyson Bourget's older brother Trenton is the backup QB at ASU. The Bourget family is expected to make the visit to Provo and the Cougars were already towards the top of the list before the Big 12 news came to be.
The game on Saturday made a huge impression on a bevy of recruits. Spencer Fano (4* OT Timpview), Walker Lyons (4* TE Folsom, CA), Liona Lefau (4* LB Kahuku), Javance Tupouata-Johnson (3* QB  Notre Dame, CA) are all class of 2023 kids that would post-mission be playing their careers for Kalani & Co in the Big 12. Having them in the stadium on Saturday made huge strides for them and the Cougars are in a good place. They all report major offers (Alabama, Michigan, Oregon, USC, Tennessee type offers) and are LDS - these are the kids that fit the "I love BYU, but I just want to be in a P5 league, it's not you it's me" line would come out often - but hopefully those tides can change.
GEHB is a freemium newsletter for off-brand BYU coverage - if you would like to subscribe or upgrade to a paid subscription, click here: