Thank you, Kirby Smart, for saying what needs to be said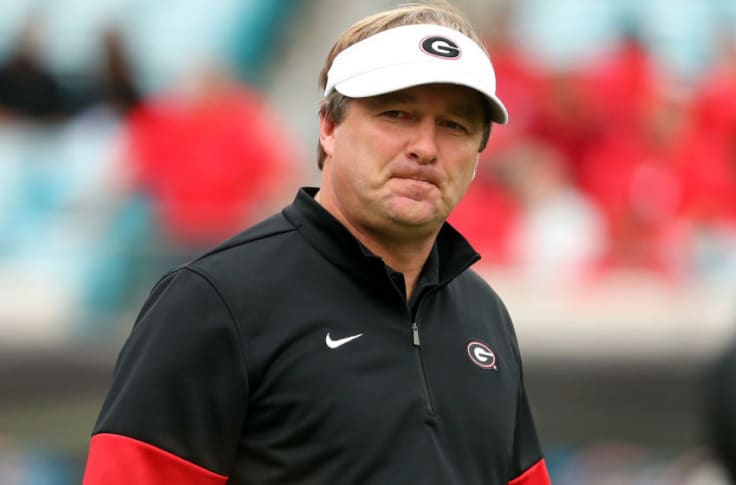 In the wise words of everyone's favorite mouse, Mickey, "Hot Dog, Hot Dog, Hot Diggity-Dog!"
If you haven't noticed, I have been on a Twitter blitz to stress the importance of recruiting. I've singled out specific coaches and questioned certain scholarship offers that have been given out over the years in an effort to stress the importance of talent. It doesn't seem like something that would be controversial, but in 2021, someone could say that the sky is blue and someone would vehemently disagree with that statement on the internet.
But, my Cougar friends, talent is not just important. Talent is everything.
I know, I know, there are phrases like "Hard work beats talent when talent doesn't work hard!"
I'd like to counter with this phrase that I made up on my own, "Hard Work can't even hang on the same field when Talent also works hard."
Talent. Is. Everything.
To be clear, development still matters. If you aren't developing your talent, then you're just the Tennessee Volunteers or Texas Longhorns. Development is cruicial.
You can develop under the radar talent (hello Tyler Allgeier) and you can hit home runs. That happens regularly too. The recruiting rankings from places like 247 are not the end-all, be-all of talent. But they are pretty damn good, all things considered.
Kirby Smart's Georgia team has allowed four touchdowns this year. He was asked about the dominance of his team and how the coaching changes have helped them be successful. This was his answer.
"Guys, if you don't recruit, there is no coach out there than can out-coach recruiting. I don't care who you are.
The best coach to ever play the game better be a good recruiter because no coaching is going to out-coach players.
Anyone will tell you our defense is good because it has good players. So spending time on the phone and spending time with the people at your house, spending time with people when they come to your campus. You know, I'm not with my family when I'm doing that. My family sacrifices so that I can go and spend time with other people's families so that we can have good players."
He wasn't done.
"It's 25% evaluation, 50% recruiting, and another 25% is going to be coaching, but if you don't recruit, you've got no chance."
Hey-howdy-hey would you look at that!
Let's compare those quotes to my new favorite phrase from Illinois head coach Bret Bielema from a couple of weeks ago.
"I just know this, as a head coach, you're only as good as your roster. I kind of learned that the first time I went to the Kentucky Derby, right? Nobody was betting on the jockeys. Everybody was betting on the horses, so to win the derby you gotta have the right horse, and I think our players are gonna be a reflection of what our program stands for."
(Sidebar: We will continue to use 'horses, not jockeys' as the forever motto of GEHB. 'Recruits, not families' just doesn't hit the same.)
I know, I'm a broken record. How many times can I talk about this same thing over and over again before I let it go?
I can keep talking about it until it is universally accepted in BYU-world that recruiting IS what will win games in the future.
We're not going to talk specific names today - I just won't do it. Plug in whatever names you want to. I'm not thinking of anyone specifically as I paint these scenarios because they are scenarios that have happened multiple times in every recruiting class over the last several years. So if you think I'm talking about someone specific, I'm not.
Okay, let's paint a scenario:
A kid who is relatively unknown shows up to a BYU summer camp. He balls out during that summer camp (that's three or four days, and as many as eight if they come to multiple camps, but typically it's three or four days). The coaches love what they see and they extend a scholarship offer. That offer is received by the player and it is the first offer he's ever been given and the first real college recruiting attention he's received. He wants to commit. The coaches check the game film on Hudl from his previous seasons really quickly and accept the commitment. He's now going to be a Cougar.
Could that player go onto be a big time player for BYU? Absolutely, positively yes.
Could that player have simply fallen through the cracks and been missed by recruiting services? Absolutely, positively yes.
It's a wonderful story. It's a gamble by the coaching staff - but what scholarship isn't, right?
The next practice period comes and another player balls out. It's the same story. He shows well during camp and his physical frame makes him stand out. He gets a scholarship offer and pounces on it quickly. He's going to be a Cougar.
Could he be great? Still yes.
Could he have fallen through the cracks? Still yes.
And then it happens a third time with a third player.
Could the third player also be great? Yep.
Could the third player have also fallen through the cracks? Yep.
But let's take a step back here and let's delve into two different paths that make me pretty suspicious right now.
Suspicious Path 1: Math
Chris Wilcox fell through the cracks.  BYU found him and knocked it out of the park. He was drafted last year. Amazing, awesome story.
But what about Isaiah Armstrong? Or Dimitri Gallow? Or Eric Ellison? Or Tongi Langi? Those were four players who fit the same bill as Wilcox. Under the radar guys who had measurables. None of them made any sort of meaningful impact at BYU - two of them never enrolled.
BYU deserves a ton of credit for Wilcox. Tons.
But those were four scholarships that went out to players who never made an impact.
Trevion Greene. Alex Miskela. Amone Finau. Javelle Brown (though he played this past week against Virginia so many he's starting to emerge).
Yes, Isaiah Herron fits the bill here too and he has played very well. Keenan Ellis was a project as well and, when he's healthy, he is great.
No, D'Angelo Mandel is not a project. He had P5 offers for crying out loud. So did Micah Harper.
What's the point? For every success story, there are four or five non-success stories that don't get talked about. So, back to our situation with three players from camp, what are the odds that three players all fell through the cracks and all are on track to be the next great story and are all coming to BYU at the same time on the same weekend?
I'm no Pythagoras, but it doesn't seem very likely.
Math says the recruiting services are right more often than they aren't - by a pretty wide margin.
That does not mean perfect. But it does mean there are some averages and trends. Three kids who are all under the radar and will be great happen to show up at the same school at the same time? That goes against every average and trend.
Suspicious Path #2: 25/50/25
Smart said it's 25% evaluation, 50% recruiting, 25% coaching. That's the formula for his success.
Three kids come to camp on the same weekend and they all get offered within a three-day span and they all commit on the spot. Either they will never be coached again in order for 25/50/25 to be right, or their slash line is 2% evaluation, 2% recruiting, 96% coaching.
Could that happen? Sure. It could. And it does!
But is that the formula for long term success?
There are a lot of football coaches who will tell you that answer is unequivocally 'no!"
Talent is everything. But why?
Let's look at BYU's wide receiver group as an example.
Gunner Romney didn't play against Virginia because he was hurt. Who replaced BYU's then-top WR? Puka Nacua, Samson Nacua and Keanu Hill. All three of those players had competing offers and chances to play college football when they elected to come to BYU. And when they got their chance, they were ready to roll.
Neil Pauu didn't have additional opportunities, but he is still a huge part of BYU's ofense.
There is nothing wrong with walk ons and projects. Nothing at all!
But Pauu is one former walk-on (and an upperclassman at that) who is surrounded by heavily sought after talent.
Conversely, the safeties are in a very different position. Chaz Ah You changes positions (and then gets hurt) and the defensive secondary is thrown into a tizzy. Malik Moore is there and holding down the free safety spot. But the strong safety position has been a revolving door of Jakob Robinson, Javelle Brown, Ammon Hannemann and Hayden Livingston. With all due respect to those four players, are we really that surprised that a tough Virginia offense moved at will until the a fortuitous fumble and a broken rib took place?
There is nothing wrong with Robinson, Brown, Hannemann or Livingston. All of them could be big time players at some point in their careers.
But they are still young. They are still inexperienced. And they are not surrounded by heavily sought after talent to help them learn the ropes. They are being thrown into the fire and coached on the fly.
If it weren't for the offense putting up historic numbers, we're singing a different tune in BYU-land today.
Coach Smart is right. Recruiting. Recruiting. Recruiting. It's is critical. As BYU moves to the Big 12, it's even more critical.
But Jeff! BYU is 5-1 against the P5 who recruit better!
Yes, they are. But who is carrying the team? Tyler Allgeier, Payton Wilgar and Neil Pau'u, former walk-ons are. Who else?
Jaren Hall, Blake Freeland, James Empey, Gunner Romney, Puka Nacua, Keenan Pili, Lopa Leiataua, Tyler Batty, Joe Tukuafu, Connor Pay, Max Tooley - all guys who had P5 offers and all guys who had to be recruited hard.
There is absolutely nothing wrong with walk-ons playing. But set them up for success by surrounding them with as much bonafide talent as you can possibly get. If not, you're making their job so much harder.
Coaching still matters - in fact, it matters a lot.
But recruiting matters more.