Winning is a very big deal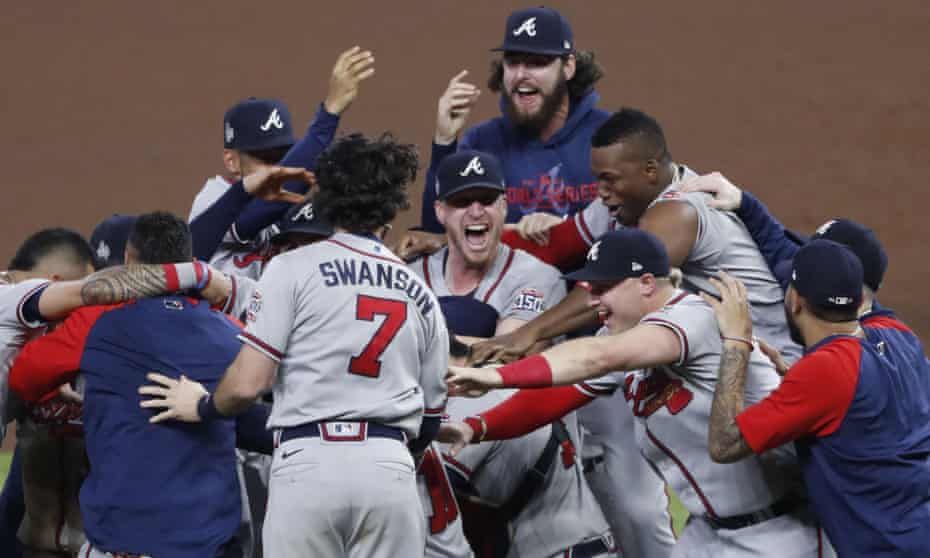 I'm riding high today. After 26 years, our beloved Atlanta Braves (Yes, our beloved Braves. I don't care if you're not a Braves fan. You're a GEHB subscriber and, therefore, part of Braves family now.) won the World Series. I was six years old the last time this happened.
I don't remember the 1995 World Series much. I remember they won and I was happy, but that's all.
I remember when the Braves went back to the World Series in 1996 that my Georgia elementary school, East Cobb Elementary, shut down classes so we could watch the afternoon games in the gym throughout the playoffs. But, that's all I really remember.
Last night was my first taste of a championship in my sports-fan life.
And guys, it tastes better than I could have ever imagined.
Winning is hard and it cannot be taken for granted. No matter the level and no matter the sport, winning is hard.
Take the Braves as an example.
Chipper Jones, Greg Maddux, John Smoltz, Tom Glavine, Bobby Cox - all Hall of Famers. They won at an incredible rate in the 1990s - to the tune of 14 straight division titles.
Javy Lopez was a multiple-time All-Star. Andruw Jones should be a Hall of Famer. Fred McGriff should be a Hall of Famer. Brian McCann probably will be a Hall of Famer one day. Tim Hudson was a multiple-time All-Star.
The Braves were loaded with talent - some of the best that baseball has to offer - and it took them 26 years to win another World Series after their last one in 1995.
Winning is hard!
For fans, winning is harder. We have no control over what happens. We support our team. We cheer for our team. We learn about our team. But in the end, we don't play or make a real impact for our team. In order to obtain the sweet, sweet taste of winning, we have no control or impact whatsoever.
That is the hapless life of a sports fan.
That's why we can't take anything for granted when winning happens!
BYU is winning a lot of games right now. In fact, they are 18-3 in their last 21 games. That's pretty remarkable.
Will BYU win the 2021 National Championship? No. Definitely not.
Will BYU make the College Football Playoff? Nope.
But they are winning a lot. And winning is hard. And we should enjoy it.
BYU is just a few years removed from losing to UMass at home on Senior Day, folks. Times were dark in Provo just a few years ago.
There are reasons to be concerned about the defense or about recruiting or about certain coaches and players - that's all perfectly valid. But, don't forget to pause and celebrate some wins every once in a while. Because winning is hard. And no matter how many All-Stars the Braves had, it still took 26 years to win big again.
How did it happen?
While the Braves haven't won many World Series titles, the Braves still have a winning culture. When you wear that curvy 'A' hat, you are expected to win a lot of baseball games.
It's a similar expectation for BYU. When the 'stretch Y' is on your helmet, you are expected to win a lot of football games.
That winning culture is a very, very big deal.
The culture of the Braves became really evident and really important during their championship run.
The World Series MVP was Jorge Soler. Soler had been playing for the Kansas City Royals until July. The Royals have been quite bad for the last few years.
Eddie Rosario was playing a platoon role for the Cleveland Indians earlier this year. The Indians have had their ups and downs over the last decade, but this year was a down.
Joc Pedersen was on the dismal Chicago Cubs this year, wasting away on their bench and watching all of his teammates deal with trade rumors.
Adam Duvall was on the Miami Marlins. I mean, lol, the Marlins.
All four of those players were acquired by the Braves and immediately asked to play a big role as the Braves hoped to obtain their championship goals.
They had been on losing teams and they had struggled throughout the season. But they weren't bad players. In fact, they had the potential to be downright great players. So, what changed when they got to Atlanta?
The culture. They arrived in Atlanta and were surrounded by teammates who expected to win. Their coaches expected them to play at a high level so they could win games.  They were cheered on by fans who expected a high level of play. These players had all played for winning teams in the past, but in 2021, their arrival in Atlanta changed their expectations. They were in a winning culture. Expectations were high.
And they delivered during the playoffs.
BYU has a winning culture too. They've won a lot of football games over the years and they expect to win more in the future.
But a winning culture is about more than just expecting to win on Saturdays. Winning culture means you win in everything you do.
Soler has to win in batting practice before he can win in the World Series.
Rosaio has to win his film prep before he can win in the batter's box.
Winning on the field is a byproduct of winning everywhere else. For BYU, wins on Saturdays are the consequence of winning Monday-Friday.
Recruiting evaluations.
Recruiting battles.
Weight room reps.
Practice.
Preparation in the film room.
Game planning.
You have to win in those areas before you can win on Saturday. If you lose recruiting battles, winning on Saturdays is tough.
Winning cultures expect to win in everything they do. It bleeds into your daily lives. When you are fully engrossed in a winning culture, you expect to win in the classroom, or the office, or in the kitchen, or anywhere else. Winning and the work required to win is just what you do. It's as natural as breathing. And if you don't win, it eats at you. It inspires you to work even harder because you HATE not winning.
Like Billy Beane in Moneyball, winners hate to lose more than they like to win.
That is what a winning culture feels like.
But we're just fans. What is our role?
Expectations. We contribute our time to our teams. We spend our money on these teams. We don't have an impact on the field, but we help set the tone and create the expectations.
If the fans are apathetic about winning, the team will, in all likelihood, be a little more apathetic as well. Why? Because if the fans don't care then why should they?
Fans are the thermostat. We set the tone. (I would like to point out that I had this metaphor typed out before Steve Sarkisian used it in a tweet this morning.)
BYU fans expect to win on Saturdays.
But do you expect to win recruiting battles?
Do you expect BYU's talent evaluations to be better than everyone else's?
Do you expect to win in practice? Do you expect players to win in the classroom and off the field so that academic and honor code issues aren't a thing?
We are the thermostat. We set the tone. Coaches and players do the work and they build the culture, but fans set the standard and the tone.
Where is your BYU thermostat set? And do your expectations Monday-Friday meet the expectations that you have once Saturdays roll around?
If they don't, you need to adjust your thermostat. Because a winning culture starts there.