Kalani Forever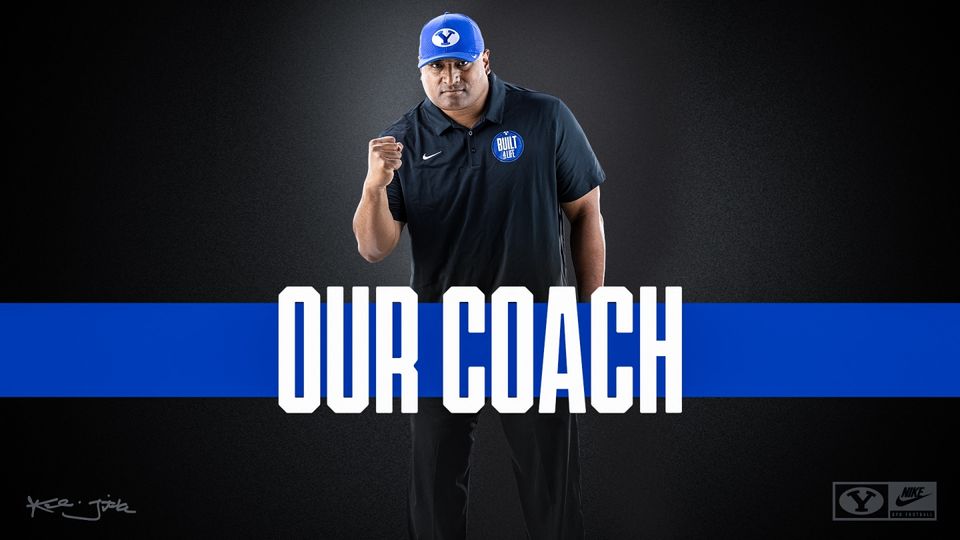 Friday was a GEHB first – both Jeff and I legitimately lost track of what day it was and missed a newsletter. For that we bring both an apology – and an explanation.
Last week was a wild one for us – it peaked with the announcing of what Tom Holmoe described as an "unprecedented" contract extension for Kalani Sitake. It started with rumors on Sunday that Kalani would interview with Oregon and the roller coaster didn't come to a halt until Friday's press conference.
Jeff sent out an update Wednesday evening that laid out (with major hints) where he thought things were at. Our Discord server saw more activity (and growth) in the last week than we had ever had. It was our most explosive week for signups since the Big 12 announcements. Every emotion under the sun was felt – but in the end, Kalani stayed home.
Now, how close Oregon was to offering (or Washington for that matter) is unknown, but knowing they got turned down by Justin Wilcox, the "meh" head coach at Cal, not once but twice before landing on Dan Lanning leads us to believe that had Kalani not said no part way through the process, an offer would've landed in his agent's inbox.
Throughout this process, we learned a few things about the program.
BYU fans step up big when asked
As a private institution, BYU does not have to report on coaching salaries, but there are always cracks in the ship where things get leaked. From everything we have heard, this is a Big 12 deal to match with our Big 12 future.
BYU also does not operate on a pattern of debt – money has to be there for salaries otherwise the bigger contracts aren't offered. For this to happen, BYU fans had to step up in donations in a major, major way. And they did.
Utah and Utah State, both being public schools, have to report their financials as a matter of public record. For the 2020 fiscal year, the Utes reported $11.6MM in donations. The Aggies chipped in $6.4MM.
The All-In campaign raised over $18MM alone – which did not include the regular 'ole donations to the Cougar Club (or corporate sponsorships).
A single campaign out-raised the other two FBS programs in the state, combined. I'm not privy to the exact final numbers, but it would not surprised if BYU fundraised more than the entire rest of the state (including Weber, SUU, Dixie and UVU) combined once the standard non-All-In donations are tallied.
After the USC game I wrote that for BYU, Independence worked for over a decade (fun fact:  BYU will have spend an equal number of seasons in the MW and Indy when we join the Big 12) because for our fans it just means more. Pair that with a massively growing economy, money spilling into Silicon Slopes and a rising generation of fans willing to spend and the Cougars are riding a financial rocket ship.
Kalani's extension is unprecedented, and it is only possible because of you. Pat yourself on the back.
Changes are coming with it
BYU has performed extremely well the last two seasons on the field. And we are extremely blessed to have the consistency we've experience across multiple coaches. The average FBS tenure is about 3.4 seasons. Only a small handful of schools have had fewer than 3 coaches since LaVell Edwards retired in 2000. Despite Gary Crowton's failures, we have been very blessed with Bronco and Kalani.
A constant through that time was a limited number of P5 opponents, where we historically have only won about 40% of the games. This year was the most ever played, and we performed, but we can't cut it close in the future competing week after week with a power conference.
Changes are needed – more analysts for the assistants to leverage for film prep and recruiting. More strength coaches to help optimize athlete performance. More time available for player run practices in the IPF without having to worry about classes taking over. All things that are fixable, and should come.
This contract will include commitments to increased staff budgets – gone should be the days of promoting a GA instead of hiring established coaches. The recruiting department will have more bodies to watch film and sell players on the vision.
We've always history done more with less, but now it's time to do even more with more.
"Best In Class"
Whatever this means in the software world, I will never know – everybody describes their product as that. For the purpose of this newsletter – it's about spend and abandoning the idea of BYU being cheap.
We need to spend to perform among our peers, and an "unprecedented" contract will be required to move to unprecedented heights with unprecedented competition levels.
In the Mountain West era, Bronco was paid towards the high end of the league. Independence brought more revenue and a as a quasi-P5, it was in between money. Looking towards the future the message from the Board of Trustees is clear:
Balance the budget and stay in line with your peers.
A lack of a major extension would be concerning – why join the league if you will not commit to competing at a higher level? But that is not the case – we competed and we will be better for it.
A bit of GEHB Transparency
We've now made it 4 months through this endeavor of a newsletter and it has gone better than we could've ever expected. We are consistently seeing new sign ups, and our Discord has become what we believe is the best community for BYU fans anywhere on the planet – and most of our VIPs say that is worth the $7 a month alone.
Some people have reached out with a way to support the expansion of the show beyond a subscription, so we have added a tip-jar, you can find that here.
With transparency in mind, we wanted to share that as of writing this, we are sitting at 362 total subscribers including 125 paid members. The Discord has 306 members, 112 of which are take part in the VIP channels that are included with a VIP membership. The podcast has crossed 50k total listens, averaging ~630 an episode (with ebbs and flows on the time of year).
This is nowhere near enough for us to quit our day jobs (and we aren't planning on that anytime soon), but this is a labor of love - there's money involved in  setting up the website and all the background services that run it, it takes multiple hours a week of our time, and we want to expand by investing in better recording equipment, more NIL opportunities for players, etc.
So as we wrap up our first season putting pen to paper, thanks to all of you for subscribing, sharing and supporting in some way shape or form.