It's time for BYU to put some respect on Vaughn Kimball's name!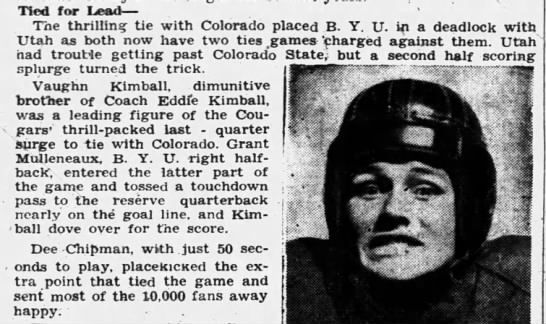 'BRIGHAM YOUNG UNIVERSITY FOOTBALL TEAM
-FLOYD MILLETT BRIGHAM YOUNG UNIV PROVO UTAH
"SATRUDAY THERE IS ONE THING MORE IMPORTANT THAN THE WAY AND THAT (IS) TO BEAT UTAH. THIS ACCOMPLISHMENT WOULD AID THE MORAL(E) OF TWENTY FIVE THOUSAND ALUMNI AND AID THE WAR EFFORT SO GIVE EM HELL, BRIGHAM. GIVE EM HELL."
- Vaughn Kimball'
Those are the words of a true BYU badass. Vaughn Kimball, the man who was set to lead BYU at the quarterback position in 1941 but elected to forgo his college career and join the United States Navy, sent that telegram to BYU before they played Utah in 1942. The Cougars had never beaten the Utes. (By the way, Utah based newspapers commonly referred to the Utes as "Utah's Redskins" back in the day. Which seems like the kind of news that typically gets people canceled these days.) Kimball sent a telegram to the team - his former team, mind you - and BYU beat Utah for the first time ever. Then, the Cougars went 16 more years without beating Utah.
Was it the telegram that led BYU to the victory? You can't prove that it wasn't. And like ESPN taught us, it's only crazy if it doesn't work.
In addition to being a BYU badass, Kimball was an American badass.
He joined the Navy and soon thereafter found himself on board the USS Bunker Hill. Eventually, he would give his life to his country aboard the Bunker Hill, but not before being part of some pretty incredible stuff.
The Bunker Hill was one of the many American forces that fought in the Battle of Iwo Jima. The five-week battle cost 26,000 soldiers their lives before the Japanese surrendered the island to American forces. On April 7, 1945, the aircraft that were aboard the USS Bunker Hill took part in a special ops mission to find a Japanese fleet of ships. They discovered the largest battleship in the world, Japan's Yamato.
Prior to the discovery by Bunker Hill aircraft, the Yamato had gone undetected by American intelligence for over a year. Once it was spotted on April 7, the special ops unit launched an attack and sunk the large battleship and four other destroyers with it.
That is the stuff of true American legends. All of the soldiers on the Bunker Hill are among those legends.
Just over a month later, on May 11, the Bunker Hill was attacked by a pair of Japanese kamikaze planes. The first of the two attacks dropped a 550-pound bomb that penetrated through the deck of the Bunker Hill and through the entirety of the ship before it exploded in the ocean. The plane then hit the deck and destroyed several of the aircraft aboard the Bunker Hill.
Just 30 seconds later, the second Kamikaze dove towards the deck of the ship. This one did not miss. The plane evaded the defense of the Bunker Hill and dropped its bomb onto the carrier's 'island' where it exploded on the ship. Fires and explosions ensued.
The Bunker Hill lost a total of 393 sailors and airmen that day. 41 of those 393 were never found. Kimball was among the 41 who went missing and were later presumed dead.
The Bunker Hill made it back to shore where it was repaired. The war ended while it was in the shipyard. It was decommissioned into reserves in 1947 and reclassified a few times after that. The ship was mostly used for testing through the 50s and 60s until it was sold for scrap in 1973.
Kimball was lost in 1945. The Bunker Hill turned to scrap in 1973. And yet, here we are in 2021, still talking about them. A true testament to their remarkable legacies.
Kimball is a BYU legend through and through, and yet, you won't find nary a trace of him (boy I've been reading a lot of 1942 journalism when the word 'nary' comes to mind) anywhere inside LaVell Edwards Stadium.
THIS IS THE MAN WHO INSPIRED BYU'S FIRST WIN OVER UTAH!
THIS IS THE MAN WHO GAVE HIS LIFE WHILE SERVING HIS COUNTRY WHEN HE SHOULD HAVE BEEN QUARTERBACKING THE COUGARS!
How is this not the most popular man on BYU's campus? How is there not something paying tribute to the former BYU football player?
The name of our podcast and the name of list newsletter was inspired by Kimball, but it's time for BYU (or a collection of BYU fans, I suppose) to do something for Kimball. It's been nearly 80 years since his death, but he deserves to be an icon of BYU football.
WE HAVE TO TALK ABOUT KALANI'S HAT BEFORE IT'S TOO LATE
Look, Kalani Sitake is paid to be the head coach of BYU football and he's really, really good at it. He has his team in good shape, he has his team ready to play, and he has his team in a position to win a lot of football games. That is what important and that is what makes all of us love Sitake.
But we have gotta do something about the dude's hat of choice this year.
Did we intentionally stop the video of the press conference at a moment when Sitake's face would perfectly encapsulate the horror that is the hat? Yes, yes we did.
Because we have to! What is this thing? Is that gray or blue? Is the Y some sort of glossy silver?
For all the good things that Nike does for BYU, hats aren't one of them. The brand of swoosh routinely disappoints in the lid department. But this thing is a monstrosity and an abomination to BYU. As far as I can tell, it is not available for sale on BYU's official websites (thank the Heavens above) so hopefully its days are numbered.
And maybe it's just a royal blue hat that got stuck in the wash with some bleach. At least that would explain why it turned out looking like a pair of washed out jeans from the 80s.
It's bad. And Kalani is too great to wear a hat that bad.
KEENAN ELLIS IS DRAFTABLE GOOD
Chris Wilcox had a quiet season last year. The now-Tampa Bay Buccaneer quietly played 385 snaps last season, including 224 of those in passing situations. He was targeted on 23 of those 224 passing downs, roughly 10% of the time.
Keenan Ellis also had a quiet season last year. He played 287 total snaps, including 162 in coverage. He was targeted just 16 times on those 162 passing downs. For you math wizards out there, that is just less than 10%.
Compare those numbers to some of BYU's other corners. Micah Harper was targeted on 26 of 204 passing situations (12.7%), Caleb Christensen was targeted on 12 of 66 snaps in coverage (18.1%), D'Angelo Mandell was targeted 9 times in 105 coverage snaps (8.5%) and Isaiah Herron 10 times out of 112 coverage snaps (8.9%).
Ellis was among the players who was on the field the mos and who was picked on by opposing quarterbacks the least.
Ellis allowed just seven catches on the season when he was the primary defender in coverage. That is a really, really good number for a player who is often an afterthought by most fans. He is going to be a huge factor in the BYU defense this season. He was equally as effective as Wilcox was last year and Wilcox was drafted. That's the kind of potential that Ellis has. He isn't as long as Wilcox and he isn't as fast as Wilcox, but on the field, he's just (and arguably more) effective than Wilcox. Provided he can put up some decent numbers at a Pro Day after a consistent season, Ellis could be a guy who sneaks into the Draft.
BYU's secondary is full of talent this season, but Ellis could be the best of the bunch. He needs to be talked about way more than he is.
Give 'Em Hell, Brigham is a 'freemium' newsletter. For the month of August, all of out content and benefits will be unlocked and available to all users. Starting in September, some of our content will go behind a paywall. If you are enjoying what you are reading, please consider subscribing at https://giveemhellbrigham.com/#/portal/signup