It's Monday Morning And I'm Already Annoyed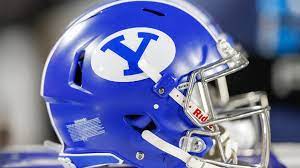 I woke up this morning and my kids were screaming at each other. It wasn't a mean scream, they were apparently playing something called "Henry Danger" and it meant that they yelled at each other. I don't know what the rules were, but at 6:00 in the morning on a Monday, it didn't really matter. I was annoyed.
I then implemented the best lesson that Ty Detmer has ever given anyone. "Put some bass in your voice when you say stuff."
I didn't yell, but the bass in my voice reverberated across my open living room and up into the loft where the kids were playing. My middle kid actually let out a little yip when the soundwaves reached his ears.
The settled down. My dad mission was accomplished. And thus began another week.
My daughter couldn't decide what she wanted to eat for breakfast. My son forced himself to throw up a little bit so that he wouldn't have to fill up the dog's bowl with food - apparently he hates the smell?
My youngest kid freaked out because he wanted to go to second grade today. He's three years old. Second grade doesn't want him. But that didn't stop us from having the conversation.
After my two oldest argued how who the rightful owner of the pair of gray pants on the couch was, everyone was finally ready for school. The two oldest left with their mother to get dropped off. The youngest wanted a TV show before I made my way into my office to start a work day.
He said, "I want Litttle Baby Bum!"
I turned on "Little Baby Bum."
He freaked out. "NOT THAT LITTLE BABY BUM!"
After a quick call to the Pentagon to figure out what kind of language encryption my three-year-old was using, I figured out that "Little Baby Bum" meant "Cocomelon" and away we went.
I love my kids. More than anything. But today started off poorly and everything annoyed me.
This brings us to right now and the newsletter that you are, hopefully, still reading. And guess what? I'm still annoyed. And we're going to talk about a few things that just bug me today. They might be related. They might not be. I don't really care. I'm just getting things off of my chest.
I'm annoyed that BYU's coaches refuse to use social media in an even moderately modern way.
Lane Kiffin coached the Oakland Raiders to a 5-15 record in his season plus as the head coach.
He went to Tennessee after he was fired and was 7-6 in his lone season in Knoxville.
He then went to USC and finished with a record of 28-15 in Los Angeles. And understandably disappointing run after the glory days of Pete Carroll.
He floated around as a coordinator for a while, slept with Nick Saban's daughter, and then found himself as the head man at FAU. In three years there, he finished with an overall record of 26-13.
Finally, he moved to Ole Miss. He is entering his third year as the leader of Land Shark and he has an overall record of 15-8.
In his entire head coaching tenure, he is 76-41. Good numbers. Not great numbers. But fine numbers. He has never won anything meaningful as a head coach and he has spurned a few programs in ways that an ex-spouse would be jealous of, but overall he has been fine.
And yet, when Lane Kiffin knocks on the door of a high school recruit or a player in the Transfer Portal, he is immediately respected and thought of as 'the cool dude' in the room. His football past doesn't matter. Kiffin is cool, he relates, and it works.
This weekend he landed Jaxson Dart. BYU wanted Dart. It didn't work out. BYU was Kiffin-ed. Dart felt a close connection with Kiffin.
Aaron Roderick has been recruiting Dart for years, but Kiffin came in and immediately impressed Dart and formed a connection. How did he do that? Well, in part, his social media personality makes it fun for kids to follow. They feel like they know him a little bit before they even meet him. When he comes calling, there is a little starstruck feeling because a social media celebrity is looking at them in the eyes.
Is it stupid? Maybe.
But it's the world we live in, folks. Social media matters. Addison Rae is one of the most famous young celebrities and she got that way by making 60 second TikTok videos. You don't have to understand it. It's the way the youthful world works.
A quick check in on how BYU's coaching staff connects to that youthful world?
Roderick has not had an original tweet since January 5 when he said, "Full speed routes."
Ilaisa Tuiaki praised Cougar Nation in his most recent tweet - on September 16 after the Arizona State game.
Kalani Sitake's last original tweet was a heartfelt message on the day that John Pease passed away in August.
Ed Lamb has never tweeted.
Kevin Clune had tweets at one point, but nuked them all and now his page looks like Lamb's.
Steve Clark deleted Twitter completely.
Jernaro Gilford congratulated Jakob Robinson in an original tweet back in December.
Darrell Funk did something similar with Campbell Barrington.
Fesi Sitake and Preston Hadley use Twitter in a fun way. It's not a Kiffin-way, but it's a fun way. Harvey Unga does too, to a lesser degree.
Most of them aren't active on Instagram. LOL on being active on any of the other social media platforms.
Look, I'm not expecting anyone to be Lane Kiffin. But BYU has enough difficulty getting recruits to open the door. Having at least the appearance of a fun, inviting atmosphere on the internet seems like a good idea. And it costs absolutely nothing.
And it's annoying that it isn't there.
I'm annoyed with all of the mission-first PWOs that have been given out
There are schools in the country who won't take any player who is going on a mission, no matter how highly regarded they are out of high school. I don't agree with that philosophy, but I get it. Missions are brutal on the way kids develop athletically. If you're not familiar with getting them back in shape, it's a brutal business.
BYU takes mission kids, obviously. They are in the business of taking mission kids. And for the most talented players, it makes a ton of sense.
BYU also accepts commitments from PWOs who go on missions. And that, my friends, is stupid. It annoys me.
In the old days before NIL changed football, walk-on spots were basically free roster spots. If you could somehow convince a player to take a PWO offer, you were just happy that you didn't have to fill that spot on the scout team with a kid from the open try out after the semester started.
Nowadays, the PWO program is different. BYU has had success with PWOs. They have NIL deals that make PWOs feel like scholarships. The bar has been raised for PWOs in every way.
Well, every way except for one. The screening process is, apparently, the same.
BYU has had success with PWOs of late. Players like Payton Wilgar, Dax Milne and Tyler Allgeier have all been really, really good. You know what they had in common? None of them went on missions first. They all played right out of high school.
BUT WHAT ABOUT BAYLOR ROMNEY!
True. Baylor Romney did go on a mission. But he earned a spot at BYU after he returned home. There was no promise of anything when he left on his mission. In fact, he was signed to play at Nevada. But after he got home, he impressed BYU and they brought him. The evaluation happened after the mission.
Brayden Keim is a similar story. He wasn't on the radar before a mission but came home and earned a spot.
Going on missions and coming back ready to play is really hard for even the most elite athletes. It's even harder for the fringe guys who you didn't give a scholarship to in the first place.
In a world where the PWO program has been raised, it's time for BYU's screening process to follow suit. PWO spots are more valuable today than they have ever been. Making promises to missionaries who aren't being courted by other programs at all feels like a... half-cocked plan. The PWO program is better than ever. It's time to chance the evaluation process.
It's National Signing Day this week and I'm pre-annoyed at all the dumb takes we're going to see on Wednesday
This annoys me every year. With the early signing period in place, it now annoys me twice a year.
If you aren't following recruiting 365 days a  year, then keep your hot takes on signing day to yourself. Recruiting is WILD. There is so much more than goes into it than 'see kid, offer kid, commit kid, sign kid' like casuals think. This isn't the place to launch Recruiting 1010 for the casual to teach themselves (at least not today), but it's much more complex than they realize.
But that doesn't stop them from saying all the stupid things on signing day after they look at 247 or Rivals for the first time in a year.
If recruiting doesn't matter to you, fine. You're wrong, but fine. Then keep your opinions to yourself when the kids sign. Because, in all likelihood, they are wrong.
If recruiting does matter to you but you don't want to pay attention to it because it's too hard or because the kids don't show up on campus for a while, uh, get over it. The way we cover recruiting in the VIP Discord channel or over on CSI makes it incredibly easy for you to follow. I take all the hard work of following recruiting and put things in a tidy little ball on a tee. All you have to do is read and learn. So if it matters to you, then read and learn.
But unless you've followed the recruiting journey all year long, your opinion means even less than my meaningless opinion. Or anyone else's. And after 10 years of the recruiting coverage world, I'm tired of hearing it.
I'm annoyed by people who send 'Are you coming?' messages ten seconds into Zoom calls.
Working from home is great. Zoom meetings are much better than in-person meetings.
The new world of 'every second matters' is the absolute worst.
Gone are the days of grabbing a beverage on your way to the conference room and walking in at 9:31 to a 9:30 meeting. If you're a minute late today you'll be bombarded with "Are you coming? Should we wait?"
It's 60 seconds, folks. Keep your damn pants on.