I'm Sorry Oregon State, Washington State, Cal and Stanford: I Don't Feel Bad For You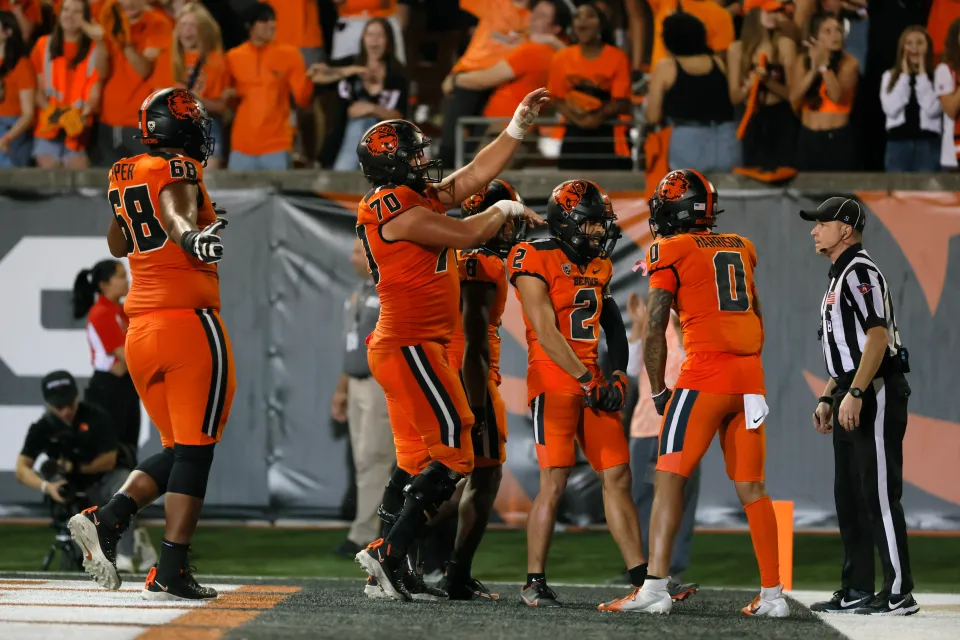 This might get some heat. But I'm here to speak my truth or whatever they call it.
I don't feel bad for the Pac-4.
And off the top of my head, here's a list of reasons why:
Temple, Charlotte, Marshall, Old Dominion, App State, Troy, South Alabama, UTSA, Fresno State, Boise State, Rice, SMU, Arkansas State, North Texas, Tulsa, Louisiana-Monroe, Florida International and Florida Atlantic, Idaho, Indiana State, the former porgrams at Wichita State and Drake, Southern Illinois, Furman, Chattanooga, The Citadel, VMI, all 4 FCS schools in the Dakotas, the entirety of the Big West and Ivy League, the directional Michigan schools, Buffalo, NIU, Ball State, UAB getting shut down, East Carolina, Western Kentucky, the state of New Mexico.
Since the divisional split in 1978, there have been 167 schools that have played at the 1A/FBS level and in 2023 we have 68 P5 schools and Notre Dame.
There's 34 schools that no long play the sport in the highest division anymore or have dropped the sport entirely.
Did people feel bad for Montana in 1949 when they got the boot?
Did people feel for Idaho when after UCLA was caught paying players and crisis led to the demise of the Pacific Coast Conference in 1958, they were the only school that wasn't eventually invited to the American Association of Western Universities? Is Wazzu vs Idaho not a good enough "regional rivalry" to matter even though the Cougars and Vandals are spearated by less than 9 miles and the latter went from being a member of a league that eventually would have BCS/Power 5 access to now playing FCS ball in the Big Sky?
Oregon State and Washington State have combined for 9 football titles since 1915. The Beavers have 12 men's hoops titles and Wazzu has 2.
Nobody could've ever forseen that Pullman would continue to be BFE in 2023 when they founded the school, and Corvallis isn't all that different than Eugene, so geography isn't on either school's side adn that sucks, but take a look at the SEC, Big 12 and Big Ten - the community support around the Pac-4 is nonexistent.
I do miss the regional conferences that the history of CFB was built on. But the game has evolved over the last 154 years in a number of ways - military bases don't have teams anymore, UCLA isn't losing to Bakersfield High School 27-12 like they did in 1919, and nobody in the WCC has a team despite San Francisco qualifying for the Sugar Bowl in 1951 and finishing #14 in the AP Poll. For the last century+ there was a caste system on the west coast with the Pac-12 schools being head and shoulders better than their Big West/WAC/Mountain West counterparts nobody cared about the loss of regional rivalries. Nobody was crying for the Hateful 8 in 2021 when the Big 12 was left for dead adn people suggested a merger witht he Pac or that teams should join the AAC.
They sure as hell didn't lament it when Larry Scott fumbled the bag after it seemed like the Pac-16 was a slam dunk taking half the Big 12 and Nebraska and Mizzou already bouncing from the league leaving 4 schools behind to pick up the pieces.
So sorry Beavers, Cougars, Cardinal and Golden Bears. You had your chance and didn't capitalize much on it in the sports that mattered. You're lucky enough to have this happen at a time where an expanded playoff is on the table actually giving you a theoretical path to a championship instead of the crap that the rest of us have had to endure since the first snap in our program's history and even then in 1984 was a stars-aligning once-in-a-lifetime season.
Imagine if Kellen Moore had been given this type of playoff format. That sure would've been wild. I hope you get a chance to have a similar run of success and I hope your fans are as dedicated as the G5 and FCS fans across the country who show up every week for games they are told are meaningless at their schools that Stanford and Cal woudl rather go independent than be in a conference with because of academics.
But hey, good on that professor for saying y'all were worth $50 million without your 2 biggest brands in LA.