Sam Houston Depth Chart Reaction
The official depth chart for week 1 is here and here's my thoughts: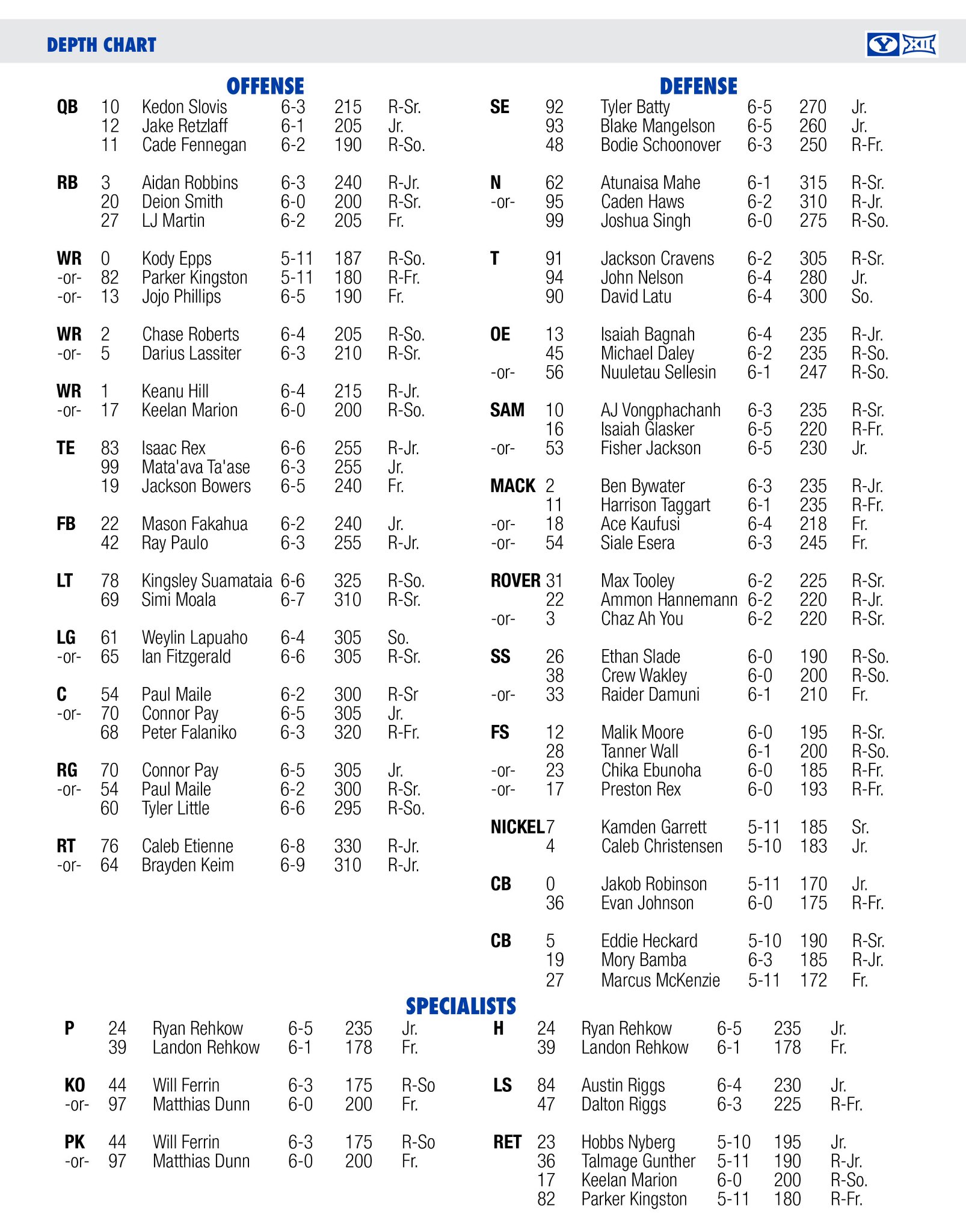 QB
No surprises. ARod already told us.
RB
I'm slightly surprised that LJ Martin and Deion Smith don't have an -or- for the backup spot, I expect both to get carries. Robbins at 240 is an absolute unit, a change of pace will happen time to time.
WR
WRs always go on a rotation, so don't read into the ors, but you can expect the number of reps to go in line with how they are listed.
They don't have X, Y and Z flagged and I am making the assumption that they are grouped that way. This does make it a bit odd for me to see Jojo Philips listed behind Epps and Kingston while Keelon Marion is behind Hill. Philips has Hill's body type, and Marion has Epps. It will be interesting to see how those to get used.
TE & FB
We need Tava Ta'ase was the backup - Jackson Bowers firmly planting himself as TE3 isn't a surprise given his heralded talent. If Rex goes down for an extended period of time, I expect Bowers to get the bulk of the reps, while Ta'ase fills more of the blocker role in heavy sets.
Fakahua at FB isn't a surprise given he got reps there last year and has bulked up even more. JC TE transfer Ray Paulo behind him, but I don't expect to see him much outside maybe short yardage situations where the extra 15 lbs will help. We could see these reps split pretty evenly on blocking for passing downs, but ARod has moved away from using a traditional FB in favor of the HB-esque role that fits Fakahua.
OL
Against SHSU and SUU we may see Maile and Pay flip a bit and do both. They are both great and have experience at both guard and center, but the question is come gametime, which combination gives the biggest lift.
I also expect some rotation the first two weeks between Weylin Lapuaho and Ian Fitzgerald at the LG spot. Lapuaho is young, but Fitzgerald has a ton of FCS experience. They'll rotate and after grading out we will see who locks that down. The same goes for Caleb Etienne and Brayden Keim at the RT spot.
The 4 tackles listed are 6'6, 6'7, 6'8 and 6'9. Those are some tall MFers.
DL
The only surprise here is that Jackson Cravens firmly supplanted John Nelson with no or listed. PFF graded them out similarly last year and Nelson logged 534 snaps last season, 7th most on the team. At the nose position Naisa Mahe and Caden Haws have an or listed.
Blake Mangelson being a clear 2nd teamer ahead of Bodie Schoonover shows that some mission rust is still there for Bodie, but he will get his time. Isaiah Bagnah will be a breath of fresh air as a rush end with Michael Daley right behind him.
Totally absent from the DL depth chart is Aisea Moa.  
LB
Isaiah Glasker is gonna be legit - Mitch Harper mentioned it on Cougar Sports Saturday, but we can buy the hype. He's been a consistent name all spring and fall camp and the former WR turned Safety turned LB has the length to make plays outside and can cover in space. AJV will be the star there, but Glasker has a future listed as #2 behind Vongphachanh.
At MLB - Bywater the clear starter isn't surprising. But the 3-way OR listed in order of Harrison Taggart, Ace Kaufusi and Siale Esera behind them is. Kaufusi is light, I didn't expect that out the gate and expected to see him more at the ROLB position given his body similarity to Max Tooley.
Tooley is backed up by Ammon Hanneman and Chaz Ah You who somehow both still have eligibility, it feels like theyv'e been here forever. All three are in the 220lb range, so it will be interesting to see how they are used against the run where regularly taking on blocks led to a slew of shoulder injuries for our LBs under the old defensive and S&C staffs.
DB
With Micah Harper done for the year with an ACL, and Talan Alfrey out for at least September with a shoulder injury, Ethan Slade is listed the starter at SS with Crew Wakely getting the OR with Raider Damuni as the 2. Raider has all teh talent, but it's a new system and fresh off the mission, I expect fluidity here. Slade will have a short leash.
Malik Moore is entrenched at the FS spot and we will see him covering all over the field. Tanner Wall, Chika Ebunoha and Preston Rex (how is he 6 inches shorter than his brother?) are all listed as ORs behind him, but I don't expect Malik to come off the field.
The CB and Nickel spots are the some of the few with a clear cut depth and no ORs listed - Kamden Garrett at the nickel and Jakob Robinson and Eddir Heckard outside. That's what we all expected and those 3 will not come off the field unless they have to be carried off.