The path to win in each individual BYU game this year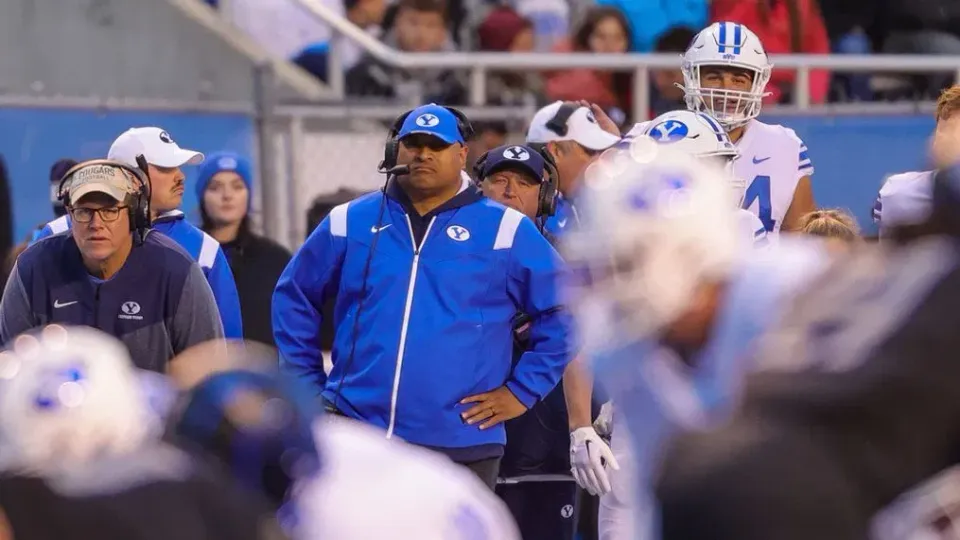 Every BYU fan wants to win at least six games this year. We all want bowl eligibility. It isn't the sexiest aspiration in the world, but if BYU reaches a bowl in their first year as Big 12 Conference members, it would be a successful debut season.
It would be unrealistic to expect BYU to win all 12 games this season, but there isn't a single game on the schedule that looks downright impossible. There are some games (particularly Texas and Oklahoma) that will be very difficult, but none of them feel impossible.
BYU just needs six. Today we will take a look at all 12 games and try to identify how BYU could win each game. This isn't a prediction that they will win 12 games -  not by any stretch. Instead, this is an identification of how BYU could win each game.
First, some givens.
BYU won't get to six wins without a healthy Kedon Slovis for at least 10 games. Slovis has to play. All due respect to Jake Retzlaff... Slovis has to play.
BYU can't lose Eddie Heckard or Jakob Robinson to injury. The Cougies can withstand a lot of injuries, but not at the cornerback spot - and not to those two players.
Those are our givens. If Slovis, Heckard and Robinson can stay healthy, BYU will have a chance.
Game 1 - Sam Houston State
BYU has to start fast against the BearKats. The first-year Conference USA member is playing at the FBS level for the first time in program history. BYU is favored by 22.5-points. They should win this game going away. But, the BearKats are better than people realize. They have a ton of players who redshirt last year, preparing to maintain eligibility for their ascension to FBS. This team is experienced and better than you'd realize.
But, if BYU can put them down early in the game, they should win this one going away. There isn't much that needs to be said.
Game 2 - Southern Utah
Show up and don't do stupid things.
Game 3 - Arkansas
BYU was obliterated by Arkansas and KJ Jefferson last year, particularly on the defensive side of the ball. The Hogs gained 644 yards. Jefferson threw for 367 yards and ran for 32 more yards. He killed the Cougars. Raheim Sanders also ran for 175 yards of his own. It was a full display on how to beat an Ilaisa Tuiaki defense.
What is easy to forget is how well BYU played offensively in that game. Jaren Hall threw for 356 yards en route to 35 points. It wasn't BYU's offense that lost the game for the Cougars, it was the defense giving up 52 points that sunk the Cougars.
How does BYU beat Arkansas? Replicate their offensive performance and don't play like complete booty flakes on defense. Arkansas is a very good team. They are big, physical, and fast. But, BYU has proven that they can move the ball against this defense. If they can prove they stop, nay, even just slow down Jefferson and the Arkansas offense, the Cougars could find themselves in a position to win this game.
Contain Jefferson. Stop the run. Do what you did a year ago on the offensive side of the ball. Maybe you steal a win in Fayetteville.
Game 4 - Kansas
The Kansas defense of 2022 and the BYU defense of 2022 have a lot in common. They both sucked the big one. The Kansas defense of 2023 and the BYU defense of 2023 also have a lot in common. They are both desperately trying to turn the corner and find a stronger footing this season.
The Cougars should be able to move the ball effectively against Kansas. I don't know that they will be able to stop Kansas from moving the ball. If they can slow down Jalon Daniels and the Jayhawk offense, they shouldn't find a ton of resistance from the Kansas defense.
It's easier said than done, but that's how BYU can win their first ever Big 12 game - slow down Daniels and do what you do on offense and the Cougars will find themselves in a position to win.
Game 5 - Cincinnati
Cincinnati isn't the same team that they were when the Desmond Ridder took them to the College Football Playoff. Ridder is gone. Sauce Gardner is gone. Luke Fickell is gone. It's a wildly different team.
BYU should be favored in this game. It's also a scheduling nightmare for the Bearcats. They will come off an emotional game against Oklahoma the week before and will be traveling to Provo on a short week. Those aren't things that seem like they bode well for Cincinnati.
All things considered, BYU probably should win this game. As such, BYU just has to prevent Cincinnati from stealing a win. Lean into the environment, play mistake free football, and trust that you are good enough to win this game. The recipe for a win feels pretty straightforward even if the execution isn't going to be so simple.
Game 6 - TCU
The Cougars have never played well in Fort Worth. TCU has never been easy for BYU to beat. Going into 2023, the Frogs are coming off an all-time season and BYU is entering a new era of Cougar football. What was once an evenly matched up conference game has never been more lopsided than it is today.
That isn't to say that BYU can't close the gap and make it an equal game again in the future, but in 2023, it definitely isn't an evenly matched game.
For BYU to win, they have to get ready for a shootout. TCU's offense is going to move the ball and they are going to put up points. The Frogs lost a ton from their playoff team a year ago but it's still Sonny Dykes and offense is still their identity. They are going to score.
BYU will have to win with their offense in this one. Maybe they force a turnover or two and get an extra stop along the way, but the path to victory falls on the arm of Slovis.
Game 7 - Texas Tech
I love Tech. I love Joey McGuire. I love what the Red Raiders are doing. I really believe they are darkhorse contender for a Big 12 championship this year. This game is going to be very, very challenging for BYU.
But, it will be a BYU home game. LaVell Edwards Stadium is ruckus and this will be the first Big 12 home game against one of the Hateful Eight schools. Once again, the environment is probably BYU's strongest advocate. This game will be tough for Tech and it's sandwiched between games against Kansas State and TCU.
The Tech offense was fantastic a year ago, scoring better than 34 points per game. BYU will have to keep pace with that offense. The Tech defense gave up more than 29 points per game and was the clear achilles heel of the team. If the Cougars can exploit that defense and contain that offense, the LES crowd will give them a chance to win the game.
This one comes down to turnovers. The Red Raiders were -6 in the turnover battle last year. BYU needs to keep that going. Win the turnover battle - probably by more than just one - and BYU will have a chance to win.
Game 8 - Texas
I know, Texas is 'back.' Texas is always back, but they're never really actually back. This year, though, it seems like Texas is actually back. They have a stout defense - and potentially the best defender in the Big 12 Conference in Jaylan Ford, and they have an elite quarterback in Quinn Ewers. On paper, this is the most lopsided game on BYU's schedule. Finding a win will be incredibly difficult.
First and foremost, BYU can't be intimidated by the environment of DKR. There will be 100,000+ Texas fans going bonkers inside that stadium. It will be loud and it will be crazy. BYU can't let the moment be too big for them.
Secondly, they have to play a near-perfect game. They can't let turnovers beat them. They can't let things like penalties and poor execution get in the way. If BYU is going to win, they have to play clean, and they have to execute at their best.
How can BYU beat Texas? Don't beat themselves, and then see where the rest of things fall as the game goes on. This one will be very tough for the Cougars.
Game 9 - West Virginia
Frankly, this one feels a lot more simple to me than maybe it seems to a lot of people. I don't know that Neal Brown will be the head coach for West Virginia when BYU rolls to town. I'm not super high on the Mountaineers going into the season and I'm less high on them with an interim coach in place.
If that is what happens, like I think that it will be, then BYU just can't get beat by the travel and the environment of Morgantown. West Virginia is far from Provo, but the Cougars are accustomed to travel. Don't get beat by the travel and don't get beat by a rowdy environment that throws you off your game and the Cougars should be able to come out victorious at the end of this one.
Game 10 - Iowa State
Elite defense. That's what Iowa State is. They are unspectacular on offense, but that defense is going to keep them in every game they play. Think of Iowa State like 2012 BYU.
If BYU turns the ball over and lets the Cyclone defense get on the scoreboard (like San Diego State let Kyle Van Noy get on the scoreboard), BYU could lose this game. If the BYU offense is able to score, say, 24 points, I'm not sure the Cyclone offense has the juice to keep pace.
Don't let Iowa State's defense score and do just enough on offense to win the game. Don't be afraid to win ugly - that's how you beat Iowa State.
Game 11 - Oklahoma
Go crazy, LaVell. That's what it's going to take to beat the Sooners. Hope for snow. Hope for freezing cold temperatures. Hope for something to even up the talent match up. Oklahoma has more talent. They will be favored to win this game by double digits. BYU needs something that will balance the scales, and an electric environment with some weather will do exactly that.
On the field, BYU has to rattle Dillon Gabriel the same way that they rattled during Dillon Gabriel when he was at UCF playing in the Boca Raton Bowl. In that game, Gabriel completed just 21/45 passes for a measly 217 yards. Rattle Gabriel, cobble together some offense, and that's the path. Likely? No, not really, but that's the path.
Game 12 - Oklahoma State
I'm expecting chaos in this game. By game 12, injuries will have taken their toll. Who knows who will be playing quarterback for these teams? Who knows who will be available on the offensive and defensive lines? Who knows what will be at stake by the time this game shows up on the calendar?
What's the path for a win? Survival. That's what Week 12 is all about. Stillwater will be a crazy environment (unless the Cowboys are somehow out of bowl contention) and BYU just has to out crazy the Cowboys.
The teams are fairly evenly matched on the field. But we don't know who will be on the field in Week 12. So let the chaos ensue. And survive.