I'm Sorry Coach Hadley, but Stars 100% Matter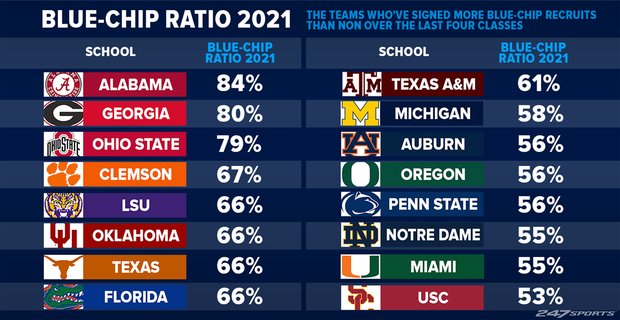 Today's newsletter will stray a bit from our usual tone - it's the first time we have ever publicly called out part of the staff for being just plain wrong. We've hinted at our displeasure, but after the last couple days and Wednesday's legacy signing day, it's time to call things what they are.
The defense staff's approach to recruiting is lazy, ineffective, and the results on the field are showing.
We've been called apologists in the past for Coach Ilaisa Tuiaki's defense - but up until last year, the unit as a whole hovered around #40 in terms of rank in most statistics. Give or take a bit, but generally above average and "good enough". Everybody in Cougardom hates the defensive scheme, and that may well be a problem, but it is not THE problem.
The problem is the horses, not the jockeys.
The excuse of "we don't have the guys we need so we are doing this for now" doesn't fly in year 7, and when you target players that are not being recruited by other schools and regularly have walk-ons beating out scholarship players, it's on you for not fielding a team that can do what you want to do.
This doesn't affect everybody - for the most part, Jernaro Gilford has been putting the most consistent corner play BYU has seen in quite a while, and the players he is getting are great athletes that are doing nice things. But the rest of the defensive staff needs to take a lesson from their offensive counterparts.
The Inspiration
On the outset - let's take a look at what OL coach Darrell Funk said about the offensive recruiting this cycle:
We got punched in the mouth in Waco, and they took it to heart. Last offseason we saw the staff go get Puka and Samson Nacua. This year they have grabbed Kingsley Suamataia, Chris Brooks and push hard for Jaxson Dart. They brought in Lisala Tai along with Kingsley even though we already have tackles with starting experience in the building - they wanted to get better and they did. We are fighting for the best of the best.
Now for quips from DE/OLB/There's too many fake positions on this depth chart/EDGE coach Preston Hadley:
This should garner a huge "excuse me? wtf? do you follow this sport at all?" reaction from everybody who hears this.
Breaking it down
"I think it's about trusting your own evaluations"
Okay, fair enough. This makes sense. When you are splitting hairs between a couple similarly rated guys, you gotta trust your own eval of who you think will be more likely to "hit" and contribute on the field.
"If all these marquee programs that have this rich tradition of doing some big things in the post season...you would see them in the playoffs each year but you don't"
Uh, yeah, you do.
247, in addition to recruiting class rankings, also tracks "team talent" taking everybody on the roster.
For 2021: Alabama (1), Georgia (2), Michigan (15), outlier Cinci (54)
2020: Alabama (2), Ohio State (3), Clemson (4), Notre Dame (8)
2019: Ohio State (2), LSU (5), Clemson (9), Oklahoma (8)
2018: Alabama (2), Clemson (6), Notre Dame (10), Oklahoma (11)
I could go back to 2014, but you get the picture. 13 of the last 16 CFP bids have gone to teams that 247 ranked in the top 10 most talented teams in the country. 15/16 were in the top 15 (and if Cinci wasn't in the AAC where they could run the table, they wouldn't have gone this year. They would've missed this year anyway if a couple other games broke differently).
"If stars were all that they're cracked up to be by all those out there, you'd see those teams"
Bud Elliot has tracked  the "Blue Chip Ratio" for years. The formula is simple: if a team does not have more 4/5 star players on their roster than they do 2/3 star players, they will not win a national championship. That has held true since the BCS era.
Does Coach Hadley really think that Alabama and Georgia are dumptrucking everybody they play just because they have a good weight program and their coaches are a million times better at coaching than everybody else?
"Even if we're the only team to offer them, we know what we're looking for and we know how to develop them."
Do you?
In 6 years, this defensive staff has signed exactly 2 players that have been drafted: Khyiris Tonga and Chris Wilcox. Only one of them made a roster. The decline in defensive performance has trended in step with Bronco Mendenhall's defensive players exiting the program as they completed their eligibility.
You might have one or two guys that you feel really flew under the radar - but when 11 of the 14 defensive players signed this year did not have a competing FBS OR FCS offer - you gotta look in the mirror. Trust your evaluations all you want, but when you are offering basketball players who don't even play football and of the 250+ FBS/FCS programs you are the only one that thought the majority of your players deserved an offer you might want to recalibrate.
Jeff Shared Some Feedback on Twitter, So I'll Reshare Here
And most concerning - the defensive staff shies away from recruiting battles. Jeff talks to BYU recruits more than anybody in the country. He is not limited to the NCAA calendar and contact rules that is put in place for coaching staffs. This is a common refrain he hears again and again from defensive prospects:
Why take an uber talented prospect that you have to work for when you can find a 6'5" badminton player and teach him how to play football? WHO NEEDS STARS WHEN WE CAN JUST CLONE ZIGGY ANSAH RIGHT!?
Stars Absolutely Do Matter
People will chirp that there are way more 3 stars playing in the super bowl than 4 or 5 stars, or drafted - as if that shows something that stars are overrated. There is an entire industry built around grading high school players - if they were shit at that job, nobody would care at all about recruiting rankings, but there is a strong correlation between on field performance and recruiting. In fact, if you just go strictly off 247 team talent, the more talented team wins about 75% of the time - and in conferences they're usually close in ranking - huge talent upsets rarely happen.
The reason there are so many more 3 stars drafted is BECAUSE THERE ARE SO MANY MORE 3 STAR PLAYERS.
The number of 5 star players anointed by 247 every year is capped at 32. Getting a fifth star means that the talent evaluators across the country think you have the raw potential to end up being a first round draft pick.
The combined number of 4 and 5 stars hovers around 400 players (there's no cap  for 4 stars, but the total will fluctuate between 390-410ish).
130 FBS schools signing 25 players is 3,250 players. Are you expecting talent evlautor to perfectly hit on a 17 year old's phsyical development? Of course not -
But when ~60% of 5 stars get drafted. And ~25% of 4 stars, and just ~6% of 3 stars - they are doing a pretty damn good job. Here's a great breakdown from USF site The Daily Stampede.
Where do we go from here?
Some schools handle things differently. We completely understand Kalani wanting to trust his staff's evaluations for better or worse - (though dropping communication and shying away is unacceptable) nobody wants a micro manager and if you can't trust your staff, why hire them?
At Clemson, the recruiting staff does all the evals and the coaches just sign off and show up and make calls when they are told.
Going into  the Big 12 in 2023, that is the approach Kalani needs to take with the defensive staff. Full probation. Let Jasen Ah You and Jack Damuni handle the evals, the majority of communication and let the staff focus on development since that is the skill they believe they are elite at and do better than everybody else.
If you are the country's best developers, then imagine how much better things will be when you start with a higher floor and even more raw talent?