I was stuck. I needed help. And I think BYU can learn from my experience.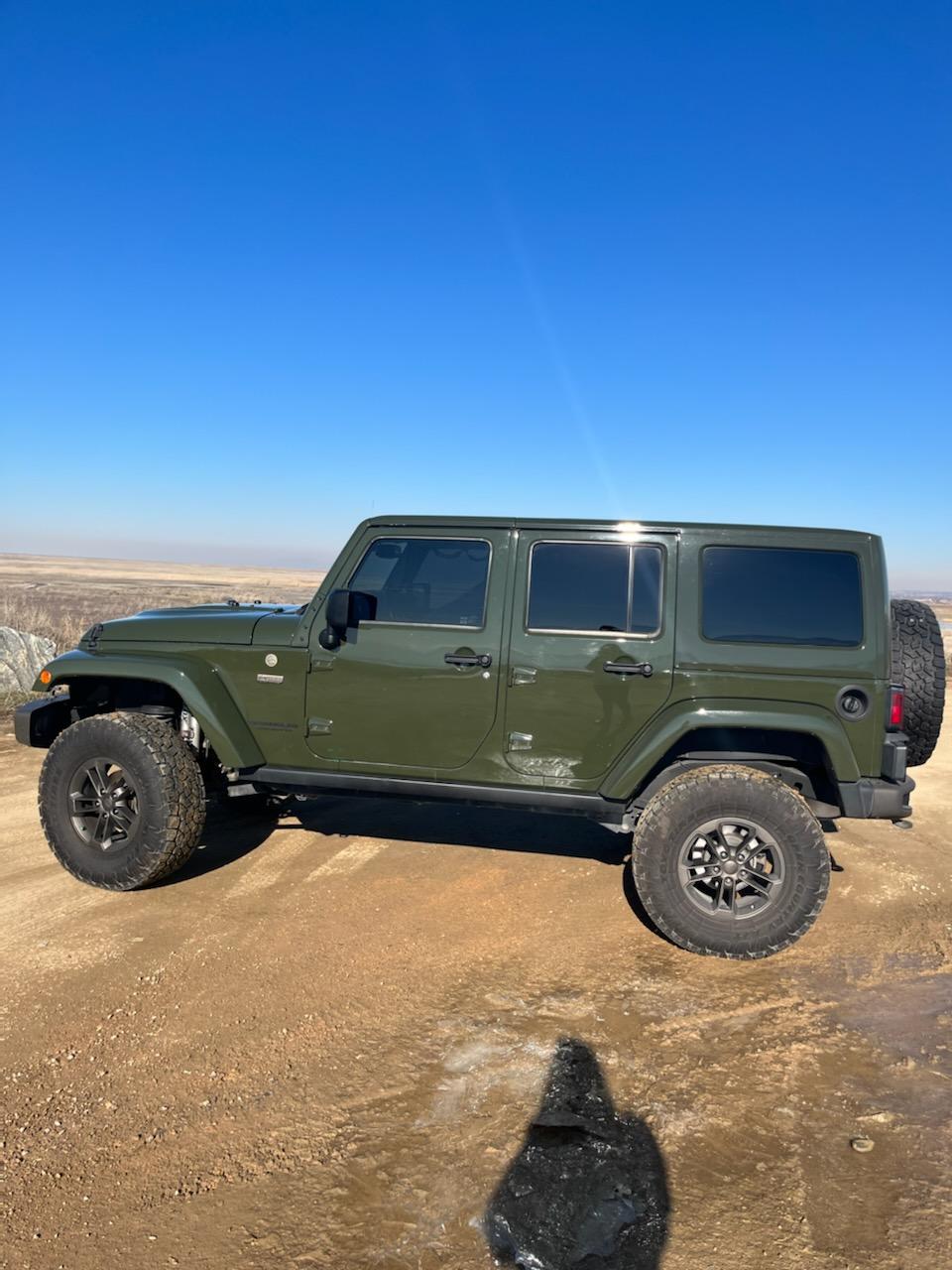 After years of pining for a Ford Bronco, I finally gave up. They are too expensive for my taste. (Garrett and I are pre-rich, remember. Tell your friends to subscribe to GEHB.)
So I settled for the next best thing and bought a Jeep. I have casually been looking Jeeps and/or Broncos for the last couple of years, but have resisted on pulling the actual trigger on one. Last Friday, that changed. I'm officially part of the Wrangler crew.
Up to this point in my life, I would not have considered myself a "Jeep Guy." I've always liked them, but the idea of climbing slick rock in Moab has never really blown my skirt up.
I do, however, love getting off the pavement and into the mountains. I've told people that I'm a mud and mountains guy, not a crawl ratio and tight fit guy. That might change over time, but it doesn't really matter for today.
On the first weekend of having the Jeep, I went out to find as many dirt roads as I possibly could. The problem? It's still February. The mountains are mostly snow roads.
That didn't stop us, though.
My family and I packed into the Jeep and made our way up to Hardware Ranch to see the elk that have come down. We took our time with the trip to the North and found a few dirt roads and a little mud along the way in places like Willard Bay and in Hyrum. The Jeep stuff we tried to do, we did well. (Again, we weren't going crazy, just getting a feel for the new vehicle.)
Finally we dropped into the canyon. If you haven't been in Blacksmith Fork Canyon in the winter, you need to go. It's absolutely beautiful.
The first couple of miles of the canyon are the coldest part of the canyon. The road winds and the canyon is tightest right at the mouth. The sun doesn't shine much. The river is still frozen over but there are a few small trickles of water that have broken through the ice. It really is a gorgeous and unique picture of the river right now.
We wanted to get a picture of the river. So, we looked for a place to pull off the road and make the 30 steps or so to the river to take a picture. I found what looked like a nice, flat, wide pull off and veered off the road to get to the side of the road.
Sink
Immediately after pulling off, the right side of the car sunk into the snow. We threw the Jeep into 4WD and tried to get out.
Spinning, spinning, spinning.
Okay, we're on a simple turn off. It hasn't snowed in weeks. This shouldn't be too tricky to get out of. So, I get out of the car to assess the situation.
One step towards the passenger side of the Jeep, and the snow is knee-deep. Two steps and now I'm having to really pay attention to walking.
Clearly, this was not a pull out. It was a 20-foot wide snow drift that was flat. Without the snow, it's a steep bank leading to the river.
After a quick assessment of the situation, I turn around and an incredibly kind man has stopped next to me. He had just pulled someone else out of a similar snow bank further up the canyon.
"Hey man! This snow is super deceiving! Let's get your ass outta there!"
We hook up the winch. Pull us up off the ice, and all was well. I looked back at where the Jeep was stuck, and we never did hit dirt or grass. All the digging, pulling and spinning that we did and just kept digging deeper and deeper into snow. I'd imagine that I'll go up the canyon this summer and see that I had pulled off onto a cliff covered by snow.
The Jeep did all the Jeep things fine. But pulling off the road was a rough start to my new Jeep life. (For what it's worth, the pull off looked wide and flat enough that I would have taken my Honda Civic and off the road right there. It was a very unassuming turn off that turned ugly.)
Once out, we continued our trek up the canyon. We saw a ton of deer, a couple moose, and then the giant herd of elk. It was a blast and a Sunday afternoon that my kids will remember.
With a tired, sleeping family in the car next to me on the way home, I thought back on my first time getting stuck in the Jeep.
I had THE offroad car. It has big, mud tires. It was a canyon that I've been in a million times and a road that I knew incredibly well. I had all the tools and knowledge to be in a great spot, but the execution still failed me. My plan, ultimately, wasn't working.
(Sidenote, I did get use the winch for the first time and it made me want to get stuck in something again. It was awesome.)
On my quiet drive back home, I checked my phone and the week-long conversation about trying to burn BYU's defensive coaching at the stake was still taking place.
I didn't respond (don't text and drive people, and definitely don't Discord and drive). But I had thoughts.
My Jeep was the perfect car to go up the canyon. My knowledge of the canyon is elite, I know the roads and turns as well as anyone. Everything was great. My preparation was there. And yet, I still lost.
Kinda feels like the BYU defensive staff could learn a lesson from that parable. They might believe that their plan is great and they might be getting the perfect kind of athlete to execute their supposed perfect plan, but the results on the field last year were as stuck in the snow as my Jeep was.
And it's time for someone with a truck to hook up the winch and pull these coaches out of the snow.
There have been dissenters who have responded to complaints about the coaches saying, "Well, they are getting the best that they can. Investing resources into players who don't want to come to BYU is a waste of time."
First, that's false.
Second, even if it was true, how would we know?
Third, the idea of recruiting is that you are selling your program to players and convincing them to come.
Kyle Van Noy was not an obvious BYU fit until all of a sudden he was.
Fred Warner was not an obvious fit for BYU until all of a sudden he was.
Zach Wilson was not an obvious fit for BYU until all of a sudden was.
You gotta sell your program to dudes.
For those of you who are have served missions for The Church of Jesus Christ of Latter-day Saints, let me use an example of what seems to be happening on the recruiting trail for BYU.
Let's say you're walking into the home of an investigator and the first lesson has gone really well. You're feeling the momentum of how it all went and you ask that investigator to commit to baptism.
You think you've found "The Golden Investigator."
There are three scenarios that could happen. The investigator could just say no, they could commit on the spot and be 100% on board until they are walking into their baptism, or they could say they're in but then ignore you and dodge your calls for a while.
No matter what option that person picks, what do you do as the missionary?
If they say no, you remember how great the first lesson went and you're going to try and meet with them again unless they tell you not to come back.
If they say yes, you're going to meet with them again and make sure things are still on track.
If they say what you want to hear, you're going to continue to meet with them and if they ignore you, you're going to keep trying until you hear that they don't want to meet with you.
The one thing you aren't going to do, in either of these scenarios, is say, "Great. Thanks for your time. You know the date we mentioned. We'll see you at the font. If we don't see you, then clearly you just weren't ready to be part of this Church. We asked you once, so you can obviously make that decision now."
It just doesn't work that way. And why would football recruiting work that way?
Imagine this, "Hey kid. We think you're great. We want you play at BYU for the next several years of your life. We're offering you a scholarship. Do you accept?"
The kid could say yes and be pumped about it. Are you going to say, "Awesome. Glad you're on board. We'll see you on Signing Day!"
Of course not. You're going to keep recruiting him and make sure that nobody else steals him away.
The kid could say, "Thanks for the offer. I'm going to mull this over and consider my options for a while."
You're not going to respond by ignoring him forever and saying that he's not BYU-enough so you won't waste your time. At least you shouldn't.
If he says, "Thanks for the offer. I appreciate it a lot but I'm not going to BYU ever."
Well, in that case, don't waste anymore time. The answer is obvious.
The number of times that has actually been said by a recruit is next to zero. So, how can anyone say that BYU is getting the ones who want to be there if they're not giving the kids a chance?
They are looking for the golden recruit who commits and just shows up on Signing Day without needing to be convinced.
That isn't recruiting, folks. It just isn't.
"Find the kids who want to be at BYU" seems like such a great recruiting strategy. BYU is a different place, so the strategy does make some sense. But not every kid who wants to be at BYU knows they want to be at BYU.
If you would have asked Zach Wilson if he wanted to play out his college football days at BYU, he would have told you no. Imagine if you just took that answer and chalked it up as, "He's not BYU enough. Doesn't want to be here. Moving on."
Recruiting is selling. If you're a salesman looking for the immediate yes from your customers, you're going to live a very, very poor life. You have to sell.
BYU has to recruit. They  have to.
95% (yes, that's a real number but I'm nearly 2000 words into this today so I'm not going to list the proof out for you, you're just going to have to trust me) of the recruits who took visits to BYU this cycle committed. On one hand, that seems great. It means BYU is doing well when kids come. That part is awesome.
But you have to be let yourself be told no. That's recruiting. If you're only bringing in the kids who are going to say yes, how are you going to compete in a P5 conference where schools are bringing the absolute best talent they can find?
My Jeep was stuck. I had the tools and I had the plan. It was great and it still failed. I still needed help.
It's time for BYU's defensive coaches to ask for help and take a page out of the offenses' playbook. It's time.