Hey Big 12, Here's Your Football Scheduling Plan:
We're at 16 - chill for now. No need to rock the boat and expand for the sake of expansion. The Pac is dead and along with it so is any existential threat to the league. Just wait for Pitt, Louisville, Virginia Tech and somebody NC State to be on the table and then we can be the conference of rivalries. No league has ever made 16+ teams long term and in 2024 8/16 will be in the first or second year in the league, so let's figure that out first.
And while we're at 16, here's the ideal football scheduling scenario brought to us by Jake Lingwall. Jake, I don't know you, but apparently my brother in law does, so you must not be half bad and this idea is genius: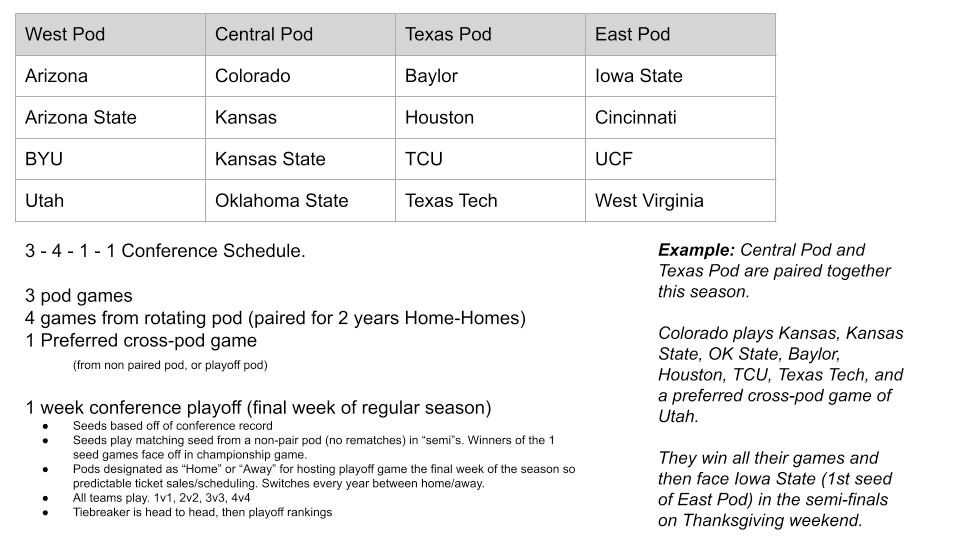 We're already at 16 teams, compared to most of the modern era where leagues had 8-10 teams, this already feels like 2 conferences meeting up for a championship game rather than 2 divisions of the same league. So let's put a semi final in there.
Yes, rivalry week is meant to be Thanksgiving weekened. I get that, but you know what else I also love? Making money and playing it the week before when there's the random match up nobody cares about because they're all looking forward to THE game you've had circled since day 1 next week makes money. I'm not gonna trade that to have any old random conference game the following week as a let down, but is it worth trading when it really means that you potentially could have 3 playoff impacting weekends in a row?
A Scenario
With the pods outline above, you have 2 rivalry week games packed into every pod. That's great. Now imagine the Holy War and the Territorial Cup, the 2 nastiest rivalries in the conference could have a potential impact on the seeding for the semi final the following week. Now do that again the next week when the winner of that pod travels to Orlando to play UCF in the semi in what is assuredly almost always going to be a top 25 matchup, potentially a top 15 or top 10.

Winning that game might guarantee you a spot in the expanded CFP field regardless of what happens in Dallas. For a team to win the league they're going to have to win 3 extremely emotional games in a row - that is why we love the sport and why we feed off of.
There may be lives shorted due to this stress or a few broken TVs, but that is a risk I am willing to take.
But what if the 2 best teams end up in the same semi?
It happens. Sorry. With 16 teams and the otherwise projected 3+6 scheudling format you're gonna end up with a lot of ties and what ifs and question marks. Just settle it on the field. If you lose, you have nobody to blame but yourself.
If you have a top 10 matchup, great. More people are going to watch that than Purdue Indiana or Wake Forest vs whoever the hell they're playing since they don't have a set matchup.
Don't do Home/Home Back to Back
One benefit of this is that you can play through the entire league in 6 years on complete h/h schedules. I'm here to say give us maximmum chaos and not do these in back to back year - alternate the games so you play everybody every 2 years.
Eg: with four pods, A, B, C, D a typical scheduled would be:
2023: A @ B, C @ D
'24: B @ A, D @ C
'25: A @ C, B @D
'26: C @ A, D @ B
Cool everybody played. But what's a lot more cool is having 50% of your league schedule change every year so you have a constantly feeling of variety. A @ B followed by A @ C, then do D @ A - now in 3 years you've covered the entire league and will ahve one repeat. One advantage to the 3+6 model is you can do this in 2 years, but c'mon let's mix it up. This pod method would give you a schedule of:
3 annual games with your pod-mates
1 protected game vs a cross pod mate that gets played 3/4 years (do not schedule during playoff matchup year)
4 games vs assigned pod
A flex game that can be assigned year to year. Since you do not want a rematch in the semifinal, you can't play your protected matchup in the year your pod is matched with theirs for the semi - so to replace that you can look at who in your "flex" pod you've played the least and try to balance that as needed - maybe one team played another as a flex 2 years and got the same team as a playoff team last year, let's not do a 3-peat. Etc.
Hell, lets put something on that 4th place vs 4th place team and do some kind of ranking across the whole league where there's a draft order for picking the the flex opponent for the next year or somethign to do with basketball scheduling for a mid season tournament if you win your game. I don't know, literally anything to be creative and add some scheduling spice to the mix is good in my book.
So please, stay off the phone with SDSU and whoever else, go pitch this at the next board meeting, and when everyone realizes how awesome it is, go thank Jake.