July is not the time for recruiting panic - it's the time for The Process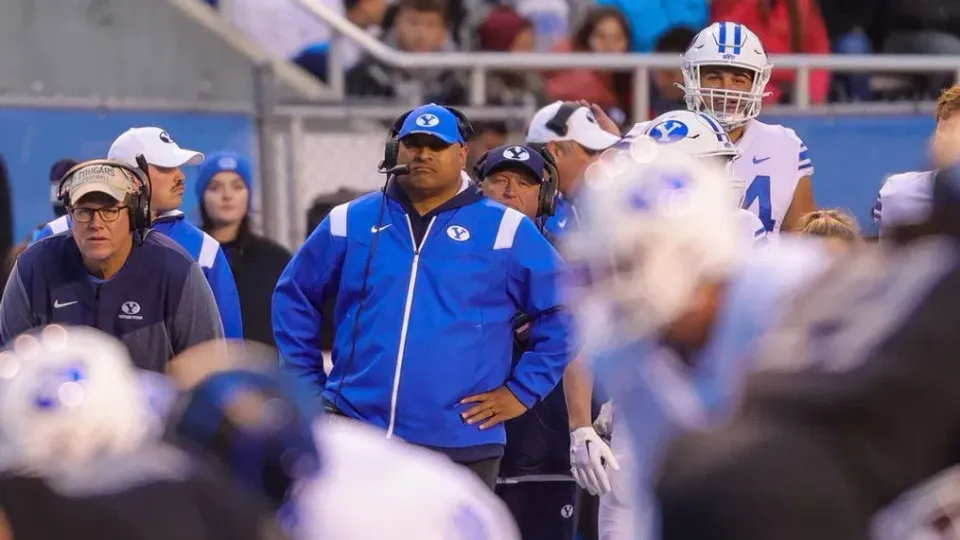 SOMETHING BIG IS COMING THIS WEEK WITH FEASTbox AND I COUDLN'T BE MORE EXCITED ABOUT IT! THE BIG ANNOUNCEMENT WILL HAPPEN THIS WEEK, BUT YOU CAN DABBLE IN THE FEASTbox WORLD USING PROMO CODE 'BRIGHAM' AT THE REGISTER IN STORES. SIMPLY TELL THE EMPLOYEE YOU HAVE A PROMO CODE AND YOU'LL GET $15 OFF YOUR ORDER!
Let's start with the past..
LJ Martin didn't officially announce his commitment to BYU until February, though he actually signed during the early signing period in December.
Siale Esera was officially visiting UCLA in December and didn't formally commit to BYU until around Christmas time.
Jojo Phillips didn't commit to BYU until just before his senior season started in August.
Nobody had even heard of Jake Retzlaff until after the season was over and all of a sudden he emerged as a JUCO quarterback that BYU was incredibly high on.
Ethan Thomason didn't commit to BYU until the second half of September last year, a few weeks after the high school football season was under way.
Imagine BYU's 2023 recruiting class without Martin, Esera, Phillips, Retzlaff, and Thomason in the mix. How disapponting would that have been?
Now stop imagining that scenario. Why? Because it's a stupid scenario to imagine - BYU signed those players and they are part of the Cougar family.
Despite the fact that BYU's five most important signees from a year ago didn't commit until at least August, we're not here in the Class of 2024 and I'm starting to answer the annual bevy of questions about "Are we worried that BYU only has X, Y, and Z?"
Ladies and gentlemen, I implore you to stop worrying about these kinds of things in July.
Sure, in an ideal world, BYU would have 25 players committed right now and they would be at the top of the Big 12 recruiting rankings. If that were the case, you can bet we would celebrate the hell out of it because it would be something worth celebrating. But, let's take another walk down a historic trail...
Class of 2018 four-star Brandon Kaho was committed to BYU in July of 2017. By the time he signed, Kaho ended up signing with Washington.
Jaren Kump was also committed to BYU in July of 2017. By the time Kump signed later that winter, he had locked in with Utah.
Bodie Schoonover was committed to BYU in July 2019. By December 2019, he had decommitted and was looking around at UCLA and a few other schools. He ultimately signed with the Cougars, but his path to Provo took a detour.
Braxton Fely was committed in July 2021. Braxton Fely signed with Boise State in December 2021.
Stanley Raass was committed in July of last year. Raass is wearing Utah red now, and signed with the Utes in December.
Recruiting in July is like a first-half lead. You want to lead in the first-half. Nobody wants to go into the locker room trailing by a touchdown. But if you're going into the locker room trailing by a touchdown, nobody is going to take off their pads and head for the busses. There is still another full half of football left to play!
Such is life on the recruiting trail. Save yourselves the acid reflux and don't stress results in July. Results aren't what matters is July.
The Process is what matters in July.
In years past, BYU's recruiting process (lower-case 'P' for a reason) consisteted of camp evaulations, early committments from players, and holding onto those commitments until those players signed. Generally speaking, those players were lesser-known recruits with modest-to-unremarkable offer lists who pounced on scholarship offers immediately.
To the chagrin of BYU fans everywhere, that was how the BYU process worked. The Cougars would try to keep their name in the mix for a handful of bigger names and hope for the best, but the bulk of the work was "done" and it was just a waiting game until February.
The Big 12 version of BYU has a Process now. BYU is being more particular in their evaluations and is willing to roll the dice and gamble by fighting with the big names in college football and hoping they win out in the end. Will it pay off? It might not. BYU could lose some of those recruiting battles.
But the battles are exactly what fans have clamored for over the last decade... don't get scared now that they're here.
On June 19, I released a Top 10 BYU Targets list on CougarSportsInsider. Here is that list:
Maealiuaki Smith - He's still uncommitted. His process has been well-documented and BYU might have moved on entirely, but he's still undecided, technically.
Davis Andrews - He's still uncommitted. He was hoping to make a summer-decision, but it's looking like that will get pushed into the season now. There are some Notre Dame Crystal Balls - but he's not committed to Notre Dame and just cancelled an unofficial visit to Notre Dame. Will BYU get Andrews? Time will tell, but it's far from over.
Devoux Tuataga - He's still uncommitted. He just took an unofficial visit to BYU this weekend and the Cougars are still in a strong position.
Ikinasio Tupou - He's still uncommitted. He took a quartet of official visits in June and despite getting Crystal Ball predictions to Washington following his official in Seattle, he didn't commit. He was at BYU on another unofficial visit this past weekend and he tells me that he's firmly undecided. His decision process will extend into the season.
Faletau Satuala - He's still uncommitted. It looks like Utah is the leader here and a decision is expected soon, but he's still uncommitted, technically. BYU was always playing from behind on this one, but they have remained in the discussion so far. Until he's actually committed to Utah, BYU will keep swinging.
Kash Dillon - He's still uncommitted. This one appears to be a classic BYU vs. Utah battle. A year ago, Dillon wasn't even considering BYU. The fact that BYU's pitch is resonating enough that he hasn't locked things in with Utah is evidence that The Process is working for BYU. Will Dillon end up at BYU? I have no idea, but he's still on the board and BYU is still swinging.
Nuku Mafi - He's still uncommitted and he's still talking with Darrell Funk and BYU. A decision isn't expected until after the season is over.
Carson Su'esu'e - He's committed... to BYU.
Roger Saleapaga - He released a Top 10 and ruled BYU out. It's a bummer because he's a great player and preps at Orem High School. Everyone wishes Saleapaga would join the BYU program, but he won't. You can wash away the sting by taking a dose of Ryner Swanson - a four-star tight end from California - who committed to BYU just days before this Top 10 list was released.
Jett Nelson - He's committed... to BYU.
It's been 42 days since that list was released. In that 42 days, BYU landed two of the players from the Top 10, was eliminated by one, and remains in some level of contact with the other seven.
What are we worried about again?
Recruiting isn't a zero-sum game. There isn't just a single winner on the recruiting trail. There can be losers on the recruiting trail, no question about that, but there are multiple winners. If BYU misses on a four-star tight end from Orem but lands a four-star tight end from Laguna Beach, did BYU really lose? Of course not.
This is The Process, folks. This is how it works. If The Process doesn't result in committments in the coming months, panic and trepidation is perfectly acceptable. I will help lead the charge.
But in July? Well, July is not the time for panic and trepidation. July is time to trust in The Process and remain optimistic about the future.
Furthermore, Utah landed a major in-state win when four-star offensive tackle Ike Garcia committed to the Utes last night. That gives Utah commitments from the top two prospects in the state of Utah now in Garcia and Isaac Wilson. That's a great haul for the Utes, there is no reason in trying to debate that.
You know who never expected to get Garcia and hadn't invested any efforts in recruiting him for the last several months? BYU. Garcia isn't a member of the Church and had virtually zero interest in BYU once his offer list started to grow. Would BYU have loved to have him? Yes, unequivocally yes. BYU would have loved to land Cormani McClain last year, too. But BYU didn't lose on either of those players - they weren't in the game.
As for Wilson, BYU wasn't surprised, alarmed, or worried about his decision to go to Utah. Wilson himself will tell you that he hadn't heard from BYU consistently for months prior to his decision. A Utah fan would tell you that it's because BYU was eliminated and knew it. A BYU fan would tell you it's because the coaches made the decision to move on and turned their focus to other players. The truth? The truth really doesn't matter, frankly, so long as BYU ends up with a quarterback that they want. Smith is still on the board and BYU believes strongly in Noah Lugo, who visited this past weekend.
Utah's recruiting wins don't inherently mean BYU had recruiting losses. There is more than one winner in the recruiting game. That's an important lesson to remember.
At the end of the day, BYU has work to do. This isn't meant to signal that the Cougars are somehow on easy-street and everything is fine. They have work to do and the margin for error gets a little thinner with every month that goes by.
But July isn't the month for panic, nor is August, nor even September. Trust The Proces and take some Dramanine if you're starting to get sick.
This ride is just getting started.
Have you subscribed to the GEHB Discord Server yet? Don't miss out on a 24/7 BYU conversation with some of the most dedicated BYU fans in the country. Don't be intimidated by Discord - it's not just for Gen Z. Start out HERE and follow the step-by-step instructions!