So now what is BYU supposed to do...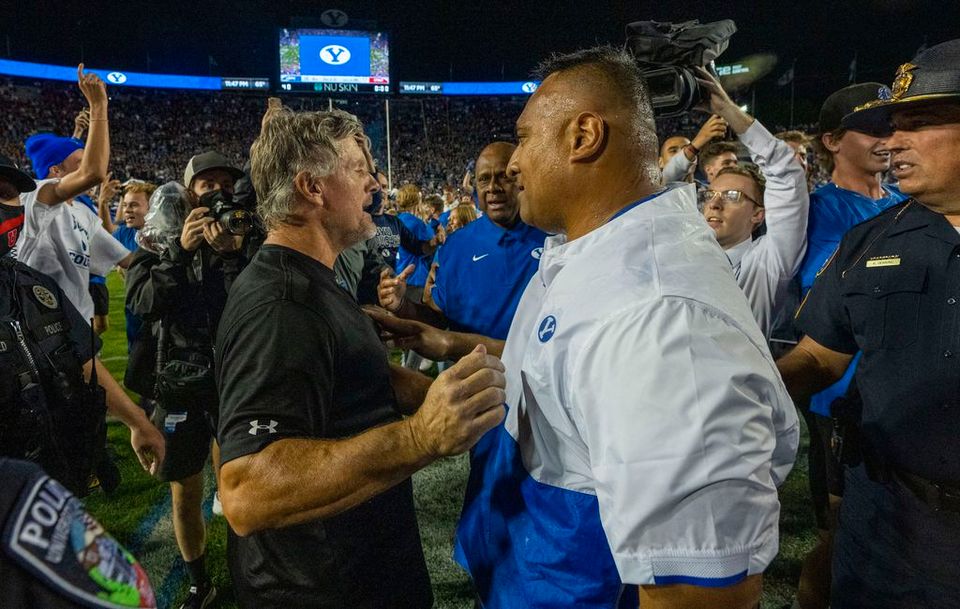 If I've said it once, I've said it a thousand times: Recruiting is not a zero-sum game.
The University of Utah is killing in-state recruiting this class, the same way they killed in-state recruiting last class. It's been a great couple of years for the Utes and we, the collective BYU fanbase, have had to watch from the sidelines.
The murmurs and frustration bubbled up again this weekend when (another) Corner Canyon star committed to the Utes. Kash Dillon joined his teammates and friends Isaiah Garcia and Isaac Wilson as current Chargers who will become Utes.
There isn't a BYU fan on the planet who is happy about those results. Utah got better last night when Dillon announced his decision. Nobody likes to see their rival get better, and there is no downplaying the fact that Utah got better. From that perspective, BYU fans had a crappy recruiting night last night as they watched Utah fans celebrate another talented player joining their program.
The current in the river of BYU fans emotions runs strong when Utah gets better. The white-water rapids are fierce, all over the place, and difficult to navigate.
There is also a strong undercurrent in the river of BYU fans emotions that isn't talked about out loud, but exists throughout many corners of BYU fandom. The idea that because Utah got better, BYU got worse is the an undercurrent that pulls drags BYU fans down the emotional river every time Utah wins a recruiting battle.
But that didn't happen.
BYU didn't get worse yesterday when Kash Dillon held his hands into a U and said he's going to play in Salt Lake City. Utah got better, but BYU didn't get worse. They just stayed exactly where they are.
It's still just August and BYU will have plenty of time to react and find ways to get better. So, let's remove the names, the schools, and the commitments from the equation for a minute and just hone in on what BYU needs to do and wants to do.
I've been asked over the last couple of weeks if I'm panicked about the BYU 2024 recruiting class. After Dillon came off the board, my mentions on X (lol, still can't say that... my mentions on Twitter) were filled with a lot more cycnisism and sarcasm.
Don't worry guys.. @rakoto10 said he's not panicked. Watching guys go to Utah is fine.
While I certainly don't love that BYU missed out on Dillon and I'm certainly not thrilled that BYU hasn't converted on more in-state players so far this year, I'm not panicked. And here is why.
BYU needs an improved pass rush and the class of 2024 provides a ton of opportunities for them to accomplish that goal. Kash Dillon was very obviously one of those opportunities, but he wasn't the only opportunity.
BYU currently has commitments from two edge rushers who, ironically or not, held offers from Utah. They aren't rated quite as highly as Dillon is, but BYU and Utah wanted both of them, and BYU won out. Adney Reid and Siosefa Brown are both committed to the Cougars and slated to join the team down the road.
Even without Dillon on the board, there are still a pair of dynamic edge rushers who are still uncommitted in the state of Utah. Kinilau Fonohema, from Springville, is the lesser-recruited of the two, holding offers from BYU, Washington State, and Utah State. Devoux Tuataga is the other and he reports even more offers than Dillon did. Schools like USC, Oregon, Nebraska, Washington, and Utah have all been courting Tuataga.
BYU is in a great position with both Fonohema and Tuataga - and probably should be considered the favorite to land both of them.
If Jay Hill's mission was to address the pass rush woes with elite pass rushers in the Class of 2024, isn't he on the right track?
Obviously, BYU has to land commitments from Fonohema and Tuataga before we can set that conclusion in stone. The Cougars can be favorites forever, but if they're not getting ink on paper then it doesn't matter.
But you see the point, right? If BYU leaves the 2024 recruiting cycle with Reid, Brown, Fonohema, and Tuataga, then they did exactly what they sought out to do... even without Dillon.
Utah got better with Dillon. BYU did not get worse without Dillon. BYU's margin for error is a little thinner without Dillon on the board, but there are still plenty of reasons why BYU fans should be optimistic.
This is recruiting. Who you get matters, not who you don't.
BYU has struggled in this arena in the past. In 2022, when BYU missed on the highly talented Keionte Scott out of Snow College, they ended up signing Korbyn Green as a cornerback in that class. Scott went to Auburn and is firmly on NFL radar. Green flailed around at BYU for a year before transferring out and moving to a junior college.
When BYU missed on Sione Vaki, they signed Javelle Brown. When BYU missed on Simote Pepa they signed... well, nobody. They didn't replace Pepa with a scholarship DT in that class.
The players that BYU brought in are accentuated the impact of missing out on the players that BYU didn't get in those recruiting classes.
But nobody talks about BYU losing out on high-profile, LDS tackle Enokk Vimahi in the 2019 recruiting class because the Cougars signed Blake Freeland the same year. Nobody laments the loss of Braxton Fely because everyone is pretty excited about the potential of Aisea Moa.
If BYU lands Tuataga, we'll never talk about Dillon. That doesn't mean Dillon isn't good or that BYU didn't want to land Dillon - he is good and BYU did want him. Instead, if BYU lands Tuataga, they'll have improved their pass rush by signing a great player... and Utah will have taken a step forward too.
Two winners. Two happy fanbases. And we'll argue about whether the player rated 88 is better than the player with a more impressive offer sheet.
So, no, I'm not panicked yet. The margin for error is thinner and if BYU trips down the stretch and misses out on Tuataga, then panic starts to set in. If BYU misses out Iki Tupou, then panic starts to set in a little bit. If Noah Lugo doesn't commit to BYU, then panic starts to set in a little.
Mike Tyson warned Evander Holyfield that everyone has a plan until they get punched in the mouth. It was an iconic quote, and it was incredibly accurate.
Holyfield won that fight. Tyson punched him in the mouth, but Holyfield reacted to those punches much more effectively.
So far, I really like the way BYU has reacted to the punches in the mouth. Highly-touted (and LDS) cornerback Sione Laulea didn't include BYU in his top schools. That was a punch in the mouth. BYU landed Therrian Alexander out of Georgia, beating out schools like Ole Miss and Mississippi State.
If BYU keeps reacting like that, they'll come out on top like Holyfield did.