Grimes, Funk, Perception, Reality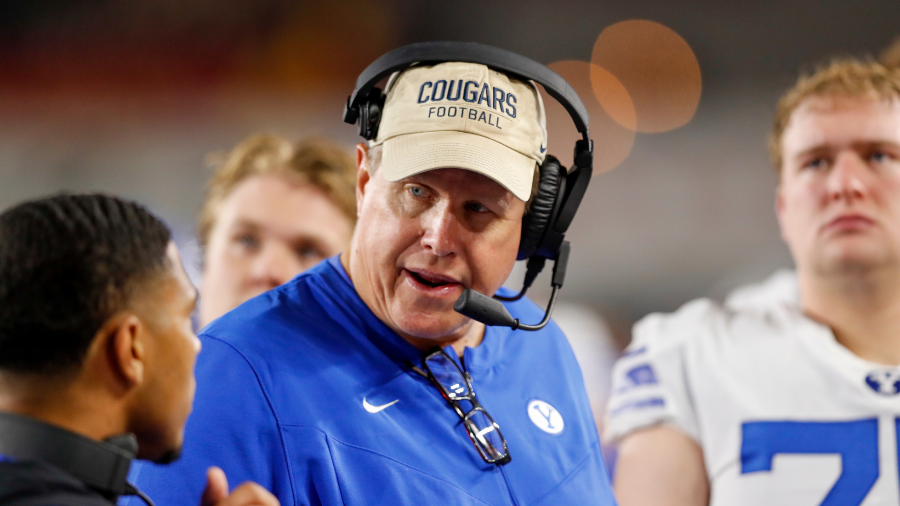 Unless you've been living under a rock for the last week, you're well aware that BYU has moved on from the defensive staff and replacing that wholesale and there appears that there will be some movement in other places on staff this year as well. If you're a VIP and on the Discord, you will have heard more specifics about those.
One name that gets thrown around as "desperately" needing a change is Darrell Funk being removed from his post as offensive line coach. At the midpoint of the season I felt strongly the same way, but now after sitting back for a minute and taking a second to think about it, I've moved firmly into the "whatever" category for a few reasons.
PFF
Pro Football Focus's ratings are not the end all be all of scoring, but they do provide a pretty damn good heuristic and a heat check of whether our hunches are rooted in reality or not.
Looking at the ratings for the year:
Pass protection - 92.8, #1
Run blocking - 72.5, #23
Rushing (ball carriers) - 82.4, #78
Seems there is a clear outlier of where the issues in rushing are. Still, Chris Brooks averaged over 6 yards a carry and we finished the regular season #11 in rushing yards per attempt at 5.3, which is actually an improvement over last year's 5.2 YPC!
The biggest problem in the run game was short yardage situations - what the answer to that problem is, I don't know, but as a fanbase I think it's safe to say we have let ourselves extrapolate that to be our entire view of the run game blaming it on ONE of the inputs:
Play call
Coached technique
Executed technique
RB personnel
RB execution
Defensive alignment
Communication on assignment based on the D
If it was a zone read, should Jaren have kept it? Given it?
etc. There's lots of things going into every play. Obviously things are clearly out of sync on those 3/4 and shorts, and that will be a point of emphasis this offseason by the offensive staff. But maybe after looking at PFF more was at fault with the RB play in those scenarios rather than the OL? Rumors of coaching changes would also support that theory.
For fun let's look back at 2021 and 2019 grades:
2021
Pass Pro - 89.1 (#2)
Run Block - 87.3 (#9)
Run - 87.3 (#42)
2019
Pass Pro - 84.0 (#7)
Run Block - 75.9 (#22)
Run - 78.3  (#73)
And Baylor this year:
Pass Pro - 79.2 (#14)
Run Blocking - 75.0 (#16)
Run - 84.6 (#51)
Maybe there are just ebbs and flows? Maybe performance isn't linear? Maybe there are different matchups and all "good" teams are not created equal? Maybe the running backs did a poor job at setting up their blockers for success, or missed a hole or ran tepid?
If Grimes Is Who We Say He Is
Another thing we've seen discussed is that there has been a clear drop off since Jeff Grimes left.
Which makes sense.
And is fine?
If Brother Jeffrey is the coach we believe him to be, an OL guru, one of the best 2-3 in the entire profession at what he does, the guy who was the highest paid position coach in the country at LSU because everybody in the entire daggum SEC knew that getting Grimey on your staff would be good for your progrum - then why would we expect anything besides a drop off?
This isn't a "the head coach has to be LDS, so who will you replace him with?!?!?!?" type question here - this is a "this dude is the single best person in the world at what he does, so who will be able to match that?" question.
Derrell Funk came in like whoever the poor schmuck that is going to have to replace Nick Saban in Tuscaloosa and try to keep up with winning 7 national titles in 14 years and losing in 3 more title games.
So when we look at replacing Funk because of wanting the group to play at the exact level as if they were coached by Jeff Grimes:
Who is there in the ballpark of Grimes that even exists let alone exists and would want to come to a random staff? If they're that great, they're likely on a good offensive staff as it is an not looking for a change.
See above PFF ratings. There's ebbs and flows and even with 4 returning starters from a Big 12 championship squad, they graded out worse than last year (and also graded out worse than BYU did in PFF's estimation both years).
2 Is Better Than 1
All 3 seasons that Grimes was running the offense in Provo, he also had an OL coach. In 2018 it was Ryan Pugh who left after one season to be the OC at Troy. Then in 2019 and 2020 it was Eric Mateos. There were double the bodies working with the OL. Baylor STILL has that scenario running in Waco.
You can mimick this (which I imagine happens) because BYU employs a TE coach. When Robert Anae first came to Provo, he coached tackles and TEs. Since the TE position is a bit of a hybrid, they work a lot with the receivers and a lot with the OL. depending on how you structure things, you can have that extra coach in Steve Clark floating between Funk and Fesi Sitake as well as doing their own thing. How every school structures it will be slightly different and as the game changes there will be waves of what is popular.
Transfers
Campbell Barrington entered the portal. As our dear Rakoto pointed out on Discord:
When you get a new boss, not every employee gets along with the new guy. And some people will leave. But that doesn't mean the boss is awful, it just wasn't a personal fit. Maybe the new boss values different things. Maybe there's a personality clash. That's all fine. That doesn't mean that the person hired to replacement the departing employee will hate the new boss - he probably loves him.
Campbell Barrington entered the portal after getting minimal playing time this year, but Funk is still the coach that recruiting Kingsley Suamataia and Sione Veikoso out of the portal.
TL;DR
Looking back through this all, BYU:
Lost the guy we tout as the best OL coach in the country
Who also had a second OL coach working with him
Lost an all-timer at RB
In a season we were "awful" and he needs to be canned, graded out at #1 in pass protection and #23 in run blocking
Saw a significant dip in RB play, especially in short yardage situations
Still finished #11 in yards per carry, improving 0.1 yards per carry over last year
Graded higher than Baylor each of the last two seasons
and now needs to be fired?
I think that's a bit harsh. If I had to guess, I think we do see movement on the offensive staff at other positions. I think Funk likely had words with ARod about the performance, especially in short yardage situations and presented ideas of how to fix it. He will be here another year and as time moves on from initial rumors of his replacement, I think those are less and less likely to happen.