Conversations with Myself: Jeff, are you really... optimistic about BYU?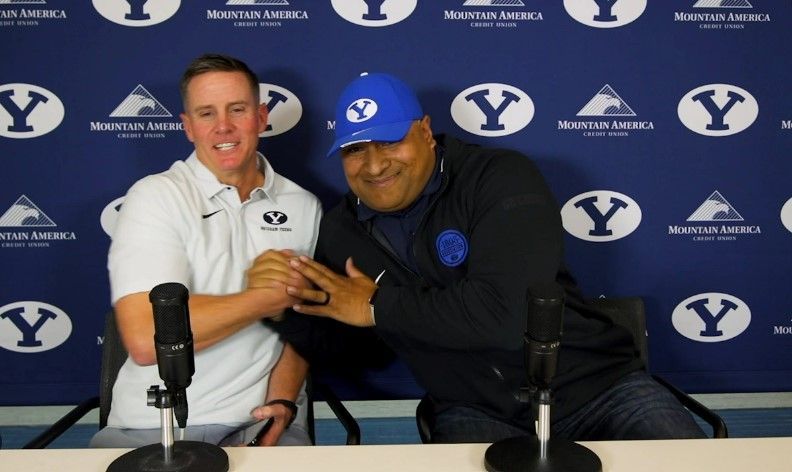 This newsletter is sponsored by our friends at Woodn Grail. Former BYU quarterback Alex Kuresa is bringing street wear to Provo by producing the dopest hats on the market. GEHB subscribers can use promo code GEHB10 for 10% off their purchase at woodngrail.com.
Simpleton  Jeff: Well, things couldn't be much worse for BYU right now. Spencer Fano is a Ute. Logan Fano is a Ute. Hunter Clegg is a Ute. Sure looks like Walker Lyons will be a Ute. Jacob Conover is a Sun Devil. Tate Romney will probably be a Sun Devil too. Leo Pulalasi isn't a Cougar anymore but will probably be a maroon Cougar in the coming days.
Things seem pretty bleak, guy.
Enlightened Jeff: Bro, things have honestly never been brighter for BYU.
Simpleton: No, they literally couldn't be darker. And you're a fool for believing anything to the contrary.
Enlightened: Okay, guy. Let's calm down. Last I checked,  this is still America and nothing is as basic as it seems. I mean, there is a guy who calls himself Yung Gravy and enjoys spending most of his spicy time with women significantly older than he is. AND THAT GUY IS WILDLY SUCCESSFUL! Anything is possible in America.
So let's talk this out. What has you down, friend?
Simpleton: Well, Logan Fano is gone. And it feels like that happened in the span of about ten minutes. And that doesn't seem very great.
Enlightened: No doubt. Losing Logan sucks. It sucks bigly. The dude is incredibly talented and plays a position that BYU has a desperate need at. It hurts. For so many reasons.
However, hope is not lost, my friend. BYU will add John Henry Daley to the roster this spring. He trained with Logan growing up and, much to the dismay of our guy Logan, he outproduced him in high school. Is he going to be better than Logan? No idea. And obviously, two is better than one and having Logan and JHD is better than just JHD. But it's not like BYU is going from Logan to nobody in that pipeline.
Oh and Bodie Schoonover looks like Shredder. He's set to have a massive year off the edge next year.
Oh and Ice Moa is still around and he's still a four-star defensive end too.
Let's not forget the best part, though. These guys are going to be coached by an actual defensive line/edge coach in the future, not a safeties coach or a defensive coordinator splitting duties. Even if it's just the guys on the current roster, that should help production in a big way.
Simpleton: Okay, yeah, but it still sucks. And he followed his brother there so we lost both Fanos. That whole Arkansas game thing is the worst thing that's ever happened.
Enlightened: Losing Spence sucks. I'm not going to tell you it doesn't. We love that kid. And he's got a very, very, very bright future ahead of him. Definitely wish he was at BYU.
Ethan Thomason is coming, though. He's no scrub. Kingsley Suamataia is actually still at BYU, and that's not nothing either. BYU has had success with big time OL. You can't win them all.
Simpleton: But he had a brother on a team! It's just ridiculous. And what the hell is with Levani Damuni? He has a brother coming too. And Uncle Jack! It's embarrassing that he isn't at BYU.
Enlightened: Guy, his own dad works in the athletic department at Utah State and he isn't going there either... nor is his brother.
These dudes have family connections everywhere. If your recruiting pitch is 'well your uncle and dad played here so you should too' then you're not winning many recruiting pitches.
Simpleton: So what is BYU's pitch? Clearly it isn't working.
Enlightened: No doubt. And the coaches who were responsible for making those pitches? Gonezo. All of them. Their pitch didn't work and it hasn't worked for a couple of years. So, Kalani hired people who will have a pitch that works.
Jay Hill is that guy.
Remember Jimmer? When he got off the bus at BYU, he looked like the second counselor in the Provo 131st Ward's Sunday school presidency. But then he was as an assassin.
Jay Hill is an assassin. No less than a dozen high school coaches have told me how excited they are that Hill is at BYU. He might look like this quiet, smiley guy when he's on camera, but when it's time for football, he's a dawg.
I mean, he's done such a good job that even BYUSportsNation is talking about his recruiting prowess. (They're right by the way... there IS a four-star that he locked up last night.)
There might be more coming too. Jay Hill is great. The pitch is that the future is bright. And it is. The Big 12 will...
Simpleton: Be an absolute nightmare because BYU can't compete? I agree.
Enlighted: No, you emotional little koala, let me finish.
The Big 12 will be great for BYU football. No, it doesn't mean recruits are going to flock to BYU simply because they've grown up dying to play in the Big 12. If that's what you are expecting to happen, you're crazy. But it eliminates a negative for BYU. That's a big deal! The kind of big deal that Jay Hill and his staff can work with going forward. The kind of big deal that Aaron Roderick and his staff are already working with and seeing success with.
Simpleton: But singing day is now and the transfer portal is now so I don't really have time to wait.
Enlightened: Well. Tough. Be patient.
It isn't just the Big 12 either. BYU is doing things that will change the direction of the program forever. This offseason is, quite literally, the most excited I've ever been for an offseason. It's going to be great for BYU.
Simpleton: It's hard watching all these guys go to Utah and other places. It feels like the program has been set back.
Enlightened: Don't be so soft. It was just a year ago that BYU signed Cody Hagen, Dom McKenzie, Ice Moa, Noah Moeaki, and Marcus McKenzie from the state of Utah. They signed others, but those are the kinds of guys that BYU was missing in a previous life. We all wish that they would have signed more this year.
Once this signing day is over and those other players are gone, we're going to start begging and pleading for Isaiah Garcia to sign with BYU. Or Faletau Satuala. Or Kash Dillon. Or Rodger Saleapaga. Or Isaac Wilson. Or Blake Tabaracci. Or Davis Andrews. Or Gatlin Bair. Or Ryner Swanson.
We'll start celebrating Easton Baker and Dallin Johnson, Chance Harrison and Adney Reid.
There are players in every class. BYU, eventually, has to start landing them. We can't keep waiting for eventually to come and expect that to work. But we can wait one more eventually and give this new coaching staff the chance to work with their new arrows in their quivers that are coming in the next year.
Brighter days are ahead. I promise you that.
Simpleton: How are you so sure?
Enlightened: Because I'm a genius. And that's all you need to know.
Simpleton: Boy, Jeff, I have always through you were a genius, but man, you really are a genius. You should have way more money than you have. You are way too smart to have so little money.
Enlightened: Okay, Simpleton Jeff, stop. We're ending this at I'm a genius.
Inquisitive Jeff: I wonder what an emotional koala would actually look like?