Does this team LOVE ball? Or do they love ball?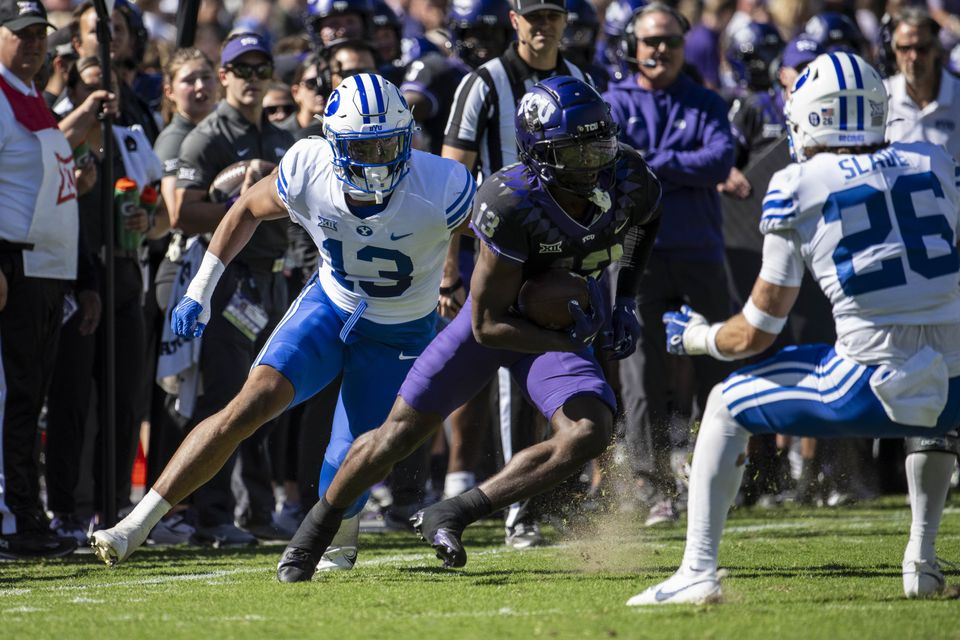 I played baseball all the way until my high school career was over. Something like 10 of the guys on the team my senior year were on my team when we were in 5th grade. We played competitive baseball through elementary and junior high before moving up to the high school ranks in 9th grade. Baseball was a pretty big deal for me.
I played basketball in high school too, but it was baseball that always had my heart. I loved it. If you would have asked my parents to describe me back then, they wouldn't have hesitated to talk about my affinity for baseball. I absolutely loved it.
Or at least I thought I did.
I loved hanging out with my teammates. I loved learning the game. I loved game days, especially in high school. I loved hanging out with my friends while we would take live batting practice - going through hitting stations, shagging balls, and then getting live reps with my hitting group was a blast. I loved road games on the bus. I loved out-of-state tournaments growing up. I loved people asking me about the team. I loved learning about the opponents and figuring out who the best players in the state were. I loved the Atlanta Braves and following all the news.
After my senior season ended at Miller Park in the State Tournament in 2007, I never played baseball again. I played some adult league softball here and there, but that was it. My baseball career was over.
And I didn't really care.
As I got older, I realized I didn't actually love playing baseball. I rarely practiced if it wasn't a scheduled practice - but even as a 10-year old, I was practicing four or five days a week. In high school, that moved to six days a week in the spring, early morning pitching practice, workouts, etc. I felt like I was playing a ton of baseball, but in reality, I was just going where my calendar told me to go.
Now that I'm 16 years removed from that last game at BYU, I have come to a realization.
I didn't really love playing baseball. I loved hanging out with friends. I loved the attention. I loved watching baseball (and still do, RIP Braves 2023 season). But I didn't really love playing baseball at all. That's probably why I didn't really care that much when my career was over, and probably why I was never very good. I had enough natural talent to be good enough to make teams and keep hanging out with my buddies and that was a enough for me. I didn't need more than that.
Comapre that to, say, Bryce Harper, who clearly had more natural talent than me, but also had a true love for the game. He wasn't playing baseball to hang out with his friends. He was playing baseball because he was damn good at it and he wanted to be the best player who ever lived.
I played baseball in order to enhance my high school experience with friends.
Harper got out of high school as quickly as he could so he could play JUCO baseball and get closer to his professional career.
I loved baseball. He LOVED baseball.
All of this is to say that maybe DeLane Fitzgerald was right. Maybe his team really did love football more than BYU does.
His comments came after BYU beat SUU 41-16. The comment that stood out to me preceded his sour grapes comments that stole the headlines. Before he expressed his concern with BYU in the Big 12 (thanks for the concern, DeLane, but you're 2-4 on the year so worry about your own problems), he said something that seems a little truer every day. In a rant about how hard his guys played, this comment snuck out of his mouth:
"Our guys play harder than they do because our guys love football more than they do."
When he said it, it was easy to ignore. He was ranting about a million things and then compared BYU to Utah and that was enough to distract us from the comment.
Now that BYU is headed back to Provo with an abysmal loss in their hands, maybe we need to circle back to that offhand comment from a bitter FCS coach.
Does the 2023 BYU football roster actually love football?
I'm sure everyone on the roster would tell you yes - I mean, I would have told you how much I loved playing baseball when I was growing up too. But the reality is that I didn't love baseball, at least not enough to put in the work to become as good as I could have been. I practiced when I was told to practice. I worked out when I was told to work out. We practiced hard and worked out hard, but when the coaches weren't looking, I was totally content to just to the minium and hang out with my friends.
The way BYU played against TCU was uninspiring. The reality is that BYU's entire 2023 season has been uninspiring, but the Cougars were able to find ways to win games. But week in and week out, the same problems have manifested themselves.
Does anyone love football enough to do whatever it takes to fix the problems? Or do they love football like I loved baseball?
Let's take Malik Moore as an example. The dude has been a poor tackler for his entire career, but he was one of the faces of the team and has made many big plays for the Cougars during his time in Provo. As a result, he became one of the faces of the program.
NIL deals started coming in. He worked with CougConnect and became a fan favorite. He got an NIL deal with WingStop, a cool moment for him and for BYU fans.
But that damn tackling never got better and he never seemed to care.
He was benched earlier this year after his poor tackling against Arkansas. Jay Hill had enough, pulled Moore out, and he played just a handful of reps after that.
Injuries led to another chance for Moore against TCU. And he promptly went out, put himself in position to make a play, and completely blew the tackle. And he was pulled again.
The progress Moore has made as a tackler from the time he was beched against Arkansas to today is seemingly non-existent.
Do you think he LOVES ball?
Or do you think he loves ball?
When you see players like Brayden Keim beating out players like Caleb Etienne, you have to wonder how much Etienne loves ball. It's not that Keim isn't talented - he certainly is. But Etienne should be an NFL prospect. He is huge. He is talented. He has all the tools to be a dominant offensive tackle.
But he got benched a couple of weeks ago because his effort was so poor. And when Kingsley Suamataia got hurt against TCU today, and Keim moved over to left tackle, it wasn't Etienne who got the call to come into the game - it was Simi Moala.
Just doesn't seem like Etienne loves ball enough to get that spot back, does it?
The drops. The mental mistakes. The lack of discipline. The dumbass taunting penalty on the sideline in front of your head coach because you are so much more concerned about looking cool for the camera than you are about getting your ass kicked on the scoreboard. These kinds of things keep rearing their ugly heads when BYU plays football games. It's becoming a weekly thing this season.
BYU is going to lose games. They are going to be out-coached in games and they will lack talent in games. Those things are going to happen, especially as BYU gets their footing underneath them in the Big 12.
TCU is a better team than BYU is. TCU has more talent than BYU does. But what I didn't expect to see what how much more TCU cared about this game than BYU did. The Cougars came out flat. They had no life. They lacked effort. They lacked any give-a-damn at all.
They looked like a team that loves being football players but doesn't love football.
Frankly, folks, that's more terrifying to me than any lack of talent or poor coaching decision has ever been.
Steve Sarkisian talked about his BYU career during Big 12 Media Days this summer. He said he knew he wasn't the biggest, fastest, strongest, or most talented quarterback in the country. But he wanted to win so damn bad, so he made sure that he was the fastest mental processor on the field in every game. He worked his tail off and the lack of talent didn't matter in the end. That's how much he loved ball.
BYU will never be the most talented in team in the country, they just won't. But they better care more than anyone else in the country. They better love ball more than any other team in the country.
If a team like BYU doesn't absolutely LOVE ball, well, we saw what will happen. And it will happen again and again and again.