When will BYU be competitive in the Big 12?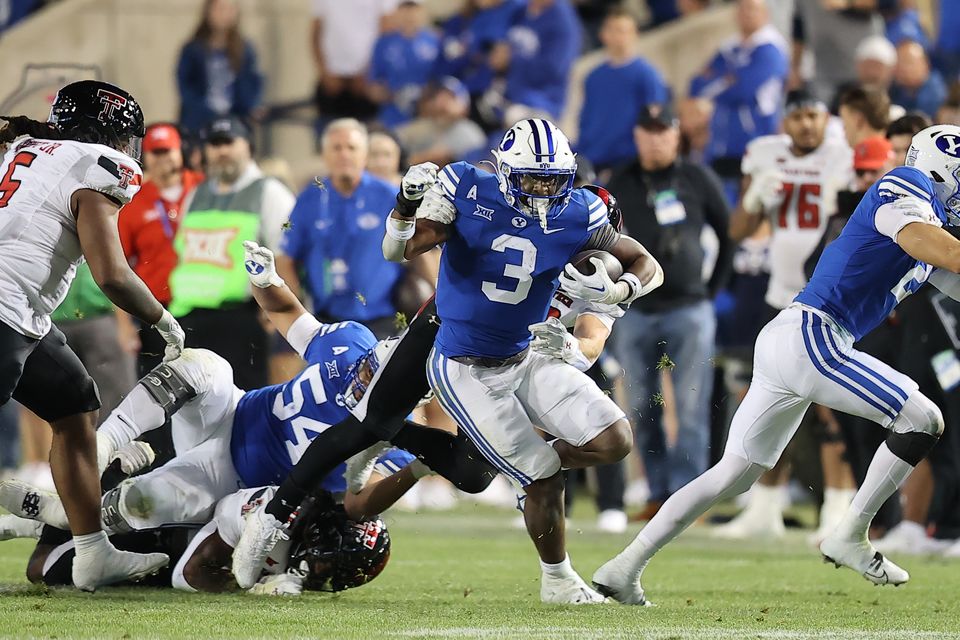 "How long do you think it will be until BYU is competitive in the Big 12 Conference?"
If I had a dollar for every time someone asked me that question over the last several months, I would have at least $10 or $11.
It's something that has been on the forefront of every BYU's fans mind. Everyone knew that there would be an adjustment period as BYU moved into the P5 ranks, but everyone wanted to know exactly how long that adjustment period would take. When would BYU get back to being competitive?
Well, ladies and gentlemen, what if I told you that BYU was already competitive in the Big 12 Conference?
Are the Cougars realistically in position to take home a Big 12 Championship this season? No. Definitely not. With a 2-2 record in the conference already, there is little hope that BYU will win a championship in 2023. But competitive? BYU is checking that box.
Please allow me some simple statements of fact to prove this statement true.
The following Big 12 teams have at least two conference wins so far this year:
Texas, Texas Tech, Baylor, Iowa State, Oklahoma State, Oklahoma, TCU, Kansas, Kansas State, West Virginia and BYU.
The three teams who don't have at least two conference wins? Cincinnati, Houston, and UCF.
The following Big 12 teams had a road win against a non-conference Power 5 team this year:
Oklahoma State, Texas, Cincinnati, and BYU.
BYU is on the bring of bowl eligibility. The other teams with at least five wins at this point in the season?
Oklahoma and Texas (already there), Oklahoma State, Kansas State and Kansas.
BYU is competitive, folks. They aren't a championship caliber team, but they are competitive. Sure, the TCU game left a bad taste in everyone's mouth, but BYU has been competitive in every game they have played this year aside from that game.
BYU still has goals to meet in 2023, but the Cougars have been competitive in their first year in the Big 12 Conference. That was the question that everyone had coming into the season - when would the Cougars be competitive?
Right away.
BYU still needs more depth if they want to compete for championships.
BYU needs to play better offensively if they want to win the kind of national recognition in the media.
BYU needs to play better defensively if they want to be considered a threat against power teams like Texas.
BYU has to improve, there is no doubt about it. In no way am I trying to convince any of you reading this that BYU is somehow right where they want to be. They aren't - in fact, they aren't even close.
But competitive? BYU is competitive. They aren't like the other newcomers in the conference, that's for sure.
UCF, Cincinnati, and Houston have been dreadful in Big 12 play. The three teams from the American Athletic Conference are a combined 1-11 in conference play this year, and just 8-13 overall. When you tack on BYU's record to theirs, the newcomers are a paltry 3-13 in the Big 12 and 13-15 overall. It looks terrible, and people have lumped the newcomers together and concluded that BYU hasn't been very good.
The reality is that BYU is firmly in the middle of the Big 12 pack, and clearly playing better than their fellow rookie counterparts.
That's competitive. That's a huge win. It's not THE most competitive and it's not THE biggest win. But it's competitive and a huge win.
BYU is competitive today. When do they become a championship team? That's still several years down the road. But they're a competitive team right now. You best believe that Houston, UCF and Cincinnati would all trade places with BYU right now.
--
As of this writing, BYU is a 17.5-point underdog against Texas on Saturday. The likelihood that the Cougars are able to pull off the road upset against #7 Texas is exceedingly low. But BYU has done it before, as recently as 2018 when Kalani Sitake's squad took down #6 Wisconsin on the road.
The recipe for a win on Saturday will probably follow a similar plan to BYU's recipe to beat Wisconsin five years ago.
Tanner Mangum was sufficiently and boringly safe against the Badgers that day. He completed 12/22 for 89 total yards. It was a pretty dreadful quarterbacking. But he didn't turn the ball over and came up with a few timely plays. Of his 12 pass completions, four of them went for first downs, including a pair of third-down conversions. It wasn't pretty. It was probably worse than ugly, even. But it was enough for BYU to get the win that day.
Kedon Slovis hasn't been great for BYU in the last few games either. He's thrown for less than 300 yards in the last two BYU games. It's not pretty quarterbacking!
But as long as Slovis is protecting the ball, he's doing enough to give BYU a chance.
Against Wisconsin, BYU's running game stepped up in a big way. Squally Canada had a career day, running for 118 yards and a pair of touchdowns. He was a consistent and came up with several timely runs that were deflating for the Badger defense.
Hello, LJ Martin and Aidan Robbins?
The BYU defense was superb against Wisconsin on that day. Zayne Anderson had a key interception that gave the offense a short-field for a score. That's what BYU will need from their defense on Saturday in order to beat the Longhorns.
Is it likely? No.
Is it impossible? No.
BYU is 4-1 against Texas all-time. This will probably be the last time that the two teams play agianst each other for many, many years. If the Cougars want to make a statement to the rest of the Big 12 that A) they ARE competitive and B) they ARE a force to be reckoned with for years to come, then it starts with a big upset win on Saturday afternoon.