You know what? I'm feeling pretty darn good about BYU football in 2023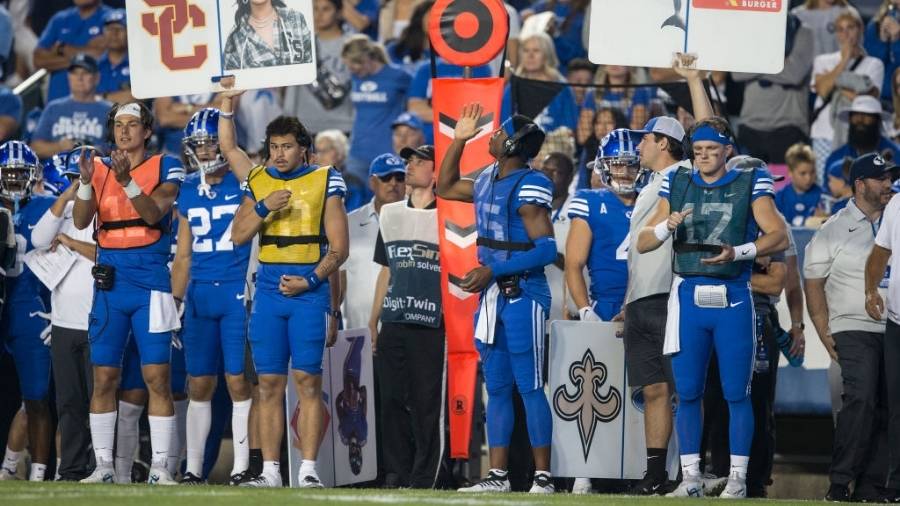 I don't have a crystal ball. I don't know how good BYU will or will not be in 2023. The schedule features 10 Power 5 games, more than BYU has ever played in a single season. That by itself signifies that the Cougars will be ratcheting up the competition in 2023.
If you're a BYU fan, you've either said or seen comments about six wins being successful in 2023. I don't want to tell you change your expectations or determine whether you are right or wrong, but I do want to dig into that expectation a little bit.
Why is it that BYU fans are so prepared for a fight for bowl eligibility? I have some thoughts...
The Utah Aspect
First, I think much of this is rooted in our friends from Salt Lake City. The Utes joined the PAC-12 and struggled. After going 8-5 in their first season, they went 5-7 in back-to-back  years after that. After that happened, BYU fans heard for a decade how hard the transition from the Mountain West to Power 5 football is.
And it is hard. And it will be an adjustment. And there will be tough times ahead.
But six wins? With this schedule? Why are we so certain that will happen? And why does what Utah did or didn't do nearly 15 years ago matter to BYU fans at all?
BYU has played 12 Power 5 teams in the last two years. Their record? 8-4. And they did that with one of the most despicably ugly defenses that you have ever seen.
USC, Stanford, Baylor, Utah, Arizona State, Virginia... BYU has played all of them in the last 24 months. They have beaten all of those teams.
But I'm supposed to concede in February that BYU can't possibly win more than four games (because two sure wins will come against Sam Houston and Southern Utah) against the likes of Iowa State, Kansas, West Virginia, Texas Tech, Oklahoma State, and Cincinnati?
Color me more optimistic than what appears to be the consensus.
BYU isn't jumping to the Big 12 from the Mountain West. It took BYU five years to play 12 P5 teams when they were in the Mountain West. Independence isn't the Big 12, but BYU is more prepared for the Big 12 as a result of independence than Utah was coming out of the Mountain West.
So, something about comparing apples to oranges or something?
(Side note, from 2006-2010, BYU was 8-6 against the 14 P5/AQ/BCS schools they played. Means nothing, but kinda interesting.)
The transition to competing for Big 12 championships will be rough. The Cougars likely won't be vying for a Sugar Bowl this year. Or next year. Or probably for the next couple of years after that. To become a contender in the Big 12, it will take time. But to be good enough that you can safely expect better than six wins without being accused of being some blue-goggled ninny? I think this year.
The Big 12 Teams Aspect
West Virignia was 5-7 last year. Kansas lost seven of their last eight games last year. Iowa State was 4-8 last year. Oklahoma was 6-7 last year. Oklahoma State just got over the .500 hump at 7-6. Cincinnati has a new coach. TCU loses a ton of production after a National Championship run. Texas was 8-5 and has lost two straight to BYU. I mean, folks, there is a legitimate argument to be made that Texas Tech is the closest thing to a surefire tough team in the conference next year.
Now, these teams are going to answer some of the questions that they have. Obviously, teams like OU and UT are going to be loaded with talent. TCU showed they can score and make a run with the best of them. Matt Campbell is a great coach at Iowa State and isn't far-removed from being the hottest name on the coaching market. These teams are good.
What these teams aren't, though, is infallible. BYU is joining the Big 12, not the SEC West.
Could BYU still lose the majority of their conference games? Of course they could. But would anyone call BYU fans crazy for expecting wins over Cincinnati, Kansas, West Virginia, and Iowa State? I don't think so. And if those four wins are expected wins, that would put BYU at 6-6. They just have to steal one of the games against Tech, Texas, Oklahoma, TCU, Oklahoma State and Arkansas to suddenly exceed the 6-6 expectation.
I mean, why not? What did OU do last year that has anyone convinced that BYU can't beat them? Or Oklahoma State? Or Texas Tech?
The Big 12 has question marks going into next season. In all likelihood, there isn't going to be a CFP contender from the conference (barring a crazy run like we saw from TCU last year). It's going to be chaotic and it's going to be fun. There is no reason to believe that BYU will be a doormat. Hell, BYU beat Baylor last year and they did it with a defense that was sub-100 in like 50 defensive categories.
The BYU Aspect
Jay Hill is Reason #1 that you should be bullish on BYU's chances to surprise people next year. The BYU defense will be markedly better next year. That's not saying a ton, because they were markedly a fiery bag of Taco Bell-induced turds throughout 2022, but they will be better in 2023.
Take a walk with me and let's wrap our heads around this for a second. BYU's defensive staff last year consisted of Ilaisa Tuiaki, Ed Lamb, Preston Hadley, Kevin Clune and Jernaro Gilford. Let's just talk about previous FBS on a defenisve coaching staff prior to coming to BYU with that group of folks.
Tuiaki - 2 years as DL coach at Utah, 1 year as DL coach at Oregon State
Lamb - Nada
Hadley - Zippo Hippo
Gilford - Zilchola
Clune - 11 years at the FBS level prior to BYU
Clune was the only coach with meaningful FBS experience on that staff before they took jobs at BYU. And we're surprised that BYU struggled defensively?
Now let's go through the current BYU staff.
Hill - 9 years as an FCS head coach and 8 years at Utah, but kind of a unique resume so don't even count him
Poppinga - 12 years of FBS experience prior to this year at BYU.
Ena - 8 years FBS experience prior to BYU.
We don't even need to talk about Po'uha (more years than anyone not named Clune) or Gilford before we've officially exceeded the previous staff's pre-BYU FBS experience.
This new coaching staff should instill some confidence.
You know who else should? Kedon Slovis.
And Aidan Robbins.
And Eddie Heckard.
BYU added talent in the portal and that talent will play a big role on the roster. Factor in returning talent like Kingsley Suamataia, Kody Epps, Connor Pay, Max Tooley, Tyler Batty and John Nelson and BYU looks pretty talented.
The team is better than people realize. There are some question marks surrounding Slovis and a few other position groups, but BYU looks to be in pretty good shape going into the year.
New, experienced coaches and a roster that is, at minimum, just as talented as they were a year ago?
And I'm supposed to concede at least 6 losses just because?
I don't care if you change your expectations. None of us know what will happen. If you want to expect a dogfight for bowl eligibility, then so be it.
But as for me and my house? We're optimistic that BYU is going to surprise a lot of people this year.