'Twas the Night Before Shreveport... and other things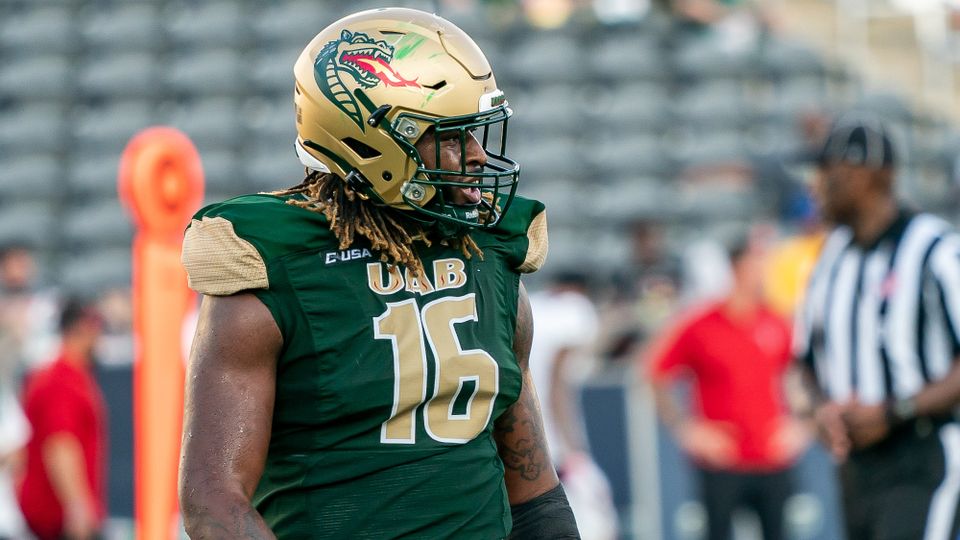 'Twas the night before Shreveport, when through all of Provo,
Not a creature was stirring, not even Tom Holmoe;
The gear had been delivered by Hal with great care,
In hopes that win number 11 soon would be theirs;
The fans were nestled all snug in their Nikes,
While visions of touchdowns took over their psyches,
And Kalani's shirt with its navy and his hat oh-so royal,
Turned down offers from Oregon and showed he's so loyal.
From across the country there arose an opponent,
The UAB Blazers, a CUSA component.
A Blazer? What's that? Is it some find of fish?
Or is it a genie who grant you one wish?
A dragon? That's stupid. Why is that their name?
Simple - because Birmingham is quite lame.
Stupid name aside, they are BYU's next foe,
And no BYU fan will want to miss this next show.
Tyler Allgeier will lead the Cougars Saturday,
In what could our last chance to see our man play.
Puka Nacua alongside brother Samson,
Together once more before they're just one.
The Cougar defense must show they can stop DeWayne McBride,
Or he will run rampant until we're all hurting inside.
The Blazer defense is tough and could stop Allgeier,
From galloping wildly like a nice whitetail deer.
Maybe the Independence Bowl won't be so bad,
It is, afterall, still football and that's rad.
It's the Fiesta Bowl thanks to Gary Barta,
But he can eat shit and wash it down with our farta.
He screwed BYU out of the NY6 again,
But BYU can stick to him by being ranked top-10.
The Cougars have lost just three times in two years,
Something that causes rival fans many tears.
Now, Jaren, now Tyler, now Kaleb and Keanu!
On Puka! On Masen. Let's do it for Neil Pau'u!
Go Cougars! Let's win! Let's get #11!
And then LaVell can smile on us from Heaven.
Shreveport isn't glamorous or even much fun,
But everyone will feel better after BYU has won.
Now onto something more serious...
UAB can play some football, folks. This game is not going to be a blowout like many fans want it to be. The current like is BYU -6.5 with a game total of 54.5. Something to the tune of BYU 31-24 wouldn't be an unreasonable outcome in this.
Let start with the intangible things...
If you're disappointed about Shreveport, so are players - let's just face that now
Shreveport, LA kind of sucks. Our guy Brandon Gurney summarized things really well with this incredible reply to a Ben Criddle tweet.
I wasn't until you posted this: pic.twitter.com/yJooFPmwHc

— Brandon Gurney (@BrandonCGurney) December 16, 2021
If that picture of Shreveport doesn't get you jazzed for this game, what will! A smokestack! Some old looking buildings! Gray clouds! A run down bridge over a river with grass and weeds for a beach?!
Shreveport, LA, baby!
And a Conference USA opponent to boot? Who isn't excited about this?
Everyone. That's who.
Coaches are going to do their best to get the team amped up for this game. Players, to their credit, are going to do what they can do to get hyped for this game. But, if BYU comes out flat and looks like they kind of don't want to be there, don't be surprised - and don't hold it against them either. None of us wanted to be there.
This is something that BYU will have to overcome in this game or the first half could look a lot like the Georgia Southern game.
UAB is going to be jacked TF up
While BYU is probably not super thrilled to be playing UAB in Shreveport when they were this close to playing Pitt in Phoenix, you can bet that UAB is pumped to be playing a ranked BYU team. On ABC. For the entire world to see.
This is a major opportunity for Bill Clark and the Blazers. This isn't like the Georgia Southern game that kind of didn't count because it was on ESPN+. This game will be broadcast to football fans everywhere and UAB knows that. This is a major opportunity for them.
The Blazers are well coached. They have really impressive athletes on the roster. They have the intrinsic motivation that can't be quantified. And they are playing a team that gives them a chance to earn a program defining win. BYU might not want to be there, but UAB does. And that could prove to be a major factor in this one.
Okay onto some tangible things like DeWayne McBride
Ladies and Gentlemen, get to know the name DeWayne McBride. He's a damn fine running back and he averages 6.7 yards per carry. He is UAB's Tyler Allgeier and plays really similarly to the way Allgeier plays.
Also like Allgeier, he has taken a beating this year. He ended UAB's last game in a boot and his for tomorrow's game is uncertain. If he plays, he's a difference maker who could attack BYU's sometimes-porous run defense. He is someone that you should be aware of and that BYU absolutely has to account for.
Some other names? Alex Wright. He's a 6-8 giant off the edge. He leads the Blazers in sacks and he is going to give BYU's offensive tackles fits. He's very, very good.
Speaking of BYU offensive tackles, Harris LaChance and Campbell Barrington are both (supposedly) available tomorrow. Brayden Keim played really well in their stead. Who will get the start? We'll find out tomorrow, but three talented tackles to play alongside Blake Freeland is a good thing.
Gunner Romney is expected to play, as is Chaz Ah You. So BYU is getting some help back onto the field.
Signing Day Recap
BYU's class was pretty cut and dry. The guys who were committed signed. The guys who weren't committed didn't. No surprises. No heartbreak. Just a run of the mill signing day.
Kingsley Suamataia was the headliner - as he should be. Cody Hagen and Aisea Moa should be talked about more, but we kind of take them for granted.
Speed, oddly enough, is a theme in this class. Dominique McKenzie, Marcus McKenzie, Parker Kingston, and Hagen are all sub 11.0 100-meter guys. Cannon DeVries will probably join that club during this spring's track season as well. When was the last time that BYU signed 5 guys with legitimate track speed? I couldn't tell you. It's been a long, long time.
And they're not just barely under 11 either. the McKenzies and Hagen were all 10.5s as juniors. Dom won't run track this year because he wanted to leave ASAP for his mission so he could get back and play ball, but Marcus and Hagen could both see 10.3s this year. We're talking about some of the best speed that BYU has ever had.
January will be the month of the transfer portal. I don't expect them to chase any more high school kids, but they'll be active in evaluating who hits the portal. If they find the right fit, BYU will add more bodies to this class. If not, they will be content to roll with the guys they've got and feel pretty good about.
The transfer portal giveth, but it also taketh away. After the bowl game, I would expect to see a flurry of transfers out of the BYU program too. Such is the college football life in 2021.