Taysom Hill Caused a Pending CUSA Lawsuit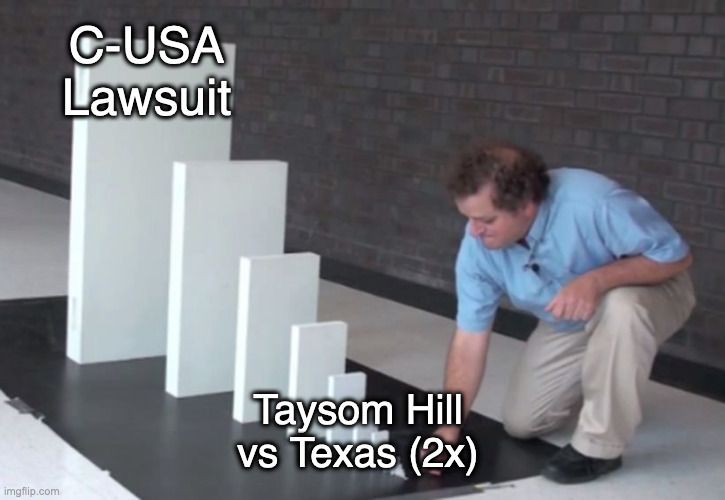 There has been some spicy drama this week in conference realignment news. After announcing in October that they would be joining the Sun Belt and moving in 2023, Old Dominion, Marshall and Southern Miss announced last week that they were moving that up and joining this fall.
Conference USA released a screenshot of a Word doc as a statement graphic saying they expected all 14 current members to participate this fall and are disappointed in the programs. Blah blah blah.
Here's the kicker: CUSA had already sent out football schedules to the league that week with the 3 programs included. They publicly released the schedules yesterday, again with them included.
How did we get here?
This tale starts (well, it really starts with BYU hiring LaVell, but we are going to fast forward through that prologue and just jump to the modern day) with a crazy rainstorm in Provo in 2013.
The students are packed, fans are trickling in, lightning delays push the start of the game back. It keeps pouring. Eventually the game start and Taysom runs for 259 yards and 3 scores to beat the Texas Longhorns 40-21.
DC Manny Diaz is fired, the Longhorns finish a pedestrian 8-5, losing by 20 to Oregon in the Alamo Bowl. Mack Brown is pushed out and Charlie Strong is hired from Louisville after leading the Cardinals to back to back BCS games.
Fast forward the following year in Austin, when this happens:
The Strong Era never got going. Boosters push him out, and bring in the annointed Tom Herman from Houston. A protege of Urban Meyer, Herman found success at a commuter school, had beaten OU, won a Peach Bowl and was a surefire hire. While the recruiting was great, the on field performance didn't meet the standards.
As the SEC started pulling in away in power and money from the rest of the P5, the egos in Norman and Austin were getting antsy and decided to work in secret to shock the world and make the move to the SEC
Further Realignment
This obviously created a void in the Big 12 which led to BYU earning an invite along with Cincinnati, Houston and UCF. So thank you Taysom Hill for creating an existential crisis that has lasted nearly a decade in Austin.
The American backfilled their league with not 3, but SIX teams from CUSA - Charlotte, UAB, UTSA, Rice, FAU, and North Texas. This was only after Colorado State and Air Force spurned them. And after their commissioner said they would raid the Big 12 and become a power league. Big woof, Brother Aresco.
Looking around the room - Southern Miss felt out of place. Marshall was tired and the CUSA of today was a far cry from the one they left the MAC for in 2005, and Old Dominion wanted to stay alongside Marshall, as well as pair with FCS power in neighboring James Madison. The Sun Belt had risen in notoriaty while CUSA plummeted. It turns out the things that make CFB great (regional rivalries, driveable away games, college towns where the team steals the show, etc) are great for a conference to improve, who knew?
So the Sun Belt expands by 4, and now CUSA is left to rebuild with just 5 schools committed (the MAC told MTSU and WKU thanks but no thanks, so it could've been 3).
Some of this move to push the date up to 2022 was probably because the Colonial Athletic Association decided to screw over JMU's athletes by blocking JMU from all conference tournaments/championships immediately, so the Dukes wanted to move their date up. Push come to shove, I think the 3 schools looked around and said: "LOL we know the revenue distributions are like $250k a year for CUSA, y'all can't afford to sue us. Later!"
Fun Belt
The result of this should be interesting. Here are what the new divisions are expected to look like:
East: Marshall, ODU, JMU, App State, Coastal Carolina, Georgia State, , Georgia Southern
West: Arkansas State, Southern Miss, Texas State, Troy, South Alabama, Louisiana Monroe, Louisiana Ragin' Cajuns.
According to ESPN's Bill Connely, the new East division is the best in the G5. And the West is the worst.
Poor Louisiana Tech - your ego cost you and now you're doomed. Maybe you can convince all the teams you ran off to kick out ULM and take you instead since you're only 30 minutes apart from each other.
I think the driving factor that has made this possible for the league, is that they have had a coherent strategy. The AAC backfilled by over inviting and taking 6 teams in major metros that they will hope become better because of their location. The Sun Belt is pulling history. CUSA took whoever they could handle.
I think the Sun Belt has the upper hand here if all else continued - in the 2010-2014 round of realignment, they moved forward replacing their CUSA departures with storied FCS programs and imported rivalries, and now they have a quality league to show for it. Turns out that fan support matters and nobody gives a damn about FIU in any capacity, who knew?
So in the end, we can successfully show the chain of events that make this meme a reality: