Stats, Quarterbacks & Cougar Day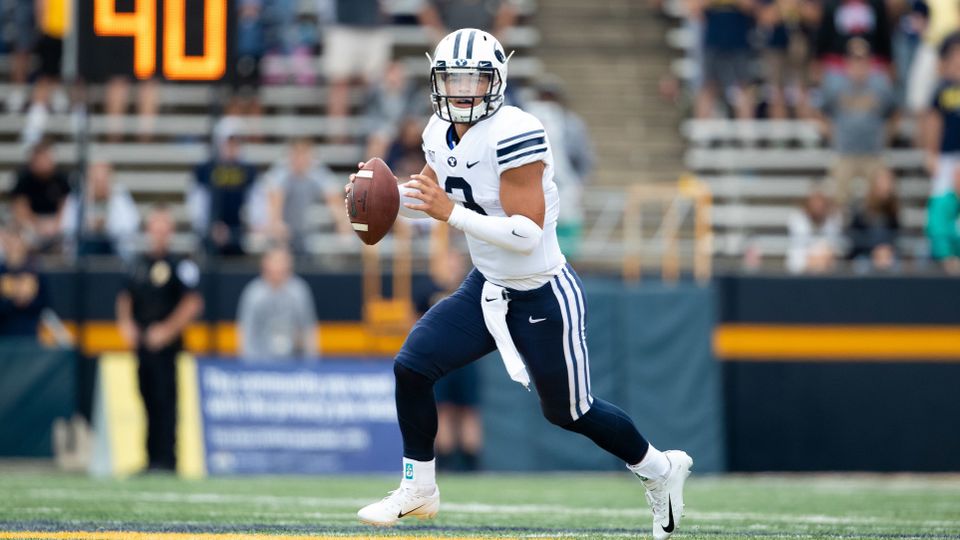 The off season is mostly over - you're reading this on a Monday and there is college football that is going to be played this Saturday. We've finally made back to a part of the year that feels normal - there's position battles coming to a close, worries about injuries, and Ute fans for some reason commenting on BYU post-scrimmage interviews. Nature is healing.
Today we're going to talk about the most important position on the field: the signal caller, the field general, the pivot, for some a "game manager" - the quarterback. In college football - you go as the QB goes. This is true in the NFL as well - really there's only about 8 top flight QBs in the league at any given time. 1st round picks flame out all the time (BUT ZACH WILSON SURE AS HELL AIN'T) - it's really hard to be a really good QB.
At the college level, there's a big difference to be made with even adequate QB play - you can get away with a "game manager" and good defense, but can't do that in the NFL where the talent gap is much narrower across the board. We've seen Joe Critchlow and Baylor Romney step in as walk-ons and lead the Cougars to victory by just not turning the ball over and making 1-2 good throws and letting the team do the rest.
An 'okay' QB can win you a couple games, but if you want to have a special season and get over the hump to something that feels truly magical, it all starts under center (or in the gun). You can look through the greatest years BYU has had and instantly think of the guy throwing touchdowns: McMahon, Young, Bosco, Detmer, Sark, Doman, Beck, Hall, Wilson. A great QB is what gets you over the top. The guys hitting throws that make you stop and remember exactly where you were sitting when it happened.
Now, I don't know if Jaren Hall or Jacob Conover is going to be that type of magical QB, but I have a couple reasons I'm hopeful for Jaren. Let's start with on the field:
TANYA
I've written about this previously, but if you want to really figure out where a QB stands and the value they are adding - look at TANYA. (No, you perverts, this isn't about a scantily clad lady named Tanya.) It's a simple extension of yards per attempt - just adding in a penalty for interceptions and bonuses for touchdowns (interceptions are worth -45 yards, touchdowns are worth +20) and including all yardage - not just passing.
Total Adjusted Net Yards per Attempt
Yards per attempt was the OG stat, then people started adding in the TD bonus/INT penalty to "adjust" it and then somebody else realized "hey, QBs rush a lot more now and we should appreciate that not forget about it", and thus TANYA was born. It is great because you can evaluate Ty Detmer vs Taysom Hill who had very different styles and played in different eras and at least approximate their impact.
Heading into last season, the top 5 is what most would expect other than (then) #1
Beck '06 - 9.2
Detmer '89 - 9.1
McMahon '80 - 9
Detmer '91 / Young '83 - 8.9
Sark '96 - 8.5
Then Zach MF Wilson walked in the door and posted a whopping 11.1 yards per attempt and we were all witnesses.
Looking to the QB battle this year - Conover and Hall have separated themselves from Romney - though in his limited action Baylor was no slouch. We fully expect a starter to be name in the next few days as camp shifts to game prep. Conover has never taken a snap - but Jaren Hall in his roughly 5 quarters of action against USU and USF posted an 8.5. His is dynamic with his legs and because of the talent around him, I don't think the drop off is going to be that great - he will not do everything Zach Wilson did, nobody can. But he will be a special player in his own right and the team as a whole will keep chugging along.
Let's look back at a few of those plays (the time is synced up for you) - it's not like 3 can't chuck the rock:
And his legs:
I'm not worried about QB play at all. A-Rod and Fesi will have things ready.
Quarterbacks
Being a quarterback is not just about what you do on the field - it's an attitude. A lifestyle. In the replacements, it wasn't until Shane Falco found himself that he got his swagger back. You have to compete.
Riley Nelson, in my opinion, is one of the most underrated QBs in program history. He was great his junior year and played his senior year with a  broken back. I know he wasn't great in 2012, but the staff should've sat him. That's their job, not the player's - but that attitude that I'm gonna find a way to get on the field at all costs and you're gonna have to force me out no matter how hurt I am? That's exactly what I want in a QB and why I will always cheer for Riley.
Sometimes you can see the swagger - Zach had his Jordan headband. Jaren Hall walked out with a gold chain a few weeks ago and a mustache:
You can't not watch that and not think to yourself: "oh yeah, that dude doesn't give a single [expletive] what you think - he's gonna go sling the rock". Most QBs at the FBS level have the physical tools to make the throws - it's the attitude that separates them.
And yesterday, he graced us with this throw in the final scrimmage:
Jaren Hall is ready for this moment. He's been waiting his whole life for this.
Cougar Day
With less than 2 weeks to kickoff - Cougar Day shopping time is winding short. Cosmo will be making the rounds to bring gameday snack baksets, maple donuts and new BYU gear to all the good little Cougar fans around the globe. If you have not started this tradtition, wait no longer. You should still have time to get some merch from our store - including kid's shirts:
I did my shopping earlier this month and got the BYU stockings ready to go. Let's be honest, the start of football season is better than Christmas anyway.
GEHB is a freemium newsletter for off-brand BYU coverage - if you would like to subscribe or upgrade to a paid subscription, click here: