Losses Suck. Letting Boise State beat BYU twice would suck worse.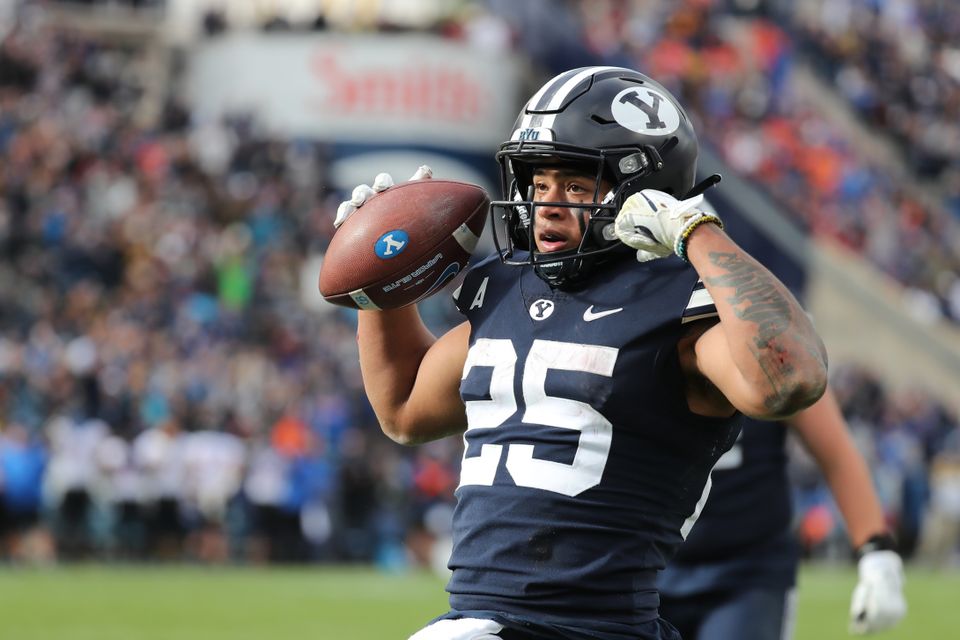 BYU lost to Boise State. The score was 26-17. BYU turned the ball over six times (three fumbles, one interception, and twice on downs). It was painful to watch. Losing to Boise State sucks. With the sucky loss, BYU has moved to 5-1. Today, however, we have messages to three separate groups of people that aren't going to be focused on how BYU beat Boise State. Instead, we're going to focus on what each group of people need to do in order to prevent Boise State a second time.
To The Fans
BYU has incredible fans - they always have. This is one of the biggest reasons that the BYU athletic department was so attractive to the Big 12 Conference when it became clear that they needed a steady program to help solidify the conference. BYU's fans are awesome and anyone who says otherwise is dead wrong.
Sure, BYU has their quirks. We're a funny bunch of people. We definitely like to boo the refs more than they deserve. We don't always have a real grasp on the national landscape of college football, but rather, just know what is happening in Provo. We are a different set of people. But we are awesome. There is no denying that.
BYU fans are reeling this week. Losing to Boise State sucks, remember? It's going to be easy to be down on this team going into the second half of the season. It's going to be easy to want to give away your tickets to that Idaho State game in November. It's going to be easy to want to doubt the coaches and think the future is somehow bleaker today than it was a week ago. All of those feelings and impulses are going to be there for all of us. Because losing to Boise State sucks.
But BYU's football program needs its fans more now than it has needed them all year long. BYU lost to Boise State, but there is so much more to play for this year. BYU has a chance to get a win against a future conference rival next week against Baylor. They have a chance to get two more wins against the PAC-12 to finish with an undefeated record against the conference that so regularly looks past BYU. They have a chance to beat Bronco Mendenhall in his return game to Provo.
There are many opportunities. There is a ton to play for. BYU is still ranked inside the top 20 and still has plenty of chances to move up in those rankings in the second half of the season.
Don't give up on this team. Don't give up hope. Don't allow yourself to get into a shell. It was one loss. It was a sucky loss, but it was just one. If you need to remind yourself that football is actually fun and BYU has done great things, just watch this until you remember.
To The Players
Let's acknowledge that the collective BYU team did not play their best game on Saturday afternoon. We could blame the weather, we could blame a couple of fluke plays that led to turnovers. We could blame a lot of things. But let's not forget that if there isn't a second half fumble when Lopini Katoa is on his way to the end zone, BYU is suddenly right back in the game and the entire complexion of the game chances.
Six turnovers and the Cougars only lost by nine. Fix those turnovers and this game isn't even close. Cut those turnovers in half and BYU also wins by a score or two. Players, you all have to fix those turnovers, there is no running from that. You have to execute better. The defensive line was dominated at times. The running game was not up to BYU's standards. The quarterback play was up and down at best. It wasn't a great game and every position group has to perform better than they did on Saturday.
The loss sucked (are you sensing the theme yet). But the five wins before this loss were great. And those also count for something. Get back on the right track this week against Baylor and the sucky Boise State loss will just be a bump in the road in the mix of what has the makings of a special 2021 season.
To The Coaches
This was not a well coached game. BYU started out hot, but they couldn't adjust when the elements came (elements that shouldn't have been a surprise to anyone). The lackluster attitude in the third quarter was bad. The questionable play calling in the red zone was not like anything we have seen from Aaron Roderick this year. The decisions to go for it on fourth down in the first half felt desperate and seemed like the coaches didn't trust that the players would get them back into the game.
Acknowledge the mistakes. Own the mistakes. Fix the mistakes.
This coaching staff has been great all season long. The coaching staff was not great against Boise State. One game is not a trend. Just get back on the right track.
It seems too simple. But in reality, it is that simple. BYU's coaches and players have been great all season long. The great to not-great ratio is currently 5:1. That's a good ratio.
At the end of the day...
Everyone loses. Alabama lost to Texas A&M. Clemson has lost twice. Ohio State lost to Oregon. Good teams lose all the time. In fact, great teams lose occasionally too.
But the difference between those great teams and everyone else is how those great teams respond. The losses they suffer don't linger. They never let an opponent beat them twice. If they fall, they get up quickly and respond right away. That's the mark of a great team. That's the mark of a great coaching staff. That's the mark of players who are great. Those are the kinds of things that make great fanbases stay great.
Boise State beat BYU once. BYU can't let Boise State beat them again next week.
Other tidbits and fun...
Aisea Moa is a big deal. The four-star defensive lineman is a huge pick up for the Cougars. He is hoping to enroll in January. He has the kind of talent that he can make an impact for BYU right away. He is explosive off the line of scrimmage and he is as strong as an ox.
The player is a big deal. The recruit is also a big deal.
Ben Moa is a legend at Utah. His son is going to play at BYU. That's a big deal for BYU.
Ice is a four-star talent who could have gone to a bevy of different schools but he chose to play for Kalani Sitake and BYU. That's the kind of thing that will, hopefully, continue as BYU transitions to the Big 12 Conference.
Cody Hagen and Aisea Moa weren't expected to sign with BYU. Now they are both committed to the Cougars. That's a big deal, friends. That's a really, really big deal.
BYU's 2022 spots are limited, but the Cougars are hoping to see this momentum carry over to the 2023 class. Recruits like Spencer Fano, Stanley Raass, Ethan Thomason, Walker Lyons, Jackson Bowers, Taliafi Taala, Javance Tupuata-Johnson, Smith Snowden and a host of others are all seriously considering BYU. The Cougars have momentum, and adding players like Hagen and Moa are the kind of foundation that BYU needs to have to continue bringing in the best talent they can in order to compete in the Big 12 Conference.
Recruiting is on the right track. Momentum is real. BYU needs to capitalize.