I'm here to sell you a vacuum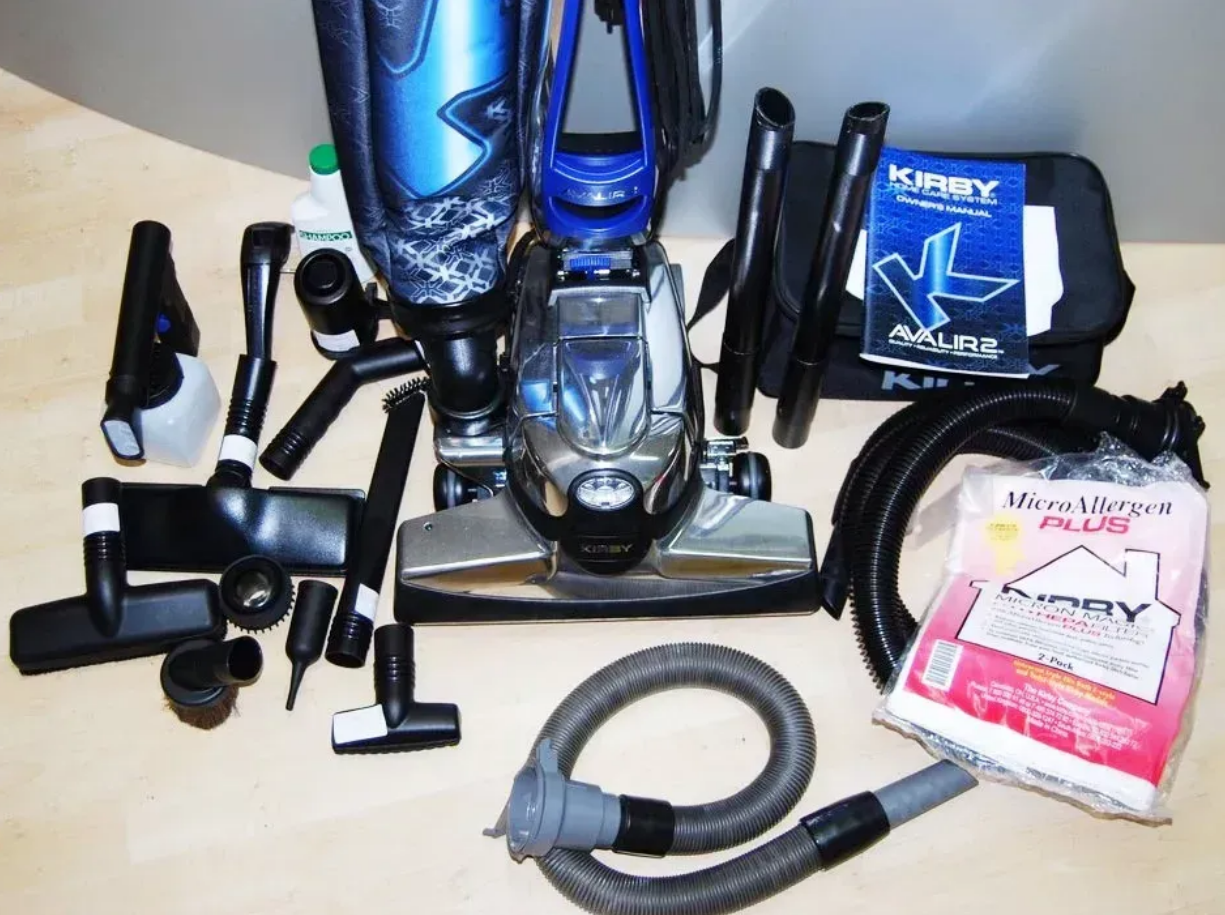 A few months ago, there was a 20-something year old girl who knocked on my door and offered a free carpet cleaning. I had just moved into my house, but a free carpet cleaning? Why not? The only thing that went through my head of what the possible consequence could be was a weird cult trying to get me to join their church like on Seinfeld. (FWIW, I'd let George Costanza into my cult any day.)
What I didn't expect was this sweet girl to sell me a vacuum. What I expected even less than that was for me to get suckered into actually buying the vacuum. But, a few hours after she arrived, I was the proud owner of a super expensive Kirby vacuum.
All things considered, it's been a pretty worthwhile purchase. When I use it as a vacuum, it really does make the carpet fluffier and look like new all over again. When I use it as a carpet shampooer, it's gets things clean and dries things really quickly. It's heavy, but light enough that I can lug it around and have used it in my Jeep after a weekend of offroading and dust. It works really, really well.
The sticker price shocked me a little bit after I bought it, but the value has been worthwhile since I took it out of the box.
But I'm not selling you all on Kirby vacuums. If you want my advice, you now know everything I know about them. If you don't want my advice and are still reading, great, I'm about to edify your life with something completely different.
The principle of me buying the vacuum is important, though. I reluctantly bought something at what seemed like a crazy high price and questioned whether I would ever be satisfied with the purchase. Now, the money is long gone and I don't really think about it anymore. All I think about is what a great vacuum I own.
WELL BUCKLE UP, FOLKS! I'M HERE TO SELL YOU SOME BYU STORIES!
First, let me sell you on the carpet cleaner...
BYU basketball will be better next year than they were this year. Let me tell you why...
BYU will host Coastal Carolina transfer Rudi Williams on an official visit starting tomorrow (shoutout to my guy Robby McCombs for the scoop). Later this week, they will host Detroit Mercy (that's a college, not a WNBA team) transfer Antoine Davis. The latter is a prolific scorer. The former is a bigger, more well-rounded guard. Both of them are probably better than what Te'Jan Lucas was for BYU this year.
Replacing Lucas and Barcello will be extremely challenging, but both Williams and Davis of getting  BYU more than half-way there.
At this point, I like where BYU sits with Williams more than where they are with Davis. For funsies, let's just assume BYU goes 1-for-2 here and lands Williams and Davis goes elsewhere.
That would leave BYU with three open scholarships to mess around with.
One of those could very easily go to Frederick King. He's a big dude who has some touch from the outside too. I like where BYU sits with him too. It's far from a done deal, but let's say BYU lands King.
King, Williams, Dallin Hall, Richie Saunders and Tanner Toolson. That isn't the kind of group that will take BYU to the Final Four, but that's a group that can provide BYU more than what Caleb Lohner, Gavin Baxter, Richard Harward, Nate Hansen, Barcello and Lucas gave to BYU last year.
Seriously, I know it sounds crazy, but some combination of guys like Fouss, Atiki Ally Atiki, Gideon George, Spencer Johnson and Williams as a starting lineup seems like they will be plenty productive on both ends of the floor. Add in a bench with the aforementioned new additions, and I like the potential of this team a lot.
Will they topple Gonzaga? No, probably not.
But this team can get back to the tourney. They still have to land Williams and King (plus two additional players with their extra scholarships - a pair of wild cards in all of this), but if they do, I'm buying all the BYU hoops hype.
Let people think the hoops world is on fire while you're driving your Kirby around your house. It will be worth your money.  Buy, buy, buy.
Now it's time for some of the weird Kirby parts that you didn't know you needed - like a hose extension to clean the corner where the wall meets the ceiling
I'm going to say something here and you're not going to believe me at first. But, after you digest what I have to say, you're going to get back to me, apologize, and then tell me that I'm right.
BYU is slowly turning into a running back school.
I know! It's insane! But it's the truth!
It started with Jamaal Williams. The former BYU legend wrapped up his BYU career and ended up being drafted by the Green Bay Packers. He is still in the League, backing up DeAndre Swift for the Detroit Lions. He's a running back heading into his sixth year in the NFL. That's no small feat, ladies and gentlemen.
Ty'Son Williams was next. The South Carolina transfer came to BYU and played in just four games before injuring his ACL and missing the rest of the season. But, in those four games, Ty'Son showed enough that he ended up sticking with the Baltimore Ravens as an undrafted free agent. This past season, he was on the 53-man roster and he will continue to battle for a roster spot this season.
This week, Tyler Allgeier will find out where he will play out his NFL career. He will undoubtedly be drafted. The only question at this point is where he will end up playing. But, perhaps more than even Jamaal Williams was, Allgeier seems like a draft lock.
That's three NFL running backs to stick on NFL rosters that came from BYU.
Without even really recognizing that it was happening, BYU has developed a nice little running back history.
Christopher Brooks is the next man in line. He needs to stay healthy this year, but if he does, he absolutely has the talent to find himself drafted in the 2023 NFL Draft. He should be an absolute superstar behind this BYU offensive line.
Guys, I think BYU might be a running back school. And that sounds absolutely crazy, but it's hard to argue that something crazy hasn't been happening in Provo the last few years.
And finally, let's just buy the damn vacuum
Blake Freeland.
That's it. Blake Freeland.
He's the vacuum. Blake Freeland is the Kirby vacuum. It's reliable and there is no way to talk too much about him. Freeland is a special player. With a healthy 2022, Freeland will be drafted higher than Brady Christensen was a couple of years ago. He has everything that an NFL team wants in an NFL offensive tackle.
This year, he will anchor the BYU offensive line. It's a talented offensive line and it is full of future NFL players, but among them, Freeland is the one that I am currently the highest on. Players like Kingsley Suamataia could surpass Freeland at some point, but as of this writing, Freeland has the brightest NFL future on the roster. And we're going to see that every week this fall.
So, if you need a reason to believe in BYU this year, believe in Blake Freeland. He won't let you down. He's just too damn talented.