Go Frogs. For America. For Justice. For Hope.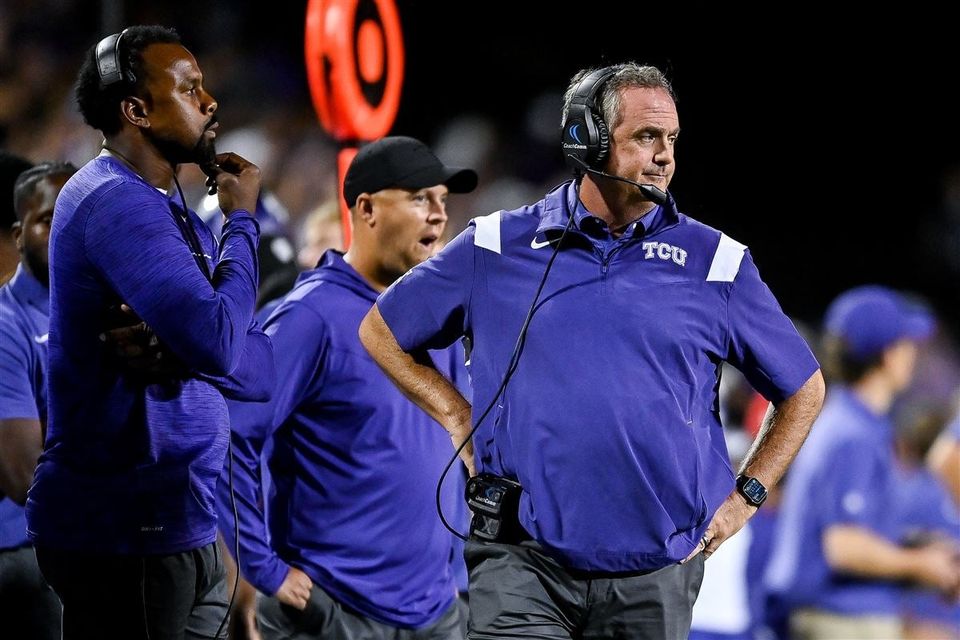 I have to preface today's newsletter with a very important announcement: I hate TCU.
My TCU hatred blossomed the very first game that I hate to watch Gary Patterson's poor belt get accosted throughout an entire game on the sideline back in 2005. The belt just wanted to gently rest on the hips of Patterson, you know, like good belts do, but Patterson wouldn't allow it. For an entire game, the belt was pushed and pulled and worked into absolute submission. The result of the game was even worse, as the Cougars fell to TCU 51-50.
But it was at that moment that my TCU hatred was born.
Second announcement? I think the whole "Back the PAC" or "Sustain the 12" is stupid. I get why people do it - when you're part of a conference you want your conference to do well. I guess I understand that. But at the same time, I don't understand that at all.
I like to hate the foes within my conference. I was never going to cheer for Wyoming to do well in the name of the Mountain West. Wyoming sucks. I would rather die than see Wyoming gain another yard. And such will be the same when BYU is in the Big 12. I want to hate Texas Tech (I already hate Lubbock - woof). I won't cheer for Texas Tech in the name of the Big 12. I will cultivate a hatred in my heart for the Red Raiders and, eventually, disdain any inkling of success that they have with the passion of a million suns.
But tonight, my friends, tonight I'm a Frog fan. Tonight I'm setting aside all of my hatred for TCU and putting on my purple. Tonight is all about TCU.
The Frogs will take on the Dawgs for the National Championship. Georgia is looking to cap off their undefeated and go back-to-back this year. In most circumstances, I'd be happy to cheer for Georgia. One, they're not Alabama. Two, the Stetson Bennett story is pretty amazing. Three, they're not Alabama.
But tonight, TCU brings a unique opportunity to college football. The Frogs can win a national championship that literally nobody predicted.
Quarterback Max Duggan had to fight to keep his job.
Head coach Sonny Dykes was once ran out of Berkeley of all places, because he wasn't winning enough games for Cal's high football standards. (That was a joke, by the way. Cal doesn't have football standards.)
They added 14 players out of the transfer portal last season, re-tooling their defense to go from terrible, horrible awful to just not very good. They are 64th in scoring defense and 78th in total defense.
They are an elite offensive team who depends on outscoring the opponent because the defense, in all likelihood, isn't going to win very many games for them. It's not the kind of football that a purest would enjoy, but it is entertaining as hell for a fan watching on TV.
The Frogs aren't an elite recruiting team. Their four-year average is 32nd in the country. They have some stars on their roster, but they have reached this point by sticking to their specific brand of football, having very fortunate health, and developing players well.
To summarize, the Frogs should not be in this game. They have less talent, worse production, disgraced coaches, and weren't even in the 'others receiving votes' category of the AP Poll before the season. They should not be playing for a national title.
And yet, they are. And that's entirely awesome.
The best of the new Star Wars movies that has been made is indisputably Rogue One: A Star Wars Story. In the movie, Jyn Erso lays down this incredible quote, "We have hope. Rebellions are built on hope!"
Folks, TCU is our hope. The Horned Frogs represent the rest of us. They represent all of the teams who can't do it, or who don't recruit at an elite level, or who can't pay $10 million a year for an elite coach. The Frogs represent the rest of us.
In the entire College Football Playoff Era, just seven teams have actually won a game. Think about that for a second - only seven teams have ever won a game (not a national championship, just A game) in the College Football Playoff. Seven. SEVEN. 7. SE7EN.
Those teams are: Alabama (duh),  Clemson, Ohio State, Georgia, LSU, Oregon.... and TCU.
Saban. Daba. Urban. Kirby. Orgeron and Joey Burrow. Phil Knight and Nike.
And Sonny Dykes and Max Duggan?!
If Dykes and Duggan can do this, why not Sitake and Slovis? Or anyone else for that matter!
Next year, the playoff will expand from four to 12 teams. More teams will have access and more teams will have hope. But access is just access. TCU represents actual, bonafide hope. If TCU can do this, anyone can.
Nobody is expected the Frogs to do this. They are currently 13-point underdogs at the sportsbooks. But, nobody has expected the Frogs to do anything all year long, and yet, here they are.
If that doesn't inspire hope, I don't know what will.
So, go Frogs tonight. Go get this win. Obviously, go win it for TCU. But win it for the rest of us too. Win it for all of those teams looking for hope.