BYU landing Kedon Slovis is a bigger deal than you probably think it is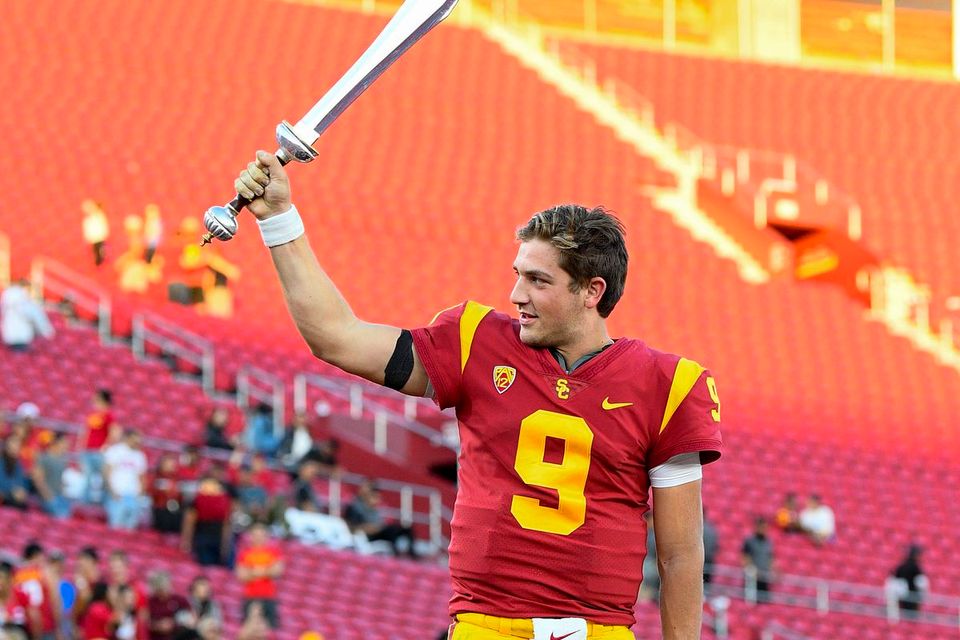 Kedon Slovis will be BYU's starting quarterback this year. He is expected to arrive in Provo as early as tomorrow and start getting to work with his new teammates. Ladies and gentlemen, that's a big deal for BYU. In fact, it's a bigger deal than you probably think that it is.
Let's turn to college football guru (and let's call it like it is... one of my college football media heroes), Bud Elliott to help get this conversation started.
Folks, BYU landing Slovis is no small feat. Elliott is absolutely correct, the quarterback market this year is very different than the quarterback market of the past.
BYU landed an experienced and seasoned starter with Slovis
There is no substitute for the experience that Slovis will bring with him to BYU. He has four years of starting experience at the Power 5 level. That's a huge deal! Let's take a look at the quarterbacks who had entered the portal in December and start to really compare their experience to what Slovis brings to the table.
Brennan Armstrong - Has as much experience as Slovis while throwing for fewer touchdowns, more interceptions, fewer yards, a lower QBR, and completing 60% of passes compared to Slovis' 65%. The experience is nearly identical, but Slovis has done more with that experience.
Chance Nolan - 22 games to Slovis' 38.
Graham Mertz - 34 games for Wisconsin, but a career completion percentage less than 60%.
Jeff Sims - 25 games, 57% completion percentage.
Drew Pyne - 15 games, 63% completion percentage.
Hudson Card - 21 games.
Kyron Drones - 23 career PASSES
Devin Leary - 30 games, 60% completion percentage.
DJ Uiagalelei - 35 games, just under 60% completion percentage.
You get the point, right? Relative to the rest of the QB market, Slovis's 38 games, 65.9% career completion percentage, 144.5 QBR, and nearly 10,000 career passing yards is among the top of the class. That's no small feat, folks.
BYU is going into unchartered territory next year. Despite Tom Holmoe's best efforts, BYU has never played a true Power 5 schedule. That will change in 2023. Nobody on the roster knows what that means more than Kedon Slovis. And nobody on the roster - including some of the coaches - has as much experience as Slovis does when it comes to the weekly grind of preparing for a Power 5 slate.
There is value in that level of experience and I think we (the collective we of BYU fans) have overlooked that value that Slovis brings some.
He's here. He's graduated. He's ready to roll.
Slovis is in Provo. (Okay, technically he's not in Provo until tomorrow, but he's here.)
He gets to work out with his new team throughout the winter. He gets to build chemistry with his new receivers during player-run-practices. He gets to help recruit additional transfers during official visits in January. He gets to participate in Spring Ball and get early reps learning the ropes of the Aaron Roderick offense. He gets to adjust to the BYU media circuit. He gets to join in the Big 12 excitement with the entire fanbase. He gets to grow into the school and adjust to his new life in Provo, a far cry from the campus lifestyle of either USC or Pittsburgh, and settle into that new role. All of those things matter an awful lot.
You heard it from Elliott. A lot of the quarterbacks in the transfer portal don't have the credits to enroll at their new school yet. They will have to finish up a semester at their current school and join their new teams in the summer. That means they will miss winter workouts and spring ball and the chemistry with new teammates and all of those other things we talked about already.
That's not even a question for Slovis. He's ready to roll and will hit the ground running. He can establish himself as a leader in the locker room and help his new teammates adjust to what it takes to be a Power 5 player. He can set the tone and show people how much work it takes.
He's here and working. That's a huge deal.
And he's pretty damn good too, guys!
This is the part that we've already known about - Slovis can throw the ball. He needs to tidy a few things up like when to gamble and when to just throw the ball away. He  needs to learn the ropes of the offense and adjust to BYU's timing routes and mesh concepts. He needs to a do a bunch of things to clean up his game and improve from a disappointing season at Pitt last year.
But he has the tools and the experience to make people feel confident that he will be able to do that. Look, it doesn't matter what school you play for, if you have a career completion percentage of 65.9% and you have thrown nearly 1300 career passes, you're a pretty damn good quarterback. On 1268 passes, Slovis has completed 65.9%.
He is back in a quarterback friendly offense and he has proven that he has the skills to be a productive quarterback. He's on campus and already getting to work. The only thing that's a bummer is the fact that he only has one year of eligbility remaining. But make no mistake about it, friends. This one year could be a pretty special quarterback year for Slovis.