Dear Arkansas (and everyone else)...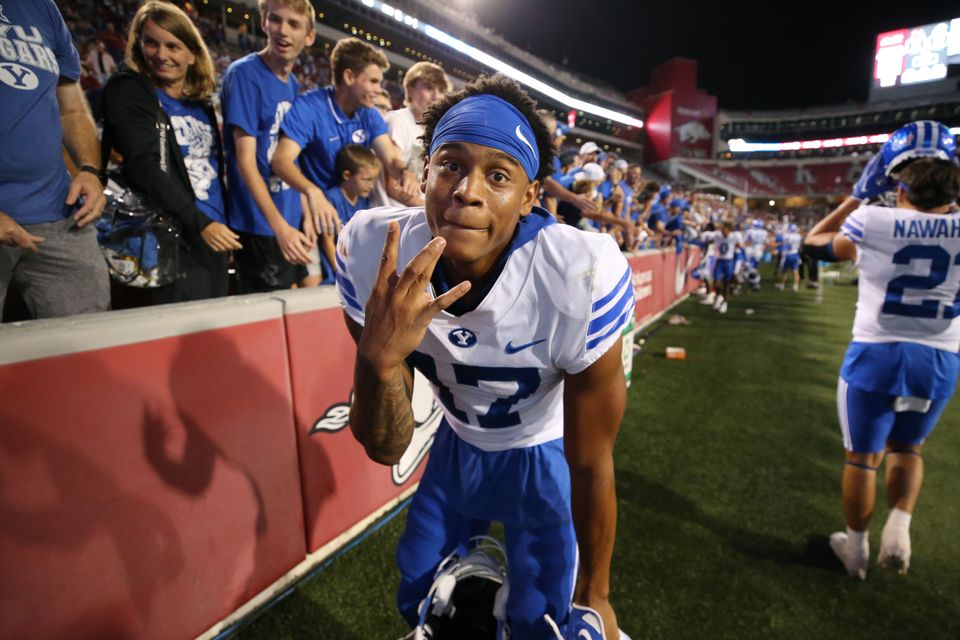 This letter is long overdue. No, no, not to you, Arkansas. You're the lucky recipient of the letter today, but this is a letter that could have been written so many times to so many others over the last decade or so. So, sure, we're talking to the Hogs, but this is to the greater college football world too.
Arkansas, you lost to BYU this weekend by a final score of 38-31. The way the game shook out - at least from a box score's perspective - is probably pretty disappointing. I understand that. You put up over 400 yards of total offense and hold the opponent to less than 300 (while also returning a punt for a touchdown) and you probably win that game 99 out of 100 times. Lamenting a loss like that makes all the sense in the world, I sure would.
But don't lament the fact that the loss came at the hands of BYU. I know the obscure religious school from Nowheresville, UT seems like a school you should handle whenever you play them, but losing to BYU isn't the letdown that you might think it is.
No, BYU hasn't been in the College Football Playoff and no, BYU isn't an SEC foe. But, believe me, you aren't the first big name team that BYU has beaten over the course of the last decade.
Seriously... far from the first.
(Come on, we can only use that line so many times when talking at BYU, you have to give me some credit for that one now.)
No, Arkansas, you joined a club of pretty elite schools who have fallen at the hands of Brigham Young University over the last 10 years. So, really, hold your head up high, because the company you share is pretty remarkable.
Washington State has lost to BYU, and Virginia a couple of times too, but surely those aren't the programs you want to be associated with.
Neither Cal nor Georgia Tech are the teams you want to be associated with either, so we don't need to talk about BYU getting the best of them in the last decade either.
But, Stanford lost to BYU last year.
But, USC has lost to BYU in the last ten years - twice, in fact.
Utah lost to BYU a couple of years ago.
Tennessee lost to BYU in 2019. If you thought BYU fans travelled well to Fayetteville, you should have heard the 'B-Y-U! B-Y-U!' chants in Neyland that night.
Baylor was ranked inside the Top 10 when they lost to BYU in 2021.
Arizona has lost to BYU three times in the last decade, and their friends Arizona State lost to the Cougars in 2021 as well.
Michigan State got beat by Jamaal Williams and Taysom Hill.
Texas got beat by Jamaal Williams and Taysom Hill... twice.
Camp Randall jumped around a ton when then #6 Wisconsin fell to BYU at home.
Believe me, BYU isn't an elite program at this stage of the game, that's not what this letter is trying to advocate. I'm in no way expecting anyone to get beat by BYU and then simply shrug their shoulders like they just lost to Georgia and there wasn't a darn thing anyone could do about it.
No, BYU isn't an elite program like that.
But BYU isn't some Bo-Diddly Tech, either. BYU is a proud program with a proud history. I mean, BYU has just four losing seasons in the last 50(!) years. This team isn't Georgia, but they aren't nobody either.
BYU has beaten some of the biggest names in the country, and they've done it in the relatively recent past as well. The Cougars have struggled with consistency over the years and dropped more games than I would certainly like to admit, but there is no shame in losing to BYU either.
So don't feel ashamed. When you look around the club and see who is there with you, I think you'll probably find that there is no shame in being where you are.
We're cheering for you, Arkansas. By all accounts, Fayetteville was wonderful for any BYU fan who made the trip. We're excited to see you put things together and compete in a surprisingly open SEC West this year.
Woo Pig.
Sincerely,
BYU fans.