4-1 is good but the best is yet to come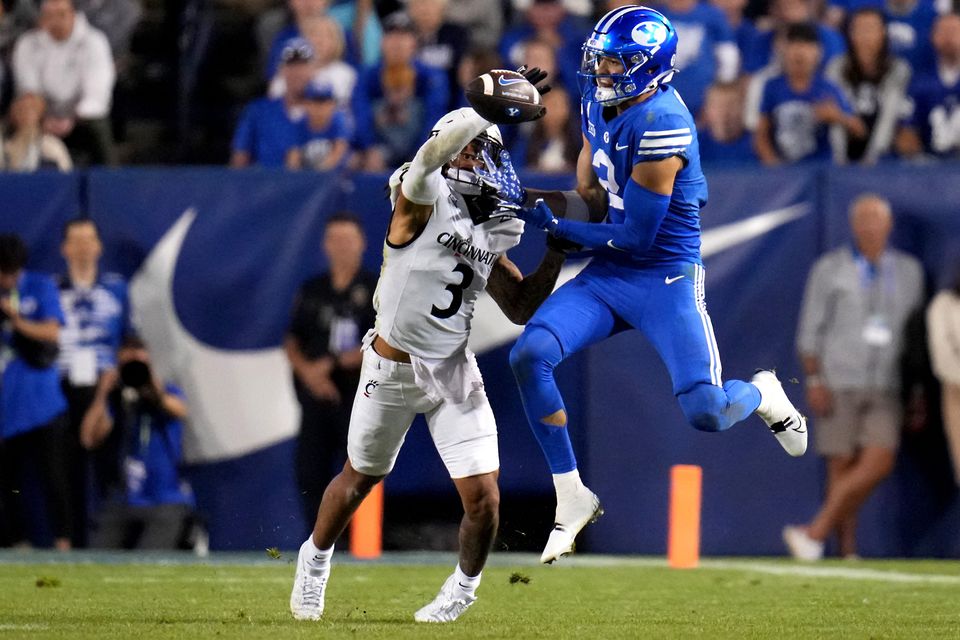 BYU is 4-1. That's great news. If we play the 'If you would have told me two months ago...' game, there isn't a single person who would have complained. 4-1 is good.
The path to get there has been anything but pretty. A 14-0 win over Sam Houston State had fans clamoring for a quarterback change immediately. A 41-16 win over SUU had DeLane Fitzgerald in a cold sweat out of fear for BYU in the Big 12 Conference.
(Sidebar: After that SUU game, Fitzgerald irked BYU fans by saying this Cougar team is not the same as the Utah team that SUU played in 2022. The head coach of the T-Birds didn't take that chance to boost the confidence of his own team by highlighting how far they came in a year. Instead, he took a dig at the team that just beat him and called the dogs off in the second half. It remains one of the weirdest moments of this young season.)
BYU beat Arkansas after coming back from two separate double-digit deficits. They lost to Kansas after giving up a pair of defensive touchdowns. Most recently, they beat Cincinnati despite being outgained by more than 100 yards.
It has been a very, very weird year so far.
And at the end of it all, BYU is 4-1.
On one hand, maybe the Cougars have been a little lucky - that's okay to admit. Arkansas helepd the Cougars with a mess of penalties and dumb mistakes. Cincinnati's red zone and special teams ineptitude helped the Cougars stay in the game before ultimately pulling away. BYU got a little lucky in those regards, there is no sense in disputing that.
On the other hand, maybe this BYU team is a better football team that anyone expected coming into the season. Kedon Slovis scuffled early but has looked spectacular in recent weeks. The running game is very much a work in progress, but LJ Martin has been a bright spot and provided plenty of hope that he could be a future star for the Cougars. Jay Hill's defensive scheme has taken a roster that lacked recruiting stars and has turned them into a formidable unit with the ability to keep BYU in just about every game.
The team hasn't played their best football yet, but they are still 4-1. Winning games without perfection execution is the mark of a very good football team. It should be something that is encouraging to every BYU fan in the country.
Now BYU goes into a bye week. They will get a chance to get healthy (and boy do they need to get healthy) and fix some of their execution problems before a tough three-game stretch against a trio of Texas teams. It starts with a road trip to TCU, then a home game against Texas Tech, and finally a road trip against #3 Texas. Before the season started, it certainly looked like this had the makings of a winningless October for the Cougars. Now, BYU looks like they could turn in a 2-1 record and it wouldn't be very surprising.
TCU got beat by Colorado to open the season. They rattled off three wins after that, highlighed by wins over SMU and Houston. None of the wins were spectacular, but they were solid and convincing wins. But, the Frogs just dropped a home game to a surging West Virignia team and suddenly it look like BYU could steal a win in Ft. Worth.
Tech doesn't look like the team many people (myself included) expected them to be. They dropped their season opener to Wyoming. They lost to Oregon. They lost to West Virginia.
They beat Houston this past week and the scoreboard shows a dominating win. But, the Red Raiders benefitted from a kick returned for a touchdown and a punt returned for a touchdown. Tyler Shough is out for Tech and backup quarterback Behren Morton struggled to really get things clicking. All things considered, Tech has question marks.
Texas looks spectacular.
BYU should feel confident going into October. There are things to fix and players to get healthy, but BYU should feel comfortable going into a new month.
A Big October For The Future
Davis Andrews is set to announce his college decision tomorrow. His final four are Notre Dame, Utah, BYU and UCLA. The Bruins seem to be a distant fourth with the other three running nearly neck-and-neck. It's hard not to say Notre Dame is the favorite going into Decision Day, but BYU and Utah each feel confident for their own reasons as well.
Andrews will serve a mission after high school, so he won't join the school of his future for a couple of years. When he gets home and shakes off that mission rust, though, he will provide a team with a ton of talent and a ton of versatility.
BYU needs more players like Andrews. If they don't get Andrews, it's not the end of the world, BYU has plenty of time in the next 2+ years to adjust and find someone who will provide what Andrews can provide, but boy, landing Andrews would sure go a long ways.
Ikinasio Tupou also released his official Top 5. BYU joins Utah, Arizona, Cal and Washington as the suitors standing out the most for Iki. The big offensive lineman is an important target for BYU and has been at the top of the wish list for the coaching staff for several months. He has taken an official to BYU already and has been on campus multiple times since that visit. He told me that he's planning on coming back to Provo in a couple of weeks as well.
BYU needs more players like Tupou. Winning recruiting battles over Utah, Washington, Cal and Arizona would be a big boost for BYU on the recruiting trail.
Faletau Satuala is expected to go to Utah. But, we're now into October, and the Bountiful High product still hasn't committed to Utah. He's still hearing from BYU a ton and recently told me that he hasn't decided anything about his future yet.
Could that be a smoke screen to set up some intrigue for a decision? Yeah, it definitely could be that. But, it could also be the honest truth and the explanation for why Satuala hasn't publicly made any sort of announcement yet. He's a lot like Andrews in terms of how he plays, but he is expected to play right away. The Cougars need more players like Satuala.
BYU's roster will look very different in 2024. Allow me some creative liberty and let's predict the players who will move on after 2023, whether because eligibility will expire or they will move on after 4+ years in the program, or an early NFL Draft declaration:
Kedon Slovis
Kingsley Suamataia
Connor Pay
Caleb Etienne
Paul Maile
Keanu Hill
Darius Lassiter
Deion Smith
Miles Davis
Kody Epps
Isaac Rex
Chaz Ah You
Ben Bywater
Max Tooley
AJ Vongphachanh
Naisa Mahe
Jackson Cravens
Eddie Heckard
Kamden Garrett
Malik Moore
Tyler Batty
Chaz Ah You
Ian Fitzgerald
Jakob Robinson
Caleb Christensen
Simi Moala
Ian Fitzgerald
Caden Haws
Could I be wrong and some of these players use an extra year and stick around? Of course. But there is a very real scenario where each of those players are gone from next year's roster. Clearly, BYU needs to find an influx of talent in 2024. Landing Andrews would be helpful for the long-term future. Figuring out a way to land Tupou and/or Satuala would be enormous for immediate future.
BYU needs to find more talent, there is no question about that.
(Sidebar: Keep an eye on JUCO DT Luke Toomalatai. He just picked up an offer from Houston, but in my conversations with him, I get the impression that BYU is very, very high on his wish-list. If he can push himself and graduate in December, you could see him join as early as January.)
It's a fun time to be a Cougar fan. 4-1 is great. There are still things to clean up, but that means there is still reason to believe that the best is yet to come for the Cougars.