BYU Sports: Get On Board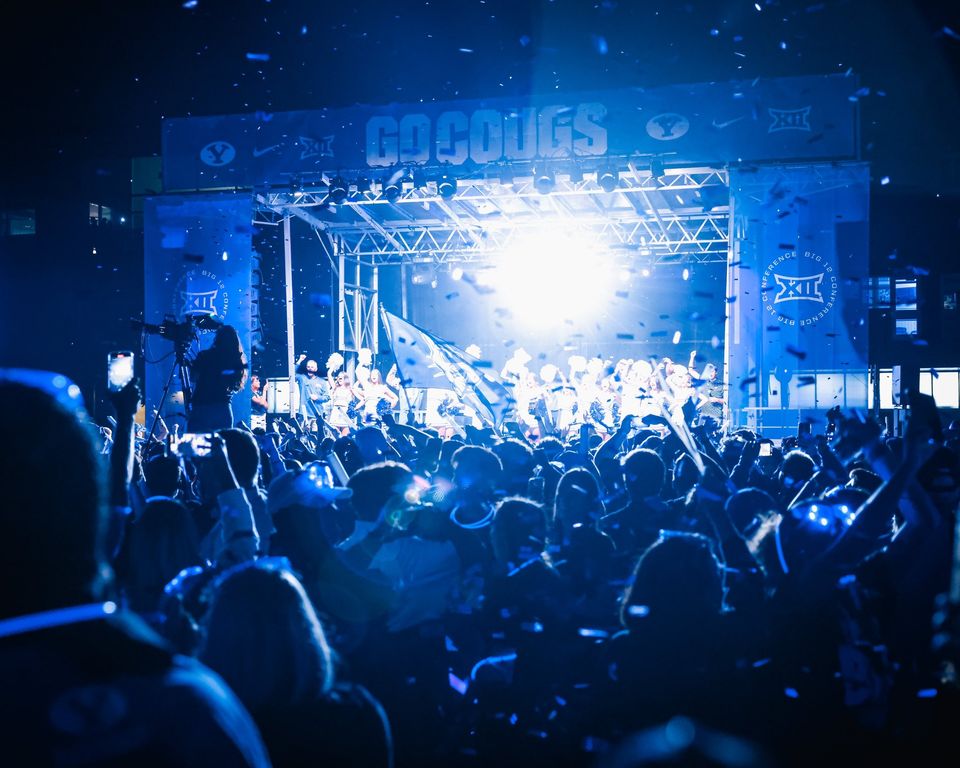 If you haven't joined the Give 'Em Hell, Brigham Discord server, you're missing out on one of the best benefits GEHB subscribers enjoy. The conversation is always going inside a community of BYU fans. Download the Discord app and join GEHB Discord today!
Get on board.
That is the message that I have for everyone after spending the day in Provo celebrating BYU's official admission into the Big 12 Conference.
Get. On. Board.
The amount of energy that is swirling inside and outside of the BYU program is unlike anything I've seen in my 34 years of BYU fandom. Every sport is engaged. Every coach is excited. Every fan - or at least every fan that I came in contact with at BYU's 'Big Party' - was excited. It feels like a completely different BYU right now.
It's not normal 'it's almost football season, yay!' excitement either. It's a completely different level.
I'm a relative nobody in the grand scheme of BYU athletics. I have no sway. My opinion doesn't matter. I'm just a guy with a few followers on Twitter - which appears to be dying with every Elon Musk tweet about rate limits. When I go to BYU games, there is the occasional one or two fans who recognize me and says something.
Today, though, it was different. At a fan event - which was effectively nothing more than a city carnival with a lot more emphasis on the color blue and the letter Y - there were dozens, maybe 100 people, who stopped and wanted to talk to me about BYU football.
People wanted to know about recruiting. People wanted to know what it takes to beat the Texas teams. People wanted to know about the depth of the roster. People wanted to know about the opposing coaches in the Big 12.
People wanted to know so many different things about the program and the conference. It was incredible!
People are so jazzed up about BYU athletics right now. If you're not, there is a problem. Because, man, there has never been a more exciting time to be a BYU fan!
So get on board! Get excited!
If you were a BYU fan who fell away when the Cougars went independent, we forgive you. It's time to get back on board.
If you're a recruit who had written BYU off because they weren't P5 or whatever, it's not too late to reconsider. Get on board.
If you're in the transfer portal looking for a place where you can become a legend and help a team map out a path in a place they've never been before, then get on board with BYU.
This weekend is a fun weekend. BYU fans are celebrating an incredible accomplishment that they have been waiting for since, well, forever. It's a ton of fun.
But on Monday, this energy has a job to do...
Fans will continue to be fans and be excited for the future.
But the players, coaches, administrators, and everyone else at BYU who is excited right now? That excitement needs to become motivation that leads to hard work.
Being in the Big 12 has been the goal for a long time. This weekend, that goal was accomplished and it's worth celebrating. But on Monday? The goal is to compete in the Big 12, and to win the Big 12.
Will that happen this year? Probably not.
But the process starts this year, and the process is what we're all so excited for. Practice isn't about practicing for a singular game on Saturday anymore. Practices is about winning the first Big 12 Championship in BYU history. And every checkpoint along the way will be just as legendary.
This year, BYU players have the chance to be the players to send Texas and Oklahoma off to the SEC with losses. They have the chance to knock off a team who played in the National Championship just last season. They have a chance to get the first win as a Big 12 conference team. They have a chance to earn a bid to play a bowl against a Power 5 team.
DO YOU REALIZE HOW LONG IT HAS BEEN SINCE BYU HAS PLAYED A BOWL AGAINST A POWER 5 TEAM?!
2015! Against Utah, of all teams!
BYU played Washington in 2013.
Those are the only two P5 bowl opponents that BYU saw as an independent. They saw teams like Tulsa, UAB, Western Michigan, and Memphis in bowl games. We got excited about games against Wyoming and SMU.
Those days are gone! And the players on the team this year get to be the first pieces of a brand new puzzle.
That is so damn exciting!
There has never been a better time to be a fan, a coach, a player, or anyone else affiliated with BYU sports. This weekend cemented that in my mind.
Now we get to work.
If you aren't already... get on board now. It's time.