BYU Football Should Have One Goal in 2022 - And It Isn't What You Think It Is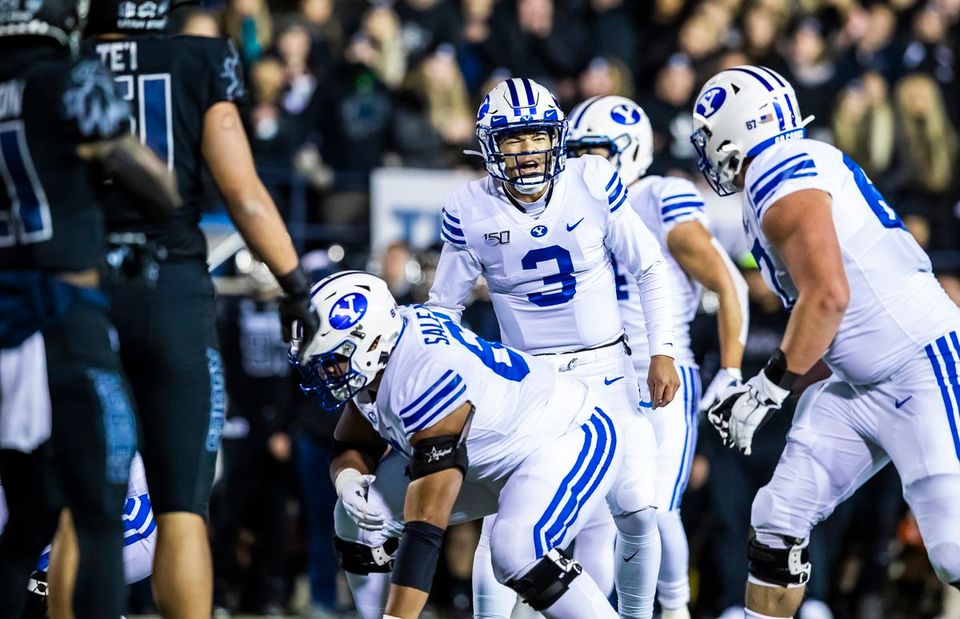 Jaren Hall is back for another year. So is Gunner Romney and Puka Nacua. The Cougars have added  Chris Brooks and bring in a whole heap of talent along the offensive line. The defense returns - literally - everyone. Uriah Leiataua and then some rotational depth pieces move on. Everyone else is back.
BYU has the pieces in place to put together another great run in 2022. The schedule gives the Cougars plenty of opportunities to shine on a national stage. Early season games against Baylor and Arkansas will be must-see TV for anyone with even a passing interest in Cougar football. A game against a motivated, experienced, and confident Utah State team will prove to be one of the toughest games on the schedule. A mid-season clash with Notre Dame in Las Vegas is sure to draw in plenty of eyeballs. And finally, November road trips to Boise State and Stanford will prove to test the depth of the Cougars.
2022's schedule is set up to allow BYU to make a run, if they are playing well and winning football games.
Winning is, of course, always the primary objective for any football team. Go out and play and win the game. That's what everyone wants.
But there is another goal that BYU needs to have in 2022 that might even supercede wins.
Depth.
BYU needs depth for the future.
BYU's audition for the Big 12 Conference is over. They got the part. BYU will move into their new conference and their new future in 2023. The days of chasing down conference titles and competing for elite bowl games are back.
It's still a long ways away, but BYU's roster situation on paper in 2023 looks dramatically different than their roster situation in 2022.
In all likelihood, they will be replacing a quarterback. And a running back. And their top two wide receivers. And their left tackle. And most of their defensive secondary. And the linebacker corps. And a pretty decent chunk of their defensive line. And the kicker, just for good measure.
Going into their new conference future, BYU's roster will be young and they will be tested in a big, big way.
BYU's P5 adjustment is going to take time. The Cougars have played a tough schedule as an independent and they are more prepared for the rigors of a P5 season than they otherwise would have been, but there is a difference.
First, BYU will likely play 10 P5 games in a season. That has never happened before in BYU history. That's going to be a test.
Second, the familiarity of a conference makes competition levels even tougher. Gone will be the days of BYU being able to surprise teams with looks they've never seen before. As the Cougars plays their new conference foes with regularity, trends and tendencies will be exposed. It will be the talent of players and a few key in-game coaching decisions that make the difference, but each team will know what the other team is trying to do.
The need for talent will be at all-time high.
Today is January 24. BYU has nearly two full years before they play their first conference game. The gives the Cougars a runway to get their roster in a situation that they can be talented and ready to play a Big 12 slate.
There will be some tough decisions, however. Decisions that might mean putting your 2022 season in jeopardy in the name of preparing for 2023.
Let's take the example of Jaren Hall coming back to play against Boise State in 2021. Hall had missed the last two games with an injury was backup Baylor Romney had been ruled out with a concussion. The choice was either freshman Jacob Conover who looked so-so in his limited action the week before, or rush Hall back from injury and hope for the best.
At the time, the Cougars were soaring in the polls and the 2021 season mattered most. They elected to bring back a less-than-100% Hall to try and win the game.
Ultimately, Hall and BYU lost against Boise State anyways, so none of this mattered, but the dilemma in the pregame is one that might command a different outcome this season.
In 2022, if BYU is facing the same situation, it is in the best interest of the coaching staff to throw out their young quarterback and get him some reps. That might result in a loss, no doubt about it, but those reps will prove to be invaluable when BYU is taking on Oklahoma State, TCU, and Cincinnati in back-to-back-to-back weeks in 2023.
This spring is also critical for BYU. If the coaches are hoping to push players out of the program and into the transfer portal, they need to do it before Big 12 membership is official. Scholarship guarantees will be different in the future, guaranteed for four years instead of year-by-year, and that means bad evaluations will linger with the roster for a full four years.
If the coaches feel there are players like that today, it's in their best interest to take the PR hit and push some players to a different path.
2022 is an important year. BYU has a ton of talent and a ton of potential for a third straight 10-win season and another year of being a fixture in the national rankings. But, the Big 12 is looming and so are the associated goals that come with being part of a conference.
BYU needs to balance their immediate success with setting themselves up to compete for Big 12 Championships. Those two things can - and probably will - compete against one another at various times this season. If I were in charge of the BYU world, I would elect to plan for the future when those times come up. The faster BYU gets to a Big 12 Championship, the better it is for everyone in Provo.